Wildearth Guardians
PHOENIX — Environmental groups have no constitutional right to demand they be awarded grazing leases on state land, even when they outbid ranchers, the Arizona Supreme Court ruled Tuesday.
PHOENIX - The Arizona Court of Appeals has rejected a constitutional challenge to the legality of procedures used by the Land Department to determine who gets to lease state land for grazing.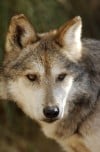 ALBUQUERQUE, N.M. — Environmentalists are blasting a federal government decision not to list the Mexican gray wolf as a separate subspecies under the Endangered Species Act.
Follow the Arizona Daily Star