World War Z

Here are the top 10 movies at the box office for the weekend of June 21-23.
"World War Z" promised to be some sort of ultimate zombie movie experience, and it's hard to call it that. But the first 25 minutes or so of this "Contagion"-meets-"28 Days Later" thriller will leave you breathless.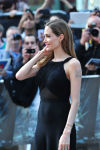 Angelina Jolie joins Brad Pitt on the red carpet for the premiere of his movie "World War Z" in London for her first public appearance since announcing she had breast surgery. See photos of her in London and past photos.
Follow the Arizona Daily Star
Sign up for Tucson.com e-mail newsletters