Zonge International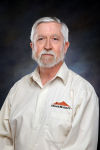 president of Mintec Inc., which won a President's E-Award for Exports.

Technology that helps miners around the globe figure out when and where to dig has helped a Tucson company land national honors.

A 3-D modeling image of an open-pit mine from Minesight mine-management software made by Tucson-based Mintec Inc., which provides a suite of modeling and mine-planning software.
Follow the Arizona Daily Star
Sign up for Tucson.com e-mail newsletters