Zubenelgenubi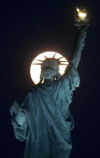 If you can spell Zubenelgenubi you have arrived as an amateur astronomer.
Look south around 9 p.m. next week to see Scorpius standing straight up above the southeastern horizon. North of Scorpius and to its west (right) is the faint constellation Libra the Scales.
Tonight look toward the southeast around 9 p.m. to see the bright full moon low in the sky. Saturn will just above it.
Follow the Arizona Daily Star
Vote! Today's Poll
Loading…
With the pool of presidential candidates narrowing, which front-runner do you support?
Sign up for Tucson.com e-mail newsletters