Search / Found (3)

One of the four black bear cubs born this year climbs up Shaundra Gednalske's leg at Bear Country U.S.A.

Bear Country U.S.A. has four new black bear cubs for the public to see. People lined up Saturday to pet and photograph the four-month-old bears.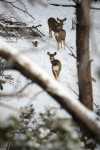 Deer walk through a wooded hill off of North Haines Avenue just outside the Rapid City limits. About three inches of snow has covered Rapid City since Christmas.
Follow the Arizona Daily Star