Search / Found (3)
Misunderstanding, misstatements and all the classic contortions of partisan message management surround the sequester, the term for the $85 billion in ugly and largely irrational federal spending cuts set by law to begin Friday.
In the first months of the Obama presidency in 2009, Chuck Hagel, who had just finished two terms as a U.S. senator, went to the White House to visit with the friend he had made during the four years they overlapped in the Senate.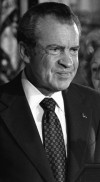 In the course of his 5 1/2-year presidency, beginning in 1969, Nixon launched and managed five successive and overlapping wars — against the anti-Vietnam War movement, the news media, the Democrats, the justice system and, finally, against history itself. 
Follow the Arizona Daily Star