Search / Found (3)
LAFAYETTE, La. — Christina Hamilton proved to be as advertised in the Super Regional against the Arizona Wildcats.

LAFAYETTE, Louisiana — After first baseman Hallie Wilson hit a leadoff home run in the first inning against Louisiana-Lafayette on Friday night, Arizona Wildcats coach Mike Candrea said he thought the Wildcats would open it up in that spot.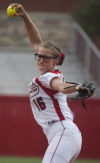 LAFAYETTE, La. — Her methodical approach to the circle doesn't seem like a lot of fun. But when Louisiana-Lafayette pitcher Christina Hamilton steps into the circle against Arizona in this weekend's Super Regionals, she'll be having a blast.
Follow the Arizona Daily Star