Search / Found (3)
Far too many students are either failing or not thriving in Arizona's public school system.
Access to life-changing education has been Pima Community College's great strength and its most important commitment to the community that has supported it for over 40 years.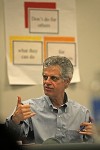 As bad as the budget crisis is in Arizona, and as desperate as our legislators and our governor are to resolve it, Arizonans have to demand that they make rational valuations of their actions and forward thinking assessments of their likely impact on the state and its citizens.
Follow the Arizona Daily Star