Search / Found (3)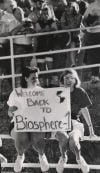 Mother and daughter Avery Crossman, left, and Gayla Crossman came from Phoenix to welcome the biospherians with a sign.

Abigail Alling (front) takes her first breath of air after the crew of Biosphere 2 emerges after two years of captivity.

Portrait of Biospherians with the Biosphere II in the background. L-R: Marl Nelson, Linda Leigh, Abigail Alling, Mark Can Thillo, Sally Silverstone, Taber MacCallum, Jane Poynter and Dr. Roy Walford.
Follow the Arizona Daily Star