Search / Found (3)
Billie Sol Estes, a colorful and unapologetic Texas wheeler-dealer who boasted of his political connections even as he went to prison two times for fraud, died Tuesday at his home in DeCordova, Texas. He was 88.
Stanford Ovshinsky, a self-taught inventor whose innovations have been incorporated in many high-tech developments, from flat-screen televisions to laptop computers, died Oct. 17 at his home in Bloomfield Hills, Mich. He was 89.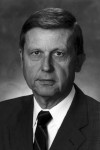 Henry Ruth, a key figure in the federal investigation of the Watergate scandal in the 1970s, died March 16 at an assisted-living facility in Tucson. He was 80.
Follow the Arizona Daily Star