Search / Found (3)

Alec Laughlin's acrylic and charcoal on board. Laughlin is the president of the Warehouse Arts Management Organization.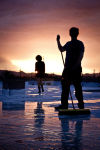 Matthew Diggins, an artist with a studio at Citizens Warehouse, sweeps rain off the roof. Artists share cleaning tasks.

"Nesting Instincts," an oil and acrylic on canvas, is by Patricia McNulty.
Follow the Arizona Daily Star