Search / Found (3)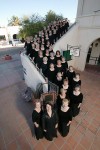 The Southern Arizona Women's Chorus will present "A Retro Christmas," a nostalgic musical trip through songs of the 1940s and '50s, in a concert Tuesday evening at Academy Village.

Arizona Senior Academy will treat classical music fans to a concert on Tuesday by the Esperanza String Quartet.
Recent wildfire behavior exceeds the current state of knowledge in fire science and ecology. The UA's Donald Falk will address this issue in a lecture on forest fires on Wednesday. He'll also discuss the dilemma of restoration ecology after a wildfire.
Follow the Arizona Daily Star