Allonzo Trier and Rawle Alkins land on SportsCenter Top 10, twitter reacts to dunk clinic against Beavers
Arizona vs. Oregon State, or midseason dunk contest? 
What did we just see?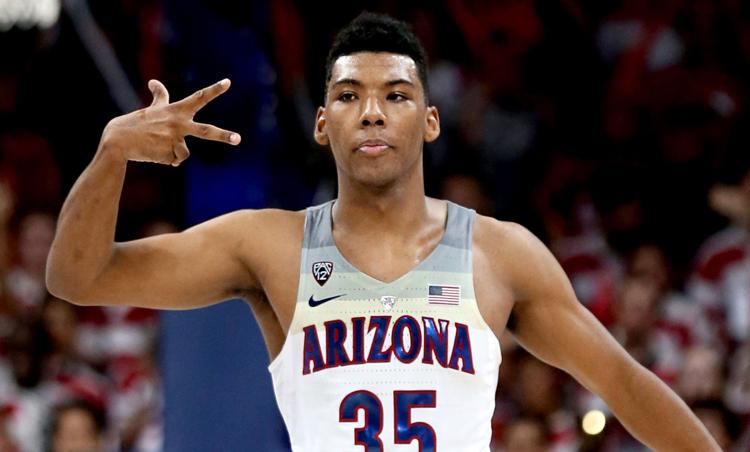 By Dominic Baciocco / Arizona Daily Star
It was difficult for fans at McKale Center on Thursday night to tell whether they were at a dunk contest, or a midseason Pac-12 affair. If you only saw SportsCenter's Top 10 plays, you would have thought it was a dunk clinic. Arizona-Oregon State was shaping out to be an all-time snooze fest until Deandre Ayton, Allonzo Trier and Rawle Alkins walked out of the tunnel for the second half. And, well, you know the drill...
Off to the races
Oregon State sparked the fun Thursday night, which Arizona ignited in the second half. But it was this eye-popping alley-oop courtesy of Tres Tinkle and Drew Eubanks that got things started.
Who run the floor?@DrewEubanks12!

Watch: @Pac12Network #GoBeavs pic.twitter.com/psC7qR76gA

— Oregon State Hoops (@BeaverMBB) January 12, 2018
Gulp. Don't worry Arizona fans, the Wildcats made plenty of highlight-reel plays of their own.
McKale nearly implodes after a little Rawle thunder
Trier already had the McKale Center crowd on its feet, but Alkins darn near tore the roof down just moments later. His dunk warranted SportsCenter's No. 4 play of the night.
Rawle Alkins just did something that you usually only see in dunk contests pic.twitter.com/3zWAxbw75e

— Ryan Kelapire (@RKelapire) January 12, 2018
Mission accomplished @Iam_RawleAlkins! Came in at No. 4 in #SCTop10 on @SportsCenter #APlayersProgram https://t.co/RTdTkLz5bG

— Arizona Basketball (@APlayersProgram) January 12, 2018
The Wildcats turned up the heat on the defensive side as well, forcing 12 turnovers and scoring 20 points off such plays, none more explosive than Alkins' hammer heard around Tucson.
His fast break couldn't have come at a better time, as the Wildcats had just taken the lead from a pesky Oregon State defense that gave them fits in the first half.
"He's the most versatile player on our team," UA coach Sean Miller said after the game.
Maybe more impressive is that Alkins appears rather familiar with the double-clutch reverse slam, as Twitter user @JWepp pointed out Thursday night.
That dunk tonight looked familiar @Iam_RawleAlkins https://t.co/UiXXBLm5ei

— 100BandWepp (@JWepp) January 12, 2018
Join the party
It didn't take long for Deandre Ayton to join the dunk contest at McKale Center, making his own waves later in the second half.
Here comes Ayton. 💥

One point game.

Watch #Pac12Hoops: https://t.co/ZhZuI5ezsa pic.twitter.com/ucAJbAYyEK

— Pac-12 Network (@Pac12Network) January 12, 2018
For good measure, Ayton tied the Arizona freshman double-double mark (Al Fleming, Michael Wright) with his 12th of the season on Thursday.
Dunks on dunks on dunks on dunks
Pac-12 Networks pulled out a familiar feature Thursday night with the quad box, this time showcasing the Wildcats' dunk fest in the second half. Alkins, Trier, Arizona's bench ... madness ensues.
.@APlayersProgram's dunk game 💯 pic.twitter.com/bJPI9VLLw2

— Pac-12 Network (@Pac12Network) January 12, 2018
The Twittersphere reacts
Everyone at McKale after the Rawle Alkins dunk. pic.twitter.com/8LDETuXuXs

— The Wildcaster (@TheWildcaster) January 12, 2018
LETS GOOOOO!!' 💯🔴🔵 #SAVAGELIFE

— Rawle Alkins (@Iam_RawleAlkins) January 12, 2018
Chill out bro 😷😷 @ISO_ZO https://t.co/83DbaFCAMI

— Lauri Markkanen (@MarkkanenLauri) January 12, 2018
It's @ISO_ZO world we are just living in it https://t.co/6hCOnyKIcT

— Brett Hill (@brett_hill34) January 12, 2018
It's not a proper dunk contest without Deandre Ayton

— Alec White (@AlecWhite_UA) January 12, 2018
Arizona got the arena rocking with a pair of wild dunks within a minute of each other 😱 pic.twitter.com/8B2pIVbpDY

— Bleacher Report (@BleacherReport) January 12, 2018
Allonzo Trier took Ethan Thompson's soul. Good lawd. pic.twitter.com/rD29MAAmSV

— Justin Spears (@JustinESports) January 12, 2018
THROW It DOWN BIG MAN ONE TIME @RealDeandreAy

— Ben Berger (@BenBergerBaby) January 12, 2018
In this video I am the rim and Rawle Alkins is life. #SavageLife #BearDown pic.twitter.com/4lRbZtTxgm

— Curtis Rogers (@AKidFromKent) January 12, 2018
"Mama there goes that man!" #ArizvsOSU @Iam_RawleAlkins @ZonaZealots

— Chris Rodriguez (@azcrod) January 12, 2018