SAN FRANCISCO — After five minutes of rapid-fire questions about the FBI, bribes, a head coach's responsibility and task forces, Arizona coach Sean Miller finally received a break.
"Do you think you have the best team in the country?" a reporter asked at Thursday's Pac-12 media day.
Miller burst into a short laugh, then smiled.
"I appreciate the question," Miller said. "I don't think we are right now."
His last response was expected. Miller often says during the preseason that Wildcats aren't where they are rated, reasoning that improvement still needs to be made. This year, Arizona is also dealing with Rawle Alkins' broken foot.
This was also expected Thursday: That Arizona was picked to win the conference, having picked up 22 of 23 first-place votes in its annual preseason media poll.
But the other stuff, everything that surfaced after the FBI investigation into college basketball became public Sept. 26, made Miller's appearance and this Pac-12 media day far different than any other.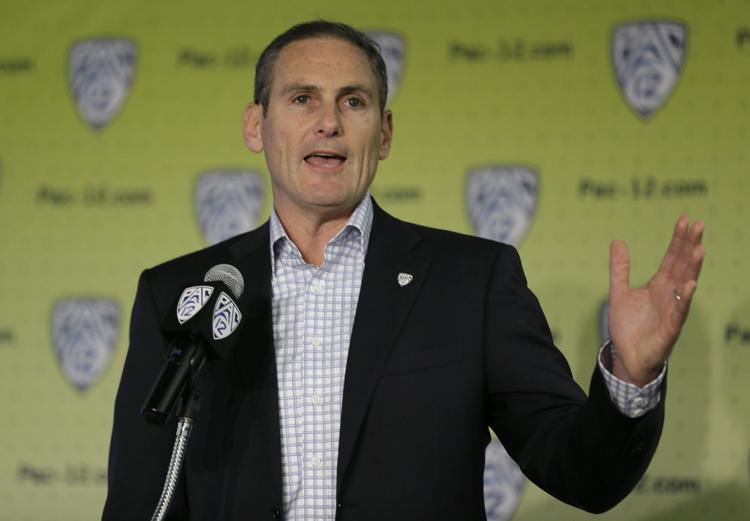 The league's predicted top two teams, Arizona and USC, both had assistant coaches arrested in the wake of the FBI investigation. Pac-12 commissioner Larry Scott announced the conference was assembling its own "task force" to look into the issues college basketball is facing, a day after the NCAA announced it would assemble a commission to do so.
Former Stanford and Cal coach Mike Montgomery agreed to serve on both committees, which was notable in that not only is Montgomery one of the league's most accomplished coaches — but also in that he was known to steer clear of some club basketball figures while on the recruiting trail.
In the federal complaint, UA assistant coach Book Richardson was alleged to have taken $20,000 in bribes from a sports agent, while a club coach implied that Arizona had offered one of his players $150,000 to play for the Wildcats.
"As long as I've been coaching, there's been stuff," Montgomery said. "You hear about it, but you never really know for sure. Honestly I never knew for sure if somebody was paid, but that's me. I stayed away from that stuff."
Some of the Pac-12 coaches said Thursday they often smell that sort of thing on the recruiting trail. Utah coach Larry Krystkowiak said he could think of five to seven times it happened.
"You get to a certain point in the process and it's, 'Is there anything else? Is there anything else?'" Krystkowiak said. "You kind of get the sense. We usually just steer away from it a little bit."
Colorado coach Tad Boyle said he's never been asked flat-out for money by the handler of a recruit, but said he's dropped recruits many times once a player or his handlers appear to be soliciting improper benefits.
"You get that. You get that," Boyle said. "You have to read between the lines as you make those determinations."
Part of the reason the problem appears to be worsening, Krystkowiak said, is that the "pot of money" around college basketball is bigger, creating more pressure and more incentives.
"It may not be the proper analogy, but it's kind of like the gateway drug, right?" Krystkowiak said. "You're introduced to alcohol, and you have a little marijuana, and the next thing you know, you're doing cocaine and before you know it, you're on 'Breaking Bad.'"
Scott is hoping his task force can identify where the problems are coming from, saying it would have four mandates: to educate university leaders about the overall environment, to develop recommendations for schools, to develop specific proposals to the NCAA and to produce proposals "to address recruiting issues … where the influence of third parties is growing."
Scott named five members of what will eventually be a 10-person panel: Montgomery, UCLA athletic director Dan Guerrero, Utah athletic director Chris Hill, former football player Charles Davis and former NCAA administrator Tom Jernstedt.
"Protection of our student-athletes and integrity are the most important priorities," Scott said. "The allegations are deeply troubling. We have to use this moment to take a close look and a more careful look at what's going on in the sport of college basketball."
Scott's announcement preceded a stream of questions thrown at each of the 12 coaches who reached the interview table. Talk about Arizona's talent, experience and size was almost nonexistent, as was any buzz over USC's depth, or the strengths of potential upper-division finishers such as UCLA, Oregon and Stanford.
The questions prompted Miller into a stream of no-comment answers. Asked about whether he knew Richardson was taking bribes, if he was questioned by the FBI or if some players feel family pressure to ask for money, among other topics, Miller repeatedly responded by saying "I'm going to stand by the statement that I gave."
That's the statement Miller released Oct. 3 in which he said he supported investigations into allegations and has worked to create a culture of compliance.
USC coach Andy Enfield also limited his answers, having watched assistant coach Tony Bland be arrested along with Richardson and eight other figures involved with college basketball.
"I just can't comment on the investigation. It's ongoing," Enfield said. "Tony is part of our USC program and USC family. We all love Tony. It's very difficult on a personal level. It's very difficult on a program level, because we all had great relationships with each other."
It was difficult for everyone to discuss. But, Boyle said, necessary.
"Because the FBI uncovered this, we're having to deal with it," Boyle said. "And I think that can be good for our game in the long run. It's maybe not fun to talk about. Right now we should be talking about our seasons and our teams, but we're talking about this.
"Look, it probably needs to be talked about."