Arizona Wildcats freshman Deandre Ayton continues on pace for greatness
Deandre Ayton has been spectacular this season for the Wildcats, and the statistics prove it. 
By Bruce Pascoe / Arizona Daily Star
Ayton on pace for greatness
Deandre Ayton is only spending one season at Arizona, but the record books may never forget him.
The UA freshman sensation picked up his second Pac-12 Player of the Week award Tuesday, after leading the Wildcats to an 84-78 win over ASU on Saturday with 23 points, 19 rebounds, three blocks and three assists to six turnovers.
Ayton's rebounding performance tied UA's Pac-12 record set by A.J. Bramlett against Stanford at McKale Center in 1997-98 and by Derrick Williams at Washington State in 2010-11, though it was six shy of the McKale Center mark of 25 set by Bob Elliott in 1973-74 against ASU (when both teams were in the WAC) and by Kenny Davis in 1976-77 against UTEP.
UA coach Sean Miller said Saturday that the Wildcats won because Ayton was so dominant near the basket, not only offensively but also in throwing off ASU big man Romello White, who fouled out with two points after just 18 minutes.
"I hope everybody in McKale realizes what 23 points and 19 rebounds feels like," Miller said. "For a freshman, you don't see that very often and that's what Deandre had. At the end, he had some unforced turnovers or forced turnovers — he wasn't used to getting rebounds and nobody's running back. But he's young. He'll learn from it, as will our team."
With 10 double-doubles already in just 13 games, Ayton can this weekend tie the UA freshman record of 12 set by Michael Wright in 1998-99 and Al Fleming in 1972-73.
He's also on pace to easily break what is believed to be the all-time Arizona double-double record of 18 that Elliott had in 1975-76. (There is no official UA record of that stat yet, though Ayton's dominance has triggered research into it).
And, in Pac-12 Player of the Week history, Ayton has become only the eighth freshman ever to win the conference's weekly award more than once. He also won it on Dec. 4, after posting 28 points and 10 rebounds in the Wildcats' overtime win at UNLV.
Three freshmen did it last season — UCLA's Lonzo Ball and T.J. Leaf and Arizona's Lauri Markkanen. UA's Stanley Johnson won it twice in 2014-15, UCLA's Kevin Love did it three times in 2007-08, Cal's Shareef Abdur-Rahim won two in 1995-96 and USC's Harold Miner collected a pair in 1989-90.
Among others Ayton beat out this week to win the award were Utah's Justin Bibbins, USC's Bennie Boatwright and UCLA's Aaron Holiday.
Bibbins scored a combined 37 points while shooting 54 percent in the Utes' first-ever sweep at Oregon and OSU. He had eight assists to only one turnover.
Boatwright scored 33 points to lead the Trojans over New Mexico State in the final of the Diamond Head Classic championship on Christmas Day while shooting a combined 58.1 percent for the week, between the Diamond Head final and home games against the Washington schools.
Holiday averaged 23.5 points, 9.0 rebounds and 4.5 assists in UCLA's home wins over Washington State and Washington.
New-look Utes
With nine transfers in the past two years, plus early NBA departures by Jakob Poeltl (in 2016) and Kyle Kuzma (in 2017), Utah has rivaled Arizona in annual roster turnover.
But Miller said Tuesday that Utes coach Larry Krystkowiak has done a good job of recruiting, filling holes with players like Bibbins, a grad transfer from Long Beach State. Three of the Utes' other four double-figure scorers are also transfers: forwards David Collette (Utah State) and Tyler Rawson (junior college), and guard Sedrick Barefield (SMU).
"Bibbins is a big add to their team," Miller said. "He gives them kind of that engine that runs the team. He makes the game easier for his teammates. Gives them quickness defensively, takes a lot of charges and he's in double figures. He's one of the five players they have in double figures as a point guard.
"Having Sedrick Barefield freed up to play off the ball (because of Bibbins' presence) probably brings out the best in him as well. So they're a good program, not just a good team and coach. No question they've established themselves as a team that can be in this year's tournament, and I know this is a big weekend for them."
Smith getting comfortable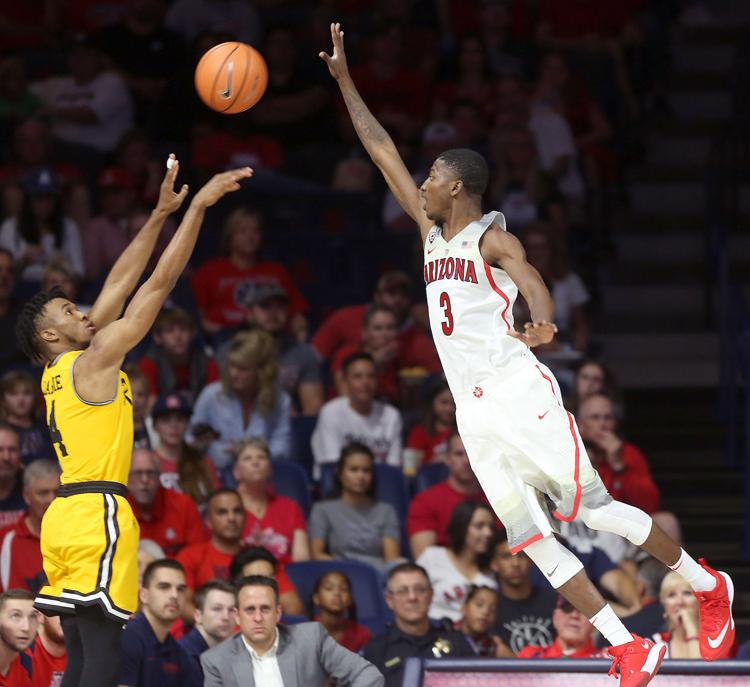 After sitting out last season as a redshirt transfer from UNC Asheville and then trying to carve out a spot in the UA rotation so far this season, sophomore guard Dylan Smith is settling into a reserve role.
Smith, UNC Asheville's leading scorer in 2015-16, was 3 of 4 from 3-point range against ASU over nine minutes of the first half — then played only three minutes in the second half.
"I'm just trying to focus and lock in, trying to bring some production to the team," Smith said. "I just go out and play. Whatever happens, happens. I try not to put too much pressure on myself and just play the game. I feel I've gotten a lot better as far as knowing my role and what coach wants me to do."
Miller said the UA "wore down a little bit" in the final 6-8 minutes against ASU on Saturday, and is looking for more from his reserves. They could even be more important this weekend because the Wildcats will be playing two games within 43 hours in high-altitude settings at Utah and Colorado.
"You want to get productivity from the bench like Dylan gave us," Miller said. "We want to continue to solidify those younger players and guys so that we can count on them.
"Injuries happen, foul trouble happens, sickness happens and no team can do it with a group of three, four or five. You need eight or nine, nine or 10 guys, every day. We've talked to our team a lot about that, and Dylan Smith is a big part of that development."
Understated PJC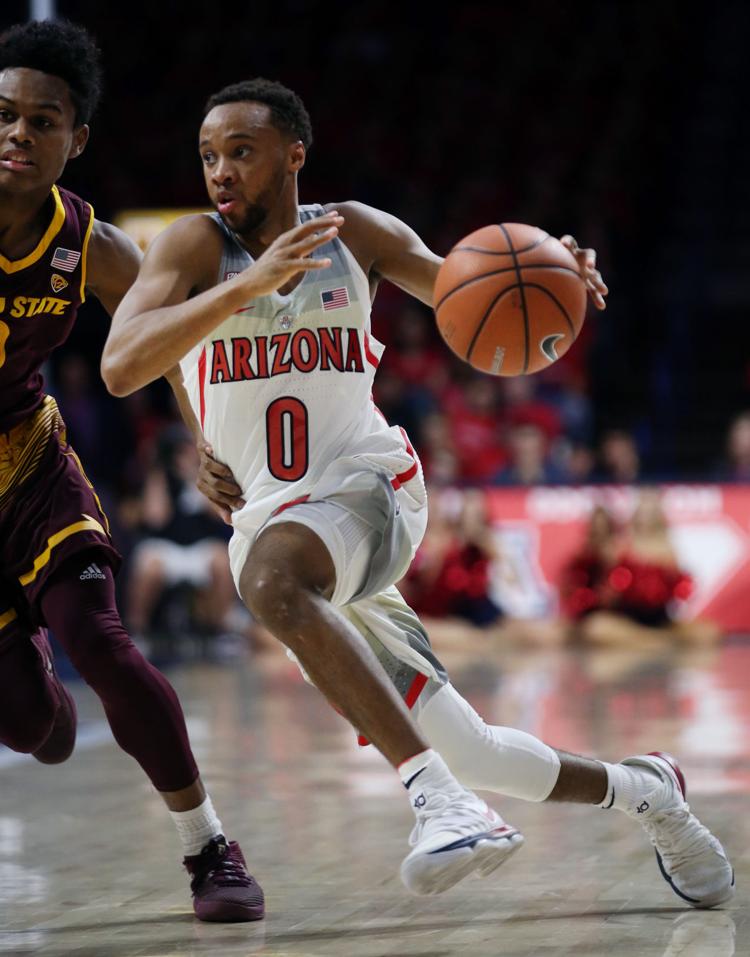 UA guard Parker Jackson-Cartwright is averaging only 7.1 points a game, but his assist-to-turnover ratio is now over 3-1 for the season (67 assists to 22 turnovers) and he's hit half of his 38 3-point attempts, typically taking them only when a defense has largely focused on others.
"Parker has done a real good job in a quiet way," Miller said. "He doesn't get a lot of credit because he's not a high scorer, but you have to remember the team that he's playing on — in some ways he's the perfect point guard for this team.
"With Rawle (Alkins) back, we have two wings who can score. We have a good low-post game. What Parker does is what a lot of coaches would love their point guard to do. He sits on a 3-1 assist-turnover ratio. Last game he was 6-1. And he's shooting high percentage from 3."
Jackson-Cartwright's 50 percent 3-point shooting is second only to Washington State's Carter Skaggs (52.1) in the Pac-12 so far.