Former University of Arizona basketball player and assistant coach Josh Pastner has filed a lawsuit against an Oro Valley couple claiming they defamed him after attempts of blackmail and extortion.
Ronald Bell and Jennifer Pendley are accused of intentional infliction of emotional distress, civil conspiracy, aiding and abetting and injurious falsehood, according to the 47-page lawsuit filed in Pima County Superior Court on Jan. 12 by the second-year Georgia Tech head coach.
Pastner's attorneys have also filed an injunction against harassment against Bell, saying that the "prior fan" began a "malicious campaign" in October to defame, extort and blackmail Pastner by threatening to release "false and patently untrue information" that Bell believed would be damaging to Pastner's reputation, the documents say.
Before Georgia Tech, Pastner, 40, coached at Memphis from 2009-16. He spent the 2002-08 seasons as an assistant to Arizona's Lute Olson. As a player, Pastner was a member of the Wildcats' 1997 National Championship team.
The injunction and lawsuit both say that Bell is a career criminal with multiple arrests and felony convictions and a decades-long history of "criminal conduct and antisocial and dishonest behavior."
The lawsuit details years of "needy" behavior and jealousy by Bell which later turned to threats and blackmail, culminating in Bell's December claim that Pastner sexually assaulted Pendley.
The following is based off the lawsuit and nearly 90 pages of exhibits.
Long history of arrests
Bell claims that he walked into McKale Center in 2007 and told Pastner, then a UA assistant, that he was addicted to painkillers and suicidal. According to Bell's version of the meeting, Pastner referred him to the local Jewish Community Center to get help for his addiction, which Bell says saved his life.
The two were not in contact again until the fall of 2013, when Bell emailed Pastner, then at Memphis.
At the time, Pastner was unaware that Bell had just been released from prison after serving a nearly five-year sentence for multiple felony drug convictions.
The pair emailed for the next several months until July 2014, when Bell told Pastner that he had cancer and needed Pastner's emotional support. Bell then became a big fan and supporter of Memphis' basketball team, often traveling to watch the Tigers play.
Bell continuously texted and emailed Pastner, telling him how much he admired the coach, saying things like "I am your biggest and most ardent supporter" and "I am a better man with you in my life."
But Bell's feelings changed in April 2016, when Pastner left Memphis to take over as basketball coach at Georgia Tech, and Bell began to get "jealous and envious" of Pastner's staff and supporters.
Last October, Bell told Pastner that he had information about NCAA violations in the Georgia Tech basketball program and was going to report the information to the media and NCAA to get Pastner in trouble. Bell told Pastner that TMZ had offered him $55,000 for the story.
Pastner told Bell that he "prided himself on complying with NCAA rules" and that if Bell had information on violations, he wanted Bell to tell him and the NCAA so they could "investigate the information and get to the bottom of it."
Pastner asked his players if they'd accepted gifts from Bell. Two players said they accepted basketball shoes and dinner from Bell, and that he had paid for them to fly to Tucson and stay with him earlier in the year.
Pastner reported the NCAA violations to his supervisors and as a result, the two players were declared ineligible to play for Georgia Tech. They were reinstated after they agreed to repay the value of the benefits, and were suspended three and six games.
Pastner cut off all communication with Bell on that day.
Bell continued to send threatening texts and emails over the next few months, and even posted now-deleted messages to Twitter suggesting he would release the damaging information.
On Nov. 2, Georgia Tech's outside counsel interviewed Bell regarding the alleged NCAA violations, during which Bell said he wanted the money he was owed for helping Pastner. Bell said if he was paid, he would call a CBSsports.com reporter he'd spoken to and tell him he made up the allegations.
Five days later, CBSsports.com published Bell's story, which the lawsuit said was full of "false, malicious and defamatory statements" by Bell and Pendley.
Bell continued his crusade for payment over the next month, contacting Pastner's agent and threatening to release the incriminating information unless he was paid for the time he claimed he worked for Pastner and the basketball team, even though he was never employed by either. He also contacted Georgia Tech's outside counsel to demand compensation, threatening to contact the NCAA if he wasn't paid.
Bell became angry with a former Memphis staffer during a phone call, telling the man that he was a best friend of the nephew of Joaquin "El Chapo" Guzman, the famed Mexican drug lord. Bell continued to say that he had "green lit" a "hospital job" on a current Memphis staff member, saying that he was a "dead man."
When the former staff member tried to apologize, Bell said it was too late. He said the former staffer had "better check yourself, before you wreck yourself" and that he was "next on (Bell's) list."
The NCAA contacted Bell in December to discuss his allegations against Pastner. Bell refused to discuss the allegations, but offered a new claim — that Pastner had sexually assaulted Pendley.
The next day, one of Pastner's attorneys reported Bell's blackmail and extortion attempt to law enforcement.
Through public records, Pastner's attorneys learned that Bell has a "decades-long criminal record of arrests and convictions in multiple states" for crimes including forgery, fraud, larceny, assault, threatening, burglary, theft and drug offenses.
Pastner and his lawyers also learned that between July 2015 and April 2017, Oro Valley police had responded to at least 15 incidents at Bell and Pendley's home.
'Every word ... is a lie'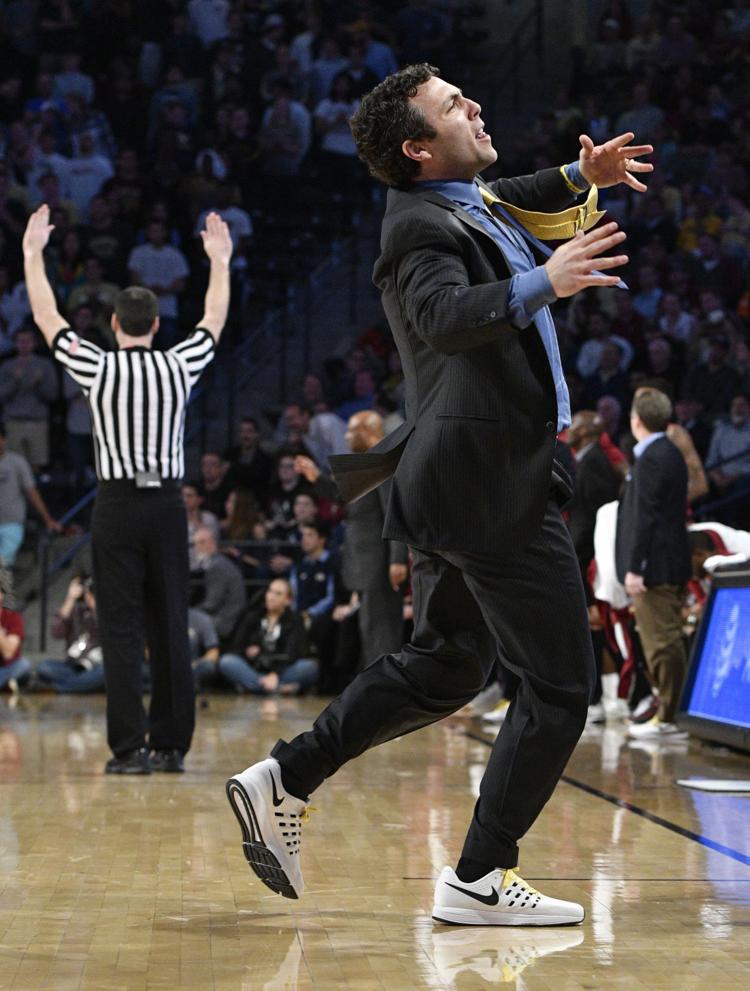 Bell's neighbors weren't the only people who he had troubles with. Bell's father took out a protective order against him after a fight during a 2016 Thanksgiving visit to his parents' home in New York.
Bell's mother said that he became angry after she and his father went to watch their grandson play flag football, making him think that they liked their grandson more than they liked him.
After they returned to the game, Bell began verbally attacking them and eventually pushed his mother and hit his father. Bell's mother called the police but Bell's father refused to press charges after making sure that Bell and Pendley left packed their bags and left. Bell's father got an order of protection against his son shortly after.
When they returned to Tucson, Bell and Pendley began telling Pastner that Bell had been sexually abused by his mother.
One of Pastner's attorneys spoke to Bell's mother, who said that Bell lied about the abuse, as well as his prior claim of having cancer. She also said that Bell told her that Pastner visited him in prison and sent him money so that he could buy things.
"Every word out of Ron's mouth is a lie," his mother told the attorney.
'Disgusted and devastated'
Pastner denied any assault or harassment against Pendley in a statement sent to the Star, writing that he was "disgusted and devastated by the actions of two individuals to whom I showed compassion."
"My family and I are victims of fraud and extortion and the extent to which these individuals have gone to harm us is truly unfathomable," he wrote.
Pastner denied any prior knowledge of improper benefits given to Georgia Tech players, saying that he self-reported the infraction to the compliance department as soon as he found out about it.
Pastner's attorneys, Scott Palumbo and Scott Tompsett, say their client has been greatly harmed by the claims.
The lawsuit is asking the court to award special, general and punitive damages to be proven at trial, as well as Pastner's costs associated with the suit.