Here are 10 ways Sean Miller and the Arizona Wildcats could win a national championship in 2017-18
Editor's note: This article is part of the Star's 2017-18 basketball guide, which runs in Sunday's paper.
The Arizona Wildcats have long struggled to find the winning formula that gets them back to the Final Four for the first time since 2001. Even more, the UA is still in search of its first national championship in over 20 years.
After an up-and-down offseason for the program, does Sean Miller's squad finally have what it takes to put the pieces together en route to San Antonio?
Why this year could be the year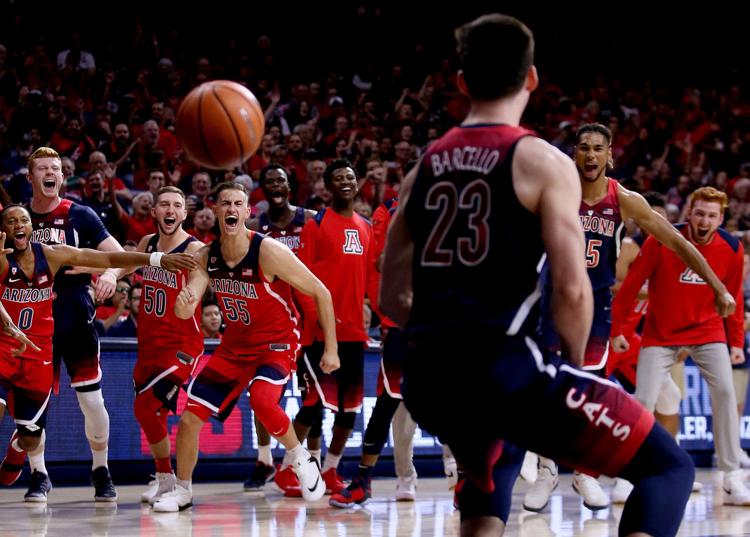 By Bruce Pascoe / Arizona Daily Star
Since he arrived at Arizona in 2009, coach Sean Miller has pulled in top-five recruiting classes with stunning regularity. But it's always been a finger-in-the-dike sort of thing.
You know: One big-time player comes in the door, then leaves the following spring for the NBA Draft. Or he doesn't play as much as he or his handlers think he should, so he transfers. Or maybe he just leaves, period.
All of that happened to Arizona over the last two springs. Justin Simon transferred to St. John's in 2016; a year later, Lauri Markkanen went to the NBA Draft while Kobi Simmons and Chance Comanche departed only to go undrafted. Four underclassmen, all gone just like that.
But a little fate broke the Wildcats' way last spring, and it could be the reason why Arizona makes a run all the way to its first Final Four in 17 years.
Rawle Alkins and Allonzo Trier came back for more.
Those two standout wing players are the key reason why, for once, Arizona has a strong core of talented veteran leadership — along with point guard Parker Jackson-Cartwright and center Dusan Ristic — to go along with a freshman class led by skilled 7-footer Deandre Ayton.
By the time Miller sat down with Alkins at a May press conference to discuss his return, it was clear what the coach had.
Just about everything.
"I think we have a blend of a number of characteristics," he said. "We have a talented group of newcomers, not just guards, not just bigs, but a balance. Wings, shooting, frontcourt players and a lot of talent in the freshmen class.
"We also have a lot of proven players, experienced leadership. I think some players who have a healthy chip on their shoulder, whether it's Parker to prove himself above and beyond what he's already done. Or Allonzo and Rawle to prove they can be NBA players, to be the best they can in college."
When asked if this year's Wildcats were his best yet, Miller said they were "along the same lines" as the powerful teams he had in 2013-14 and 2014-15. A majority of preseason college basketball publications suggested they were even better, calling UA the No. 1 preseason team in the country.
That suggests Arizona could make its first Final Four since 2001, and maybe even win its first national championship since 1997.
Here are 10 ways it could happen:
1. The freshmen develop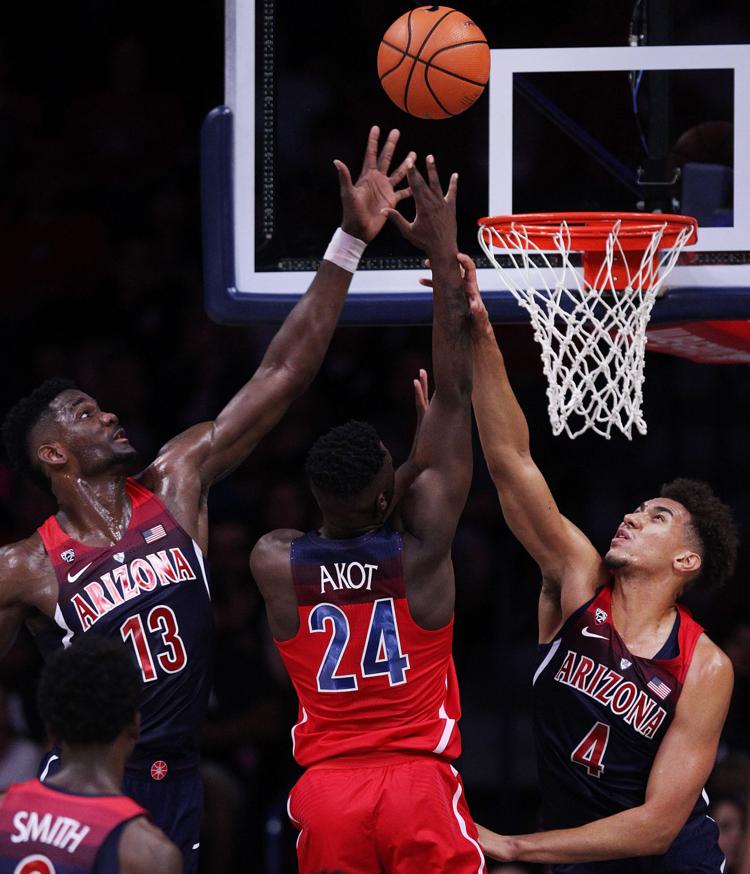 Kobi Simmons and Alkins, both freshmen at the time, received the bulk of additional playing time when Trier missed half of last season, and it paid off. In Simmons' case, it did so immediately, with him singlehandedly keeping the Wildcats alive in an opener against Michigan State they eventually came back to win. For Alkins, the extra time helped develop him into a consistent producer by the end of the season.
Now Alkins is out until at least the end of November with a broken foot. In his place at small forward, the Wildcats will turn primarily to freshmen Brandon Randolph and Emmanuel Akot, two players whose combined skills cover a lot of areas that the Wildcats will need help with ahead: Randolph is an aggressive, athletic scoring wing while Akot is a versatile offensive player with defensive ranginess and attitude.
"They're very different players," Miller said. "Emmanuel is blessed with unbelievable court vision. He's kind of like a point guard even when he's not the actual point guard out there. He's a tremendous defensive player with great size.
"Brandon's very explosive on the offensive end and continuing to develop defensively. As we continue to implement our system, Brandon is one of those guys you want to free up to score because he does it so naturally."
While they won't be as impacted by Alkins' absence directly, UA can also hope for further development in combo guard Alex Barcello and power forward Ira Lee, two freshmen who could become useful role players down the stretch.
2. Ayton arrives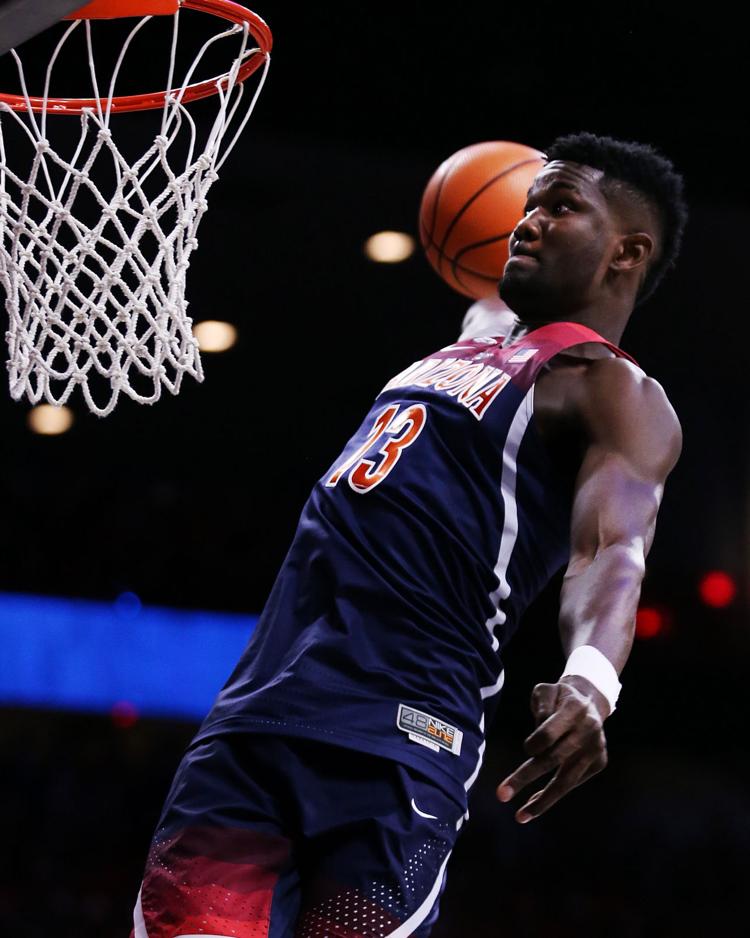 Then there's that other freshman, even though he hardly looks or plays like one. Ayton is a skilled and supremely athletic player at any size, let alone a 7-footer. Which he is.
"I've never seen anybody like him at his age," Miller says.
While Ayton is a clear NBA lottery pick next spring, he's not the type of guy who acts like a prima donna short-timer.
"The thing about Deandre is he's obviously a terrific basketball talent but also a remarkable kid," Miller said. "He's done every single thing that we asked since he stepped on campus, academically in the classroom and working hard in the weight room.
"It's up to us to really adjust and make sure we take advantage of all the skills and talents that Deandre brings to the table."
3. Trier is player of the year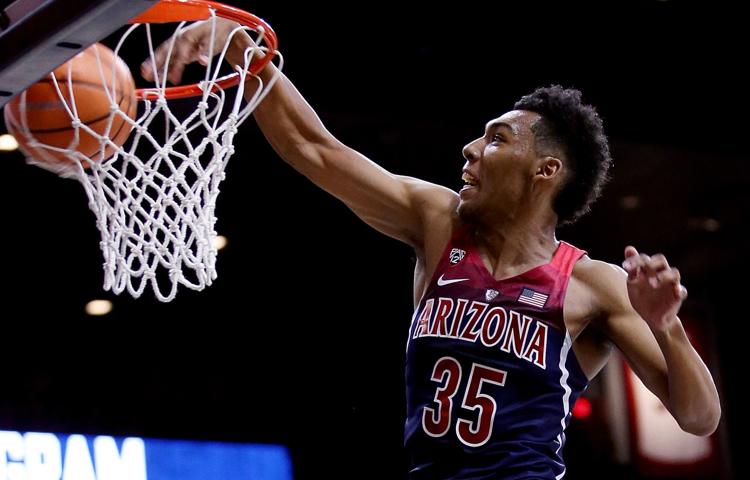 Over just 18 games last season, Trier averaged 17.2 points, improved his passing (2.7 assists per game) and hit 39.1 percent of his 3-point shots.
So imagine what the ever-driven wing from Seattle might be able to do with a full season.
A lot of others have: He's a regular on just about everyone's second- or third-team All-America teams, with a chance to sweep a number of postseason honors as the potential leader for a top-rated team – especially if he can keep improving his passing and defense.
"Being able to have him here ready, healthy, and at his best from start to finish, I hope to see it," Miller said. "He has a chance I think to really establish himself as one of the best players in college basketball."
4. Akot delivers on 'D'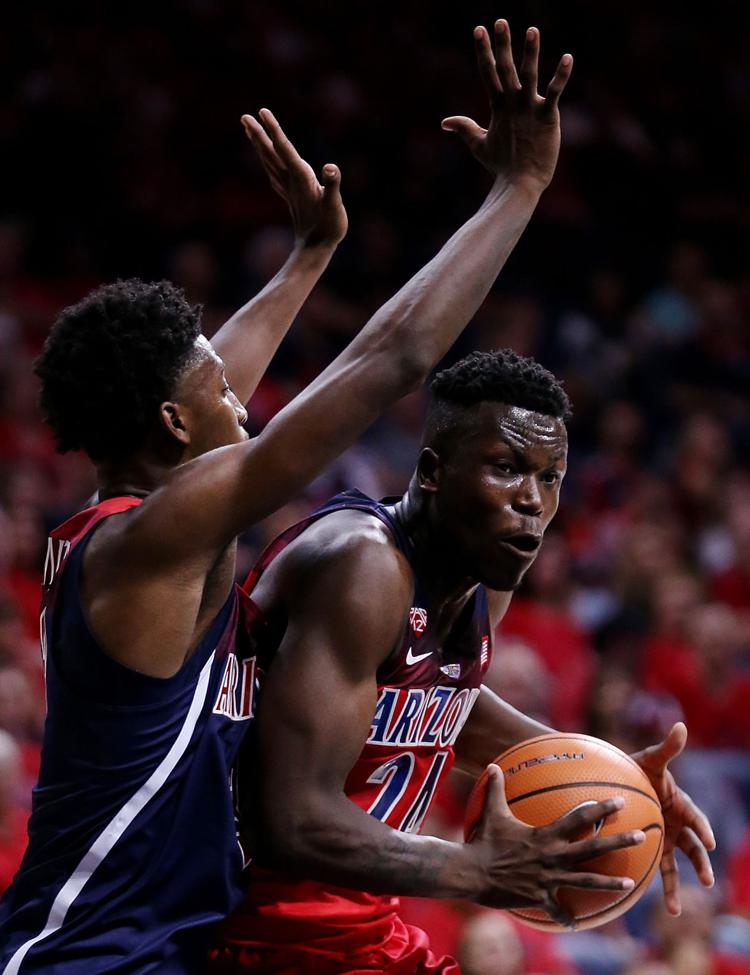 Or a reliable stopper, at least, in Akot. He has the size, length, quickness and mentality to do it, the way Miller has described it.
"He's as good of a defensive player as a freshman that we've ever had," Miller said, "and I don't say that lightly because of Aaron Gordon, Rondae (Hollis-Jefferson), Nick Johnson and then as guys like T.J. (McConnell), Kadeem (Allen), Kyle Fogg — those guys really embraced the defensive end. They were terrific defenders.
"Emmanuel's kind of like that now."
Akot, who reclassified to skip his senior season at Utah's Wasatch Academy this season, is still only 18 years old. But Miller said Akot is ready for a big role, potentially taking different positions upon entering the game because of his skills and mentality.
"We really trust his ability to defend," Miller said. "A lot of freshmen don't think that way. It takes some maturity to realize defense means something but he's very mature in his thinking."
5. The Wildcats flex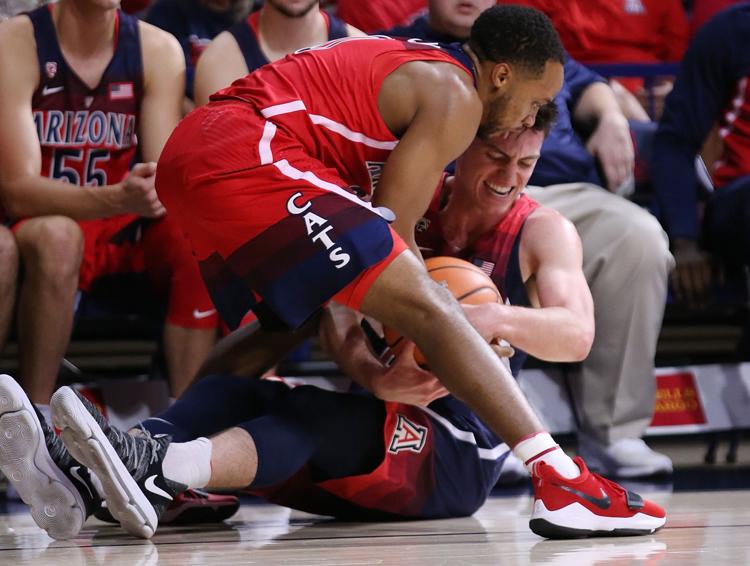 The 6-7, 200-pound Akot is also at the center of a flexible lineup that can be bent and shaped around virtually any opponent.
The Wildcats can go small and quick at point guard with Jackson-Cartwright, they can go traditional with Barcello and Trier in the backcourt — or they can put Akot there to really throw people off.
Similarly, they can match smaller-sized teams by putting Ayton at center, where he's still quick enough to guard smaller players, and moving Akot to power forward, as Miller has tried in practice.
"There's so many teams now that play small and we want to have that capability, and with Rawle being out that also gives us chance to play with a third perimeter player," Miller said.
The athleticism and defense of senior Keanu Pinder at forward give the Wildcats another option to match a quicker frontcourt.
6. They improve from 3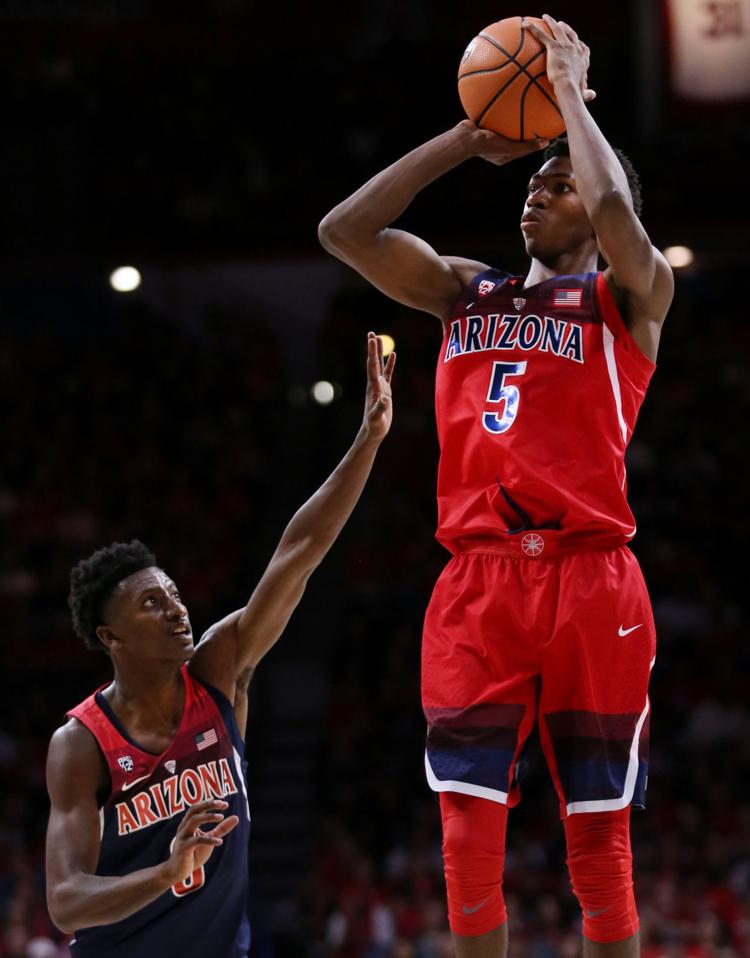 The Wildcats hit only 2 of 19 3-pointers in the Red-Blue Game, a slump that might be attributed at least in part to nerves.
They hope it is, at least.
UA lost its two best 3-point shooters off last season's team, Markkanen (42.3 percent) and Kadeem Allen (42.7).
The Wildcats have the potential to offset the losses of Markkanen and Allen in shooting with Randolph and sophomore Dylan Smith and expected improvement from Trier and Alkins.
Some of the feedback Alkins received after he tested the NBA Draft last spring were concerns about his body fat and long-distance shooting, after he shot 37 percent from 3 last season. Miller said he's taken care of them.
"From a jumpshot perspective, Rawle has made tremendous improvement in that area already," Miller said upon Alkins' return last May. "If you would have judged him as a shooter at this time a year ago and look at where he is a today, he made a lot of improvement and that's to his credit because he loves the game and he lives in the gym."
7. Romar influences the roster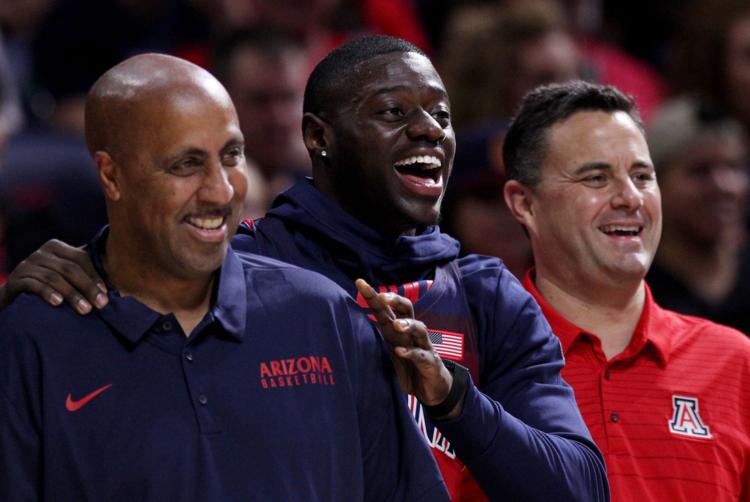 Not to be overlooked in Miller's recruiting resume was his hiring of Lorenzo Romar as associate head coach after he was fired by Washington. Romar is a well-liked personality who has a particularly close relationship with the Seattle-bred Trier. While at Washington, Romar ran a fast-paced offense and some high-post tricks with that caused the Wildcats trouble.
Miller has said he's open to Romar's offense and overall influences.
Maybe, with Romar, the Wildcats can even improve the zone offense they've struggled with at times in recent seasons. They'll undoubtedly need it this season against teams who will likely use zone defense to try to deal with Ayton and Ristic inside.
"From an offensive perspective, I think there's a lot of things we loved about the way his teams played," Miller said. "We have to be true to ourselves because there's a lot of things we believe in but to add some of his thoughts and allow him to make us better it would be foolish for me or for anybody not to allow that to happen.
"To have Lorenzo here is a gift and I think it'll impact us in a significant way."
8. PJC stays healthy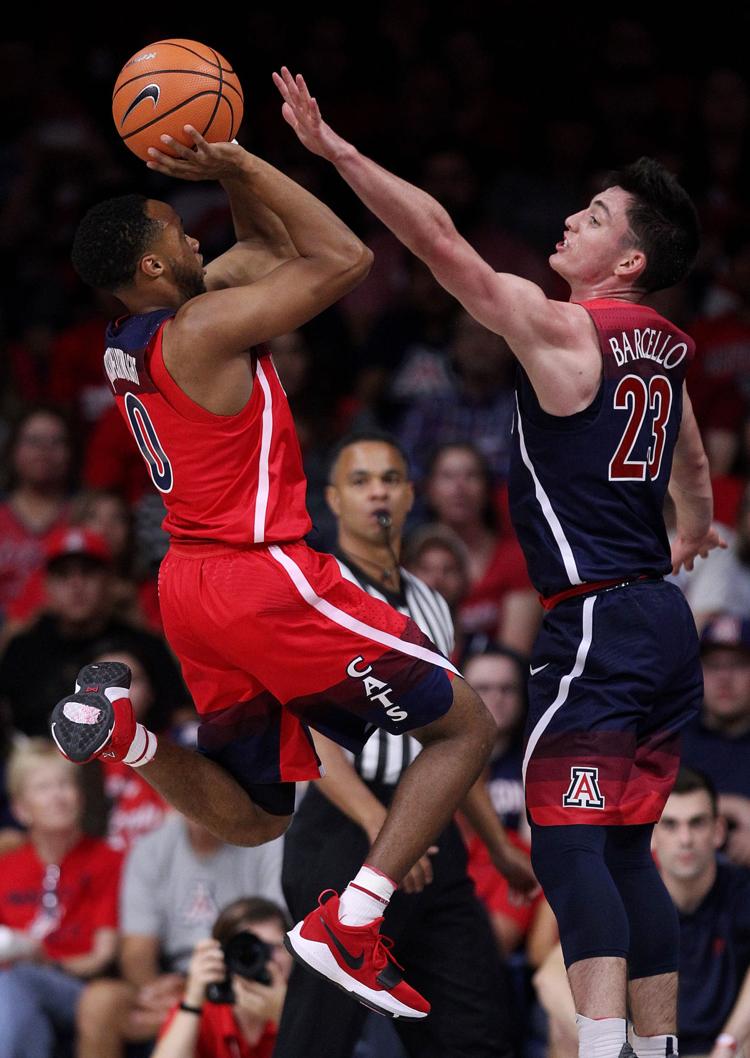 While Jackson-Cartwright suffered a concussion as a freshman and missed a month last season with a high ankle sprain, the Wildcats always had guys like McConnell and Allen to turn to at point guard.
This year, they have Jackson-Cartwright, plus freshmen Barcello and Akot, and maybe Trier if he moves over in a pinch.
Plus, as Jackson-Cartwright made obvious in the Red-Blue Game, the Wildcats can benefit from his presence more than ever. He said he's been working on "being more of a pest" and his experience shows.
"We look at him as being really one of our team's leaders. Somebody who's played against every style that you can play against," Miller said. "He's experienced a lot. He's had his ups, he's had his downs. He's had his shooting slumps and he's had the opposite where he's on fire. … Having that experience is very healthy."
9. The Cats embrace their roles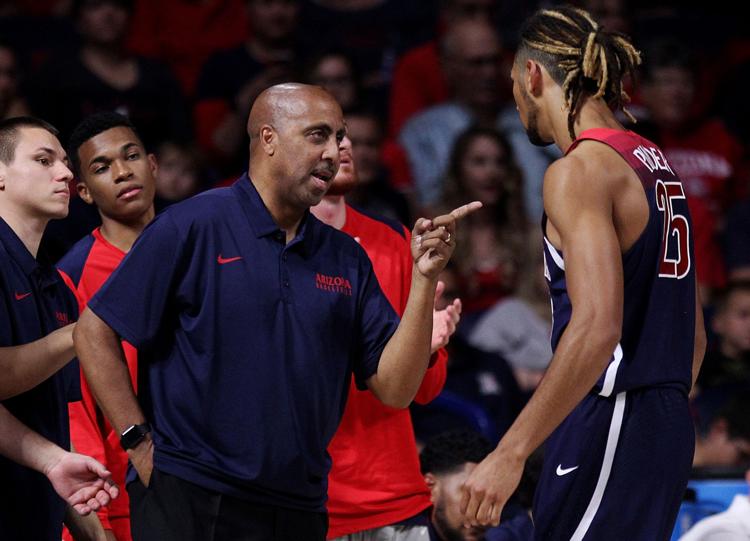 While Trier made a major impact upon returning to the Wildcats in mid-January last season, some other things were never quite the same. Markkanen's 3-point shooting slumped dramatically after Trier came back — he shot just 14.2 percent from long range between Feb. 4 and March 4 — while Simmons slid almost completely off the UA bench.
The Wildcats should have more time to adjust when Alkins comes back. When he returns, minutes may be sliced for guys such as Smith, Lee, and Barcello.
Everyone will need to adjust if the Wildcats are healthy.
"I think sacrifice is a big word here," Miller said in August, before Alkins was hurt. "Everybody has to play for the bigger objective and the bigger goal and that's a lot easier said than done. It's OK if each of our individual players has their own goals and aspirations but as long as that vehicle they use to get there is Arizona, then we're all fine"
10. Arizona stays focused
The UA could lose seven or more players next spring, between its four seniors and possible NBA departures by Ayton, Alkins and Trier.
Add that to the uncertainty of its 2018 recruiting efforts, which have been stymied by an ongoing FBI investigation and possible NCAA sanctions, and you can make an argument that it's now or never for the Wildcats.
Either they make the Final Four this year or, the way it is looking now, they might need a year or two or more to get back in position to do so.
That's pressure.
But Miller says it isn't any more pressure than he and the Wildcats face every year.
"I think it's always now or never," Miller said. "When we lost to Xavier, I don't think anybody said, 'Man, no problem, coach — you guys are going to be awesome next year.' It won't change this year, whenever that last game is.
"It always ends with a bang because expectations are high and our goals are extremely high as well. I think you have to look at things one game at a time, certainly one moment at a time. You have to coach this year's team and whatever happens, happens."