Ken Pomeroy ranks country's best college teams, but don't expect him to be a bracketologist
The man that several of college basketball coaches have referred to during press postgame press conferences, including Sean Miller.  
Stats guru ranks teams by efficiency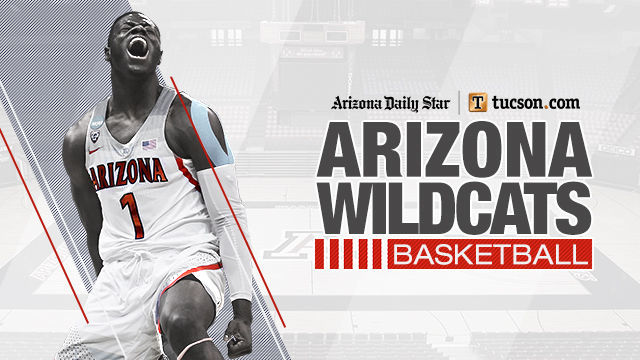 LAS VEGAS — Statistical analysis has taken sports by storm over the last decade. 
Credit Ken Pomeroy for its expansion into college basketball. 
Pomeroy is one of the most recognizable names in the sport today. His website, KenPom.com, takes teams' statistics and adjusts them, creating a ranking system. Pomeroy keeps an overall ranking and both adjusted offensive and adjusted defensive efficiency ratings for every team in the country. He even calculates luck, calling Maryland-Baltimore County the most fortunate team this season. The unluckiest? Columbia.
Pomeroy's numbers say this season is one of Arizona's best under coach Sean Miller — at least offensively. The Wildcats entered Thursday ranked 16th in total adjusted offense. Defense is a different story. Arizona is 94th in efficiency, tailing SMU and Nevada. 
Pomeroy talked to the Star about his methods at the Pac-12 Tournament: 
What's the method to the madness?
"It's hard to describe. It's something that I've put together over 10 or 15 years, so it's been a steady progression of building things and I was very fortunate to be one of the first to do it. Some people do it now, but I've got a little bit more name recognition so it's helped. Coaches now — especially younger coaches — when they just started their career, they were using my stuff. So now it's been in the culture of the community."
Did you ever think your site would receive so much national recognition?
"It was just a hobby. I had a job that I liked, I was forecasting the weather and it was just a hobby to keep me interested in college basketball. When I first started, there was a lot of stuff going on in baseball, so I did think that I could build a small audience, not necessarily coaches or media, but just something for fans. But I had no idea it would get to this point."
Was college basketball always your passion from the start of this journey?
"I grew up outside of Washington D.C., so it was the intersection of the Big East and the ACC. When I grew up in the late '80s, early-to-mid '90s, that was the heyday of those two conferences. And it was the only sport I was good at — not that I was actually good — but it was the only sport I was competent at. It's been the sport I've been interested in my whole life."
You were a meteorologist?
"For the government, so I wasn't on T.V., but kind of more of a science side of things."
Do you use any similar theories from your meteorology days to your website?
"Definitely. The main thing is just the forecasting element so being a meteorologist, I was making forecasts all the time and seeing how my forecast did everyday. Weather forecasts effect everyone; basketball, in the grand scheme of things, isn't that big of a deal. Weather forecast: it snows and no one wasn't expecting it to snow and it affects a lot of people so they get pretty upset about that. It taught me limits of what you can do with the forecast and you're never going to be perfect. That philosophy helped me forecast basketball."
Do fans ever get upset at you for their team low on any of your rankings?
"For the most part, people understand that it's not me actually slotting these teams together in place. It's a formula, and sometimes it just works out that way."
What is the formula?
"The rankings are based off offensive and defensive adjustment efficiency, so points per possession, scoring allowed, it's adjusted for who you play, when the game is and where the games are played. So, there's a few special ingredients in there, but it's not like 'Oh, this team made this many 3-pointers.' That doesn't factor into it, it's really how you score and you prevent scores regardless of how you do it."
Has a coach ever reached out to you for advice?
"I have a few consulting gigs where people ask me my opinion on things, or up-and-coming teams. It actually happens during the (NCAA Tournament), coaches will ask me for reports of the team they're about to play and break down the stats so they can understand it going forward."
Have you thought about incorporating bracketology to your website?
"What I do is different than what the committee does. I'm just trying to look at who the best teams are. And it's not resume-based; it's looking at points scored and points allowed and so a 15-point win is a lot better than a two-point win. If you're judging teams on the tournament, you have to look at the outcome of the game. It's kind of sacred. That's what matters. It doesn't matter if you beat a good team by two or 15, you beat a good team and that's what matters. My work is completely different from the committee and I don't want to go in their lane."
KenPom.com ranks Arizona Wildcats, Pac-12 teams