Seen and heard: Allonzo Trier's knee injury, streaking at McKale Center, Kobe tribute
The No. 18 Arizona Wildcats routed the North Dakota State Bison 83-53 Monday night, but it wasn't a trouble-free win with junior guard Allonzo Trier leaving the game with a left knee injury. 
Here's the best seen and heard from McKale Center: 
By Justin Spears / Arizona Daily Star
Silent night
With 9:53 left to play in Monday's game between Arizona and North Dakota State, Allonzo Trier collided with Bison guard Paul Miller and immediately hit the floor. Trier held is knee in agony as McKale Center went dead silent. 
UA's head trainer Justin Kokoskie assisted Trier to the locker room, but returned to Arizona's bench with a few minutes left in the game. 
Official basketball game of the Philadelphia Eagles' QBs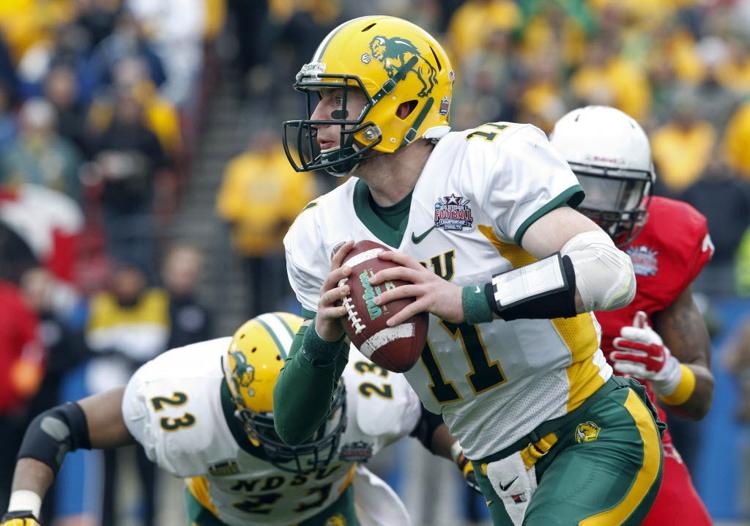 Monday marked the first time North Dakota State and Arizona matched up on the hardwood, but the two schools have a unique connection. The one-two quarterback combo for the Philadelphia Eagles went to both schools. Eagles starter Carson Wentz played for the Bison from 2011-2015 and was the No. 2 pick of the 2016 NFL Draft. Wentz's backup, Nick Foles, was UA's quarterback from 2009-2011.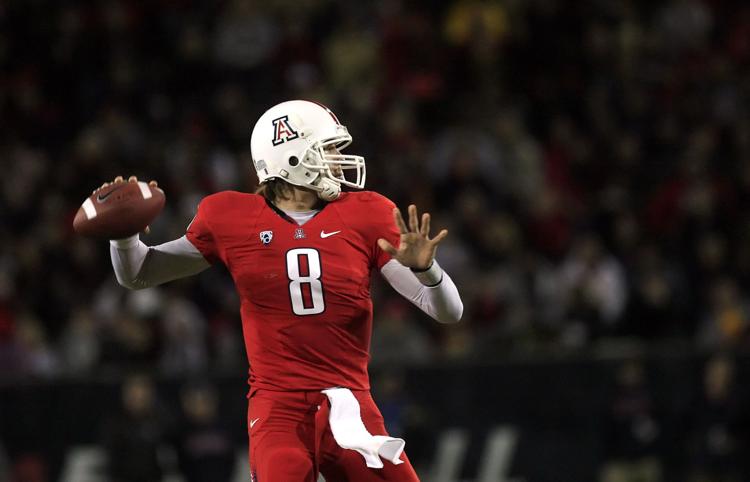 Foles is now called upon to lead the Eagles to the Super Bowl after Wentz was ruled out for the season with a torn ACL. Any chance of a friendly wager between Foles and Wentz?
Mamba mentality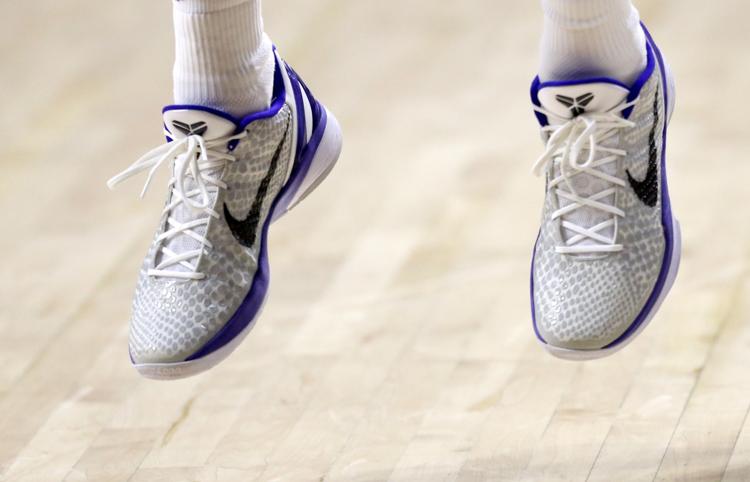 Trier showed respect for NBA legend Kobe Bryant on Monday, wearing gray and purple snakeskin Kobe 6s. Bryant had both of his numbers retired at halftime during the Los Angeles Lakers' contest with the Golden State Warriors. 
Akot's minutes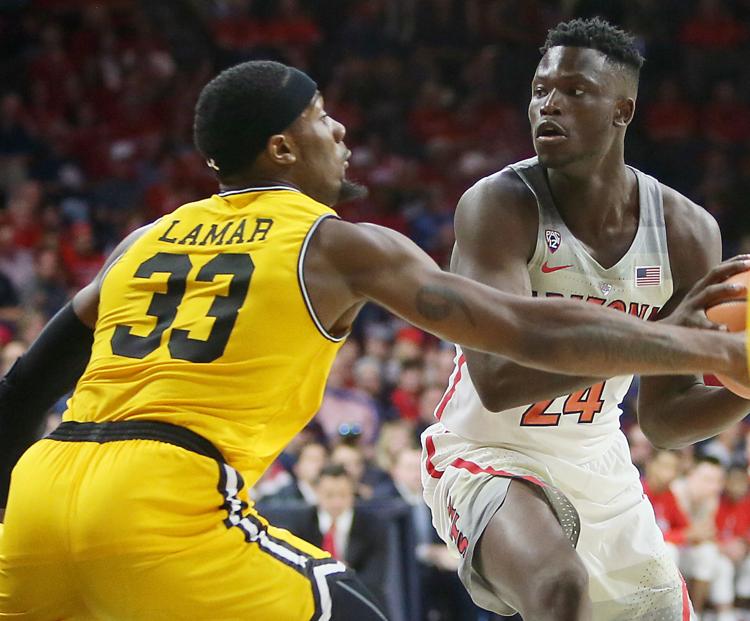 Freshman wing Emmanuel Akot didn't play against Alabama and New Mexico, but Sean Miller said he was battling knee tendinitis.
Miller said at the beginning of the season that Akot could potentially fill the role as the defensive stopper for Arizona, but that title vanished once his minutes decreased. Against the Bison, Akot played 10 minutes and contributed two points, but didn't manage to record any steals or blocks. Akot was a question mark considering Miller usually has a rotation he utilizes by the end of nonconference play with the Pac-12 schedule on the horizon, but playing double-digit minutes Monday was an encouraging sign.
Barcello's ankle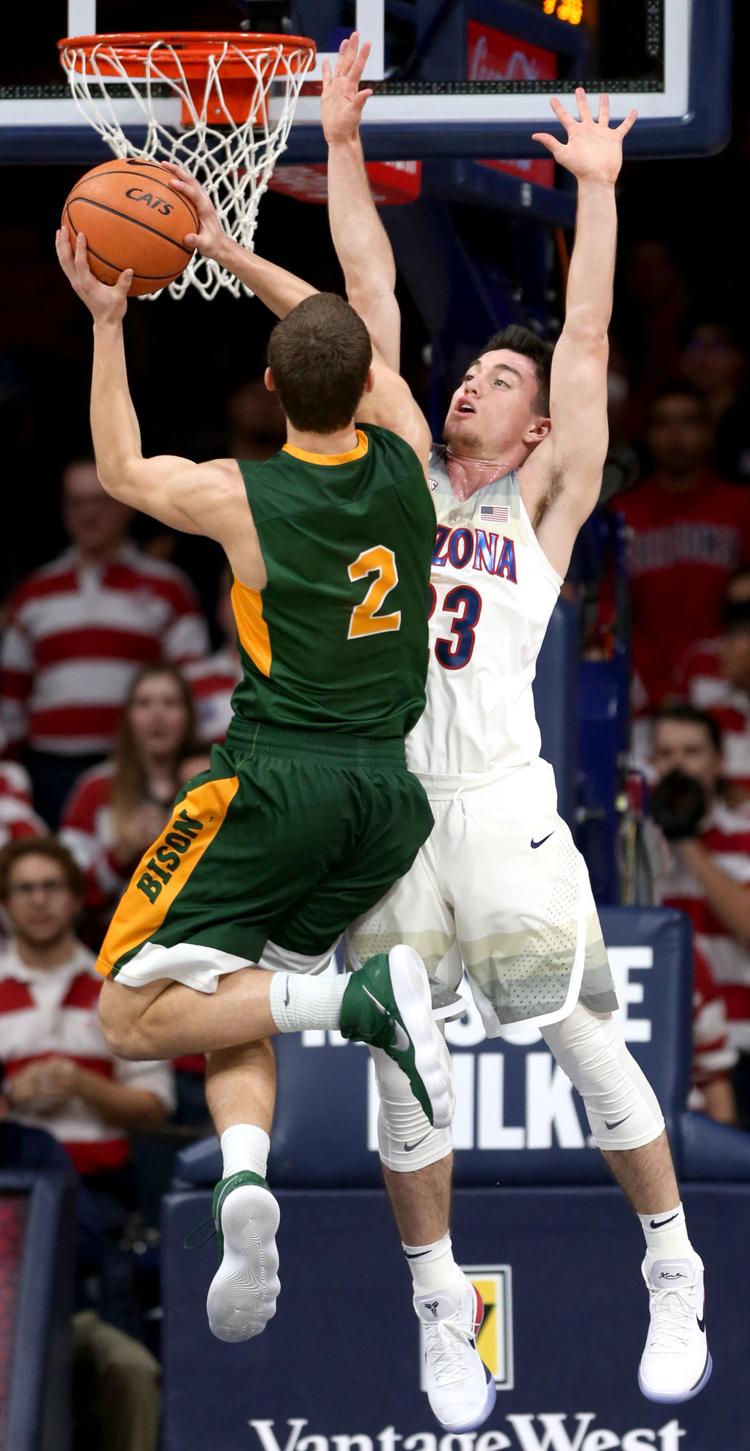 Freshman point guard Alex Barcello missed Saturday's game against New Mexico with an ankle injury, but was active against NDSU. Barcello played 11 minutes, all in the second half. "I wouldn't have played him tonight if he wasn't healthy … It was good for him to get out there, because we need him," Miller said.
From the land down under
Sam Froling, a four-star power forward from Australia and a highly touted player in the 2018 recruiting class, attended Monday's game as part of his official visit. The 6-foot-9-inch Froling is the No. 22 power forward in 2018, per 247Sports.com. He is considering Arizona along with Indiana, Creighton, Maryland and Wichita State.
Here's some quick highlights of Froling:
The big number
46
— Arizona's win over NDSU marked the 46th consecutive home win over a nonconference opponent, the longest in program history.
He said it:
"I think we are hoping for the best. You don't really know with those things until you let a night go by and maybe further take a look at it tomorrow. He suffered some sort of a bone bruise and if it's more than that, it's because he collided with another guy's knee … We're hoping for some good news," Miller, on Trier's knee injury.
Sean Miller provides an update on Allonzo Trier's left knee injury. Says it's possible that it's a bone bruise since the knees collided so Trier could be "out a day" or it could be worse. Miller says trainers will evaluate more tomorrow morning. pic.twitter.com/dxycrQMwrt

— The Wildcaster (@TheWildcaster) December 19, 2017