Seen and heard at McKale Center: Eddie in the house, dunks for all, and one more double-double
Arizona State legend Eddie House was at McKale Center for Arizona-Oregon State, as was Khalil Tate, Colin Schooler and UA President Robert C. Robbins. The Wildcats and Beavers treated them well with a close game that featured plenty of commotion. Here's the best from Thursday night.
By Justin Spears / Arizona Daily Star
School's back in session!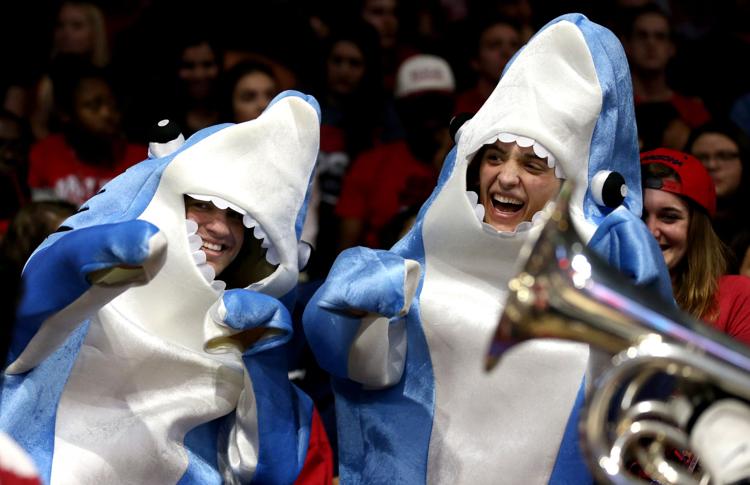 Although McKale Center was rocking in Arizona's previous home game against Arizona State, it was missing an extra element of crazy: the student section.
The winter break for UA students ended last weekend and classes officially started on Jan. 10, which meant the ZonaZoo was back in full effect Thursday. From dancing bananas, to Katy Perry's left shark from her Super Bowl performance, to fatheads of players, the ZonaZoo was back like it never left.
Eddie in the house
Eddie House in the house! Looks like he'll be on the @Pac12Network broadcast for Arizona-Oregon State. pic.twitter.com/HOuY1WPwUc

— Justin Spears (@JustinESports) January 12, 2018
Every Arizona fan's favorite player at ASU was sharpshooter Eddie House, right? He's ASU's all-time leading scorer with 2,044 points and is 11th on the all-time Pac-12 scoring list. Plus, he's the Sun Devils' all-time leader in steals and second in the conference behind The Glove himself, Gary Payton.
House probably ranks high in terms of most despised Sun Devils considering he had an impressive career in Tempe. Except on Thursday night, he was on the objective side. House was the color analyst on the Pac-12 Networks broadcast for the game, sporting a black checkerboard dress shirt and jeans.
Before the broadcast, House greeted and shook hands with all UA fans that greeted him.
Presidential treatment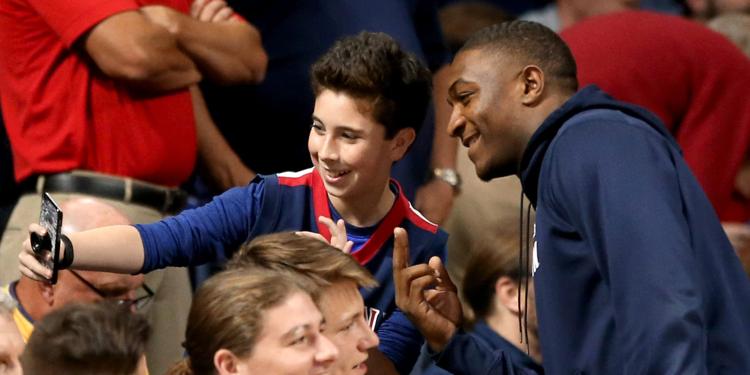 University president Robert C. Robbins is in the middle of helping find Arizona's next head football coach, but that doesn't mean he can't enjoy some time with his courtside seats at McKale Center.
Robbins sat directly across from Oregon State's bench, and he also had some familiar company.
And no, it's not the new head coach, that'll have to wait. Instead, UA quarterback Khalil Tate and freshman linebacker Colin Schooler joined Robbins.
This isn't the first time the pair sat next to Robbins at a game. On Nov. 29 against Long Beach State, the two were courtside. However, Arizona athletic director Dave Heeke wasn't in his normal seats for the game. You think he's actively trying to find the coach?
Missing the cut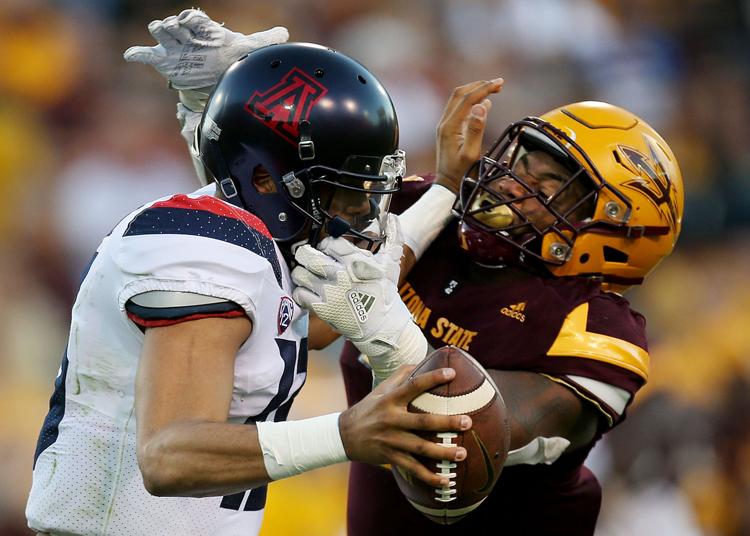 During every home game, the Wildcat Club, which is a booster organization for Arizona Athletics, puts a promotional video on the big screen featuring student-athletes at all levels.
Arizona quarterback Brandon Dawkins has been in the video all season, but he wasn't Thursday night. And with Tate sitting right there? Ouch.
Dunk you very much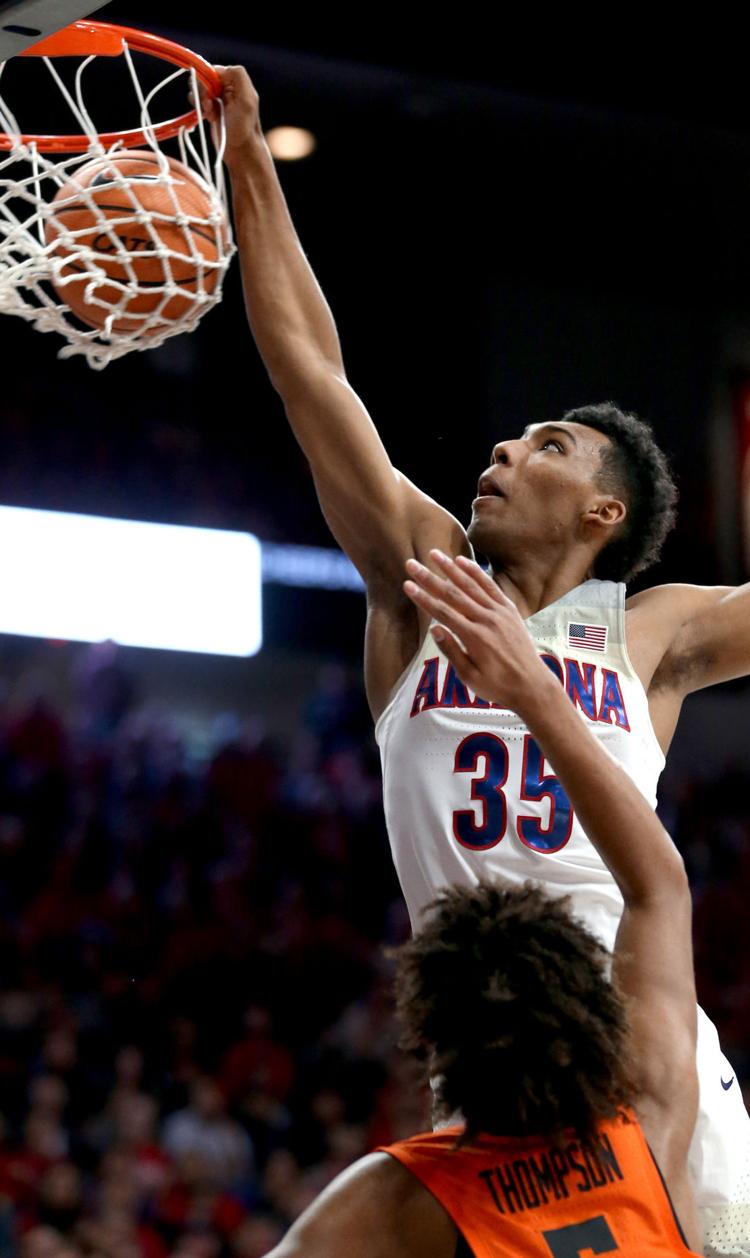 Arizona scored 21 points in the first half, which was the lowest posting for half by the Wildcats this season. McKale Center was in dire need of coffee or a nap, because the mood was sluggish and quiet. And rightfully so, considering the Wildcats are third in the Pac-12 in points per game. The vibe didn't feel like a conference game, but rather an exhibition matchup.
Fans got exactly what they needed when Allonzo Trier dunked on OSU's Ethan Thompson, which put the crowd on their feet. But the one that truly caused chaos was Rawle Alkins' fast break reverse dunk that looked very Michael Jordan-esque. ESPN reacted accordingly and nominated Alkins for a top-10 play.
Lots of golf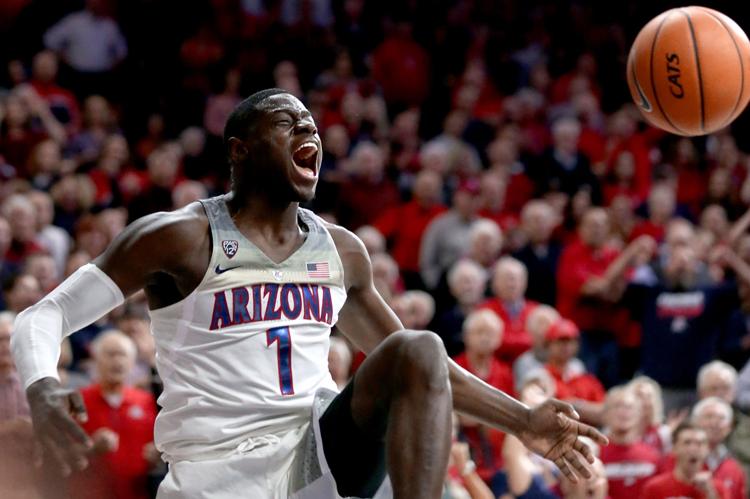 One fan came out on the floor during a timeout to roll large dice. It's a tradition at McKale Center, but no one has hit the jackpot all season, which is the $500 side.
The lucky lady rolled a 500 to play golf at Sewailo Golf Course located at Casino Del Sol, which is also the official course for UA men and women's golf. That's not a bad way to start 2018.
He said it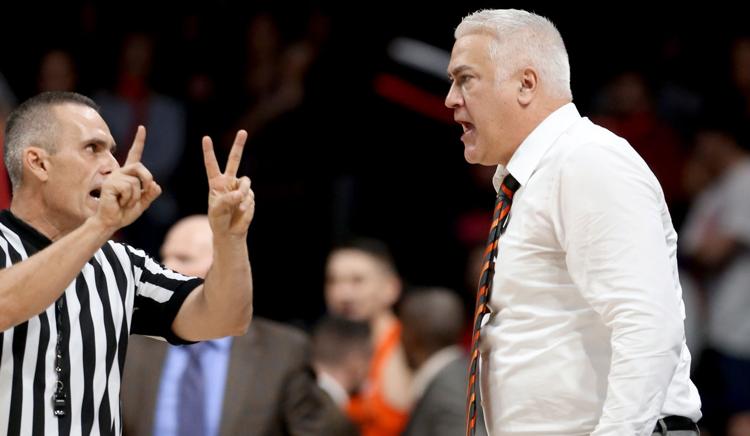 "He can handle the ball. He can guard basically 1 through 5. When he's dialed in and playing like Coach (Sean) Miller wants him to, he's probably one of the better big men that we've seen in this league in quite a while."
— Oregon State head coach Wayne Tinkle on Deandre Ayton via The Oregonian
The big number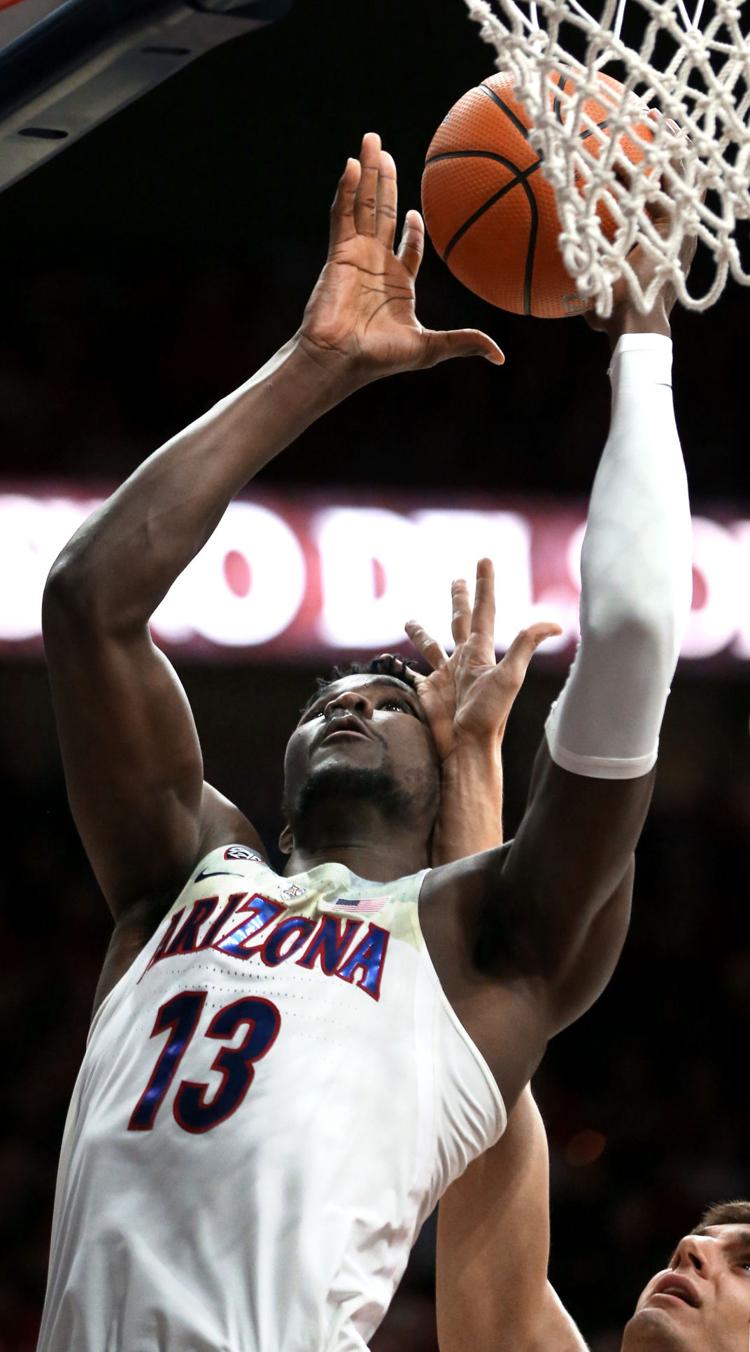 12
Ayton finished with 14 points and 10 rebounds, his 12th double-double of the season. That mark ties the Arizona freshman record set by Al Fleming in 1972-73 and Michael Wright in 1998-99. Did we mention there are 14 games left in the regular season?