Seen and heard at McKale Center: Rawle Alkins shines in University-4 vs. University-5 bout
Rawle Alkins found his groove Saturday night with a 20-point outing against the Trojans. Scooby — sort of — was in the house, as was Bennie Boatwright's healed foot and one outrageous Bill Walton claim (what else is new?). Here's the best from McKale Center.
By Justin Spears / Arizona Daily Star
Welcome back, Rawle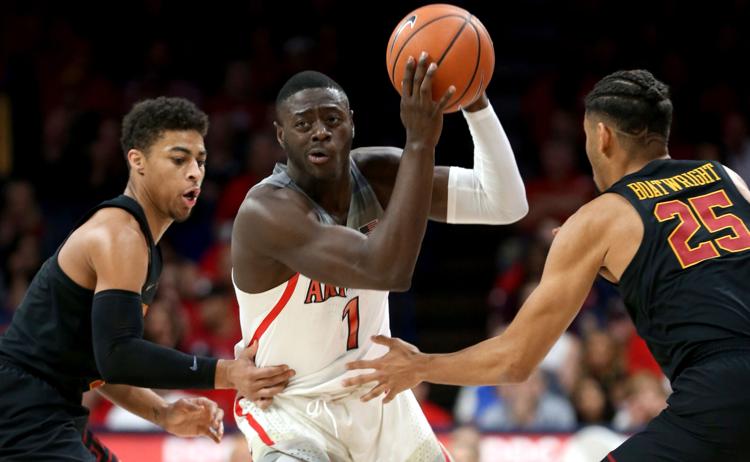 In back-to-back losses to Washington and UCLA, Rawle Alkins scored 9 points on just 4-of-20 shooting. In the first half against USC, Alkins had 11 points on 4-of-6 shooting and 3 of 4 from 3-point range. He continued his dominance on offense in the second half, and finished the game with 20 points on 7 of 12 from the floor. His five assists were tied for a game-high.
Holy callus
USC has dealt with a number of injuries this season, but none weirder than the blister that bothered junior forward Bennie Boatwright earlier this season. Per Joey Kaufman of the Orange County Register, Boatwright developed a callus — originally identified as a plantar wart — in his right foot that lingered and became severe in December.
It effected Boatwright's production on the floor. "If you think about it, you gotta go on your toes to shoot, and I couldn't put pressure on it, so I was shooting off one leg, basically," Boatwright told the O.C. Register.
Boatwright saw a podiatrist to shave down the callus, but the pain returned soon after — that's because the shaved particles went into his foot and caused an infection.
Boatwright says he's finally 100 percent; he averaged 12.5 points against the UA and ASU.
University-4 vs. University-5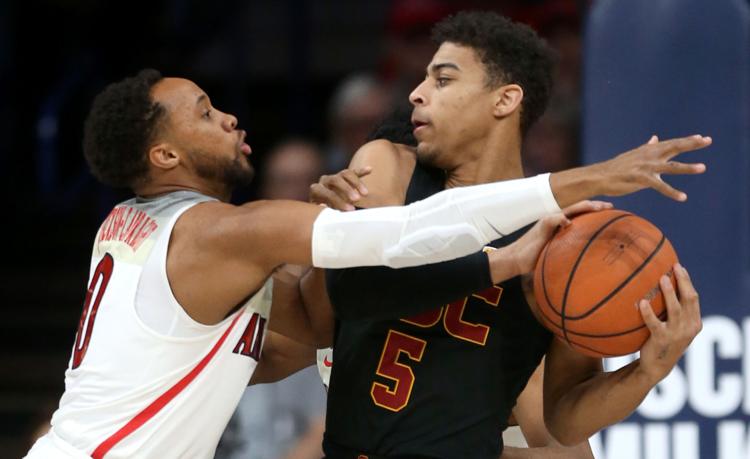 Saturday was the first (and possibly only) time this season that the two Pac-12 teams involved in the sweeping FBI investigation into college basketball met this season.
Former USC assistant coach Tony Bland and ex-UA assistant Book Richardson both were fired after being arrested and charged on federal bribery and conspiracy charges.
Bland is alleged to have received a $13,000 bribe while Richardson reportedly took $15,000 for guiding players toward agent Christian Dawkins.
USC (known as University-5 in the claim) lost a key player from the investigation in guard De'Anthony Melton.
Melton, who was referred to as Player-9 in the claim, was ruled ineligible by USC in late December. Arizona (known as University-4 in the claim) has mostly avoided sanctions this season.
Both teams have potential to make a deep run in the NCAA Tournament, but the futures of both programs are murky.
Richardson is scheduled to make another court appearance this month.
Shoes of the night
Shoe of the night: Brandon Randolph (@brandolph902) rockin' some Kith and LeBron 15s from the Long Live the King collection. 🔥🔥🔥 pic.twitter.com/eugMu9swdB

— Justin Spears (@JustinESports) February 11, 2018
Allonzo Trier usually is the player to keep an eye on for sick kicks, but Saturday night, Brandon Randolph stole the show.
Randolph sported a pair of LeBron 15s from the collaboration line from Nike and Kith, a famous streetwear store in New York City. The line is known as Long Live the King, and Randolph's shoes — released in December — are known as "Stained Glass." The shoes run between $300-460 on eBay.
Christian and Scooby have got talent
A Spinning Scooby? Yes please. @TwoStarScoob would approve 🐕#USCvsAZ @APlayersProgram #BearDown pic.twitter.com/vFKYbqeYg9

— Arizona Athletics (@AZATHLETICS) February 11, 2018
For the halftime show, fans were entertained by participants from the hit show "America's Got Talent": Christian and Scooby. After pulling off a one-handed handstand on platforms, Christian ripped off his shirt to reveal a red No. 30 Arizona jersey. Once he completed a few acrobatic-dance moves, a light brown Chihuahua — that's Scooby — jumped out of a tiny box and through a ring. Scooby also balanced on two rolling basketballs, finished with the pooch waving to fans while sitting on the back of a rotating Christian. It was arguably the loudest applause heard at McKale Center all season.
The Big Number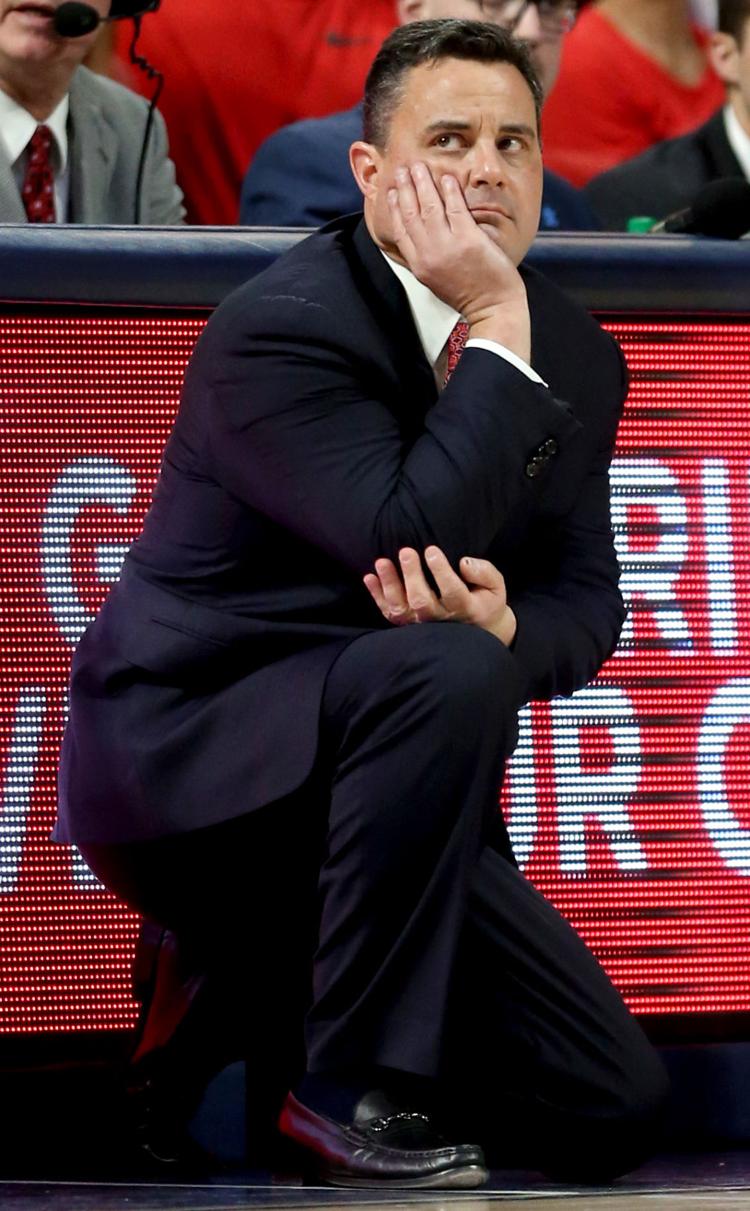 9
The number of Pac-12 teams that ESPN analyst Bill Walton says deserve to be in the NCAA Tournament: Colorado, Utah, Arizona, ASU, USC, UCLA, Oregon, Stanford and Washington.
He said it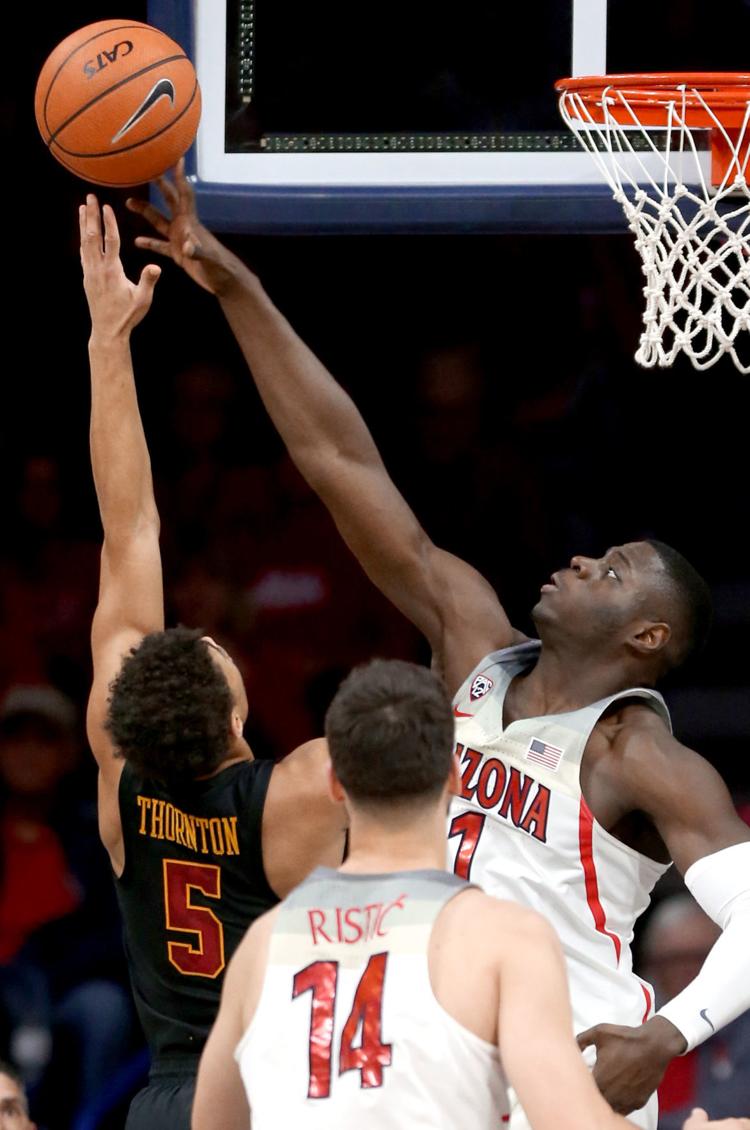 "He missed 11 weeks… started to pick up momentum in practice every day and then he felt some soreness. If I track the amount of time he's missed and sat out, it's just very hard to be successful. And I'm sure that's a big part of our struggles. But I believe in Rawle. Rawle will snap out of it." — Sean Miller on Alkins' two-game slump after the loss to UCLA