Seen and heard at Thomas & Mack Center: On Tark the Shark's presence, booze sales and rodeo transition
The Arizona Wildcats came back in overtime fashion to beat UNLV 91-88 in Las Vegas. Here's the best from Thomas and Mack Center on Saturday night.
By Bruce Pascoe / Arizona Daily Star 
The last rodeo (for now)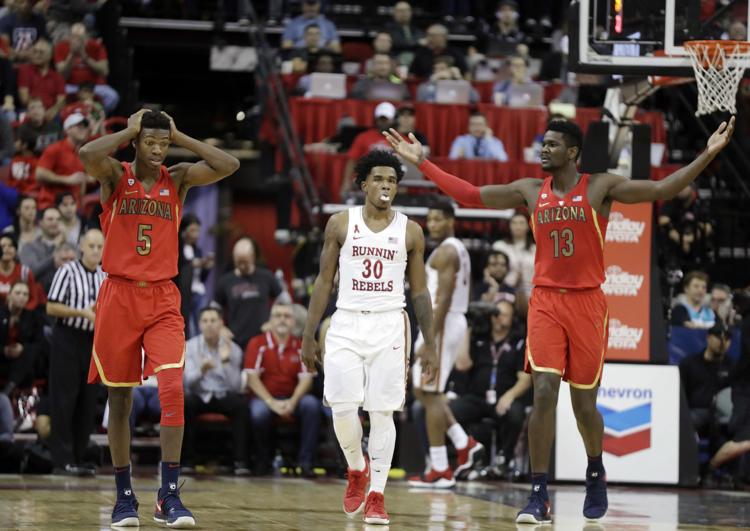 Since the long cold war between Jerry Tarkanian and Lute Olson thawed decades ago, UNLV and Arizona have played seven times, all since 2006-07.
But Saturday's game was the last of a current four-game series that was signed in 2011. The teams played in 2013-14, 2014-15 and 2015-16, with a skip last season at UNLV's request.
Arizona basketball operations director Ryan Reynolds said there are no talks about extending the series, though he said UA would have an interest in resuming the series at some point. The Wildcats usually have Gonzaga and/or at least one Mountain West team on their schedule every season.
Second-year UNLV coach Marvin Menzies said he'd like to see the series resume, too.
"I think it's a good game to play," Menzies said. "We are always in negotiations with scheduling so that's definitely an option to look forward to and see if dates will work. For their program and ours, we'd like to keep it."
Familiar face
As head coach at New Mexico State, Menzies agreed to a home-and-home with Arizona in 2010-11 and 2011-12, plus a one-time guarantee game in 2013-14.
His Aggies lost all three of those games, but the UA-UNLV series has been much more competitive. UNLV beat the Wildcats in double overtime at McKale Center during Sean Miller's first season at UA in 2009-10. The teams won on their home courts during the first three games of the current series — including a 71-67 UNLV win in 2014-15. Arizona won Saturday's game in overtime.
Dirty transition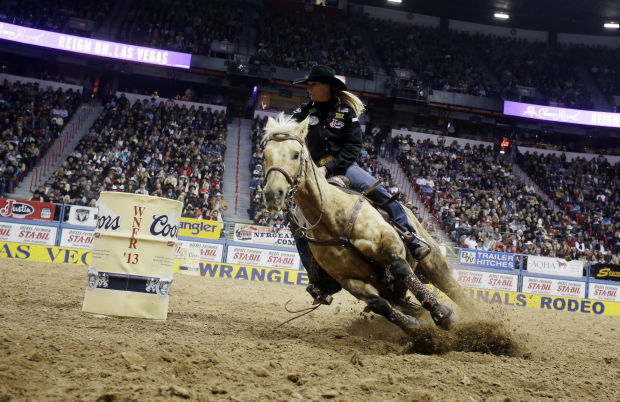 As soon as Saturday's UNLV-Arizona game finished, the Thomas & Mack Center underwent its annual conversion to the world's nicest rodeo grounds.
Trucks dumped dirt all over the place in preparation for the National Finals Rodeo.
The Thomas & Mack Center has hosted the 10-day "Super Bowl" of rodeo since 1985, and the place is undoubtedly proud of it. Featured prominently in the arena concourse is a poster that proclaims the NFR "The Best 10 Days of the Year" and spells out the highlights.
Among them: Downtown Hoedown, NFR After Parties, Headliner Concerts, World Series of Team Roping and Junior NFR.
The only problem with all this fun is the Rebels get kicked out of their home for two weeks every December. The Rebels will play Oral Roberts and Illinois at the MGM Grand Garden during the rodeo, while also playing at Pacific.
Cash bars
While UA is applying to serve beer and wine at McKale Center later this season, it appears the Thomas & Mack Center is already well-versed in serving alcoholic beverages.
McKale Center looking at wine and beer. Here's what's on offer at Thomas & Mack: pic.twitter.com/K2Kf9vAax3

— Bruce Pascoe (@BrucePascoe) December 3, 2017
Among other stops along the arena concourse are "The Club," a full bar with seating area, along with a "Craft Beer Bar," and drink stands located in several areas. There's even a station with two taps of Wild Tonic, a kombucha drink bottled in Cottonwood that has 5.6 percent alcohol and a motto of "The Buzz without the Sting!" Mainstream cocktails go for between $10-$12.
Smoke-filled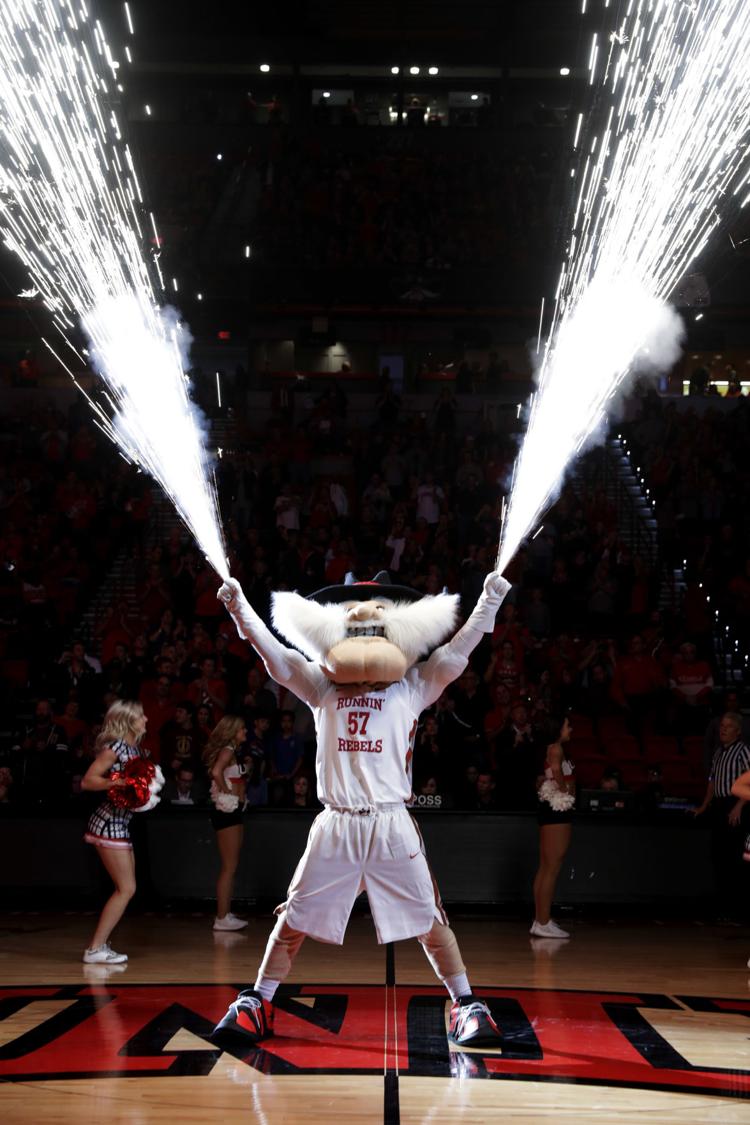 UNLV has shot off fireworks for decades during pregame introductions at the Thomas & Mack Center, a tradition that continues today.
Saturday's intro was opened with a video address from Kareem Abdul-Jabbar, who said "The Runnin' Rebels are looking really good. Lights please."
There was also a shadow of a shark and one proclaiming "The Rebellion."
The shadow
The shark figure dates back to the days of Jerry "Tark the Shark" Tarkanian, who still has a presence in the Thomas & Mack Center even though he stopped coaching at UNLV in 1992 and died in 2015.
There's a Tark statue outside the arena, featuring him chomping on his trademark towel, as well as posters along the concourse featuring the 1990 national champions, a glass display of Tark's seat and towel, and one honoring his breakthrough 1976-77 "Hardway Eight" team that featured UNLV legend Reggie Theus.
Nosebleeds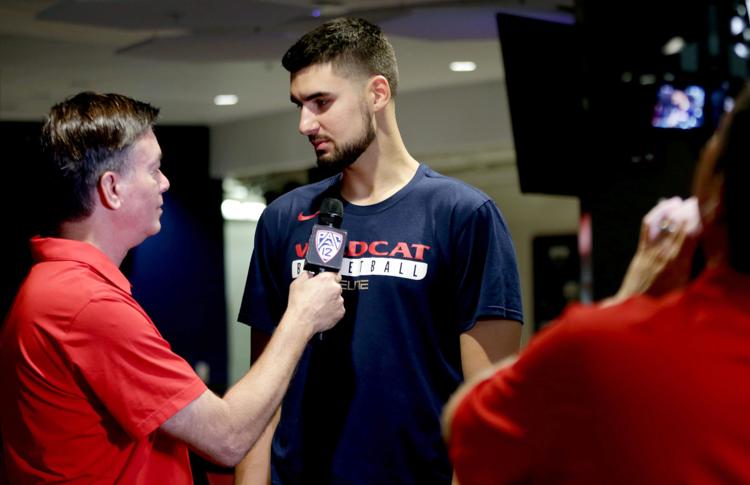 Because UNLV sold more floor seats, Arizona radio announcers Brian Jeffries and Ryan Hansen were moved 22 rows away from the floor for Saturday's game.
While neither of them were complaining, they noted that the distance makes it difficult to convey the way a game is unfolding. At McKale Center, they sit adjacent to UA coach Sean Miller.
"It's absolutely critical to have a sense of how a team is playing and what's going on," Hansen said.
Vegas Strong
While the bright lights, billboards, and external stimulation hasn't changed around Las Vegas these days, there's an undertone of sadness and resilience all over town and in the Thomas & Mack Center after the Oct. 1 shooting that resulted in the deaths of 58 people.
Instead of something like "What Happens in Vegas Stays in Vegas," a gigantic video advertisement from the city's promotional arm at the airport simply reads: "From the bottom of our hearts, welcome to Las Vegas. #VegasStrong."
Before Saturday's game, UNLV players wore black T-shirts that featured the "UNLV" script and a red ribbon on the front and the words "Vegas Strong" on the back.
The big number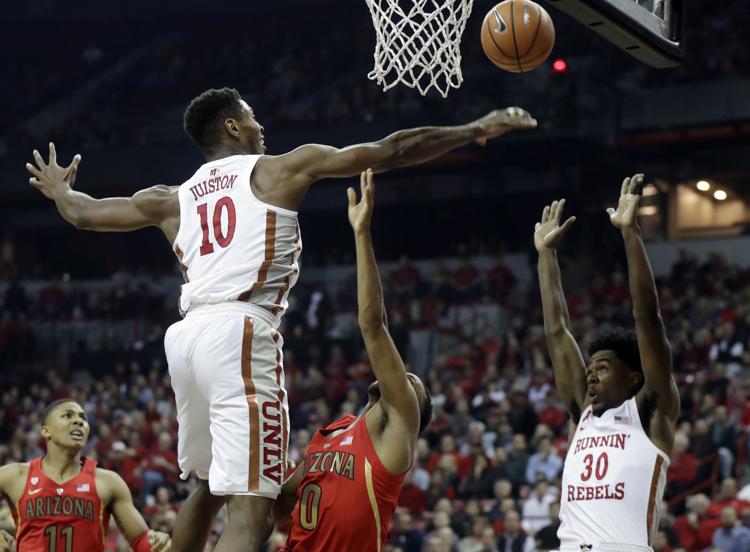 7
It's been seven years since UNLV started a season with a record as good as the 6-1 mark it brought into Saturday's game.
Quotable
"Beat University-4"
— Sign in the UNLV student section, referring to the way Arizona was mentioned in the Sept. 26 federal complaint that led to the arrest of assistant coach Book Richardson.