Arizona's football team had a bye, its basketball teams were just starting preseason practices while its volleyball and soccer teams were in the Bay Area, making it a pretty quiet week for the Wildcats.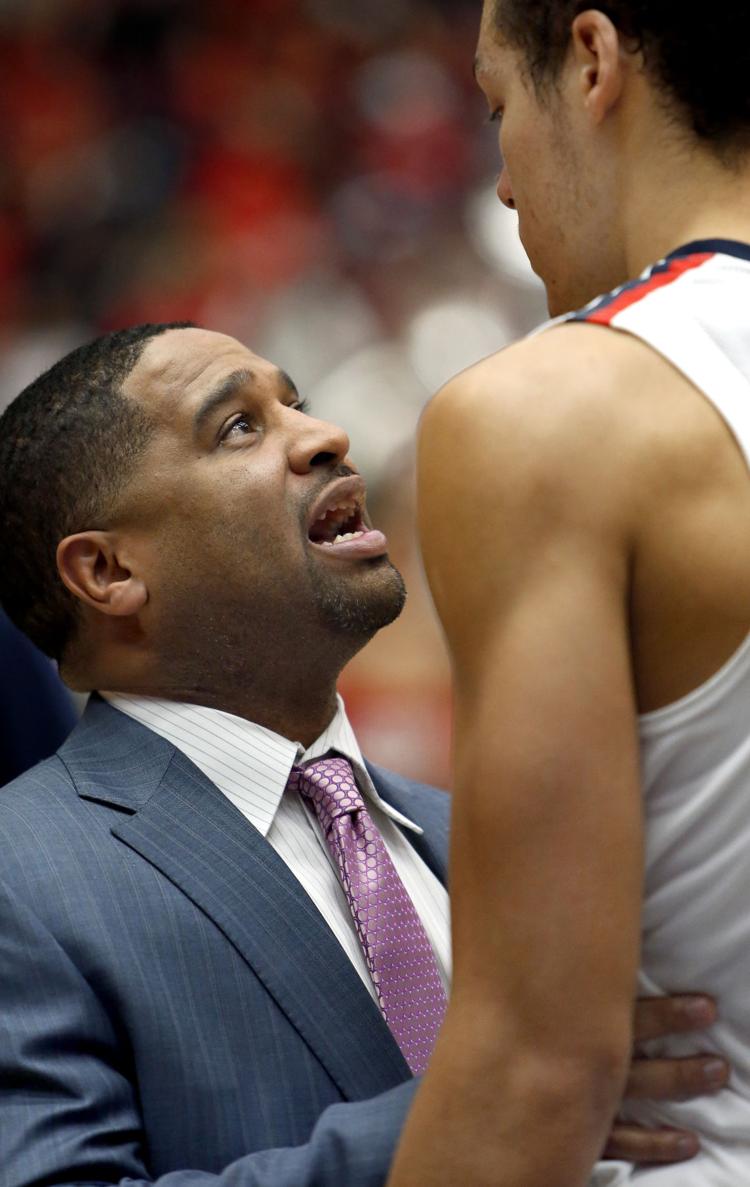 Outside of competition, however, the UA had what might have been its worst week not involving games in its modern athletic history. While the UA has suffered heartbreaking deaths already this century — football players McCollins Umeh (2004) and Zach Hemmila (2015), plus basketball player Shawntinice Polk (2005) — the past week involved an unprecedented whirlwind of police and court activity, tragedy and a significant injury. Here's how it unfolded:
1. Tuesday morning: Richardson booked
What happened: It all started when UA assistant Book Richardson was arrested on federal bribery and fraud charges on Sept. 26, one of 10 figures involved in college basketball arrested following a sweeping FBI investigation.
While Richardson made an initial appearance in U.S. District Court last Tuesday wearing a "New Orleans Basketball" T-shirt and workout shorts on Tuesday, the U.S. Attorney's Office in the Southern District of New York held a press conference to discuss the FBI's widespread investigation into two areas — a scheme allegedly involving money from Adidas to players through coaches, and another from agents to players through coaches.
"If you read the three complaints, over 100 pages, you will find yourselves inside the dark underbelly of college basketball," U.S. Attorney Joon Kim said. "The madness of college basketball went well beyond the 'big dance' in March."
What now: The charges against Richardson mean he faces a maximum of 60 years and/or $1.5 million in fines if convicted, while the Wildcats could face a number of NCAA issues.
Among them: At least one current UA player could be found ineligible if it is proven he received money from a sports agent, as one agent alleges in the complaint, while that agent also spoke of easy access to UA's normally closed practice. The allegations of the agent's access and Richardson's actions could lead to failure-to-monitor violations against Arizona.
Wildcats commit Jahvon Quinerly, a five-star point guard in the class of 2018, would appear unlikely to play for the Wildcats if it is proven he received $15,000 from Richardson, as a sports agent alleges he did. That amount would likely be enough to make him ineligible for all of 2018-19.
UA's ongoing recruiting could also be affected. The Wildcats' two other current 2018 recruits, Shareef O'Neal and Brandon Williams, remain committed but the top-rated player in 2018, R.J. Barrett of the Toronto area, announced he had trimmed Arizona from his choices.
2. Tuesday afternoon: Alkins injured
What happened: Literally just hours after Richardson's arrest placed a dark cloud over the Wildcats' otherwise promising upcoming season, Arizona also lost one of its best players for two or three months when Rawle Alkins broke his foot.
While word spread of the injury through social media on Tuesday evening, just as fans may have still been digesting the FBI investigation, the UA announced Wednesday evening that Alkins had hurt the foot during "voluntary activities" on Tuesday.
Alkins had surgery on Wednesday and posted a photo of him in a hospital bed on Twitter.
What now: Alkins will miss an estimated 8-12 weeks with the foot injury, which means he could return for UA's Nov. 22-24 appearance in the Battle 4 Atlantis at the earliest, and just before Pac-12 play begins Dec. 30 against ASU at the latest.
"Every king has their own road to glory," Alkins said in his photo tweet. "Minor setback for a major come back!"
3. Wednesday night: Young arrested
What happened: Scottie Young, a freshman safety for the UA football team, was arrested on suspicion of one domestic violence charge on Sept. 27.
A campus police incident report said a student saw another student get "pushed into a wall, spit on and threatened by (Young)." Young told police the two, who had dated on-and-off since high school, had exchanged expletives during an argument. The woman told police it wasn't the first time Young had "put his hands on her."
What now: Arizona coach Rich Rodriguez said Monday that he "consulted with all the appropriate authorities" before deciding to allow Young to participate in all team activities.
A UA statement last week said the school was working with the Dean of Students Office to gather more information.
4. Thursday night: Tragic car crash
What happened: Pima College fullback Jordan Waddell was killed in a car crash the night of Thursday, Sept. 28, while UA walk-on receiver Donovan Moore suffered serious injuries while riding in the car as a passenger.
Police said Waddell's car ran a red light and crashed into a light pole shortly after 11 p.m. near the intersection of North Greasewood and West Anklam Road.
Moore, a former Pima and Tucson High School player, appeared in the Wildcats' opener against Northern Arizona. He was a quarterback at Tucson High and played in a number of roles at Pima.
What now: Police are investigating to see if other factors played a role in the crash, while the Aztecs will wear Waddell's initials on their uniforms the rest of the season.
"He was a really good kid, a hard worker, everybody liked him. His teammates loved him," Aztecs coach Jim Monaco said. "Our team is having a really hard time handling it."
Moore has been released from the hospital, and UA coach Rich Rodriguez said Monday that Moore will be out "a few weeks" with a concussion and sore ribs.
5. Friday morning: Bradford jailed
What happened: On Sept. 29, former UA running back Orlando Bradford pleaded guilty to two counts of aggravated assault in a domestic-violence case.
Bradford, who was immediately taken into custody, played in two games before his Sept. 2016 arrest after two women came forward to say that he'd assaulted them on more than one occasion.
He was subsequently charged with 10 felonies and five misdemeanors.
What now: Bradford now faces between two and seven years in prison and/or fines of up to $150,000 and restitution of up to $50,000 for each of the two victims.
He will be required to serve 85 percent of the prison sentence that is given during his Nov. 20 sentencing hearing.