Watch: 9 best things Arizona Wildcats said after beating No. 3 ASU 84-78
No. 17 Arizona handed rival No. 3 Arizona State its first loss of the season Saturday night in the opening matchup of the Pac-12 season. Watch what the Wildcats had to say following the win. 
A statement win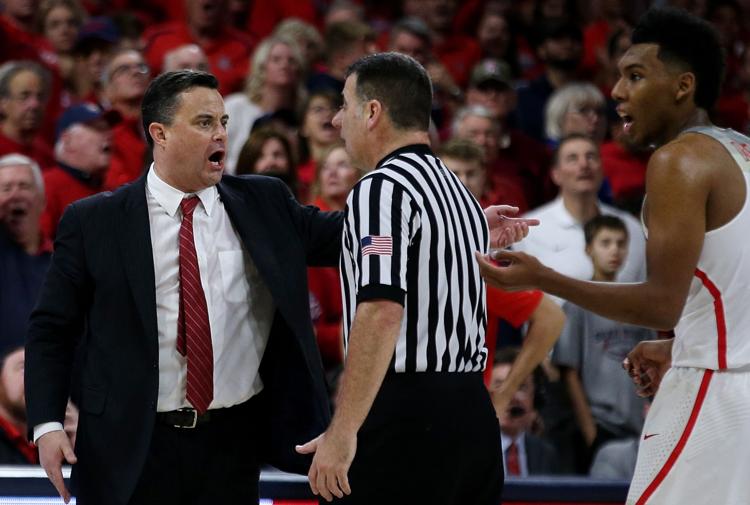 By Justin Spears / Arizona Daily Star
Every second of Saturday night's game between No. 17 Arizona and No. 3 Arizona State lived up to the hype. What's better than a Top 20 matchup to start the Pac-12 slate and "Guard U" matching up against the behemoth 7-foot-1 Deandre Ayton?
From start-to-finish, Ayton produced for the Wildcats and he had to considering Allonzo Trier, Rawle Alkins and Parker Jackson-Cartwright had their hands full with ASU's guard play all night.
Trier struggled to get his jump shot flowing in the first half, starting the game shooting 0 of 6 from field. 
Ayton received a technical foul with 9:38 left to play in the first half after a shooting foul was called on ASU's Vitaliy Shibel. The McKale Center video board showed the replay several times and fans were confused as to why the officials made the call. And so was Sean Miller. 
It didn't matter. Ayton continued to show dominance on the low block while Trier eventually found his groove in the second half. Ayton finished the night with 23 points and 19 rebounds while Trier finished with 23 points, 4 assists and zero turnovers as the Wildcats dodge ASU 84-78. The Sun Devils received their first loss of the season and the Wildcats begin conference play on the right note. 
Miller, Ayton and Trier spoke at the postgame press conference, here's what they had to say.  
Trier hitting fifth gear at right time
Allonzo Trier on his slow start in the first half and finding rhythm in the second half. Says it wasn't slow, but his shots weren't falling. pic.twitter.com/AsA2LUp4to

— The Wildcaster (@TheWildcaster) December 31, 2017
Why did Ayton get a technical foul?
Deandre Ayton on his technical foul that he received in the first half and what the ref explained to him: pic.twitter.com/F6k5fB1RjD

— The Wildcaster (@TheWildcaster) December 31, 2017
Tra Holder-NBA comparison and UA's dynamic duo
Sean Miller compares ASU guard Tra Holder to former Phoenix Suns guard Kevin Johnson. Also says Deandre Ayton and Allonzo Trier played fantastic against the Sun Devils. pic.twitter.com/aDVwFtTTlE

— The Wildcaster (@TheWildcaster) December 31, 2017
What could've been for Trier
Sean Miller on Allonzo Trier's slow starts and says he would've had a "monster game" if he put together two strong halves. pic.twitter.com/Q4C78hidUY

— The Wildcaster (@TheWildcaster) December 31, 2017
'Just another game' and ASU's growth
Sean Miller on Allonzo Trier's comments on this week just being another game and ASU's veterans developing over the last three years. pic.twitter.com/A34voVDB8n

— The Wildcaster (@TheWildcaster) December 31, 2017
Miller's 'magic potion'
Sean Miller on relying on Deandre Ayton late in games: "We don't have any magic potion, we have to get him the ball." pic.twitter.com/wMtfO1sHMS

— The Wildcaster (@TheWildcaster) December 31, 2017