Watch: 8 best things Arizona Wildcats said after outlasting Colorado in Pac-12 Tournament
Arizona set to play UCLA Friday at 7 p.m. in the semifinals of the Pac-12 Tournament. 
On to the next one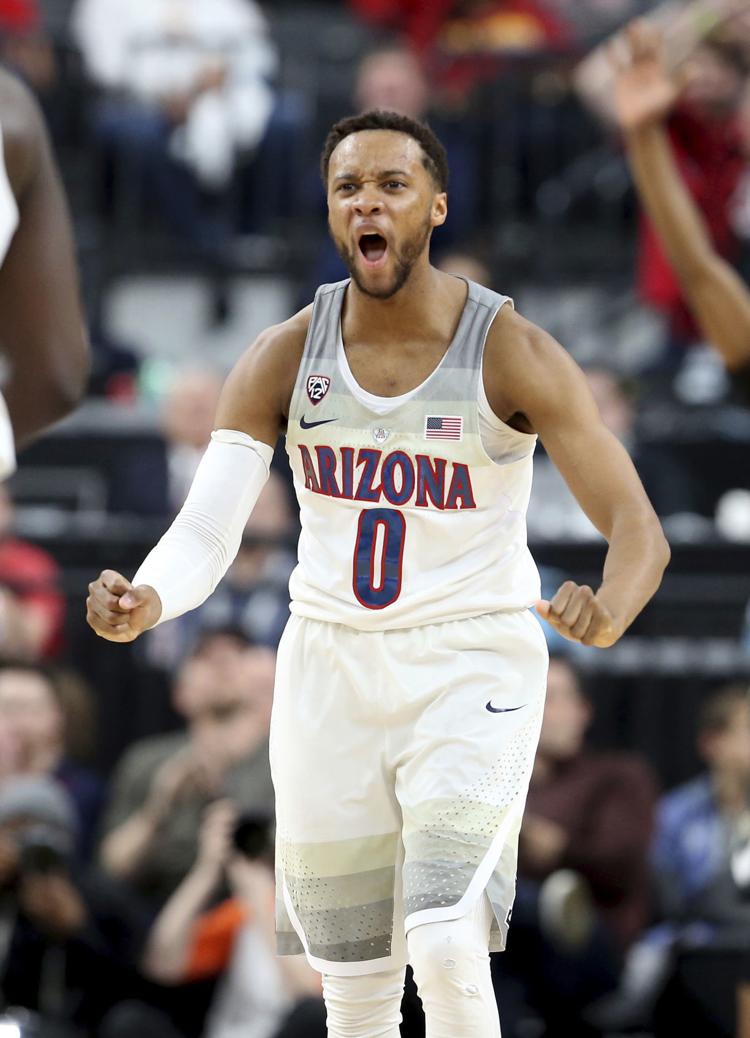 By Justin Spears / Arizona Daily Star
LAS VEGAS -- For the fifth time in Pac-12 Tournament history, the Arizona Wildcats took down the Colorado Buffaloes to advance to the semifinals to take on UCLA. 
Allonzo Trier scored a game-high 22 points with only nine shot attempts, after he was told to switch shoes at the beginning of the game. Was it the shoes? It's possible. 
Thursday's matchup wasn't an easy task though. As expected, Colorado played chippy and physical. On Wednesday, the Buffs nearly got into an altercation with ASU and on Thursday, CU guard Domonique Collier tripped up Parker Jackson-Cartwright, which caused him to trip and fall. Much like Tad Boyle on Wednesday, Dusan Ristic came to the rescue and confronted several Colorado players and for 30 seconds, was the enforcer Arizona needed.
Deandre Ayton wasn't his normal self and fouled out, the third time all season he's done so. Ayton said after the game that he believes officials target him, because of his size and that they aren't used players like him. Is he right? 
Hear what Ayton had to say, along with several former Wildcats.  
Handling the drama and calling mama
Deandre Ayton on how he's handled the drama over the last few weeks: "It adds more fuel to the fire." When asked what he thought about opposing fans waving 100 Grand bars at him: "All eyes are on me and I'm gonna put on a show. I'm an entertainer, I like to entertain." pic.twitter.com/uZTMnna60w

— The Wildcaster (@TheWildcaster) March 8, 2018
PJC on Ristic's grit
Parker Jackson-Cartwright on Dusan Ristic's toughness this season: "He's been playing with an amazing chip on his shoulder. He's been taking it to dudes all year." pic.twitter.com/FgEVVYnUaJ

— The Wildcaster (@TheWildcaster) March 8, 2018
Refs vs. Ayton
Deandre Ayton says officials key in on him when he's on offense: "I just feel like the refs allow guys to guard me any type of way, but when I come down and protect myself, it's an offensive foul. ... It's probably because they've never seen a guy my size before." pic.twitter.com/oe9JNq0Us5

— The Wildcaster (@TheWildcaster) March 8, 2018