Watch: 11 best things Arizona Wildcats said after shellacking Cal-State Bakersfield
The No. 3 Arizona Wildcats had no issues this time around with Cal-State Bakersfield, beating the Roadrunners 91-59 just before the Wildcats take off for the Bahamas. Here's the best of what the Wildcats had to say following Thursday's win:
By Justin Spears / Arizona Daily Star
On to the Bahamas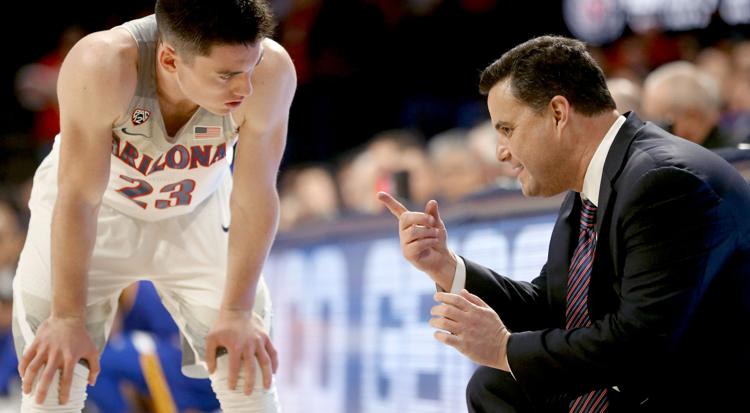 Allonzo Trier was a bucket shy of scoring 30 points Thursday, but the junior guard finished the night with 28 points on 8-of-9 shooting (3-of-3 from three-point range) and four assists. 
Trier scored a decent portion of his points from the free throw line hitting nine of his 12 shots and got six Roadrunners to have at least three personal fouls. 
There's no doubt that Trier was expected to have a colossal season especially after being named an AP preseason All-American and earning Pac-12 Player of the Week honors after averaging 31 points in the first pair of games. Even Sean Miller believes that Trier is the best guard right now in college basketball.
Now the Wildcats turn to the Battle 4 Atlantis Tournament in the Bahamas, the home country of Arizona freshman phenom Deandre Ayton. 
Freshman point guard Alex Barcello, Ayton and Miller had a press conference after Thursday's win, check out what they had to say heading into the Bahamas: 
Ayton's homecoming
Deandre Ayton on returning to the Bahamas and playing in front of his home crowd in the Battle 4 Atlantis Tournament: "I want a big crowd. Arizona about to shut it down... I wanna see energy, billboards." pic.twitter.com/DFJ8pBEiP8

— The Wildcaster (@TheWildcaster) November 17, 2017
Ayton picking up the pace after scoring two points in first half
Deandre Ayton on a slow first half and picking it up in the final 20 minutes: pic.twitter.com/Dfc3NTmCIv

— The Wildcaster (@TheWildcaster) November 17, 2017
The best guard in college basketball
Sean Miller says Arizona's defense was the "best overall performance" and says no other guard in college basketball is playing better than Allonzo Trier. pic.twitter.com/eLNEA0Sl0v

— The Wildcaster (@TheWildcaster) November 17, 2017
Point guards need love too
Sean Miller alludes Allonzo Trier and Deandre Ayton's success through the first three games to Parker Jackson-Cartwright and Alex Barcello. pic.twitter.com/Fqrr8yeVqT

— The Wildcaster (@TheWildcaster) November 17, 2017
Shareef isn't Shaq
Sean Miller talks about the addition of 2018 forward Shareef O'Neal and how big, athletic forwards have thrived in Arizona's system. pic.twitter.com/nGWvZBDEyE

— The Wildcaster (@TheWildcaster) November 17, 2017
Pressure on Ayton playing in the Bahamas
Sean Miller on looking forward to the Battle 4 Atlantis Tournament and the pressure placed on Deandre Ayton returning home to the Bahamas: pic.twitter.com/zlYJ3pRRAc

— The Wildcaster (@TheWildcaster) November 17, 2017
Greatest of all-time (GOAT)
Sean Miller says no other player in UA history has been better than Deandre Ayton on "day one". Miller also said Ayton being the greatest of all-time at Arizona is to be determined. pic.twitter.com/LP9Sxbsfpv

— The Wildcaster (@TheWildcaster) November 17, 2017