Watch: 8 best things Arizona Wildcats said after squeezing by UConn
The No. 18 Arizona Wildcats held off Connecticut 73-58 Thursday night in a 2011 Elite Eight rematch. Watch what the Cats had to say in the postgame press conference following the win. 
On to Pac-12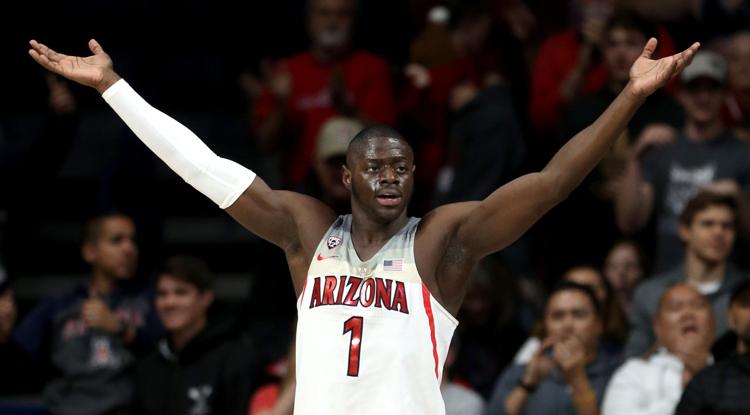 By Justin Spears / Arizona Daily Star
Arizona couldn't of asked for a better way to end its non-conference schedule. A brand name in UConn, a tight matchup and a contest that was so chippy, it had the vibe of a NCAA Tournament game. 
One could make a case that the Huskies weren't the most talented team Arizona faced all season, but they knew how to attack the Cats: double team Deandre Ayton every time he touches the ball and keep hands in the lane so entry passes could be nonexistent. 
It worked, because Ayton only scored three points and picked up two quick fouls in the first half. 
The Huskies forced 8 turnovers in the first half and scored 13 points off of them, which was a factor considering Arizona had a seven-point lead at halftime. 
Just like the old saying in sports: next man up. Ayton sat on the bench more than usual, because of his foul count, but Dusan Ristic rose to the occasion. The senior center recorded 18 points on 6 of 9 shooting and 10 rebounds, his second double-double of the season. 
Ristic's stat line along with Rawle Alkins' 20 points, 4 rebounds and no turnovers pushed Arizona to close out the non-conference schedule with a W.
Next up, the Wildcats will take some time off with Christmas just a few days away, but will return on Dec. 26 to start practice for the highly anticipated Pac-12 opener at home against No. 3 Arizona State. 
Sean Miller, Ristic and Parker Jackson-Cartwright spoke at the postgame press conference, here's what they had to say.  
Ristic's progression in 4 years
Dusan Ristic on his progression in 4 years and the privilege playing against Deandre Ayton daily in practice: pic.twitter.com/gktFWsY9xa

— The Wildcaster (@TheWildcaster) December 22, 2017
Did Allonzo Trier's knees bother him?
Dusan Ristic and Parker Jackson-Cartwright says Allonzo Trier was effected by his knee injury, but "even on a bad game, he still scored 15 points." pic.twitter.com/HmU17mI9tb

— The Wildcaster (@TheWildcaster) December 22, 2017
Ristic gave a speech to the Wildcats in the Bahamas? 👀
Sean Miller says Dusan Ristic gave a speech to his teammates after Arizona lost three games in the Bahamas. Miller didn't expect it, but says the team took it to heart. pic.twitter.com/kw15tGNomr

— The Wildcaster (@TheWildcaster) December 22, 2017