Watch: 8 best things Sean Miller and Dusan Ristic said at Thursday's press conference
The Arizona Wildcats are coming off a crucial victory over Texas A&M, but face another challenge at home with Alabama, but Rawle Alkins returning from a broken foot injury could propel UA even more moving forward. 
Rawle's return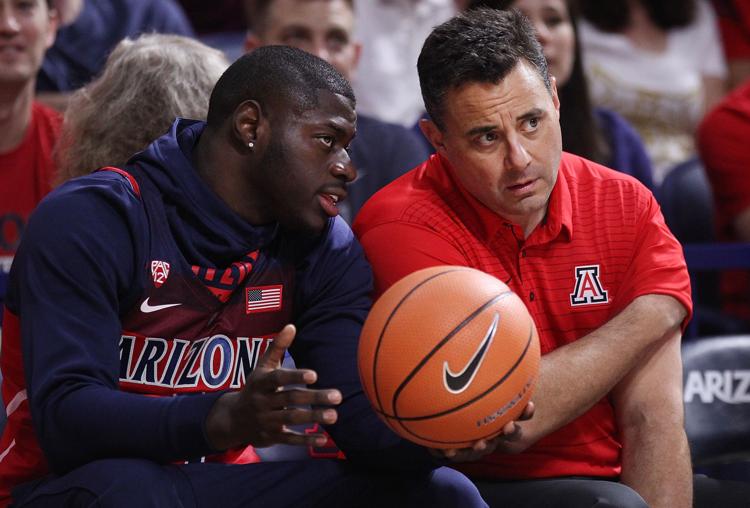 By Justin Spears / Arizona Daily Star
Sean Miller finally has all of his troops in order. 
Miller in Thursday's afternoon press conference announced that sophomore wing Rawle Alkins will be active against Alabama on Saturday after missing 10 weeks with a broken foot injury. 
What does this mean moving forward? Who knows, but Alkins' 6-foot-5, 220-pound frame brings a taste of toughness the Wildcats have been lacking especially on the defensive side of the ball. According to Miller, players don't rattle Alkins, he rattles them. 
Arizona is 156th in college basketball in defensive efficiency and while it's nearly impossible for Alkins to boost the Wildcats' defensive prowess back to the way it used to be under Miller, he certainly can help especially stopping guards from getting to the basket. 
With Arizona beating a top-10 non-conference opponent for the first time in three years, Alkins' return couldn't of came a better time ... if he does play. Remember, if Miller isn't pleased with how this week's practices go for Alkins, then we might have to wait until the Dec. 16 contest at New Mexico.
Based off Miller's announcement and the high-flying wind mill dunks in warmups before the Texas A&M game, expect Alkins to be in full uniform on Saturday. 
There were other things talked about in Thursday's press conference with Miller and Dusan Ristic, take a look at what they had to say before the Cats take on the Crimson Tide.  
Official announcement from Miller
Sean Miller says if Rawle Alkins can put together two full practices, he will play this Saturday against Alabama. pic.twitter.com/2RVbYojCMI

— The Wildcaster (@TheWildcaster) December 7, 2017
What does Rawle bring for Arizona now that he's back?
Sean Miller on what Rawle Alkins brings to Arizona now that he's returning to the rotation: pic.twitter.com/g2t3Qz28PD

— The Wildcaster (@TheWildcaster) December 7, 2017
Rawle Alkins' biggest takeaways from Arizona's up-and-down season
Sean Miller on what Rawle Alkins took away from sitting out and watching Arizona from the sideline through the first nine games: pic.twitter.com/OayFzuv1nQ

— The Wildcaster (@TheWildcaster) December 7, 2017
Dusan Ristic and Deandre Ayton's production working together
Sean Miller on using Dusan Ristic and Deandre Ayton in the same lineup and their production: pic.twitter.com/WxYFgWL5vG

— The Wildcaster (@TheWildcaster) December 7, 2017
Challenges for the front court against Texas A&M
Dusan Ristic on matching up against Texas A&M and the "top five frontcourt in college basketball": pic.twitter.com/qSUHdbnIXx

— The Wildcaster (@TheWildcaster) December 7, 2017
Wins = more confidence for newcomers
Dusan Ristic says the last two wins over UNLV and Texas A&M was a confidence booster especially on the newcomers. pic.twitter.com/UOhnQBkRxe

— The Wildcaster (@TheWildcaster) December 7, 2017
Alabama point guard Colin Sexton's passion
Sean Miller "hopes" Alabama's Colin Sexton will be available this Saturday and says he's one of the best competitors in college basketball and his passion is contagious. pic.twitter.com/4oBSqUDri1

— The Wildcaster (@TheWildcaster) December 7, 2017