Justin Spears / Arizona Daily Star
Unofficial win: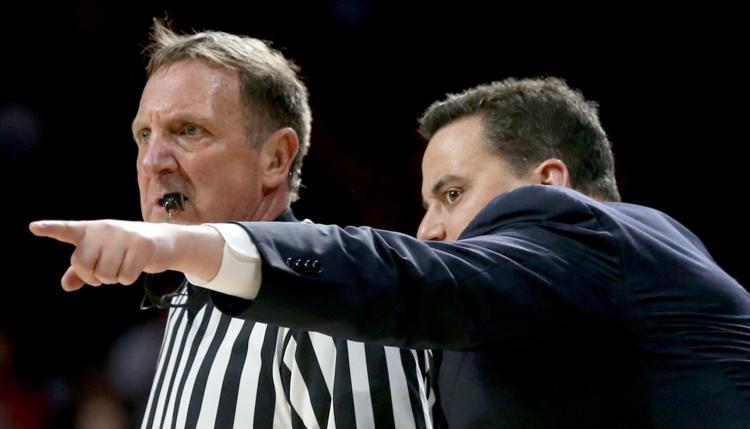 No. 3 Arizona entered this season with high expectations considering the talent level on the team is arguably the best Sean Miller has ever had. 
The Wildcats unofficially began their season Wednesday night with a 91-63 win over the Eastern New Mexico Greyhounds in a exhibition matchup so the game didn't affect either team. Parker Jackson-Cartwright was out (ankle), but is expected to return Sunday and Rawle Alkins (foot) is still recovering.
Dylan Smith served his first game suspension and won't be in the lineup until the Cats play Maryland Baltimore-County in the second official game of the season.
Freshman point guard Alex Barcello started in place of Jackson-Cartwright and Brandon Randolph took over Rawle Alkins' spot. The best all-around performance from the freshmen group came from Deandre Ayton who had 31 points on 13-of-16 shooting and 10 rebounds. Granted, the tallest players on the team were 6-foot-7 and Ayton is 7-foot-1 so it looked like a walk-in-the-park for him in the paint.
Another notable freshman was Emmanuel Akot who skipped his senior year of high school and reclassified to the 2017 class. His role according to Miller would be similar to Rondae Hollis-Jefferson's role from 2013-2015, a defensive stopper.
Akot showed he's much more than just defense. Akot finished with 10 points on 4-of-5 shooting so his offensive game flashed tonight. 
Miller, Ayton and Akot spoke with the media after Thursday's win, here's what the Cats had to say: 
Miller thrilled with Ayton after 31-point outing
Sean Miller's opening statement and speaks on the impressive 31-point performance from Deandre Ayton. pic.twitter.com/F2MNaVctPE

— The Wildcaster (@TheWildcaster) November 2, 2017
Landscape of college basketball gives freshmen heavy minutes
Sean Miller on freshmen group playing heavy minutes and keeping them conditioned: pic.twitter.com/xGKepq8clf

— The Wildcaster (@TheWildcaster) November 2, 2017
Leg injury for Ayton was 'cramps'
Deandre Ayton says the leg injury he suffered in the second half was just cramps. Also talks about his (unofficial) debut at Arizona. pic.twitter.com/RcwlLJNTU9

— The Wildcaster (@TheWildcaster) November 2, 2017