Watch: The 7 most interesting things Sean Miller said in Arizona's press conference
Justin Spears / Arizona Daily Star
New season is officially here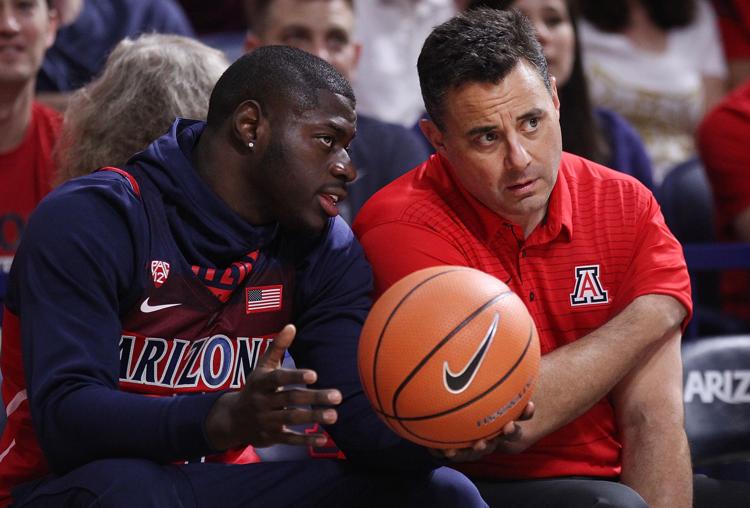 The Arizona Wildcats begin their highly-anticipated season Wednesday against Eastern New Mexico, and while everyone has been trying to squeeze as much information out of Sean Miller as possible amid the FBI investigation, the team is focused solely on basketball. 
Ever since the investigation hit the program, every media session has involved reporters chiming in about "distractions" from the FBI — and rightfully so. It's arguably the biggest story in collegiate sports history, and could have a major impact on this season.
Arizona just wants to go out and play ball.
Miller held a press conference Tuesday to preview Arizona's season: 
Rawle Alkins' recovery (broken foot), PJC's injury (ankle) and Dylan Smith's suspension (team rules)
Sean Miller says Rawle Alkins is still in recovering process from broken foot injury and Parker Jackson-Cartwright is out with ankle injury. pic.twitter.com/hHP2ZLkyCx

— The Wildcaster (@TheWildcaster) October 31, 2017
3-point shooting will help Arizona's issues against zone defense
Sean Miller on Arizona's perimeter shooting and how it could help the Cats' problems against zone defenses: pic.twitter.com/7QnJVWbl6G

— The Wildcaster (@TheWildcaster) October 31, 2017
Trier's 2018 All-American campaign
Sean Miller on Allonzo Trier preparing for his third year at Arizona and developing into an All-American: pic.twitter.com/zvBk69bR2a

— The Wildcaster (@TheWildcaster) October 31, 2017
On Lauri Markkanen's hot start to rookie year in the Windy City
Sean Miller on Lauri Markkanen's rookie season with the Chicago Bulls: pic.twitter.com/Q5GgZt6ohe

— The Wildcaster (@TheWildcaster) October 31, 2017