From the archives: How the Arizona Daily Star covered every UA football hire
Check out Arizona Daily Star covers from the UA's coaching hires from over the years.  
Ed Doherty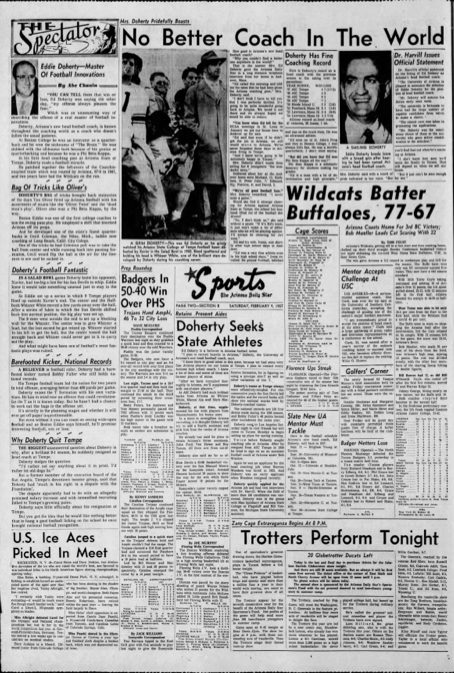 Date hired: Feb. 8, 1957
Record: 4-15-1
Tenure: 1957-58
Reason for firing: In two seasons, Doherty wasn't winning and his record speaks for itself. Doherty was fired and is still the only person to this day to have coached both UA and Arizona State. One of the most storied rivalries in Arizona high school football, Phoenix St. Mary's-Salpointe Catholic, is called the Ed Doherty Classic.   
Jim LaRue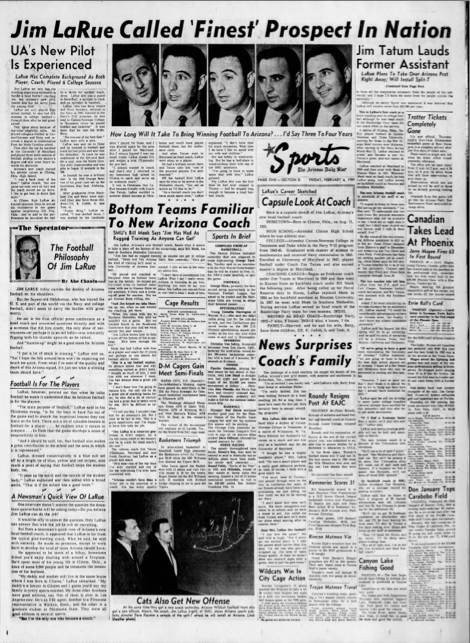 Date hired: Feb. 5, 1959
Record: 41-37-2
Tenure: 1959-66
Reason for firing: In Jim LaRue's first season at the helm, the Wildcats went an impressive 8-1-1 and ran the tables in the Border Conference. In LaRue's second season, the program moved over to the Western Athletic Conference (WAC) and won a conference title in 1964. However, LaRue was fired in 1966. 
Darrell Mudra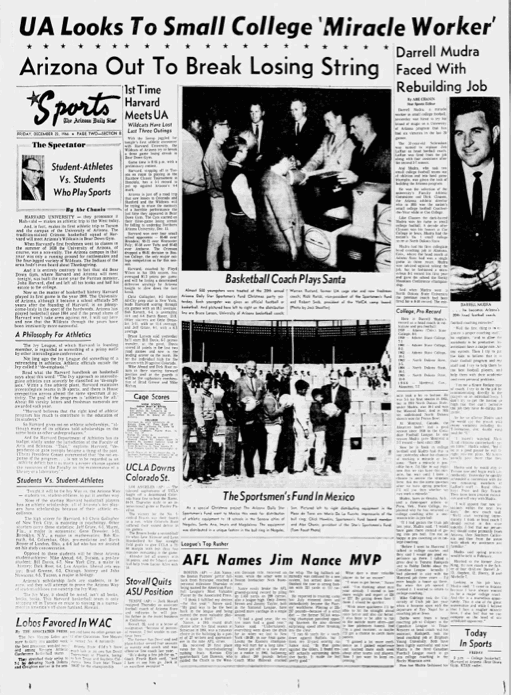 Date hired: Dec. 22, 1966
Record: 11-9-1
Tenure: 1966-68
Reason of dismissal: Darrell Mudra came to Arizona after coaching at North Dakota State and while the Wildcats only won three games in his first season, they went 8-3 with an appearance in the Sun Bowl in his second year. The Mudra era would come to a close after two seasons, because he took a job at Western Illinois. 
Bob Weber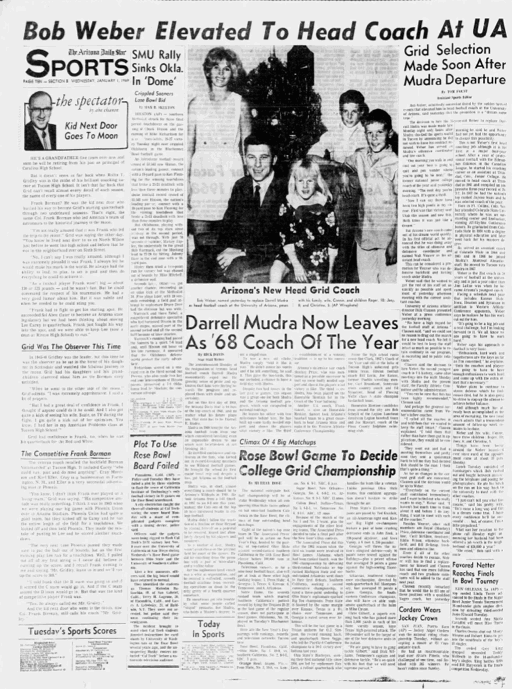 Date hired: Jan. 1, 1969
Record: 16-26
Tenure: 1969-72
Reason for firing: Once Mudra left, UA promoted offensive coordinator Bob Weber to head coach and it's safe to say that he didn't have the career most expected him to have. Weber didn't record a winning season in Tucson and was fired after a four-year stint. 
Jim Young
Date hired: Dec. 11, 1972
Record: 31-13
Tenure: 1973-76
Reason for dismissal: In Jim Young's first season in 1973, the Wildcats posted an 8-3 record, followed by 9-2 in 1974. After the 1976 season, Young accepted the head coaching job at Purdue. 
Tony Mason
Date hired: Dec. 10, 1976
Record: 16-18-1
Tenure: 1976-79
Reason for dismissal: Mason left Cincinnati to coach Arizona and he only had one winning season, his last year in Tucson. The Wildcats lost to Pittsburgh 16-10 in the 1979 Fiesta Bowl and Mason retired after. 
Larry Smith
Date hired: April 26, 1980
Record: 48-28-3
Tenure: 1980-86
Reason for dismissal: After Mason's retirement, Larry Smith came along and rejuvenated the program. His first year was the only losing season in his tenure at Arizona and then in the second year, the Wildcats upset No. 1 USC on the road. Smith led Arizona to the Sun Bowl (1985) as well as the Aloha Bowl (1986) and coached Chuck Cecil, Ricky Hunley and Max Zendejas. After the 1986 season, Smith left UA and accepted the head coaching position at USC.   
Dick Tomey
Date hired: Jan. 13, 1987
Record: 95-64-4
Tenure: 1987-2000
Reason for dismissal: The official founder of the Desert Swarm defense, Tomey still remains the all-time wins leader at Arizona. One of Tomey's most memorable seasons with Desert Swarm was in 1994 when Tedy Bruschi, Rob Waldrop and Brandon Sanders led the Wildcats over the Miami Hurricanes in the Fiesta Bowl. Another season to remember was when the Wildcats beat Nebraska in the 1998 Holiday Bowl and finished the year 12-1, fourth in the AP poll. Once Arizona lost to ASU in 2000, Tomey resigned after 14 seasons in Tucson. 
John Mackovic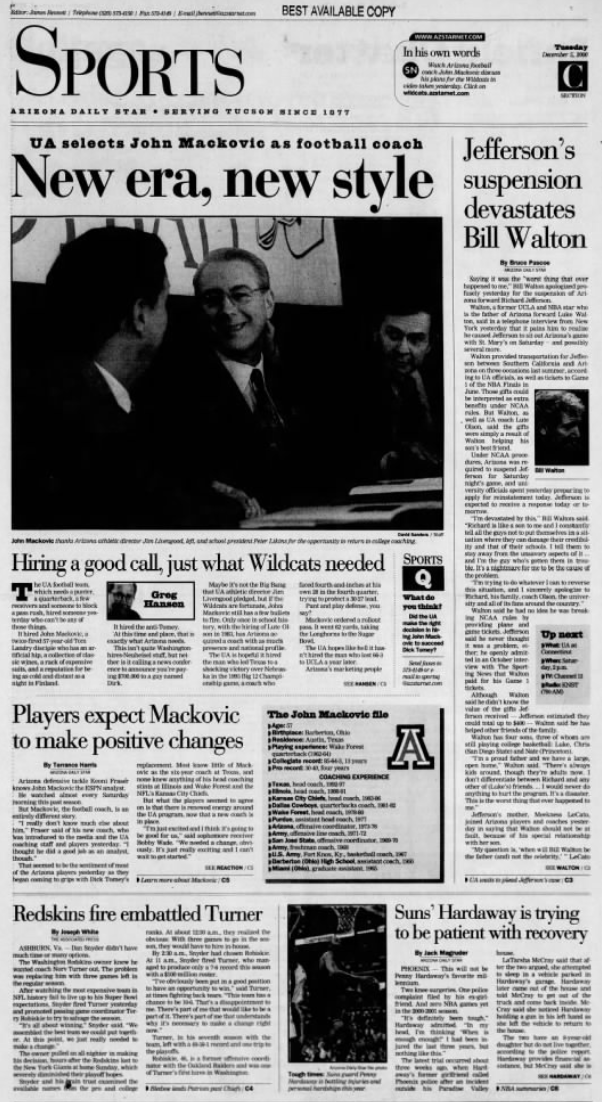 Date hired: Dec. 4, 2000
Record: 10-18
Tenure: 2000-03
Reasons for firing: John Mackovic was a big fish from Texas that hoped to turn the program around once Tomey left, but struggled from day one. Mackovic never posted a winning season and in 2002, he called tight end Justin Levasseur a disgrace to his family and "an embarrassment to the team." Five games into the 2003 season, UA fired Mackovic, leaving defensive coordinator Mike Hankwitz as the interim head coach.   
Mike Stoops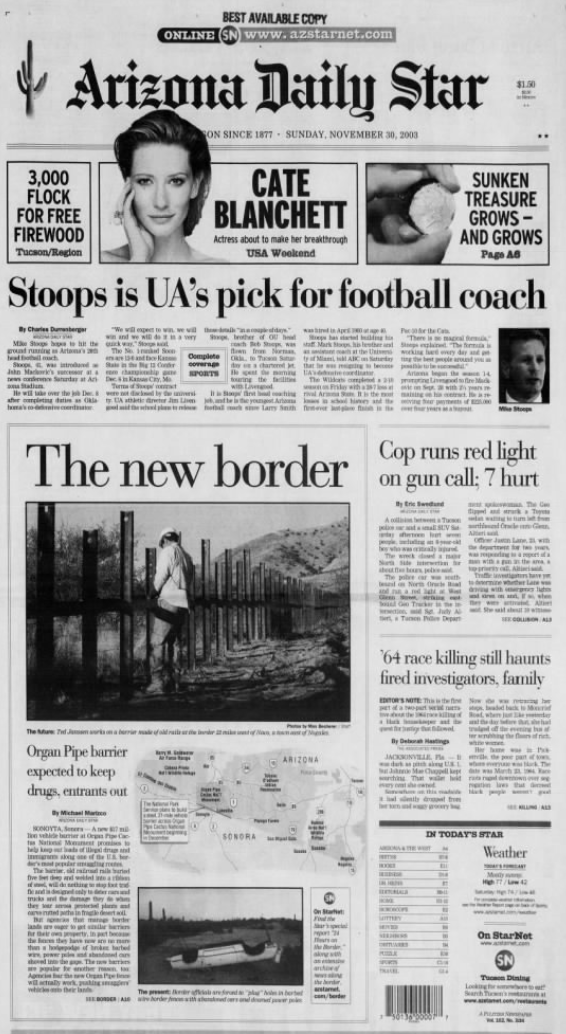 Date hired: Nov. 29, 2003
Record: 41-50
Tenure: 2003-11
Reasons for firing: Mike Stoops, brother of Oklahoma legendary head coach Bob, initially struggled to win at Arizona, but after a complete turnover in recruiting classes, he lifted the program to new heights in the prime of his career. He brought in players such as Rob Gronkowski, Antoine Cason, Nick Foles, Brooks Reed and Robert Golden. During the 2009 season, Stoops had the Wildcats in place to reach a potential Rose Bowl, but a double overtime loss to Oregon on the prime time stage led to second place in the Pac-10 and an appearance in the Holiday Bowl. Stoops got the Wildcats as one of the most respectable teams in the conference, but hit a plateau. Halfway through the 2011 season, the Wildcats lost five of their first six games and after the Wildcats were thumped by Oregon State on Oct. 8, UA fired Stoops. Defensive coordinator Tim Kish was named interim head coach and the Wildcats finished the season 4-8. 
Rich Rodriguez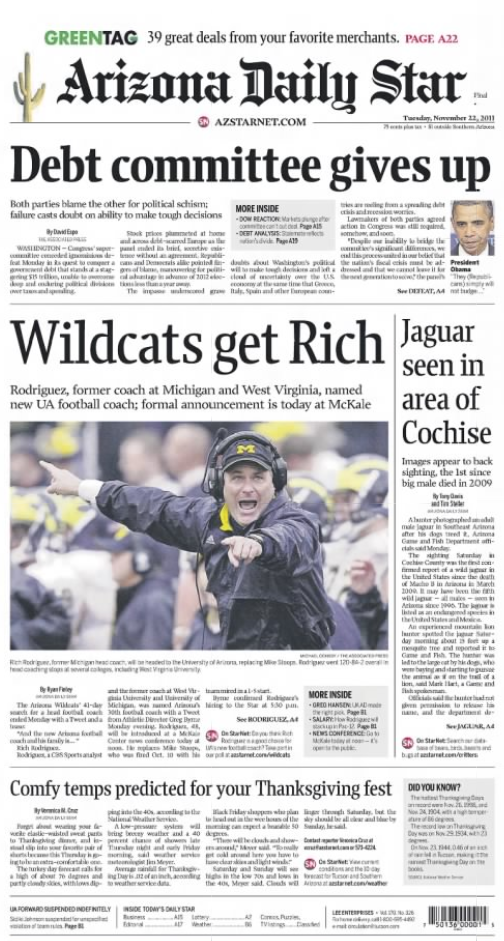 Date hired: Nov. 21, 2011
Record: 41-36
Tenure: 2011-18
Reasons for firing: Rich Rodriguez was fired on Jan. 2, 2018 after a claim was filed that he allegedly sexually harassed a former employee and ran a hostile workplace. UA athletic director Dave Heeke released a statement that said he wanted to change the climate of the program regardless of the investigation. Defensive coordinator Marcel Yates was immediately named interim head coach until further notice.  
Kevin Sumlin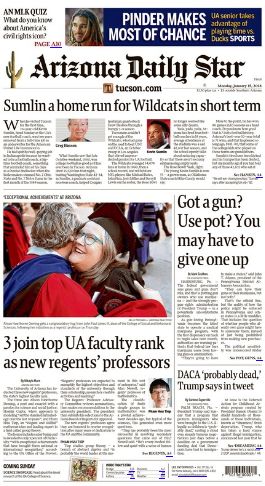 Date hired: Jan. 14, 2018