Arizona football notebook: Nick Wilson, Royce Freeman conjure old times with big showing
Arizona running back Nick Wilson and Oregon's Royce Freeman converged for one more big night on Saturday in Eugene. Freeman finished with four rushing scores on 135 yards, compared to Wilson's two early scores and 73 yards rushing.
Below are more news and notes from Autzen Stadium.
Wilson, Freeman ride up-and-down careers to one more big night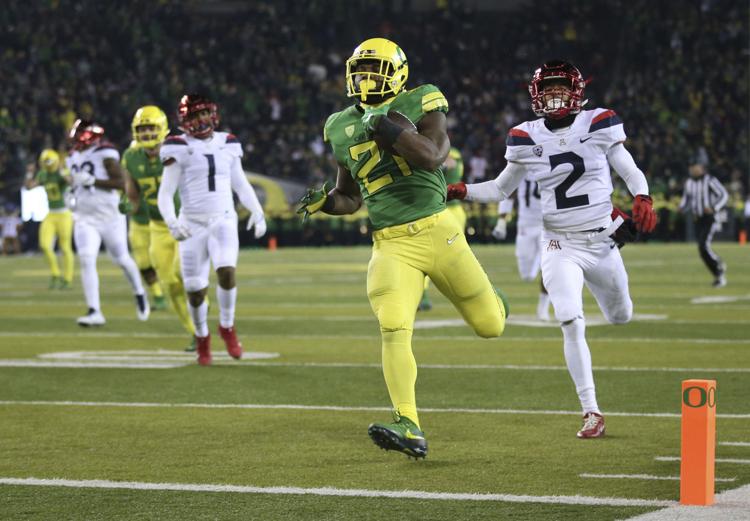 By Zack Rosenblatt / Arizona Daily Star
EUGENE, Ore. — When Arizona last played at Autzen Stadium in 2014, the two best players on the field were freshmen. They played the same position, too: running back.
Few expected the careers of Arizona's Nick Wilson and Oregon's Royce Freeman to play out the way they did over the next three years.
Saturday felt like old times, even if the interceding years haven't quite reached that level.
Wilson showed burst on an 18-yard touchdown run in the first quarter, and looked like his old self when he trucked Oregon's Tyree Robinson and broke two more tackles near the goal line on his way to a 20-yard touchdown run in the second quarter. The latter one evoked memories of a play Wilson had in that 2014 game, an Arizona victory, when he trucked future NFL corner Ifo Ekpre-Olomu on a touchdown catch.
Wilson has spent the last three years battling injuries and struggling to stay on the field. He's missed two games this season due to injury.
But in the last two weeks, Wilson has rushed for 174 yards and three touchdowns on 34 carries. He led the Wildcats in carries (17) and rushing yards (73) and scored two touchdowns on Saturday.
Arizona rushed for 171 yards as a team. 
"It's great having him," UA quarterback Khalil Tate said. "He's been in the program for a couple of years. He's been dealing with a lot of injuries, but he's starting to come back to himself. It helps a lot."
Freeman has similarly struggled the last few seasons. He rushed for a career-low 945 yards and nine touchdowns last season, and was held without a touchdown during a six-game stretch that ended Saturday.
Freeman rushed 135 yards on 19 carries on Saturday, and found the end zone four times.
"I felt like I needed to take it upon myself and do a little bit more," Freeman said. "It felt good to break through today."
Arizona's punting issues 'crazy,' RichRod says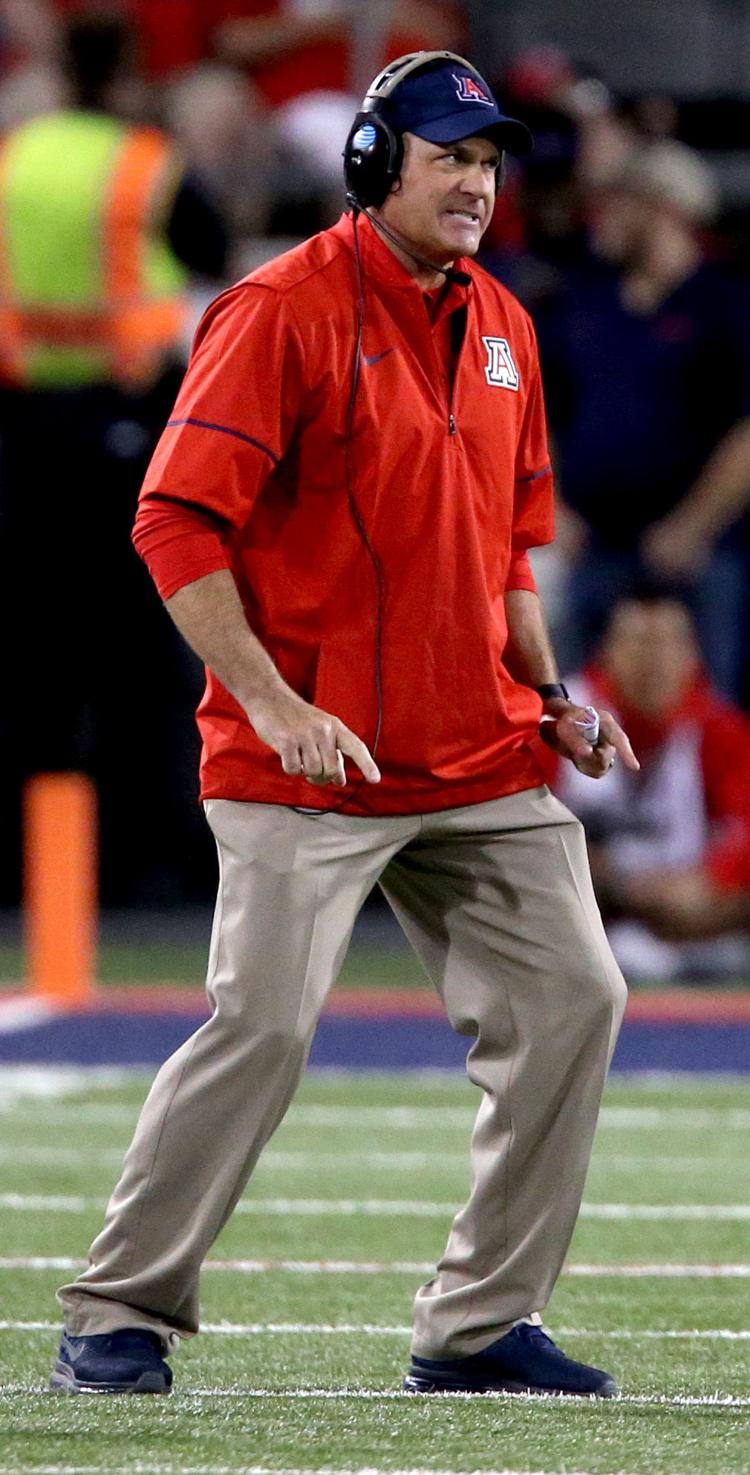 Entering Saturday night's game, Arizona had the second-worst punting unit in the nation, averaging 30.71 net yards per punt.
Only Ball State was worse.
After the punting unit's performance against Oregon, the Wildcats might give the Cardinals a run for their money.
Arizona's most effective punter on Saturday night was junior tight end Trevor Wood, whose pooch kick in the first half netted 36 yards and landed at the Ducks' six-yard line.
Arizona's five other punts looked like this:
Josh Pollack: 36-yard punt to the Oregon 39;
Pollack: 38-yard punt to the Oregon 40;
Pollack: 35-yard punt to the Oregon 12;
Pollack: 23-yard punt to the Oregon 49;
Jake Glatting: 19-yard punt to the Oregon 48.
UA coach Rich Rodriguez expressed his displeasure with the unit after the game.
"It's crazy," Rodriguez said. "What's frustrating about it, those guys are trying hard. They punt well in practice, then we come into the games and it's like … it's just hard to fathom. What happens between the game and practice?"
Schooler brothers have 'fun' playing each other
The Schooler brothers. pic.twitter.com/uH3xkUuGOh

— Zack Rosenblatt (@ZackBlatt) November 19, 2017
Arizona linebacker Colin Schooler and Oregon receiver Brenden Schooler sought each other out following Saturday's game, hugged, high-fived and took pictures together and with their families.
Colin Schooler, who finished with a game-high 12 tackles with three for loss, said "it was fun" going against his brother for the first time.
"I didn't know what I was expecting when I came into it," he said. "I thought it went well."
Colin Schooler said there were two plays where Brenden tried blocking him.
"I think he tried to crack me one time," he said. "I saw it coming. We just kind of collided. But nothing special."
Extra points
🐻⬇️‼️ pic.twitter.com/gzctBtEH7A

— Jailen..🏃🏾💨 (@_SoloOcho) November 19, 2017
• UA defensive lineman Parker Zellers did not travel with the team to Eugene. Zellers, a senior, was suspended for a violation of team rules. The Wildcats were also without freshman Kurtis Brown, who stayed in Tucson as he recovers from a concussion that has held him out the last three games.
• The Wildcats received a verbal commitment from wide receiver Jailen Bailey, a three-star receiver in the 2018 class. With the verbal commitment from Bailey — a 5-foot-10 receiver from the San Diego suburb of Lemon Grove — Arizona's class now sits at 17 players. Bailey picked the Wildcats over offers from San Jose State and Utah State.