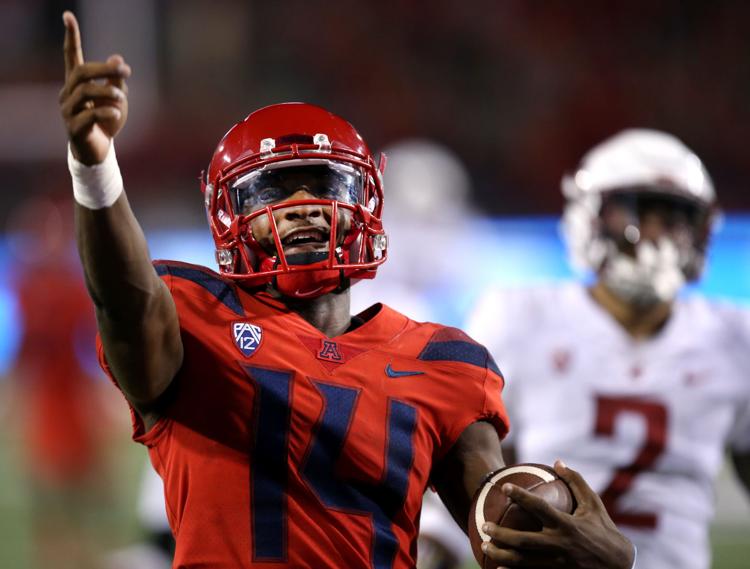 Throughout the week, Rich Rodriguez said it was about redemption, not revenge.
Right before kickoff Saturday night, he put another carrot in front of his hungry band of Arizona Wildcats: Relevancy.
If Arizona could beat No. 15 Washington State, the nation would take notice of the Wildcats – and not just because of Khalil Tate's exploits.
Well, the Cats are relevant again.
A year after losing to the Cougars by 62 points, the Wildcats beat them by 21. The 58-37 victory in front of an announced crowd of 42,822 at Arizona Stadium had significant ramifications for Arizona.
Not only did the Wildcats win their fourth in a row, but they gained bowl eligibility. That was considered a baseline goal for a team coming off a 3-9 season and being picked to finish last in the Pac-12 South.
Now, behind the explosive Tate and an opportunistic young defense, the Wildcats are legitimate contenders for the division crown. They trail USC by a half-game heading into next Saturday's showdown in Los Angeles. The winner of that game will have sole possession of the South lead, as well as the head-to-head tiebreaker.
"Every player wants to have that," said Rodriguez, who has gone from preseason hot seat to leading contender for Pac-12 Coach of the Year. "A lot's at stake in the next one for sure."
Arizona is 6-2 overall, 4-1 in conference play. The Wildcats have doubled their victory total before Halloween.
No one outside the Lowell-Stevens Football Facility expected this. Inside its walls, the players had confidence in themselves. That feeling has only grown over the past four weeks.
Asked about being bowl-eligible after Saturday's win, Tate shrugged. "Being bowl-eligible is something that's supposed to happen," he said.
Washington State's defensive game plan was clear: stop Arizona's prolific, Tate-led rushing attack and force him to win with his arm. Tate proved that he could, passing for a career-high 275 yards and two touchdowns.
Tate also added in a career-long 82-yard run and a 49-yard touchdown dash for good measure. He finished with 146 rushing yards, topping 100 for the fourth week in a row.
With the Cougars paying so much attention to Tate, his receivers found open expanses in the secondary. Redshirt-freshman tight end Jamie Nunley caught two passes for 116 yards, including a 48-yard touchdown, the first of his career.
"They stopped the run," Tate said. "We opened up the pass. It's a lose-lose situation."
Washington State clogged up the running lanes for the running backs before the dam finally burst. J.J. Taylor ripped off runs of 62 and 79 yards in the third quarter. The latter went for a touchdown. He finished with 152 yards on 13 carries.
"Because they're so active and athletic up front, I had a lot of concerns," Rodriguez said. "They got us a few times. It was like hit or miss."
The defense redefined the term "bend but don't break."
Washington State gained 646 yards on 101 plays. The Cougars had 32 first downs to the Wildcats' 14. Arizona won going away anyway.
"We've got a whole defense doing their job," said freshman linebacker Colin Schooler, who had a 66-yard interception return for a touchdown in the fourth quarter.
Arizona prepared all week to face star quarterback Luke Falk, who had lit up the UA defense in two previous appearances to the tune of 825 yards with nine touchdowns and no interceptions.
Arizona made Falk earn everything he could get before he was lifted late in the second quarter. A year after completing 32 of 35 passes against the Wildcats, Falk went 13 of 23 for just 93 yards.
Tyler Hilinski entered, led the Cougars on a touchdown drive and passed for 509 yards. But the Wildcats intercepted the relatively inexperienced backup four times in the second half. In addition to Schooler's pick-six, Jace Whittaker intercepted Hilinski in the end zone in the third quarter.
"They execute so well," Rodriguez said of the Cougars. "As you get tired or fatigued, you start to miss some tackles. Our guys kept playing. They kept competing. That's all you can ask for."
The offense kept plugging away too. After Washington State took a 27-23 lead in the third quarter, Taylor found a huge hole up the middle and raced 62 yards to the WSU 3-yard line. He dove over the goal line on the next play to give the lead back to Arizona.
After a Lorenzo Burns interception and a UA three-and-out, Washington State drove to the Arizona 8. On first-and-goal, the Wildcats' pass rush – dormant most of the night – finally got some pressure. Schooler and Jarrius Wallace forced Hilinski to roll to his right. He tried to throw back over the middle, but Whittaker picked him off.
Two plays later, Taylor raced 79 yards for a touchdown to bump Arizona's lead to 37-27.
After Erik Powell's 56-yard field goal made it a one-score game less than a minute into the fourth quarter, Tate did his thing. First, he hit Tony Ellison for a 25-yard pass. Then he raced through the WSU defense for a 49-yard touchdown run.
"That guy's a monster," Nunley said. "Khalil Tate for Heisman."
That's a real conversation now too. Tate has thrust himself into the Heisman Trophy race, despite not starting the first five games of the season.
On Saturday night, the sophomore overcame a fumble and an interception. Tate still accounted for three touchdowns and 421 yards of offense.
"It wasn't by any means mistake-free," Rodriguez said. "But man, he's a competitor."