Every Monday throughout the season, we'll take a look back at the Arizona Wildcats' previous game after re-watching it via the TV broadcast and present five key takeaways. Here are the five from the UA's 49-35 loss to USC on Saturday night: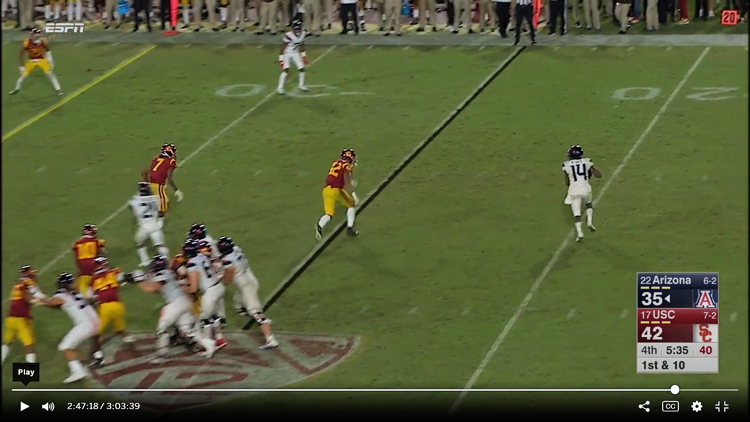 Obviously, Khalil Tate wasn't as on point in the pass game against USC as he had been the previous four weeks. Everyone could see that. The question is why. Some of it had to do with USC. UA receivers had trouble gaining separation, turning tight windows into non-windows. The Trojans also threw blitzes at the Wildcats that gave them major problems. Most of it – in my opinion – had to do with Tate trying to do too much. This was a concern entering the game because of all the hype and circumstances around it. Tate wanted to win so badly – which isn't inherently a bad thing – and to prove how much he had improved since the last game against USC. As a result – again, in my opinion – he forced some plays downfield that just weren't there. The interception with 5:23 left was the ultimate example. Tate had Devaughn Cooper open underneath near the right sideline. Additionally, J.J. Taylor broke into the clear out of the backfield. Yet Tate chucked the ball downfield toward Tony Ellison. Was there some miscommunication on the play? Probably. But more than anything, it just wasn't a necessary risk. It was first down. There was plenty of time left. Chalk it up as a learning experience for a young quarterback who, in reality, is just getting started.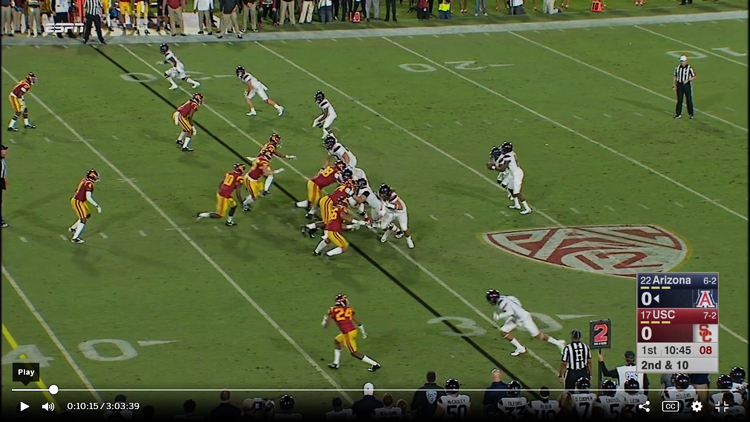 I don't usually harp on the play-calling. It's way too easy to second-guess, and hammering the head coach or offensive coordinator after the fact is the lowest-hanging fruit for analysts and fans. However, some of the calls by Rich Rodriguez and his staff were downright puzzling, so I'm going to make an exception. Play No. 1: bubble screen to Shun Brown on third-and-7, second quarter. I have no problem with that call in general, but it makes little sense when the main blocker is Tyrell Johnson, Arizona's smallest receiver. The play also requires left tackle Layth Friekh to sprint several yards to get a piece of someone – a tough ask. Play No. 2: pass on second-and-9, late second quarter. The Wildcats took over at their 17-yard line with 46 second left. They could have/should have run out the clock. By passing on second down, they gave the Trojans a shot at a Hail Mary. Luckily, it fell incomplete. Play No. 3: deep pass on third-and-2, early third quarter. I would guess Arizona has run in that situation 99 percent of the time this season. Maybe RichRod was trying to catch USC off guard? Maybe the staff saw something on film? Whatever the case, it was a low-percentage play that didn't come close to working. An unsportsmanlike-conduct penalty on USC just so happened to extend the drive.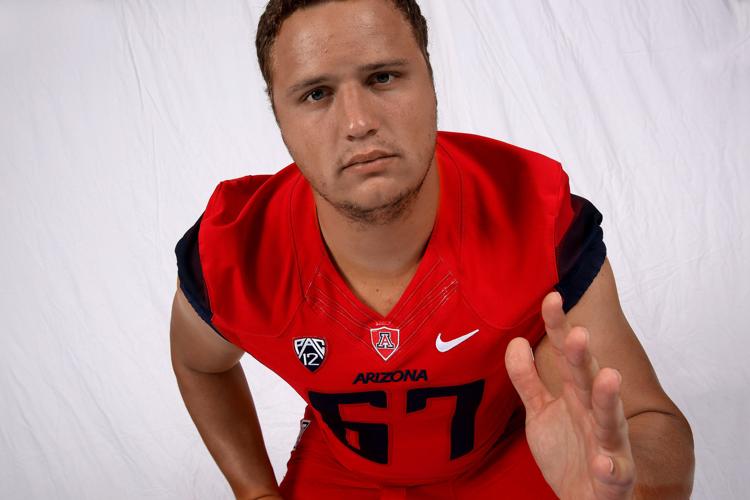 As noted in this week's interactive report card, Josh Pollack had a rough night. Was the snap low on the punt that got blocked? Yes. Should Pollack have been able to handle it? Probably. I don't know if he let that linger, but for whatever reason, Pollack had trouble making clean contact on every subsequent punt. His average of 36.5 yards would have been significantly worse if not for the 52-yarder that took a favorable roll. USC regained possession at Arizona's 48, its 48 and Arizona's 46 after punts. Two of those possessions resulted in touchdowns; the other was the failed Hail Mary attempt. I like Pollack and the way he approaches his craft. To use one of RichRod's favorite words, Pollack is extremely conscientious. He cares about his job, and he works at it. But here's the question that must be asked: Is Pollack the best punter on the team at the moment? It's entirely possible – and I'm being completely serious here – that Arizona's best punter is senior right tackle Gerhard de Beer. I watched the former rugby player from South Africa warm up before the Washington State game. It was impressive. Would it be that crazy to let him punt? Given the current state of affairs, what does Arizona have to lose?
4. This time it's personnel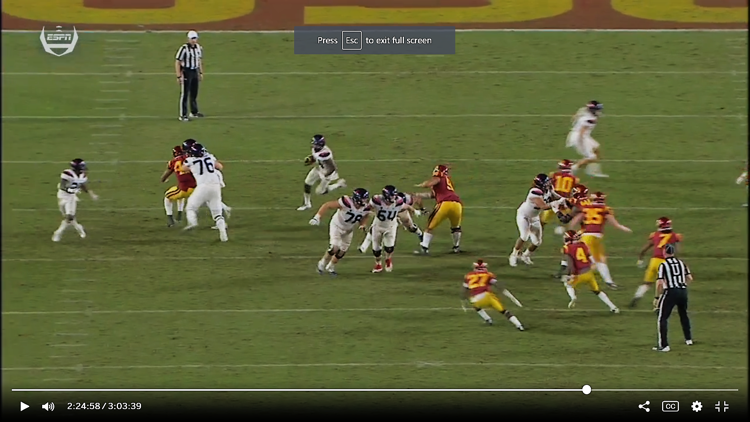 Every week we provide some notes on individual players, so here goes … Tailback J.J. Taylor showed a previously unseen element of his game on that sideline reception that subsequently was overturned. Good luck stopping Taylor, Tate and Nathan Tilford next year. … Cooper played more snaps than he has in a while. I'd like to see him get the ball. He flashed speed and playmaking ability in spring. … One of the key adjustments Arizona made in the second half was utilizing TE Bryce Wolma as a kickout blocker. He helped spring some of Tate's perimeter runs. … The defensive front had a long night. But if Tony Fields, Colin Schooler, Dereck Boles and Finton Connolly are anchoring the middle of the defense next year, I'd feel pretty good about things. … Dane Cruikshank's move from cornerback to safety just might get him a job in the NFL. … DE-LB Kylan Wilborn didn't make his usual impact. I wonder if that ankle injury is bothering him more than he's letting on. … Scottie Young Jr. brings a physical presence to the back end, but I spotted him limping late in the second half. Something to monitor.
5. Their place in the Pac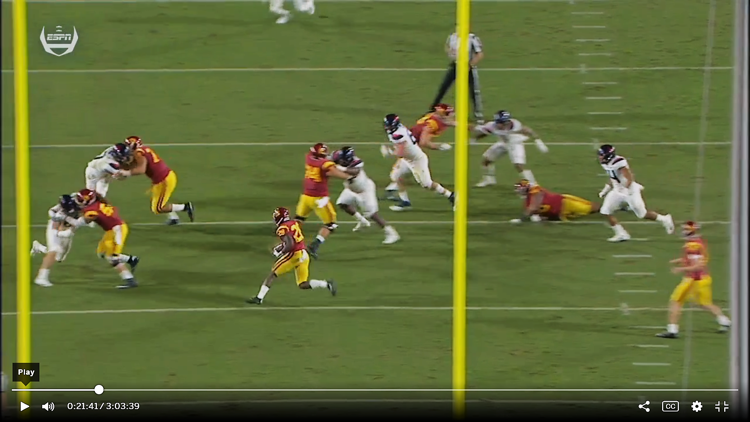 That Arizona lost Saturday night wasn't a surprise. USC simply has more talent, and it would have taken a near-perfect game to upset the Trojans. It's also difficult to sustain the level of play the Wildcats achieved in October. But I never looked at the USC game as some sort of benchmark. Rather, once Arizona reached 6-2 – and reset the expectations for this season – the results off the final four games became the determining factor. Assuming a win over Oregon State – currently a three-touchdown underdog – Arizona will enter the final two weeks at 7-3. The Wildcats at least need to split those two to make it feel as if they have made true progress. It won't be easy. Both games are on the road, and it's possible QB Justin Herbert will be back for Oregon a week from Saturday. Arizona State has proved resilient and is the only team to have beaten possible College Football Playoff participant Washington. Not that a 7-5 season wouldn't be considered a success based on preseason expectations, but once you get to 6-2, it feels less than satisfying. On the other hand, 8-4 would feel like a major accomplishment. It would require a win at Oregon or ASU, and it would represent the second-best regular-season record under Rodriguez – who entered the season fighting to keep his job. However it all turns out, those days seem like ancient history.