Celebrating Arizona's 'Mr. October': Our 14 favorite Khalil Tate stories, videos and columns
Khalil Tate has been opening eyes throughout the country this week, but he's been notable in Tucson for a bit longer. A look at some of the Star's best work during his memorable month.
Khalil Tate's record-setting performance propels Arizona Wildcats past Colorado
BOULDER, Colo. – The Arizona Wildcats were clinging to a three-point lead. Their defense was exhausted. They needed 7 yards to secure a potential course-changing victory. And everyone in the building knew who was going to get the ball.
Quarterback Khalil Tate had 296 rushing yards at that point. Standing on the edge of the Colorado Buffalo logo in the middle of Folsom Field, Tate took the snap from center Nathan Eldridge and ran to the right.
The entire Colorado defense pursued him. Several Buffaloes got a piece of him. But Tate kept on trucking.
Tate's tackle-breaking run clinched a wild victory and secured a place for the 18-year-old sophomore in the history books. That final run gave Tate 327 yards for the game – the most by a quarterback in FBS history – and put the finishing touch on a 45-42 Arizona victory.
"I knew I had to get it," Tate said afterward. "And if I didn't get it, it was on me. I got hit pretty soon, but I kept my feet moving."
Tate dragged tacklers for 31 yards. It was merely his fifth-longest run of the night.
"He was phenomenal," UA coach Rich Rodriguez said.
Tate broke the QB rushing record of 321 yards set by Northern Illinois' Jordan Lynch in November 2013. It was the second-highest single-game rushing total by a Wildcat behind Ka'Deem Carey's 366 yards, also against Colorado, in 2012.
Oh, by the way: Tate completed 11 of 12 passes for 142 yards and a touchdown. He accounted for five of Arizona's six TDs.
"I was really proud of the way he ran the football," Rodriguez said. "But his composure when he got in there, his game management, seeing the field … Khalil certainly was the big difference today."
And to think, Tate wasn't even supposed to play.
"I didn't even know his number, if I'm going to be quite honest," Colorado safety Ryan Moeller said.
Brandon Dawkins started his fifth straight game for the Wildcats. Although Tate finally was healthy after enduring a sprained shoulder for the past month, Rodriguez had given no indication that he would shuffle his quarterbacks.
But on the ninth play from scrimmage, Colorado's Isaiah Oliver and others drove Dawkins into the Buffaloes bench. He got up but seemed shaky. Rodriguez said later that Dawkins was "a little nicked up then" but could have come back into the game.
Tate was playing too well for Rodriguez to go back to Dawkins.
Arizona's Shun Brown lost a fumble on that first drive. The Wildcats' second possession consisted of one play: a 58-yard Tate touchdown run. He followed with TD runs of 28, 47 and 75 yards.
Asked if Tate would be the starting quarterback moving forward, Rodriguez said: "It's hard to justify not starting him after this, right?"
The Wildcats (3-2, 1-1 Pac-12) defeated the Buffs (3-3, 0-3) for the fifth time in six tries under Rodriguez. Arizona next faces UCLA, whom Rodriguez has yet to beat as UA coach.
The Wildcats needed every Tate yard to defeat the Buffaloes and probably will need a better defensive performance to beat the Bruins.
After three straight solid outings, Arizona's defense couldn't get Colorado off the field. CU running back Phillip Lindsay gashed the Wildcats defense for 281 yards on a school-record 41 carries. Tate and Lindsay's combined 608 rushing yards were the most ever by opposing players in a game, according to ESPN.
"It looked like were gassed on the second series," Rodriguez said. "We were rolling guys in and out of there. We've gotta play a lot better defensively, and we can."
Colorado gained 551 yards and converted 13 of 21 third downs. The Buffs ran 90 plays to the fast-scoring Wildcats' 56, eventually wearing down the UA defense.
Colorado scored touchdowns on each of its final four possessions, marching 75 yards each time. Arizona responded with two touchdowns, a field goal and the clock-killing final drive.
Tate said the offense's mindset was to "keep putting points on the board. The defense was struggling a little bit. We knew we had to hold up our end."
The Wildcats converted two third downs on the last possession. The first, a third-and-4, came via an 8-yard pass from Tate to freshman tight end Bryce Wolma. Tate's lone incomplete pass, in the second quarter, was a catchable ball that Tyrell Johnson dropped.
All the while, a sellout crowd of 49,976 roared. Tate remained calm.
"He is always calm," guard Jacob Alsadek said. "He is a laid-back guy, super reserved and quiet. I think that he handled it really well."
The victory was significant for several reasons. It was Arizona's first Pac-12 road win since Oct. 17, 2015, at Colorado, another game in which Rodriguez played multiple quarterbacks. It was also a close game that the Wildcats found a way to win – unlike one-score losses to Houston and Utah.
"The best thing for confidence is winning," Rodriguez said. "Winning close games, winning big games, there's no question that that helps with their confidence.
"I'm proud of our guys. Two weeks ago when we lost (vs. Utah), there was nobody hanging their head. We were mad. Genuinely made. I was mad. We were all mad.
"We've gotta start pulling these close ones out. That's what you gotta do if you want to have a great season. It was good to pull this one out in a tough environment."
Greg Hansen: 'More confident' Khalil Tate puts on performance for the ages in Wildcats win
BOULDER, Colo.
In your life have you seen anything like that?
A Tiger Woods chip-in at The Masters, maybe?
A Willie Mays over-the-shoulder catch in the World Series?
No quarterback in the history of college football has ever played a perfect game, not from first snap to last snap, but on Saturday at Folsom Field, Arizona's Khalil Tate was one pitch away.
It was, according to UA cornerback Jace Whittaker, "electrifying."
It wasn't that Tate broke the FBS — an abbreviation that when referring to Tate should hence be known as Fabulous — record by rushing for 327 yards, more than any quarterback in Fabulous history. And it wasn't that he was 11-for-12 passing, with the only incompletion being a drop by Tyrell Johnson.
It was all of those things and more.
Of the 47 snaps Tate took at quarterback, Arizona was only penalized once, for 5 yards. If he made a mistake, it was not shining his shoes and combing his hair before a postgame press conference after Arizona's 45-42 victory over Colorado, an outcome of such potential enormity that it creates four scenarios that even the hardiest Wildcat fan couldn't have imagined 24 hours earlier:
One, it probably sold an extra 10,000 tickets for Saturday's home game against UCLA.
Two, it might have changed the trajectory of coach Rich Rodriguez's career.
Three, it could save the athletic department $6 to $8 million in a coaching staff change.
Four, it gives long-long-long-suffering UA football fans a belief that the Quarterback Of The Future wears No. 14 and has at long last arrived.
That's the truth, Ruth.
Before Saturday's game, most Arizona football fans weren't sure if you spelled Khalil Tate's name with or without the h. The h belongs. It stands for humble.
Tate plays like a pit bull on roller skates, but after Saturday's game he didn't say anything that could be re-tweeted or used for a television sound byte.
He was asked if he had ever gained 300 yards in a game, even in high school?
"No," he said softly. "Maybe. I'm not sure."
Senior offensive guard Jacob Alsadek described Tate as "reserved, laid back and quiet."
In many losing football programs, the backup quarterback is the most popular player in the community. But when most of those second-teamers get their chance, you discover why they've been sitting on the bench.
Did you have any idea Arizona, or any team, had a quarterback on the bench who could run for 327 yards and complete 11 of 12 passes? As RichRod said, "I was obviously really proud of his composure when he got in there, his game management, and how he was seeing the field."
Tate passed for 2,036 yards and ran for 2,130 two years ago at Junipero Serra High School in Gardena, California, but the UCLAs and USCs saw him not as a quarterback but as an athlete, which is a football code word for "he can't pass accurately."
Tate was a 54 percent passer for the Serra Cavaliers, and it was probably because of that percentage that he became a Wildcat and not a hometown Trojan or Bruin.
A lot of the credit for Tate's performance should be relayed to RichRod and quarterbacks coach Rod Smith, who have been patient as Tate learned the full playbook and, moreover, didn't ask him to make low-percentage passes or try to be Aaron Rodgers or someone throwing 30-yard touch patterns.
"I'm more confident," said Tate. "I have more understanding of the game and am more knowledgeable."
A year ago, forced to start against USC when he was just 17 years old, Tate had predictable results. He completed 7 of 18 passes for 58 yards. USC's defensive coaches knew he wasn't ready to attack a Top 25 defense and took advantage. He did, however, run 14 times for 72 yards, giving UA fans a peak at his astonishing athletic ability.
But as the losses piled up — including an embarrassing 49-24 home setback to Colorado in which Arizona QBs completed just 12 of 26 passes — Tate was remembered for what he couldn't get done against USC.
On Saturday, it seemed like the Buffaloes never tackled Tate. He had runs of 75, 58, 47, 37, 31 and 28 yards (twice). He was so good that you couldn't wait for Colorado to get off the field so Tate could get back in.
Can you imagine what Colorado defensive coordinator D.J. Eliot probably told his defensive players at halftime?
"Can anyone in this room tackle No. 14?! He's started one game in his career and he's making you look like a Pop Warner team. Stick to your assignments and tackle him. He's human."
But on Saturday, Tate seemed to be from another planet.
In the first series of the second half, at the CU 47, after Eliot's halftime instructions,Tate kept the ball and was boxed in near the line of scrimmage. Two Buffaloes defensive linemen, stutter-stepping, were in the right place — but at the wrong time.
Tate head-faked, then side-stepped both and, whoosh, he was gone for a 47-yard touchdown.
"Could someone please tackle No. 14 for Arizona," Colorado coach Mike MacIntrye said after the game. "He was amazing. He should be the national Player of the Week. He's a phenomenal player. We did everything we could. I think they've found their quarterback now."
Two years ago, 2015, Arizona had a quarterback with superior running skills, Jerrard Randall. He had sprinter's speed and elusive moves and in limited playing time, with two career starts, rushed for 702 yards. Alas, Randall was a 48 percent career passer and 35 pounds lighter than Tate.
Watching Randall, you'd think "what if he could pass, and what if he was bigger and stronger? He'd be lights out."
On Saturday, Khalil Tate turned the lights out at Folsom Field. For one night, he was as good as it gets.
Watch: Arizona Wildcats QB Khalil Tate on his record-setting game vs. Colorado
RichRod: Plaudits from Pac-12, others won't change Arizona Wildcats QB Khalil Tate
Recognition continued to pour in for Arizona Wildcats quarterback Khalil Tate on Monday.
Tate was named Pac-12 Offensive Player of the Week, becoming the first UA player to be honored by the league this season.
It's the latest accolade for Tate, who became an overnight sensation after his record-setting 327-yard rushing performance at Colorado on Saturday. Even though Tate has been shouted out by multiple national websites, ESPN and even LeBron James on Instagram, Arizona coach Rich Rodriguez doesn't think it will affect the easygoing sophomore.
"It's not going to change him or change who we are," Rodriguez said. "But I also think it's kind of neat for guys to get recognition. It's a fun deal, but if I was worried it would change a guy or something, I would sit down and talk to him. I don't think we have anyone that would change, and certainly not Khalil."
Tate seemed utterly unfazed during and after his historic performance in Boulder. When he would come to the sideline to talk to Rodriguez between series, Tate already knew what Rodriguez was going to say about the CU defense.
"For a guy who hadn't played a whole lot," Rodriguez said, "I was really impressed with how composed he was out there and how he handled it like a veteran."
The only recognition lacking for Tate came on the team's official depth chart for this Saturday's game against UCLA. Rodriguez listed Tate and Brandon Dawkins as co-starters.
Tate is expected to start against the Bruins. As Rodriguez said after the Colorado game, "It's hard to justify not starting him after this, right?"
Why would Rodriguez not list Tate as the sole starter? Two reasons: (1) to force UCLA to prepare for two quarterbacks; and (2) because Rodriguez believes he has two starting-caliber QBs.
Dawkins started the first four games and most of last season. He performed inconsistently, prompting calls from fans for Rodriguez to insert Tate. That happened in the first quarter at Colorado after Dawkins got hit out of bounds and somersaulted into a metal bench on the CU sideline. He could have come back into the game if necessary, Rodriguez said.
As for reason No. 1, it seems to be having the desired effect.
"I don't know who will play, and I doubt they'll tell us," UCLA coach Jim Mora told reporters Monday. "Both of them are similar in style. They're capable passers, and they're excellent runners. They do a good job of staying alive as passers before they run, so they hold you in coverage.
"They're not really going to change what they do. It won't change a lot (for the Bruins). We have to make sure we handle the quarterback."
While Tate and Dawkins have similarities, their styles and skill sets aren't the same. Tate is a shiftier runner than Dawkins. Several times Tate made Colorado defenders miss, including one instance that Rodriguez described as "the Allen Iverson crossover." Tate made that move on the Buffaloes' Ryan Moeller late in the second quarter, leading to a 37-yard gain.
Tate threw the ball more accurately than Dawkins generally has, completing 12 of 13 passes, with the lone miss being a drop. Of course, it was just one game, and Rodriguez conceded that some of the passes he called for Tate were "easy."
While just about everyone outside Colorado marveled at Tate's performance, Mora wasn't among them.
"It wasn't fun to see the quarterback rush for 327 yards," he said.
Night fight
Washington coach Chris Petersen last week complained about the Huskies' plethora of night games. Rodriguez generally agrees with Petersen, but acknowledges that late starts are a necessary evil for the Pac-12.
The conference's schools bring in millions of dollars from TV partners ESPN and Fox, who largely dictate when games are played. The networks often air Pac-12 games at 7 p.m. or later on the West Coast, giving them near-exclusivity at the end of packed Saturdays.
"That's the way it is right now," Rodriguez said. "As long as we're getting paid TV money, it's going to continue to be that way. It's frustrating at times. (But) everything is different now with TV than it used to be."
Arizona had two afternoon games last year — versus USC and at Washington State. Every game this year has started at 6 p.m. local time or later. The Oct. 21 game at Cal will begin at 5 p.m. and will be televised by Pac-12 Networks.
Extra points
Asked if Tate's performance and the win at Colorado might energize the UA fan base, Rodriguez said: "I hope so. … I think every win energizes everybody."
Regarding Arizona's porous run defense against Colorado (300 yards allowed), Rodriguez cited an inability to get off blocks and hold gaps.
Despite a season-high four sacks, Rodriguez said Arizona's pass rush didn't get home enough against Colorado. He said UCLA quarterback Josh Rosen "will pick us apart" if he's not pressured.
Rodriguez on freshman linebackers Tony Fields II, Colin Schooler, Kylan Wilborn and Anthony Pandy: "Even though sometimes there are some growing pains with it, I can see them growing up as the season goes along."
Rodriguez said freshman safety Scottie Young Jr. was "pretty focused all week" after he "went through some things" off the field. Young was arrested Sept. 28 on a misdemeanor domestic-violence charge.
Arizona played a clean game against Colorado (one turnover, two penalties), and Rodriguez said the Wildcats probably would have lost if they hadn't.
Rodriguez on Gary Andersen's sudden departure from Oregon State: "I think Gary is heck of a football coach. I'm a little surprised that anything happens at this point in the season. Division I college football and pro football, it's a wild profession at times."
The Khalil Chronicles: How Arizona landed its new star quarterback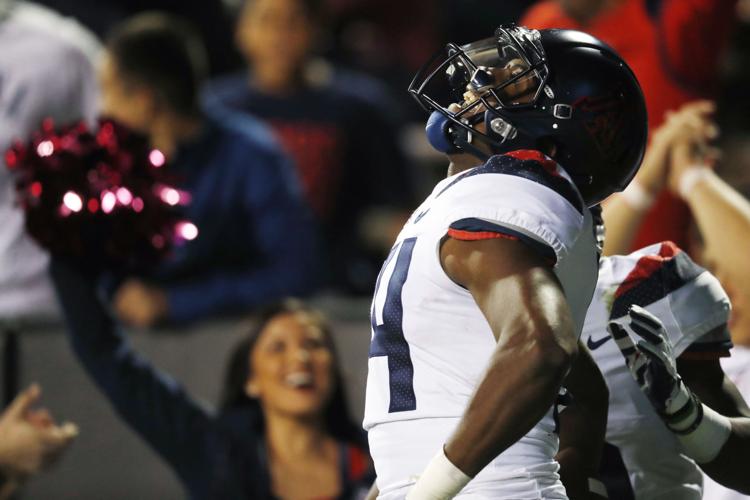 Khalil Tate juked, cut back and ran around Colorado defenders and into the national consciousness during Saturday's stunning performance in Boulder, Colorado.
The Arizona sophomore is now an FBS record-holder for the most rushing yards in a single game by a quarterback.
In the last week, Tate has been compared to a basketball star (Allen Iverson) and two great college quarterbacks (Pat White and Denard Robinson). He's won Pac-12 and national awards, and Pro Football Focus graded him as the top signal caller in the country.
Whoa.
This is the same kid that couldn't throw a football two weeks ago because of a shoulder injury. The same kid who lost the quarterback competition to Brandon Dawkins in August. The same kid who often looked lost under center as a true freshman.
Saturday, Tate is expected to make the second start of his college career when the Wildcats take on UCLA at Arizona Stadium. A lot has changed since the first one, a loss to USC in which Tate was benched. Tate came off the bench last week against Colorado, and posted one of the best stat lines in Arizona history: 327 rushing yards, the most ever by a quarterback, and 154 passing yards on 12 of 13 attempts. Tate finished the game with five touchdowns, four of them coming on the ground.
Colorado couldn't stop Tate. Fortunately, they won't have to face him again.
"Nobody has a guy like him," CU coach Mike MacIntyre said.
Well, UCLA maybe could have.
"Khalil, because he is a local guy, we had great regard for him, we recruited him hard," Bruins coach Jim Mora said. "The style of offense we were running at the time maybe didn't fit him perfectly for his skill set. But I'll tell you what, he has found an offense that he can be unbelievably productive in. We're happy for him."
Tate sees it differently. Saturday, UCLA might pay.
"I get a lot of juice playing against a hometown team," Tate said, "knowing that they could have recruited me a little bit harder."
Here are the Chronicles of Khalil, the story of how Tate went from a player college coaches didn't consider a quarterback to the future of the position in Tucson.
PART 1: Human
highlight reel
Tate was a sophomore at Serra High School in Gardena, California, when he played in his first varsity game. He rushed four times … and gained 138 yards and scored three touchdowns.
That was just the beginning.
Talk to anyone who's coached Tate — or coached against him or tried to recruit him, that's played with him or tried to defend him — and you'll hear a tone to the storytelling.
They marvel.
Did they see that, Tate's night against Colorado, coming? Like, that?
Maybe not. But Tate has done it before.
"He did that same stuff in high school," said Greg Biggins of Scout.com. "It is kinda weird to see someone just so much better physically than everybody else he's going against at the college level, but that's how it was" at Serra.
"I mean, every game he played, he would do something amazing."
As a senior, Tate passed for 2,036 yards and 17 touchdowns. He ran for 2,130 yards and 26 touchdowns. Serra went 9-2 before falling in the state playoffs to powerhouse Santa Ana Mater Dei. Tate rushed for 356 yards.
Arizona freshman defensive end Kylan Wilborn played Tate twice in high school.
Tate and Serra defeated Wilborn's Sherman Oaks Notre Dame Prep team 35-20 in 2015. Tate amassed 249 passing yards and 185 rushing yards and scored five total touchdowns.
Wilborn remembers one play in particular.
It was fourth and inches, and everybody assumed Tate would run a sneak up the middle. He did — or, at least, he started to.
"So he does the QB sneak, we all pinch together to crowd him and take him on," Wilborn said. "Then we're like … where'd he go?"
"He just backs out, reverses field, runs like 10 yards in the backfield and goes 60 yards to the house. It was fourth and inches and he took a mile."
Later in the season, Tate and Serra squared off against Los Angeles Narbonne. He passed for 201 yards and managed 295 yards and six touchdowns rushing. Tate played so much — and so hard — that he left the game briefly because of cramping.
Serra coach Scott Altenberg remembers it well.
"Right around the third quarter he got really tired, fell down and said, 'I'm tired,'" Altenberg recalled. "I take him out and Narbonne comes back. So now we're losing and Khalil (in his) last two series is kinda tired, not playing well, he's struggling and I said 'Dude, we gotta go.' He was like, 'OK.'
"He flipped a switch … and he was off."
Tate scored on a four-yard run and Serra beat Narbonne 41-40 in overtime.
"That kind of stuff is when you look at him and it's like, he's definitely special," Altenberg said.
PART 2: To QB
or not to QB?
Arizona offered Tate a scholarship on Feb. 6, 2015; the same day as UCLA. Utah, USC and Florida State did the same a month earlier.
Nebraska and Texas A&M visited later, and Alabama expressed interest.
It was easy to see why: Tate was a four-star recruit and the No. 1 athlete in California according to Scout.com. He probably could have played anywhere.
Many close to Tate figured he'd play for the Trojans.
"They spelled it S-C-R-R-A because SC kids always come from Serra," Biggins said. "Once USC offered, we all thought 'lock it up, Khalil is going to USC.'"
Tate didn't to USC — or to UCLA, even though he grew up a Bruins fan.
The quarterback picked Arizona in what became recruiting coup for UA coach Rich Rodriguez and his staff.
The reason: Arizona wanted Tate to play quarterback. The others thought he'd be better at wide receiver, running back or safety. Tate had played some receiver at 7-on-7 competitions, and dominated.
"Picking a college, I was trying to pick it based on what position I wanted to play, and I wanted to play quarterback," Tate said this week.
"That's what made the process easier, and Arizona was my top choice."
Altenberg, Tate's high school coach, warned the star that other schools would try to make him switch positions.
Tate said they weren't going to change his mind about quarterback.
"I really appreciated that, because for me it said he had a lot of confidence in who he was," Altenberg said. "He just didn't care that people said: 'OK, you can go to the No. 1 school in America if you just decide to play receiver.' He said, 'I want to play quarterback.'
Arizona's coaches were prepared to give him that opportunity. Rod Smith and Tony Dews, who has since left for West Virginia, said they saw Tate and the perfect fit for Rodriguez's wide-open attack. It helped that Rodriguez had made stars out of Pat White and Denard Robinson, athletic high school quarterbacks who most saw as impact players at other positions.
"We've had a lot in our history of guys that can run and can throw, but for whatever reason people would label them as an athlete or a different position," Rodriguez said. "We looked at him and said because of what we do on offense, he fits."
PART 3: At Arizona,
it's Tate's time
Tate was supposed to redshirt as a freshman, but injuries to Dawkins and Anu Solomon forced him into action. Tate made his college debut in an Oct. 1, 2016, game against UCLA, and played against Utah a week later after Dawkins suffered a concussion.
Tate made his first career start on Oct. 15 against USC. He was 17 years old.
Tate flashed talent during his freshman audition. Against UCLA, he rushed for 79 yards, threw for two touchdowns and famously trucked a Bruins defender.
He completed 5 of 8 passes for 105 yards and a touchdown against Utah.
Tate started hot against USC, flashing the Trojans' "V for Victory" hand symbol at the visiting sideline after scoring a first-quarter touchdown.
But the three-game stretch was a mixed bag. Tate threw three interceptions and completed less than half of his passes. The Wildcats were winless in the three games Tate played.
Things are different now.
During Arizona's bye week, Tate visited his old high school. While catching up with his former coach, Tate made a guarantee.
"He said, 'I'm ready,'" Altenberg said. "He said if they put me in, they're never going to take me out."
Why wasn't Khalil Tate Arizona's starting QB in Week 1? Wildcats coach Rich Rodriguez explains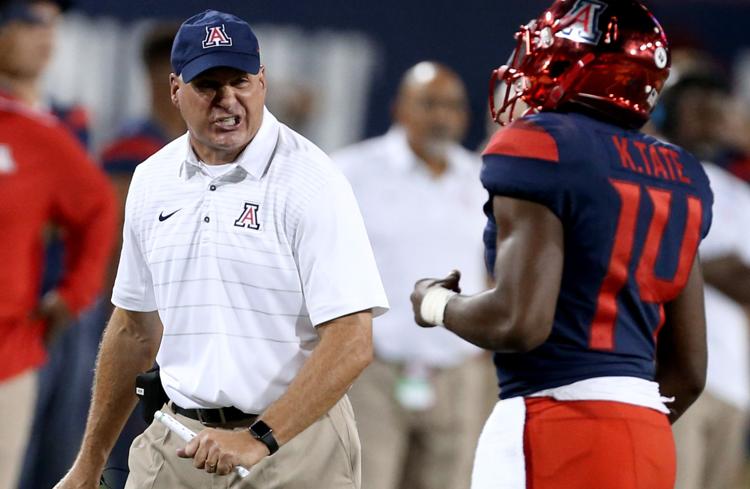 It's the question every Arizona Wildcats fan has been wondering about since Khalil Tate became one of the most prolific, exciting players in college football:
If he's this good, why wasn't he the starting quarterback in Week 1?
The answer, as with most things, is more complicated than people want to believe.
But first, back to the question. UA coach Rich Rodriguez seemed to know it was coming at his weekly news conference Monday. It was the first one out of the blocks. Rodriguez was ready for it.
"A guy plays really good," he said, "and you open yourself up: 'Where the heck has he been? Why hasn't he been starting?' I understand the question."
Rodriguez then explained the state of Tate back in training camp. The 18-year-old sophomore was "a young guy still learning," Rodriguez said. Meanwhile, redshirt junior Brandon Dawkins outperformed him in camp. Dawkins also had nine starts on his résumé. So Rodriguez went with the veteran.
Dawkins started the opener against Northern Arizona and played well in an easy 62-24 UA victory. Tate entered the game in the second half and suffered a sprained AC joint in his throwing shoulder. He wasn't able to practice fully until the week leading into the Oct. 7 game at Colorado.
Tate never appeared on the injury report. He also played in the fourth quarter of the Week 2 game against Houston, when Dawkins got banged up. But Tate clearly wasn't 100 percent.
Houston generally contained Dawkins in a 19-16 loss. The following week, at UTEP, Dawkins had the best statistical performance of his career. He completed 18 of 21 passes, rushed for 133 yards and accounted for six touchdowns in a 63-16 win.
Rodriguez undoubtedly would have played Tate in the second half of the UTEP game had he been healthy. And Rodriguez might have gone to Tate when Dawkins struggled against Utah the following week. But Tate couldn't throw the ball with any authority, so that option was off the table.
Heading into the Colorado game two weeks later, Rodriguez told Tate that he might get an opportunity. Rodriguez wasn't sure when, but Tate needed to be ready.
When Dawkins got hurt on the opening drive, Rodriguez finally turned to Tate.
"When he got his opportunity, he made the most of it," said Rodriguez, whose team visits Cal on Saturday. "He is actually playing better than we anticipated that he would, particularly running-wise.
"He's still learning. We're not going to expect 200 yards or 300 yards rushing every week, but I love the way his mindset is right now and how he is taking charge of his opportunity."
Tate set the FBS record for rushing for a quarterback with 327 yards against Colorado.
He followed that up with 230 yards against UCLA on Saturday. Arizona won both games, and Tate was named Pac-12 Offensive Player of the Week for both performances. He became the first Wildcat to be so honored twice in the same season since Ka'Deem Carey in 2013 and the first to do it in back-to-back weeks since Tom Tunnicliffe in 1982.
"I'm proud of him," Rodriguez said. "He's been wanting a shot, and he had to earn it."
Rodriguez has said several times that Tate's in-game speed has surprised him. It isn't necessarily something that can be seen in practice. Coaches usually blow the whistle soon after quarterbacks take off so another play can be run.
They also typically aren't subject to live tackling.
Additionally, Tate's improvisational skills don't necessarily show up on the practice field. Rodriguez said Tate's 71-yard touchdown run against UCLA — during which he bobbled the ball and eluded a defender in the backfield — was a "broken play."
Rodriguez indicated that Tate is capable of running more of the offense than a year ago — but that there's still more to come. Regardless of how much he can handle, Tate is playing without hesitation.
"We put a lot on our quarterbacks, decision-wise," Rodriguez said. "Whether he makes the right decision or not, he's been decisive either way. He's not sitting there, freezing, he's trying to make something happen."
Rodriguez still has faith in Dawkins, who officially dropped to No. 2 on the depth chart released Monday. Dawkins cheerfully supported his teammates, including Tate, on the UA sideline Saturday.
"I thought he was terrific in how he handled everything last week," Rodriguez said. "I told him I still feel we've got two starting quarterbacks."
Pima's Woods commits
Haki Woods, a three-star defensive back from Pima College, announced his commitment to Arizona on Monday. Woods is listed as a cornerback by the Aztecs. But at 6-foot-3 he could project to "Spur" safety. Another JC transfer, Dane Cruikshank, moved from corner to that spot this season. Woods has 32 tackles, four pass breakups and two blocked kicks in six games for Pima.
Extra points
Rodriguez said he liked the way the team responded to the UCLA victory in Sunday night's walk-through practice. His message to the players: "The more you win, the more is at stake."
Rodriguez said the Wildcats slowed the tempo against the Bruins to give their defense "a little bit of a break." Arizona ran only two more plays than UCLA but possessed the ball for eight more minutes.
Defensive tackle Luca Bruno's status is uncertain for the Cal game. He sat out last week because of a concussion. "We'll see where Luca's at in the next few days," Rodriguez said.
Rodriguez was pleased with Kwesi Mashack's ability to fill in at free safety after Mashack spent "half the week" on the scout team. Rodriguez declined to update the injury status of starter Scottie Young Jr. Rodriguez did say that Arizona could shuffle some personnel in its secondary.
Arizona's homecoming game against Washington State on Oct. 28 will kick off at 6:30 p.m. and will be televised by Pac-12 Networks.
Greg Hansen: By any (nick)name, Arizona Wildcats QB Khalil Tate making Pac-12 history
Dear Mr. Football: At what point will Khalil Tate be nickname-worthy?
A: The five top nicknames in UA football history all belong to star-level backs — and all are in the UA Sports Hall of Fame:
1. Cactus Comet. Art Luppino, 1953-56.
2. Jackrabbit Joe. Running back Joe Hernandez, 1959-61.
3. The Eel. Bill Hargis, 1928-30.
4. Hoss. Walt Nielsen, 1936-38.
5. The General. Bobby Thompson, 1960-61.
Cactus Comet was the idea of UA senior Fred Weigand, who acted as the school's football information director in 1953-54. He used the nickname in a press release and Star sports columnist Abe Chanin used it in print for the first time on Nov. 4, 1954. After Luppino departed Arizona as a two-time NCAA rushing leader, one of Arizona's leading players of the 1940s, Art Polland, who raised, trained and raced horses, named one of his horses Cactus Comet.
Khalil Tate? He probably needs at least one more scintillating performance to be nickname-worthy. What do you think?
Earthquake Tate?
Carry the Freight Tate?
TD Tate?
Turbo Tate?
Thunder Tate?
Tractor Tate?
Too Late Tate? (Too late? Arizona didn't deploy Tate until it had already lost two games).
I'll go with the Earthquake Tate, given how he has shaken up Arizona's sleepy football program. The 'Quake.
Dear Mr. Football: Who is the best No. 14 in UA football history?
A: Freshman Kylan Wilborn, who, like Tate, wears jersey No. 14, had a game for the ages against UCLA. He sacked quarterback Josh Rosen four times.
Only one player had more than four sacks in UA history: In a 1984 victory over Cal, senior linebacker Steve Boadway had five sacks. Boadway, from Lompoc, California, was never drafted by the NFL although he did play two games for the Detroit Lions in 1987. Incredibly, he wasn't even the Pac-10 defensive player of the week after his five-sack performance, although he was a second-team All-Pac-10 player in '84, leading the league in sacks (13), a record that held until Tedy Bruschi had 19 in 1993.
Boadway, who is now a middle school principal in Flagstaff, was a lot like Wilborn: lightly recruited. Wilborn's two scholarship offers were from Idaho and Hawaii until he got and accepted an Arizona scholarship offer. How did so many miss on Wilborn?
He didn't play the summer league circuit, choosing to set a school shot put record (62 feet 2 inches) at Notre Dame High in Sherman Oaks, California. It's unlikely Wilborn will be remembered long at Notre Dame; it's a school that has produced baseball home run champ Giancarlo Stanton, Cy Young Award winner Jack McDowell and even UA all-conference kicker Nick Folk.
The real sack-master remains Bruschi; he has QB sacks in 15 consecutive games, which is the college football equivalent of Joe DiMaggio's 56-game hitting streak.
Dear Mr. Football: Has anyone outside Berkeley ever heard of Cal quarterback Ross Bowers?
A: At Bothell High School in Washington, a 3-star recruit in the Class of 2015, Bowers was offered a scholarship by his dad — James Madison assistant coach John Bowers. Don't laugh.
JMU went on to win last year's FCS national championship, and his father, a former assistant coach at Kent State, Eastern Michigan and Bowling Green, helped to build the Dukes into national-title timber.
Bowers' athletic genes run deep: his mother, Joanne Bowers, was the head gymnastics coach at Washington from 2006-16. Both parents have since relocated to the Bay area to be with their son; John Bowers is now an assistant coach at Clayton Valley High in Concord, California.
Dear Mr. Football: How fleeting is life in college football?
A: Since the last time Arizona and Cal played in 2014 — the famous "Hill Mary" game won 49-45 by Arizona — 16 of the 20 full-time coaches in that game have been fired or moved on.
Cal's staff for that '14 game included ex-UA assistant coach Garrett Chachere, who was flushed out in the Sonny Dykes exodus. Chachere had to scramble for employment; he now coaches at tiny New Mexico Highlands, who last week drew a "crowd" of 274 to pay Chadron State.
Momma, don't let your boys grow up to be football coaches.
Dear Mr. Football: Who is the top defensive coordinator in the Pac-12?
A: If you voted today, Cal's Tim DeRuyter would get a lot of support; he, of course, gets a ton of guidance from head coach Justin Wilcox, who has been the defensive coordinator at USC and Washington.
DeRuyter disarmed Mike Leach's Washington State passing circus last week, taking it apart with nine sacks and five interceptions. That's the defensive performance of the year in any conference this season.
DeRuyter is a lot like new UA special teams coordinator Brian Knorr: a coach from the School of Hard Knocks who has been fired multiple times but has in-demand coaching chops.
In fact, DeRuyter and Knorr might be the closest coaching "enemies" in the Pac-12. They played together at Air Force in the 1980s; DeRuyter, the defensive coordinator, later hired Knorr to be a linebackers coach at Ohio in 1995.
After DeRuyter left to coach at Navy, Knorr was named head coach at Ohio. DeRuyter was fired at Navy; Knorr then hired him to be the defensive coordinator back at Ohio.
Then both were fired at Ohio and wound up back at Air Force on the same coaching staff in 2007.
You can't make this stuff up.
Dear Mr. Football: How much does Cal value a victory over Arizona?
A: Wilcox's first Cal contract specifies that he will be paid a $25,000 bonus to beat Stanford, and $10,000 if the Bears beat USC, UCLA or Oregon (as long as the Bears win at least six games).
Wilcox won't get a bonus for beating Arizona, but Rich Rodriguez might. Nothing in the form of a paycheck, not yet, but if Arizona beats Cal to get to 5-2, RichRod would be the clear front-runner for Pac-12 Coach of the Year. He is to be paid $50,000 if he is so voted.
There isn't likely to be much mystery in the Cal-Arizona game. If Wilcox and DeRuyter can design a way to limit Tate's effectiveness, to stall Arizona's running game, The Quake will lose its shake.
The only other UA player ever to earn back-to-back Pac-12 offensive player of the week awards, quarterback Tom Tunnicliffe against Notre Dame and Pacific in 1982, was terrific the next week, helping Arizona gain 402 yards (then considered a prolific total) in a 34-17 win at Washington State.
Tunniciliffe extended to 108 his streak without an interception in his third consecutive game of note; Tate currently has a 26-pass streak with no interceptions. If he can play similarly error-free today, Arizona should win.
Until further notice, I'm on the Tractor Tate Bandwagon.
Wildcats 38, Bears 27
Arizona Wildcats QB Khalil Tate lost weight to try to play to his 'fullest potential'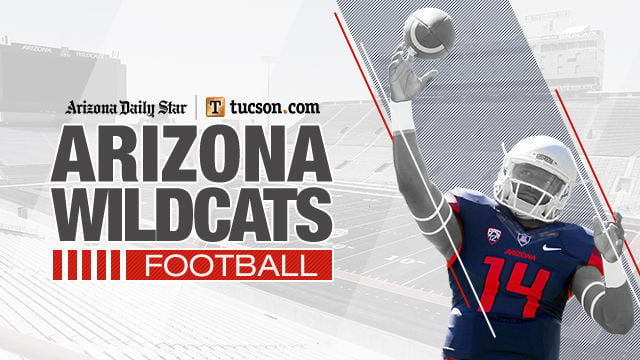 Notes and takeaways from the Arizona Wildcats' media availability after practice Wednesday morning as Washington State week continues:
* Quarterback Khalil Tate lost weight in the offseason, dropping from 220-plus pounds to about 208. He's faster as a result. Why did Tate drop the weight? "I felt like I wasn't performing to my fullest potential," he said.
* UA coach Rich Rodriguez is looking for two basic things from his defense against Washington State: He wants the defense to "make some stops" and be aggressive. Arizona did neither in Pullman last year.
* Rodriguez on reviewing last year's 69-7 fiasco: "You've gotta watch the film, because you have to see what went wrong, but it was obviously really embarrassing. It makes me want to throw up. You can imagine, I've wanted to throw up all week."
* Defensive tackle Dereck Boles, who left the Cal game after a collision in double overtime, was available for interviews, a sign that he'll be able to play against WSU.
* Tailback Nick Wilson, who left the Cal game in the first half because of an ankle injury, was carrying his pads while walking to the locker room. He didn't appear to have a brace or a limp.
* Rodriguez on freshman defensive tackle Kurtis Brown: "He came in strong. He practices hard. Football is important to him. And he's intelligent." Brown said he suffered a strained groin vs. Colorado that's been bothering him this week, but he should play.
* Rodriguez on Washington State guard Cody O'Connell, aka "The Continent," who's 6-9, 368: "He'll cast a shadow over all four of our guys up front."
* Could Arizona "Stud" DeAndre' Miller be on the verge of a breakout? "I hope so," Rodriguez said. "He's kind of working his way into game shape. You forget that he missed so much time (the first month, because of a foot injury) and he got thrown back in there. This week was a good week for him. We obviously need him to give us some pressure."
* Although Washington State plays a lot of wide receivers and throws all the time, Arizona won't necessarily rotate a bunch of defensive backs. The trust factor isn't quite there yet with the younger DBs.
* Rodriguez on Arizona's already productive freshman class: "Imagine what these guys are going to be like with a year or two in the weight room" Safeties coach Jahmile Addae said the '17 class was unusually close even before the players arrived on campus.
* The media contingent on hand was probably the largest for a morning practice all season. It included a reporter from ESPN.com. Chalk it up to the Tate Effect.
Greg Hansen: 'Mr. Football' weighs in on Tate comparisons, coaches' dads and a Pullman pounding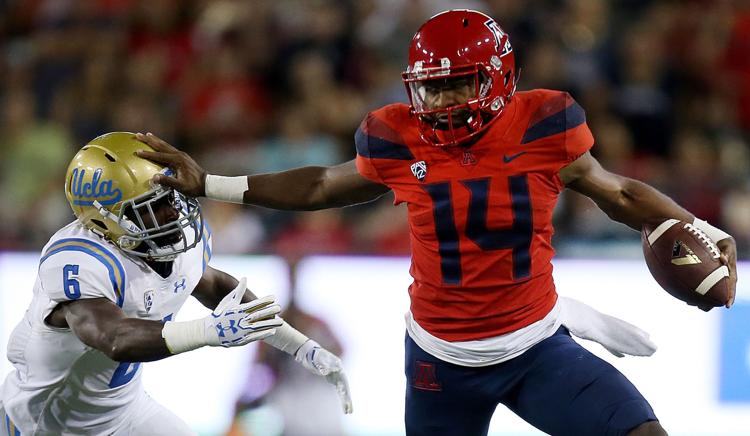 Dear Mr. Football: Has Arizona Stadium ever been sold out for a Washington State game?
A: The Cougars have played 18 games in Tucson since the formation of the Pac-10 and have averaged 46,127 fans, or about 10,000 empty seats per game. Only once, in 1990, did the Cougars fill the old place — 55,520 — and in retrospect the positive variables were in place for that near-sellout.
Arizona (5-2) was coming off a rousing 35-26 victory at No. 15 USC, and the only live telecast was on Prime Ticket, a fringe cable outfit from Southern California. Tucson's KMSB, Channel 11, announced it would televise the game live, piggy-backing Prime Ticket's feed, but a Tucson judge banned Channel 11 from doing so.
Perhaps more important, Arizona had not played in Tucson for 28 days. Former UA athletic directors Cedric Dempsey and Jim Livengood frequently said the middle-class Tucson football fan could not afford week-after-week ticket purchases. When home games were spaced with two or three weeks in between, more tickets were sold.
The most compelling UA-WSU game ever played in Tucson was in 1993, yet it drew a mere 46,675 when Desert Swarm was 6-0 and ranked No.7 and Washington's State's "Palouse Noose" defense, No. 2 in NCAA total defense nationally, arrived ranked No. 25.
The game kicked off at 12:30 p.m., televised on ABC, and it was 84 degrees at kickoff. Yet there were 10,000 empty seats. Few UA games in history were more attractive: the Wildcats were coming off back-to-back victories against USC and Stanford in front of sold-out crowds. Alas, all three were played in Tucson and the middle class fan couldn't afford to attend all three.
So they chose glamour teams Stanford and USC and watched the WSU game on network TV. Arizona won 9-6.
Dear Mr. Football: Is Rodney Peete the football idol of Khalil Tate?
A: "My guy was Donovan McNabb," says Tate. "He wore jersey No. 5."
McNabb, who grew up in Chicago, was a lot like Tate; he was 6 feet 2 inches and about 230 pounds who was only offered a chance to play quarterback by Syracuse and Nebraska. The other Big Ten schools preferred McNabb play receiver or safety. McNabb rushed for 1,554 yards at Syracuse, making him one of the top running quarterbacks of the 1990s.
But Peete is the only other Pac-12 quarterback, like Tate, to win the league's offensive player of the week three times in succession. Their performances couldn't be more different.
Peete, who grew up in Tucson and played at Sahuaro High School, threw for 892 yards and only rushed for 37 in 1988 victories against Arizona State, Cal and UCLA. Tate threw for 468 yards and rushed for 694 in Arizona's wins against Colorado, Cal and UCLA.
Peete and Tate have this much in common: a day after his '88 victory at UCLA, his third straight Pac-10 weekly honor, Peete was decked by the measles. On Monday, the day Tate learned he won his third weekly honor, he missed school with flu-like symptoms.
If Tate wishes to meet Peete, that can be arranged. Peete will be in Tucson over the weekend while being inducted into the Pima County Sports Hall of Fame. Sunday's luncheon at the DoubleTree Hotel starts at 12:30 p.m.
Dear Mr. Football: Did Washington State quarterback Luke Falk solo in football?
A: As a freshman at Logan (Utah) High School, Falk played baseball for the Grizzlies – my alma mater. My brother, Mike, was his coach.
"He was a pitcher with tremendous ability," Mike says now. "But his mother took him out of baseball and he didn't play baseball again."
Falk's football roots go deep; his grandfather, Jack Falk, grew up on a farm about 70 miles north of Logan and became a standout fullback at Eden High School in Idaho. A structural steel engineer who built bridges in the Intermountain West, Jack Falk would often travel to Pullman to watch his grandson play for the Cougars. Sadly, he died on Tuesday at age 88.
Dear Mr. Football: Did WSU coach Mike Leach inherit football genes from his father?
A: Leach is one of five Pac-12 head coaches whose fathers were not heavily involved in football. His father, a Mormon who raised the Leach family in Susanville, California, is an Air Force veteran who served in the Korean War.
The other non-football backgrounds: Rich Rodriguez's father, Vince, was a welder at a mine; ex-Oregon State coach Gary Andersen's dad worked for the phone company in Salt Lake City; and Oregon coach Willie Taggart's dad was a farm laborer in Florida.
ASU coach Todd Graham's father left his family when Graham was young and was not part of his life.
The league's other coaches grew up in football. Washington coach Chris Petersen's dad was a high school and junior college coach in Yuba City, California. Colorado coach Mike MacIntyre's father was the head coach at Vanderbilt. Cal coach Justin Wilcox's dad is in the NFL Hall of Fame.
The fathers of UCLA's Jim Mora, Stanford's David Shaw, USC's Clay Helton and Utah's Kyle Whittingham all made a living as college or pro coaches.
Dear Mr. Football: Is there any precedent for losing by 62 points to a team one year and beating them the next season?
A: No team in Pac-12 history has lost by 60 or more and beat that team a year later. Only once has a team lost a conference game by 50 or more and beat that team a season later.
And it happened in Tucson.
In 1991, No. 3 Washington pole-axed Arizona 54-0 in Seattle. It was so bad that UA quarterback George Malauulu was sacked six times and was either intercepted or lost a fumble six times.
But 13 months later at Arizona Stadium, the No. 12 Wildcats beat No 1 Washington 16-3.
I don't think last year's 69-7 loss at WSU was any worse than the 54-0 punishment 26 years ago in Seattle.
The '91 game was like a WWE beatdown. The '16 game in Pullman was like trying to keep up with Bernard Lagat in a 5,000-meter race.
Dear Mr. Football: What's the dungeon of misery in Pac-12 football?
A: Dilly, dilly, it's when Washington State combines its ridiculously confusing spread-you-out-and-get-multiple-receivers-open-in-space offense with a shut-down defense.
Leach got the credit for last year's 69-7 embarrassment, but defensive coordinator Alex Grinch might've been just as effective. His defense allowed Arizona a season-low 286 yards; only once did the UA get inside WSU's 20-yard line.
Grinch is so highly respected in college football that he is paid $600,000 this year, which is more than any UA assistant coach. He is also likely to be No. 1 or No. 1-A in the head coaching searches in December.
If the Cougars win the Pac-12 North, beating Washington in the Apple Cup, it'll be Grinch's work on defense that makes the difference. A week ago, Colorado was an unfathomable 1 for 17 on third downs while losing 28-0 at Washington State.
A year ago in Pullman, the Cougars completed 47 of 52 passes. Khalil Tate got a brief chance to play in that game. He was not good: 1-for-6 passing with an interception.
No one referred to him as the Tate Train that day.
About the only way Arizona wins today is if the 19-year-old quarterback continues his See-You-Later Tater routine.
But I suspect Arizona's defense needs another year of development before it can win a game like this.
Cougars 41, Wildcats 35.
Arizona Wildcats are ranked, and they're among the youngest teams in the nation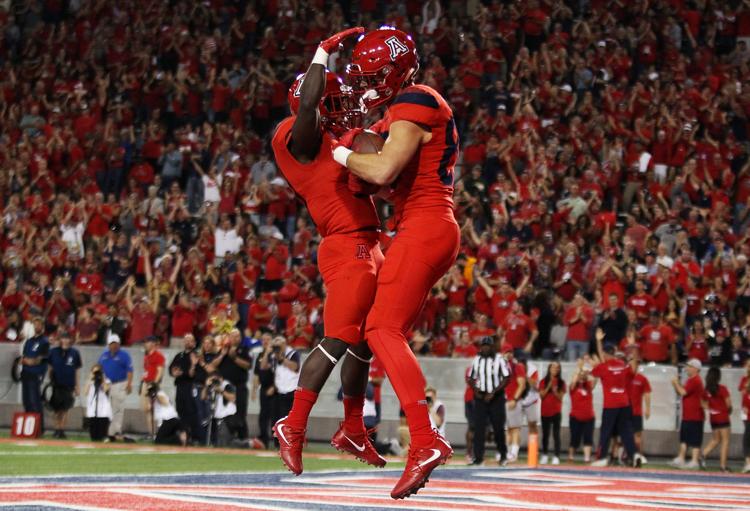 After Arizona coach Rich Rodriguez addressed the media late Saturday night, five Wildcats entered the interview room in two waves. They all had something in common besides having played for the winning side in Arizona's 58-37 victory over then-No. 15 Washington State:
They're all underclassmen.
The five players were sophomore quarterback Khalil Tate; redshirt freshmen J.J. Taylor and Jamie Nunley; and true freshmen Tony Fields II and Colin Schooler.
They're part of a youth movement that has accelerated Arizona's schedule. The Wildcats weren't supposed to be any good this season. They went 3-9 a year ago and were picked to finish last in the Pac-12 South, receiving the fewest votes in either division in the league's annual preseason media poll.
With several freshmen expected to play prominent roles, especially on defense, Arizona seemed to be in the midst of a rebuilding project that would take at least a year, maybe two.
Instead, two-thirds of the way through the 2017 season, the Wildcats (6-2, 4-1 Pac-12) have earned a spot in another poll — the AP Top 25. Arizona is ranked 23rd in the ranking released Sunday, its first appearance since Week 4 of 2015.
Rodriguez told his players just before kickoff that they had a chance to become relevant again with a victory over the Cougars. He turned out to be prophetic.
"I felt good about these guys since August," Rodriguez said. "I felt good about them in practice. We've got a lot of new players. We've got a smaller senior class; they're doing a great job with leadership. They've got a lot of pride.
"You've gotta work for it. You've gotta show it in your approach every day. There's still a lot of football left. We have four games left, and there's a lot at stake. I'm really proud that our guys put themselves in a position now to be more relevant and to have a lot at stake in the last month of the season."
Arizona visits No. 17 USC on Saturday with first place in the South on the line. The Trojans are 7-2, 5-1 after a 48-17 victory at Arizona State.
They will face a Wildcats team featuring first- and second-year players spread all across the two-deep. Entering this past weekend, Arizona had played 27 freshmen, including 17 true freshmen. The latter was tied for fourth among FBS programs.
Two true freshmen have started every game on defense: Fields, at "Will" linebacker, and Kylan Wilborn, at "Stud." Schooler has started the past four games at "Mike" linebacker.
Another true freshman, Scottie Young Jr., started the first six games at free safety before getting hurt. His classmate, Troy Young, replaced him in the lineup at Cal. Jarrius Wallace, a redshirt freshman, started against Washington State.
Fields leads the team with 58 tackles. Redshirt-freshman cornerback Lorenzo Burns is second with 53 and is tied for the team lead with three interceptions. Schooler ranks fourth in tackles (47), fourth in picks (two) and second in stops for losses (4.5). Wilborn leads the team in tackles for loss (seven), sacks (five) and forced fumbles (three).
Tate, who just turned 19, leads the Pac-12 in pass efficiency (187.5 rating) and ranks second in rushing yards per game (154.3). Taylor ranks second on the team with 519 rushing yards. Nunley caught two passes against WSU for 116 yards and two scores.
Asked about Arizona's ability to make big plays, Rodriguez said: "The nice part about it is they're all young. You're talking about true freshmen, sophomores, second-year players. It's pretty exciting."
Only one of the five interviewees participated in last year's 69-7 loss at Washington State. That would be Tate, who played briefly during garbage time. None were around for the Wildcats' 45-42 loss to the Cougars the previous season.
Sometimes it helps to not know any better.
"There's two extremes," safeties coach Jahmile Addae said last week. "There's the kid that doesn't know the inherent danger of what he's doing, so he doesn't really care. That's a Scottie Young. He's out there playing, and it doesn't bother him.
"Then there's some kids where the lights can be too bright. You like to hope you get the kid who doesn't give a (darn). It doesn't happen every time."
The majority of Arizona's freshmen have proved they can handle the responsibility. It has become the expectation.
"Coach Rod has said a couple of times (that) we're pretty deep into the season now," Schooler said. "We're not just freshmen coming in out of high school; we're experienced freshmen.
"So he expects us to play better. I feel like we've done a good job."
'Skinny' but strong
Saturday night's freshman contributors also included the player Rodriguez affectionately referred to as "the little, skinny kicker."
Lucas Havrisik – listed at 6-2, 173 pounds — made a 57-yard field goal at the end of the first half. That tied the school record shared by Lee Pistor, Max Zendejas and John Prasuhn.
Rodriguez said Havrisik had made a "65- or 70-yarder" in practice during the week.
"He had a little breeze behind him," Rodriguez said of the 57-yarder, which had plenty of room to spare. "That was key. It gave us some momentum going into the locker room."
Extra points
The USC game will kick off at 7:45 p.m. and will be televised by ESPN. Every Arizona game this season has started at 5 p.m. or later. The start time for the home finale against Oregon State on Nov. 11 could be announced as soon as Monday.
Arizona has won four straight conference games, its longest streak since the end of the 2014 regular season. The Wildcats haven't had a five-game Pac-12 winning streak since 1998.
Saturday's victory was Arizona's first over a ranked opponent since the UA defeated No. 10 Utah on Nov. 14, 2015. It was the Wildcats' eighth win over a ranked opponent under Rodriguez.
Arizona has scored 45 or more points in four straight games for the first time in program history. The Wildcats are averaging 45 points per game.
Arizona went 4-0 in October, the first time the Wildcats have gone undefeated in October since 1992.
Tate ran for 840 yards in the month of October, the most by any FBS player in 10 seasons, according to ESPN. Tate needs 24 yards to break B.J. Denker's single-season school record for quarterbacks of 949 yards, set in 2013.
The Wildcats forced four three-and-outs in the first half, giving them 31 for the season — more than they had all of last year.
Arizona Wildcats QB Khalil Tate named a semifinalist for Maxwell Award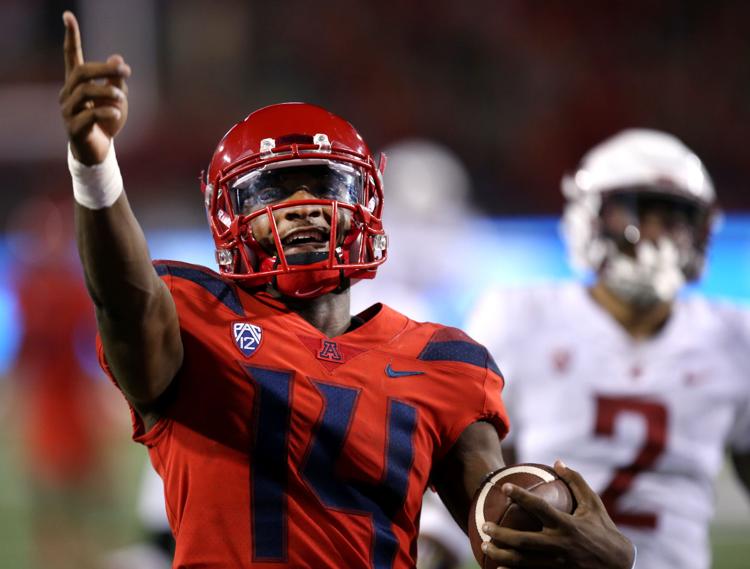 Arizona sophomore quarterback Khalil Tate was named a semifinalist for the Maxwell Award, an accolade given to the best college football player of the season, per Maxwell Football Club. 
The Maxwell Football Club National Selection Committee announced the list on Monday and the semifinalist pool consists of 18 players including Tate and three other Pac-12 players such as USC's Sam Darnold, Stanford's Bryce Love and Oregon's Royce Freeman.
Other notable quarterbacks mentioned is last year's Heisman Trophy winner Lamar Jackson, Alabama's Jalen Hurts, Ohio State's J.T. Barrett and Oklahoma's Baker Mayfield. 
Voting for three finalists begin Tuesday and will extend through Sunday, Nov. 19. The finalists will be announced Nov. 20 and the Home Depot College Awards Show will be televised on Dec. 7.
Ever since taking over the starting quarterback role, Tate has rushed for 840 yards in October, the most yards by any Power Five in the last 10 years. He's also recorded at least one rush for over 70 yards including an 82-yard run against Washington State last week, which is the longest by any quarterback in school history.  
While Tate continues to showoff his running abilities, he's also contributed to the passing game in that span, throwing for 743 yards with a 71.75 completion percentage.
Plus, Tate became the first player since Rodney Peete in 1988 to win Pac-12 Offensive Player of the Week in three consecutive weeks. Tate's performance has lifted the Wildcats into bowl eligibility and a place in the AP Top 25 for the first time since 2015 and now his name is placed on the national stage as one of the premiere talents in college football. 
No. 23 Arizona plays No. 17 USC in Los Angeles for a 7:45 p.m. kickoff and will be televised on ESPN.  
What the heck is Khalil Tate's nickname?
RichRod on Khalil Tate's nickname: "Is that like a standard protocol when someone is going off the charts?" pic.twitter.com/da4SWGSRTN

— The Wildcaster (@TheWildcaster) October 30, 2017
Just call him Mr. October: Behind Khalil Tate, Arizona Wildcats go deep often during 4-game streak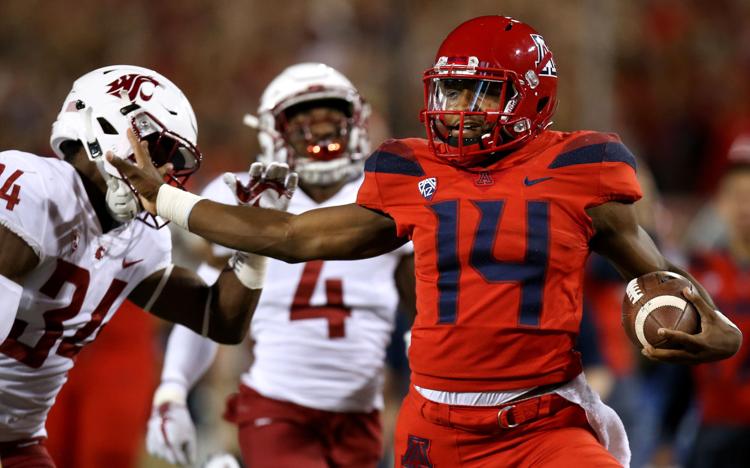 Khalil Tate is one of 18 semifinalists for the Maxwell Award, which is given to college football's top player. Tate has led Arizona to 15 touchdown drives that took up less than two minutes over the past four weeks.
The Astros and Dodgers aren't the only ones who've been hitting home runs in bunches in October.
The Arizona Wildcats have made a boatload of big plays during their four-game winning streak. Quarterback Khalil Tate alone had four rushes of 70 or more yards. Tailback J.J. Taylor had a career-long 79-yard touchdown vs. Washington State last week.
Through eight games, No. 23 Arizona has more than twice as many touchdowns of 50-plus yards (11) than it had all of last season (five). That total includes Tate's 56-yard touchdown pass to Shun Brown against Cal.
But wait, there's more.
Arizona leads all FBS teams with 36 offensive plays of 30-plus yards. Bill Connelly of SB Nation's "Football Study Hall" measures explosiveness through a points-per-play metric. The Wildcats rank first in that category too.
So what's behind this explosion of explosive plays, behind the emergence of Tate? Well, his presence is the biggest factor. His running ability has changed the way defenses play Arizona. They're so intent on crashing into the backfield that it's leaving little protection on the back end.
"When you do put the safeties down and play cover zero (no deep safeties), if you can burst through the first or second level it bodes well for big plays," UA coach Rich Rodriguez said Monday. "You're taking a risk not just in the pass game, but in the run game.
"If a guy doesn't fit right and you're bringing all 11 in the box, it tends to lead to big runs. That's what has happened in some of these last few games."
Since Tate rushed for 327 yards at Colorado, breaking the FBS record for quarterbacks, opponents have been determined to take that away from him. Cal and Washington State did better than Colorado and UCLA did. But neither could stop Tate from going long.
Tate had 137 rushing yards against the Golden Bears, including a 76-yard touchdown. He had 146 yards against the Cougars, including an 82-yard run and a 49-yard score.
Arizona totaled 310 rushing yards against Washington State. Tate's two long runs — plus Taylor's 79- and 62-yarders — accounted for 272 of them. The Wildcats' 30 other rushes netted just 38 yards.
To extend the baseball analogy, you can limit Arizona to singles, or even strikeouts, for a while. But eventually, the Tate-led Wildcats are going to take you deep.
"We've had more explosive plays in this four-game stretch than I can remember," Rodriguez said. "On the other side of the ball, we need to get more three-and-outs. We've had to play a lot more plays defensively than offensively, and it's concerning. But we're scoring, so that's OK."
Arizona actually has forced more three-and-outs (32) than it did all of last season (30). But the Wildcats are scoring so quickly that they're putting their defense back on the field before it has time to catch its breath.
Since Tate became the quarterback, Arizona has had 15 touchdown drives that took up less than two minutes of clock time. Seven consisted of just one or two plays. All lasted less than a minute.
Colorado, Cal and Washington State each ran 90-plus plays against Arizona, while the Wildcats averaged 56. That isn't necessarily something Rodriguez wants. But he'll never say no to a touchdown.
"I'm not going to tell the guy to stop," Rodriguez said.
Tate makes history
Tate is in the midst of an unprecedented run, and the accolades keep pouring in.
On Monday, Tate became the first player to be named Pac-12 Offensive Player of the Week four times in a row.
Former USC quarterback Matt Barkley is the only player to win the award four times in a season, but he didn't do it consecutively. Arizona (6-2, 4-1 Pac-12) visits No. 17 USC (7-2, 5-1) this Saturday.
"Sometimes you worry about a guy getting a lot of attention," Rodriguez said of Tate. "Is it going to go to his head? I haven't seen anything change in his demeanor. He's handled everything about as well as you could hope (for someone who has) had such a phenomenal four weeks, and I wouldn't expect anything different."
Tate also was named one of 18 semifinalists for the 81st Maxwell Award, given to the Collegiate Player of the Year. Three finalists will be announced Nov. 20, and the winner will be revealed during ESPN's awards show on Dec. 7.
Extra points
Arizona's final home game, against Oregon State on Nov. 11, will kick off at 8:15 p.m. It will be televised by ESPN2. Every UA game this season has started at 5 p.m. or later.
Freshman kicker Lucas Havrisik was named Pac-12 Special Teams Player of the Week. Havrisik tied the school record with a 57-yard field goal, and nine of his 10 kickoffs went for touchbacks. It's the second week in a row that Arizona has claimed two of the league's three player-of-the-week awards. Freshman linebacker Colin Schooler was the Defensive Player of the Week last week.
Rodriguez on Schooler, who seems to make a big play every week: "Some guys just have a knack for the game."
The Football Writers Association of America named Arizona its National Team of the Week after the UA's 58-37 victory over then-No. 15 Washington State.
Rodriguez said the team's demeanor has mirrored Tate's, despite several tight games over the past month. "When you have young guys, you worry (that) they're going to panic if something goes bad or they don't have the best moment," Rodriguez said. "I haven't seen any of that this season."
Rodriguez wasn't pleased with the pass rush, or lack thereof, vs. the Cougars. "We did not affect the quarterback," he said. "We didn't touch him." Arizona registered just one sack against WSU.
Rodriguez on USC tailback Ronald Jones II, who had 216 rushing yards against Arizona State last week: "He's a freak athletically. He gets to full speed in a hurry. His fast is fast. I think he's one of the best in the country."
Mr. October: How Khalil Tate has kick-started the Arizona Wildcats offense