Foster Farms Bowl storylines: The oral history of one bad call that led Arizona to Santa Clara and RichRod's take on players sitting out bowl games to protect draft stock
The Arizona Daily Star's Michael Lev and Justin Spears break down the key storylines coming to prepare you for the Foster Farms Bowl. 
The call that changed Arizona's postseason destiny: an oral history
Would Arizona be here — in the Bay Area to play Purdue in the Foster Farms Bowl — if a call had gone its way?
It's one of the great what-ifs of the Wildcats' season. Not quite on the level of "What if Brandon Dawkins hadn't been driven into the bench at Colorado?" – but significant nonetheless.
The call in question happened in the fourth quarter of the regular-season finale against rival Arizona State. Arizona had imploded in the third, turning a 24-14 halftime lead into a 35-24 disadvantage. But backup quarterback Brandon Dawkins' 50-yard touchdown run cut into the deficit. Then the Wildcats appeared to regain the lead.
Shun Brown returned Michael Sleep-Dalton's 44-yard punt 74 yards for a touchdown — only to have the score wiped out by a questionable block-in-the-back foul. Replays confirmed what everyone on the UA sideline thought at the time: that the alleged perpetrator, Shawn Poindexter, actually had gotten in front of Dasmond Tautalatasi to spring Brown.
Instead of one of the most iconic plays in Territorial Cup history, the play is officially and forever recorded as a 6-yard loss. Not even the ASU stat crew got it right, assigning the penalty to Scottie Young Jr., who also wears No. 19, in the postgame box score.
More than a month has passed since that fateful afternoon in Tempe. What follows is an abbreviated oral history of the Reversed Return:
Brown, who already had returned two punts for touchdowns this season, fielded the ball near the right hash marks at the UA 26.
Brown: "I already knew, the way he kicked it, that I was going to return it. I don't know what move I'm going to make until I catch the ball. It's basically instinct. I caught the ball, made a move. Sucked them in a little bit and ran left. Told Malcolm (Holland) to break contain so he could get the crack-back block. Once I broke contain, it was on."
Holland executed his block. Poindexter, who had been assigned to rush the punter, raced more than 50 yards to lay out an unsuspecting Tautalatasi.
UA special-teams coordinator Brian Knorr: "The guy that impressed me was Shawn Poindexter. He forced the kick. He came 50 yards down the field and laid the key block. Forcing the kick, busting your tail to help your brother out – that's the effort we need to have."
Poindexter: "It was something that Shun and I had discussed in the locker room at halftime. He was like, 'I want to take it back to the field (side).' I was like, 'If you take it back to the field, I got you.' He took it back to the field. It worked. Then they stole it from us."
The Wildcats couldn't believe it when Poindexter got flagged. Poindexter had made a conscious effort to avoid targeting Tautalatasi after teammate J.J. Taylor had gotten disqualified for a similar move against Cal.
Poindexter: "I was very upset. It was a clean hit. I purposely kept my head out of it because I know J.J. got ejected from the Cal game. And they still called it. That completely changed the game."
Brown: "Really? Really? Basically, I feel like I got robbed. There's nothing I can do. Instead of three touchdowns, I have two. It changed the momentum. It is what it is, and we just move on."
The following day, Arizona submitted the questionable ruling to the Pac-12 for clarification.
UA coach Rich Rodriguez: "I believe they agreed with our assessment. In defense of the officials, those are so quick and bang-bang. I think it would be a nice rule to have a challenge on a subjective call. One time a game, you should be able to challenge a pass interference or a block in the back or a holding penalty. Those are such critical calls at certain times."
Arizona Wildcats DL coach and Bay Area native Vince Amey pioneered the coaching crossover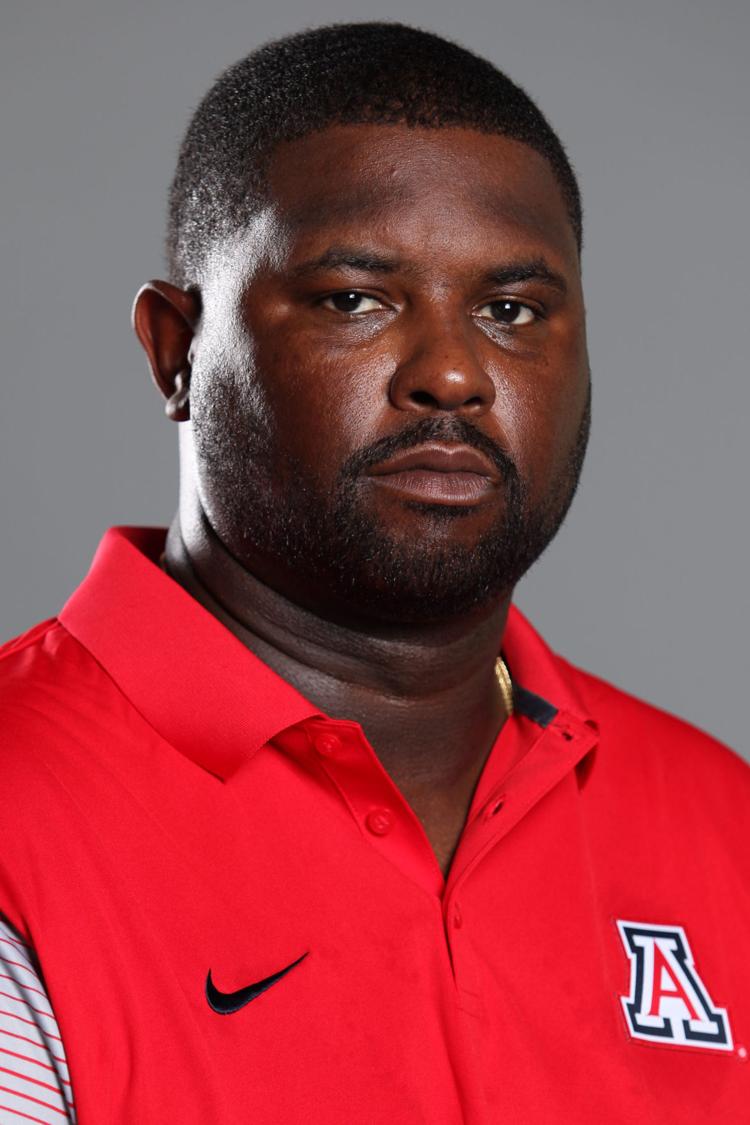 Arizona defensive line coach Vince Amey is one of a handful of Wildcats with Bay Area ties. Amey also entered the news cycle recently in a roundabout way. All of which makes him one of the most interesting characters in Wednesday's Foster Farms Bowl.
Amey was born in Los Angeles but grew up in Union City, a town of about 72,000 located 20 miles south of Oakland. Amey's favorite teams were the A's, Warriors and Raiders, who selected the former defensive lineman in the seventh round of the 1998 draft. His NFL career lasted one season.
"It was definitely a blessing, an honor," Amey said of being drafted by his hometown team. "But sometimes I think back on it and wish I was drafted by somebody else just to see how it would have panned out."
Amey believes he might have been more focused had he not been in Oakland. "Family, friends — everybody wants your attention," he said. Just 23 at the time, Amey didn't handle it as well as he could have.
So began a football odyssey that saw Amey play professionally in Europe and in the Arena League. He eventually became an Arena League and high school coach, and the former helped him land a 2018 recruit.
Amey spent a season as the defensive coordinator for the Stockton Lightning. Former Lightning quarterback Jimmy Collins is now the head coach at City College of San Francisco. Amey figured out the relationship while speaking to Collins about CCSF defensive tackle PJ Johnson, who signed with Arizona last week and is set to enroll in January.
"It's just those connections," said Amey, whose recruiting responsibilities include the Bay Area. "Even when I'm out recruiting, it just feels good to be back home – the ocean breeze, the trees, the culture. I miss it."
Amey also recruits the Phoenix area, where his ties run even deeper. Before playing several years for the AFL's Arizona Rattlers and coaching at multiple Phoenix-area high schools, Amey attended Arizona State.
The 42-year-old is about to complete his sixth season as a member of the Arizona staff. He's a Wildcat all the way now. But he used to be a Sun Devil. So if anyone can relate to the move Antonio Pierce just made, it's Amey.
Pierce earned letters at Arizona in 1999 and 2000. He played nine seasons in the NFL. Last week he joined Herm Edwards' staff as ASU's linebackers coach.
Some UA fans viewed Pierce's decision as an act akin to treason. Amey remembered the reaction when he first got hired by Arizona in 2012. A friend posted the news on Facebook. "I don't care how much money you guys make," one comment read. "I could never work for the enemy."
"These people are crazy," Amey said this week. "I love what I do. I love being able to influence kids. I've got to feed my family."
Amey and wife Kelley have three boys: Myles, 13, and twins Dallas and Jackson, 7. All were able to accompany him to San Francisco.
Kelley went to high school with Pierce, so Amey has gotten to know him. He texted Pierce after he got the job. The main message: Be ready for the pushback.
"He loves what he does," Amey said of Pierce, who spent the past four seasons as the coach at Southern California powerhouse Long Beach Poly.
"He's a football coach. It doesn't matter what team."
Arizona seniors will miss 'best friends,' teammates following final game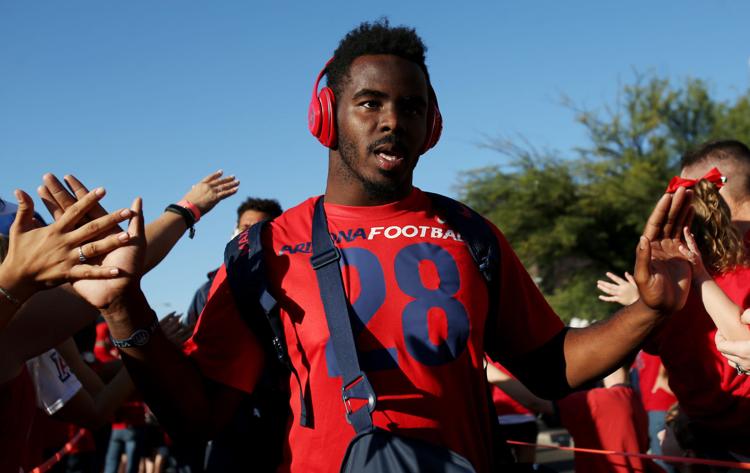 Arizona is a young team.
The Wildcats started five freshmen on defense this season. On offense, redshirt freshmen J.J. Taylor and Jamie Nunley and true freshman Bryce Wolma have played key roles. 
Arizona has 59 freshmen and 23 sophomores on the roster. For many, the lead up to Wednesday's Foster Farms Bowl has been a completely new experience.
"I think two-thirds of them haven't been to a bowl, because a lot of them are freshmen or second-year players, but they've handled themselves well," coach Rich Rodriguez said.
For a small but important number of Wildcats, however, bowl games are old hat. Offensive lineman Jacob Alsadek, running back Nick Wilson and defensive tackle Luca Bruno represented the team at a pep rally on Tuesday. Alsadek and Bruno have been at Arizona since 2013, while began in 2014. The threes seniors say they'll miss playing collegiately. 
"I've put my heart and soul into this. This has been my life for five years," Alsadek said. "I've forgotten every single high school game that I've played in; I don't think I'll ever forget any of these games that I've played in as a Wildcat."
The same goes for Wilson. 
"You may remember a few high school games here and there, but it's nothing like grinding, gritting with your brothers. The long hours of practice or not figuring out how you're gonna pay rent or figuring out what you're going to eat," Wilson said. "I'll never forget all the memories I've had with them."
Bruno said he'll cherish the moments spent with his teammates off the field, particularly eating. He and the UA's big boys particularly enjoyed pancake breakfasts put on by the Delta Gamma sorority. 
"The biggest thing were these sororities around school that would do D-Hop where they would serve pancakes or (Delta Gamma) did Krispy Kreme," Bruno said. "Some of my best memories were eating with the team, because we would go out to things like that and it would be all-you-can-eat pancakes and then you have the entire Arizona line showing up eating all of their food. … It was a good bonding experience."
All three will leave a legacy. Wilson ranks seventh in program history with 3,005 rushing yards, and his 1,375-yard 2014 season ranks fourth all-time. But injuries scuttled large chunks of his career. 
Alsadek was a four-year starter who paved the way for Wilson, Taylor, Zach Green. He also blocked for All-American Ka'Deem Carey as an underclassman. With Alsadek starting, the Wildcats finished 41st, 23rd and 28th nationally in rushing; they're No. 3 heading into the Foster Farms Bowl.
Bruno was a three-year starter and was one of Arizona's more consistent players up front.
The stats don't matter, the players said, as much as the relationships they've build. 
"Throughout the years, you remember kids that used to be on the team and just how much they've meant to you," Alsadek said. "I've got a group of brothers that can go back for like five years now. Every single person that was on this team, I remember them — they're my best friends."
RichRod, Brohm take different stances on bowl self-benchings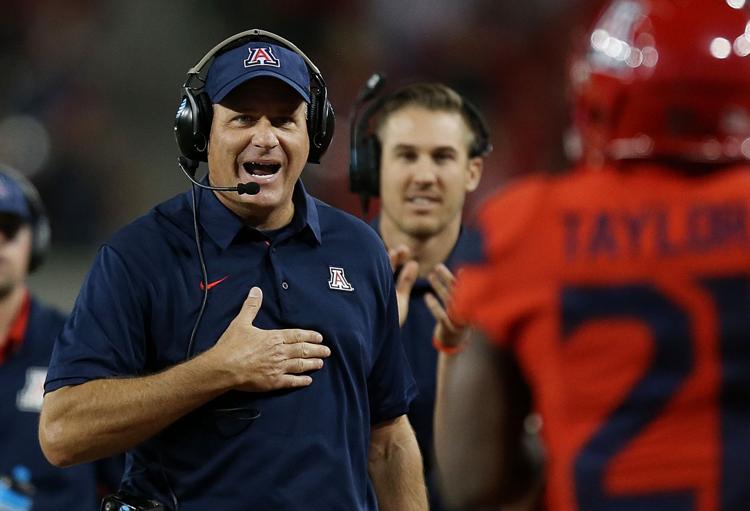 It's been one of the most controversial topics in college football ever since Stanford's Christian McCaffrey and LSU's Leonard Fournette did it last season. Should stars sit out their bowl games to protect their NFL Draft stock? 
Fournette sat out last year's Citrus Bowl, and McCaffrey opted out of the Sun Bowl. Both were then taken in the first round of last year's draft.
The argument for — and against — sitting out goes like this: 
Some believe that football games are moments in time. Why not play one more game with the coaches and teammates that contributed to the personal success?
Others wonder why athletes would risk an injury — and potentially millions of dollars — over a bowl game that may not mean anything. Some athletes straddle the line. Oregon's Royce Freeman opted out of this year's Las Vegas Bowl, but was allowed on the sideline and in the locker for what became a Ducks loss to Boise State. 
Purdue coach Jeff Brohm and Arizona's Rich Rodriguez seem to have differing views of college football's hot topic. 
"I get how it works. High-round picks that want to come out and make sure that they're healthy for the next stage, I get it," Brohm said Tuesday. "Would I like for them to play in the game? Sure I would. We would honor anyone's request to (sit out)."
Rodriguez took a different approach.
"If a guy was healthy and didn't have a lot of injury issues, I would be disappointed if he didn't play. I think I would be disappointed for his fellow seniors, but if he was going to be a high draft pick and a little banged up, I understand that," he said Tuesday. "I'm not sure if a guy was completely healthy and could play the game with no issues and doesn't choose to play, I'm not sure I'd have him on the sidelines watching his teammates play. I couldn't imagine doing that; that's just me."
Rodriguez was asked former UA All-American linebacker Scooby Wright III, who returned from foot and knee injuries in 2015 so he could play in the New Mexico Bowl. He declared for the draft on the field afterward. 
Rodriguez would have understood, he said, if Wright opted to sit out completely. 
The Wildcats won't have to deal with this for at least another year. Many of the most valuable Wildcats are underclassmen, and quarterback Khalil Tate is just a sophomore.