Mr. Football discusses potential nicknames for Khalil Tate, the best to wear No. 14 at Arizona and the coaching staff from the memorable Hail Mary against Cal in 2014. 
Dear Mr. Football: At what point will Khalil Tate be nickname-worthy?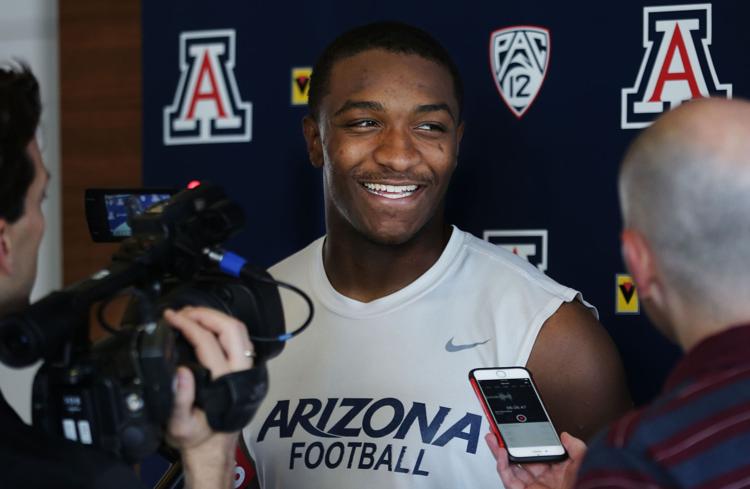 A: The five top nicknames in UA football history all belong to star-level backs — and all are in the UA Sports Hall of Fame:
1. Cactus Comet. Art Luppino, 1953-56.
2. Jackrabbit Joe. Running back Joe Hernandez, 1959-61.
3. The Eel. Bill Hargis, 1928-30.
4. Hoss. Walt Nielsen, 1936-38.
5. The General. Bobby Thompson, 1960-61.
Cactus Comet was the idea of UA senior Fred Weigand, who acted as the school's football information director in 1953-54. He used the nickname in a press release and Star sports columnist Abe Chanin used it in print for the first time on Nov. 4, 1954. After Luppino departed Arizona as a two-time NCAA rushing leader, one of Arizona's leading players of the 1940s, Art Polland, who raised, trained and raced horses, named one of his horses Cactus Comet.
Khalil Tate? He probably needs at least one more scintillating performance to be nickname-worthy. What do you think?
Earthquake Tate?
Carry the Freight Tate?
TD Tate?
Turbo Tate?
Thunder Tate?
Tractor Tate?
Too Late Tate? (Too late? Arizona didn't deploy Tate until it had already lost two games).
I'll go with the Earthquake Tate, given how he has shaken up Arizona's sleepy football program. The 'Quake.
Dear Mr. Football: Who is the best No. 14 in UA football history?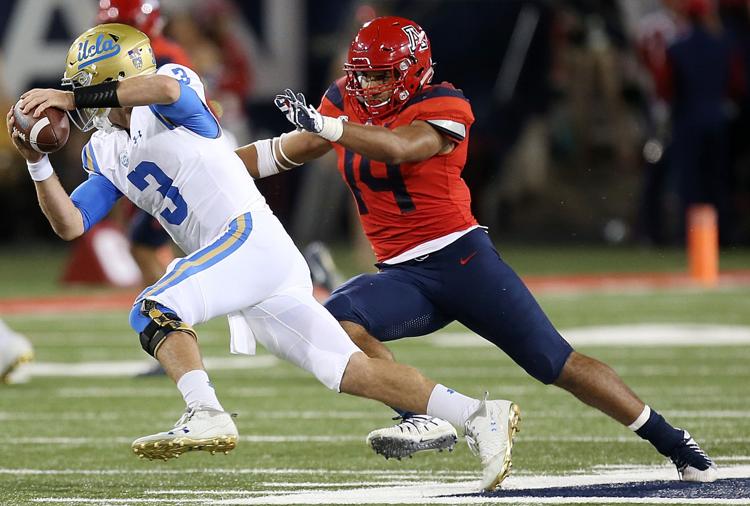 A: Freshman Kylan Wilborn, who, like Tate, wears jersey No. 14, had a game for the ages against UCLA. He sacked quarterback Josh Rosen four times.
Only one player had more than four sacks in UA history: in a 1984 victory over Cal, senior linebacker Steve Boadway had five sacks. Boadway, from Lompoc, California, was never drafted by the NFL although he did play two games for the Detroit Lions in 1987. Incredibly, he wasn't even the Pac-10 defensive player of the week after his five-sack performance, although he was a second-team All-Pac-10 player in '84, leading the league in sacks (13), a record that held until Tedy Bruschi had 19 in 1993.
Boadway, who is now a middle school principal in Flagstaff, was a lot like Wilborn: lightly recruited. Wilborn's two scholarship offers were from Idaho and Hawaii until he got and accepted an Arizona scholarship offer. How did so many miss on Wilborn?
He didn't play the summer league circuit, choosing to set a school shot put record (62 feet 2 inches) at Notre Dame High in Sherman Oaks, California. It's unlikely Wilborn will be remembered long at Notre Dame; it's a school that has produced baseball home run champ Giancarlo Stanton, Cy Young Award winner Jack McDowell and even UA all-conference kicker Nick Folk.
The real sack-master remains Bruschi; he has QB sacks in 15 consecutive games, which is the college football equivalent of Joe DiMaggio's 56-game hitting streak.
Dear Mr. Football: Has anyone outside Berkeley ever heard of Cal quarterback Ross Bowers?
A: At Bothell High School in Washington, a 3-star recruit in the Class of 2015, Bowers was offered a scholarship by his dad — James Madison assistant coach John Bowers. Don't laugh.
JMU went on to win last year's FCS national championship, and his father, a former assistant coach at Kent State, Eastern Michigan and Bowling Green, helped to build the Dukes into national-title timber.
Bowers' athletic genes run deep: his mother, Joanne Bowers, was the head gymnastics coach at Washington from 2006-16. Both parents have since relocated to the Bay area to be with their son; John Bowers is now an assistant coach at Clayton Valley High in Concord, California.
Dear Mr. Football: How fleeting is life in college football?
A: Since the last time Arizona and Cal played in 2014 — the famous "Hill Mary" game won 49-45 by Arizona — 16 of the 20 full-time coaches in that game have been fired or moved on.
Cal's staff for that '14 game included ex-UA assistant coach Garrett Chachere, who was flushed out in the Sonny Dykes exodus. Chachere had to scramble for employment; he now coaches at tiny New Mexico Highlands, who last week drew a "crowd'' of 274 to pay Chadron State.
Momma, don't let your boys grow up to be football coaches.
Dear Mr. Football: Who is the top defensive coordinator in the Pac-12?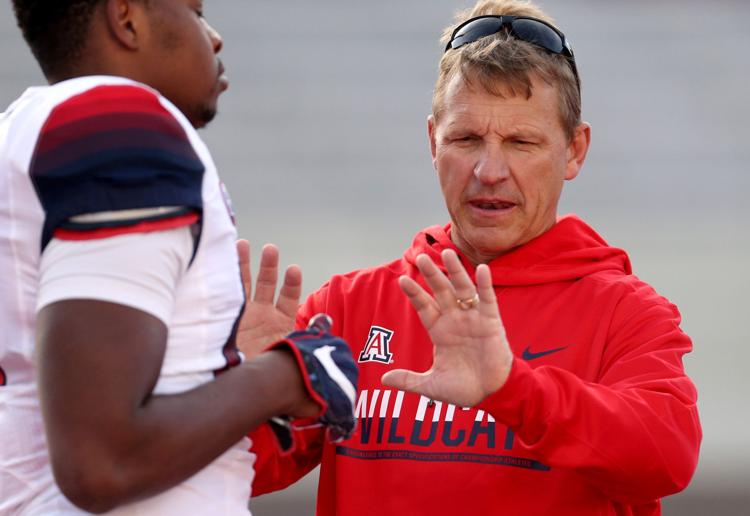 A: If you voted today, Cal's Tim DeRuyter would get a lot of support; he, of course, gets a ton of guidance from head coach Justin Wilcox, who has been the defensive coordinator at USC and Washington.
DeRuyter disarmed Mike Leach's Washington State passing circus last week, taking it apart with nine sacks and five interceptions. That's the defensive performance of the year in any conference this season.
DeRuyter is a lot like new UA special teams coordinator Brian Knorr: a coach from the School of Hard Knocks who has been fired multiple times but has in-demand coaching chops.
In fact, DeRuyter and Knorr might be the closest coaching "enemies'' in the Pac-12. They played together at Air Force in the 1980s; DeRuyter, the defensive coordinator, later hired Knorr to be a linebackers coach at Ohio in 1995.
After DeRuyter left to coach at Navy, Knorr was named head coach at Ohio. DeRuyter was fired at Navy; Knorr then hired him to be the defensive coordinator back at Ohio.
Then both were fired at Ohio and wound up back at Air Force on the same coaching staff in 2007.
You can't make this stuff up.
Dear Mr. Football: How much does Cal value a victory over Arizona?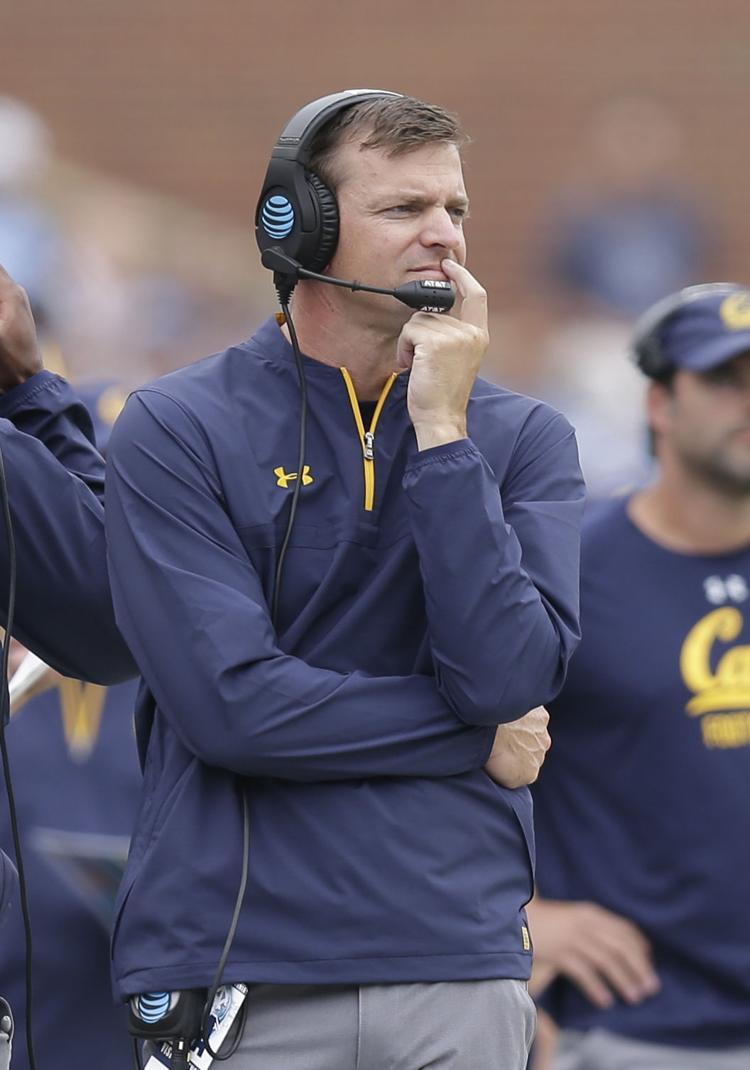 A: Wilcox's first Cal contract specifies that he will be paid a $25,000 bonus to beat Stanford, and $10,000 if the Bears beat USC, UCLA or Oregon (as long as the Bears win at least six games).
Wilcox won't get a bonus for beating Arizona, but Rich Rodriguez might. Nothing in the form of a paycheck, not yet, but if Arizona beats Cal to get to 5-2, RichRod would be the clear front-runner as Pac-12 Coach of the Year. He is to be paid $50,000 if he is so voted.
There isn't likely be much mystery in the Cal-Arizona game. If Wilcox and DeRuyter can design a way to limit Tate's effectiveness, to stall Arizona's running game, The Quake will lose its shake.
The only other UA player ever to earn back-to-back Pac-12 offensive player of the week awards, quarterback Tom Tunnicliffe against Notre Dame and Pacific in 1982, was terrific the next week, helping Arizona gain 402 yards (then considered a prolific total) in a 34-17 win at Washington State.
Tunniciliffe extended to 108 his streak without an interception in his third consecutive game of note; Tate currently has a 26-pass streak with no interceptions. If he can play similarly error-free today, Arizona should win.
Until further notice, I'm on the Tractor Tate Bandwagon.
Wildcats 38, Bears 27