Greg Hansen: 'Mr. Football' likes Sun Devils' chances in Territorial Cup showdown
Star sports columnist Greg Hansen feeling confident as the Arizona Wildcats prepare to play ASU this afternoon in Tempe.
Dear Mr. Football: Do winning players and coaches really drink from the Territorial Cup?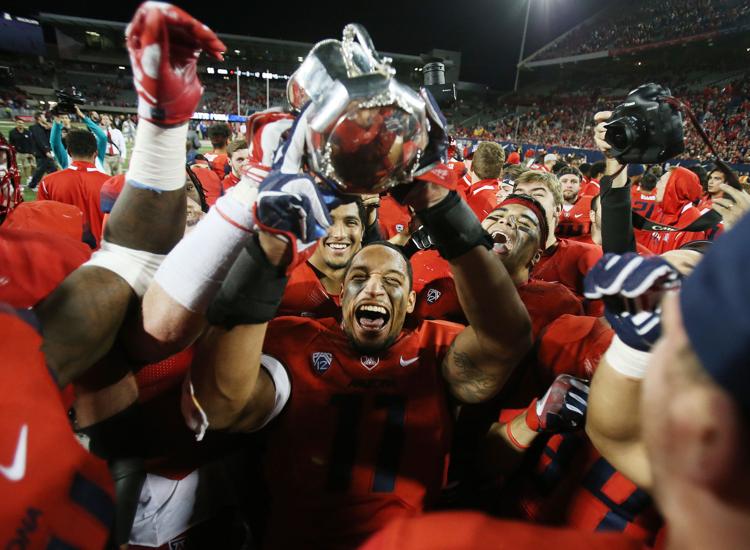 A: No football player touches the Cup. Not the real Territorial Cup. Not on game day.
A few years ago, fearing for the Cup's good health — it is 118 years old, after all — the UA and ASU agreed to pay for a wax casting/replica of the Territorial Cup. The cup that players such as Arizona's 2014 tackle Mickey Baucus hoisted in wild post-game celebrations is a fake. A very good fake, though.
The Cup spent most of 2017 at the UA's Hall of Champions. Sometimes it is on display at the Lowell-Stevens facility. When at ASU, it mostly sits in the Hayden Library. Really.
On Friday, the authentic Territorial Cup was carefully delivered to Tempe by Mike Parrish, Arizona's assistant athletic director for football.
Dear Mr. Football: What's the best quote delivered at a Territorial Cup game?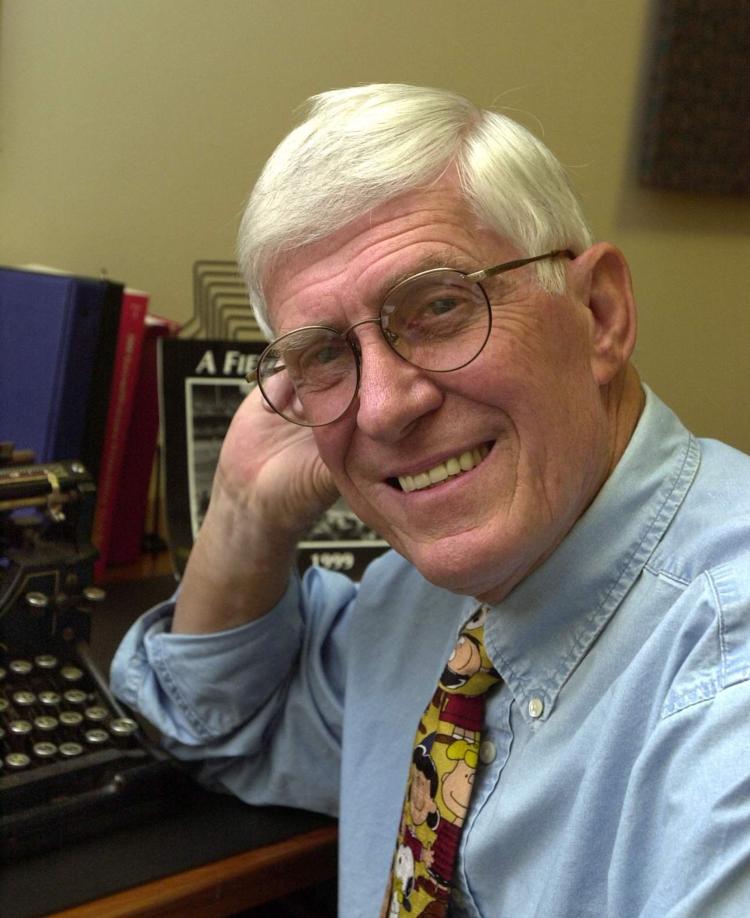 A: It came not from a player or a coach, but from former Tucson Citizen sports columnist Corky Simpson.
Before the Territorial Cup was discovered gathering dust in the basement of a Baptist Church in Tempe in 1985, the schools hired Scottsdale sculptor Ben Goo to create a trophy worthy of this wonderful rivalry.
In 1979, after Goo's finished work was unveiled, people didn't know what to say. It was, to say the least, odd. Goo explained: "The significance of the sculpture comes about in an abstract, non-objective way."
What?
It looks like a bird's nest atop stilts.
Simpson wrote: "They should give it to the loser."
Dear Mr. Football: What's your Territorial Cup prediction?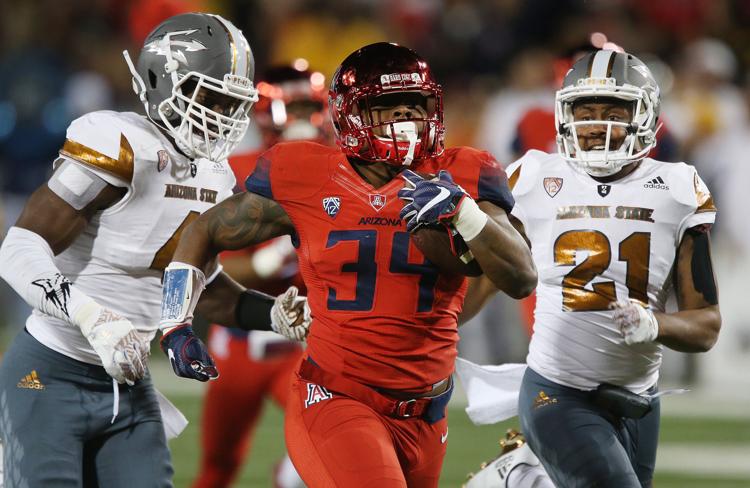 A: This will be the T-Cup game that defense-lite Arizona and ASU clubs combine to score 100 points and gain 1,000 yards. The 100/1,000 Club is the most rare in UA football history.
In 1,097 Arizona football games – overtimes not included — the Wildcats have engaged in just one 100/1,000 game: in a 2008 melee at Oregon, the Ducks won 55-45 and the teams combined for 1,031 yards.
The closest Territorial Cup to the 100/1,000 Club was in 1998. Arizona won 50-42 and the teams combined for 1,173 yards.
All of the variables seem to suggest a 100/1,000 game: Arizona's defense allows 474 yards, the second-worst in school history. ASU's defense allows 448. Since Rich Rodriguez and Todd Graham became Territorial Cup rivals in 2012, the numbers have warped.
The teams have combined for an average of 938 yards and 82 yards per Territorial Cup.
This time, 50 might not be enough to win.
Dear Mr. Football: Who is the best player on the field?
A: Two sophomores, Arizona quarterback Khalil Tate and ASU receiver N'Keal Harry, are probably the only strong challengers to make the All-Pac-12 first team.
Harry is the most highly-recruited player on either roster. He was a five-star prospect from Chandler High School who chose the Sun Devils over Washington and Texas A&M. He's a once-every-20-years recruit who, in my opinion, is the league's most capable receiver, a likely NFL first-round selection next year.
Not only do the Sun Devils have the 6-foot 4-inch Harry, they've got super-elusive junior Kyle Williams, who has caught 55 passes, which is 18 more than Arizona leader Shun Brown. Imagine if Tate had those targets instead of Arizona's smaller, less athletic group. It wouldn't be fair.
Arizona blew it by not recruiting Williams; he had a strong Arizona connection. His high school coach, Coley Candaele, is the uncle of Casey Candaele, the starting third baseman on Arizona's 1980 College World Series championship team.
Arizona's receiving group lacks depth, speed and separation ability. It hasn't had a receiving cast so unthreatening since the early 1990s. What happened?
Six of Arizona's receiving recruits from 2013-16 were busts. Jessie Britt wound up at UMass. Darrell Clark is playing at Grambling. Darrell Cloy and Paul Elvira left the team. Salpointe Catholic product Kaelin Deboskie transferred to Pima College.
But the big loss was Cameron Denson, another Salpointe grad. He, too, left the UA team. Denson caught 73 passes for 1,453 yards as Salpointe won the 2013 state championship. He was the top receiving recruit from Tucson, by far, the last 25 years, and maybe since Sahuaro's John Mistler, who went to ASU, in 1977. For whatever reason — being switched to defense among them — Denson's career went south after catching just 15 passes. You can't understate what a loss it is to this year's pass-challenged team.
Dear Mr. Football: Is it too hot to play football in Tempe?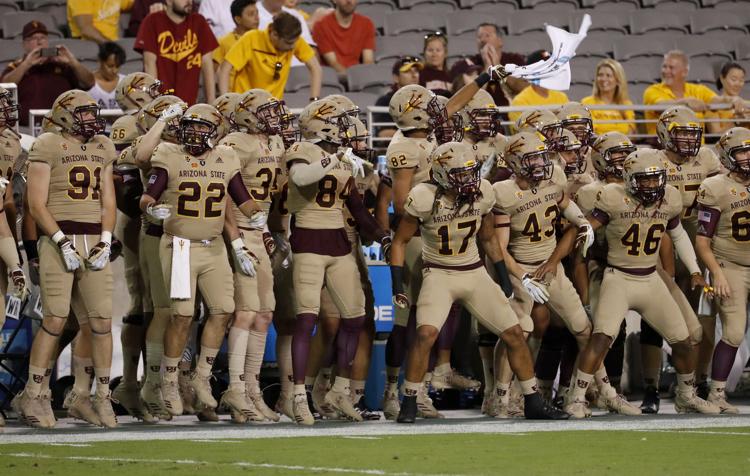 A: Kickoff temperature at Sun Devil Stadium is expected to be in the upper-80s. Those packed into direct sun-exposed seats will feel like it's a July afternoon in Yuma. It will likely be the hottest game-time temperature in modern Territorial Cup history.
When ASU disclosed grandiose plans for a $300 makeover of Sun Devil Stadium, some models included a shade structure. That obviously didn't happen.
Before lights at Arizona Stadium were installed in 1929, most Territorial Cup games began at 3 p.m. On Oct. 16, 1926, Arizona beat ASU 35-0 on a day the high temperature in Tucson was 94 degrees.
Fortunately, those 1926 fans didn't have to endure a 3½ -hour game with 3-minute stoppages for TV commercials and replay reviews.
Dear Mr. Football: Is Sun Devil quarterback Manny Wilkins a gunslinger?
A: Wilkins is probably the most under-appreciated QB in the league. And get this: he's only a junior. It seems like he has been at ASU long enough to have played for Frank Kush.
Wilkins chose ASU over an offer from Arizona in May 2013. The Sun Devils were taking a risk; Wilkins had been expelled from a high school in Fort Bend, Texas, and then moved to his grandparents' Walsenburg, Colorado farm in 2011. Walsenburg? It's a speck on the map, off Interstate 25 between Trinidad and Pueblo.
I'm not saying it's remote, but the year after Wilkins transferred again — this time to San Marin High in Novato, California — the coach at Walsenburg's John Mall High School was Davey Crockett.
Expect Wilkins to become "king of the wild frontier" — or at least the Arizona territory.
Sun Devils 55, Wildcats 48