Khalil Tate for Heisman? We break down the Arizona QB's chances
Khalil Tate's torrid October caught eyes and turned heads across the country, but he'll have to continue his hot play against USC on Saturday and through the final month to garner the national attention needed to steal the Heisman spotlight.
Tate's Heisman hopes may hinge on how he plays Saturday
By Zack Rosenblatt / Arizona Daily Star
Khalil Tate has been running wild, setting records, winning weekly awards and generally dominating the Arizona sports news cycle. Two weeks ago, his popularity reached McKale Center.
The Wildcats were holding their slam-dunk contest before the annual Red-Blue Game. Before a planned dunk, freshman Ira Lee ripped off his warm-up to reveal Tate's No. 14 Arizona jersey. Someone tossed him a football, and Lee struck the Heisman Trophy pose.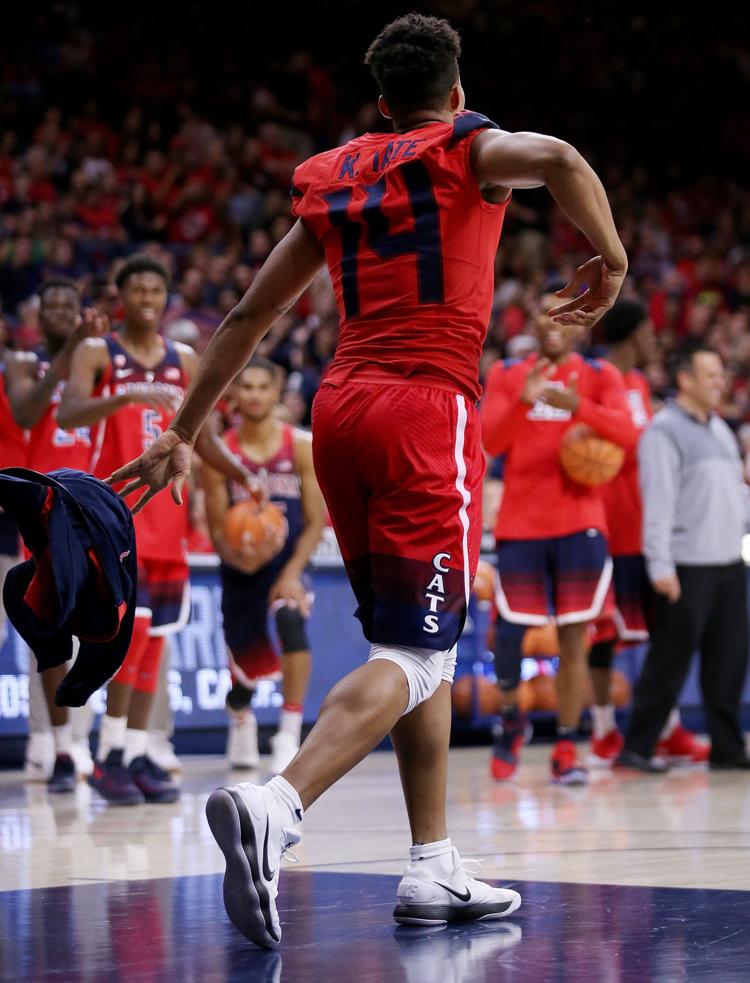 It was a salient point — and maybe a prediction.
Many experts believe the Wildcats' quarterback belongs in the Heisman discussion, even though he's only played significant snaps in four games and didn't start until Arizona's sixth game. Realistically, Tate has a lot of work to do if he wants an invitation to the Dec. 9 Heisman Trophy ceremony in New York. ESPN will announce the finalists on Dec. 4.
Tate's "Heisman moment" can come this weekend. If No. 22 Arizona upsets No. 17 USC, the Wildcats will jump the Trojans for the Pac-12 South lead and improve to 7-2 with three games to go. 
The sophomore rushed for 840 yards in October — the most in the FBS in at least 10 years — and guided the UA to four straight Pac-12 victories. Tate has won four straight Pac-12 Offensive Player of the Week awards, and doesn't appear to be slowing down.
If Tate continues on his torrid pace, his Heisman candidacy will become legitimate.
"It's crazy," said Arizona tight end Jamie Nunley. "We're playing with a 'Madden' character."
Here's a closer look at Tate's Heisman Trophy candidacy, and if it's for real:
Category 1: The competition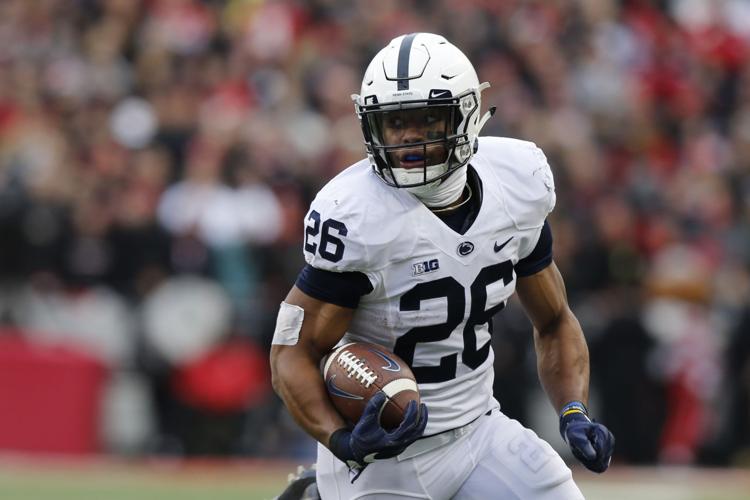 Enough games have been played this season to come up with a consensus group of Heisman favorites. Right now, there are five: Penn State running back Saquon Barkley, Oklahoma quarterback Baker Mayfield, Stanford running back Bryce Love, Notre Dame running back Josh Adams and Ohio State quarterback J.T. Barrett.
Barkley, the best player on one of the nation's top teams, is the favorite. He has rushed for 801 yards on 138 carries with 14 total touchdowns for the 7-1 Nittany Lions.
Mayfield pilots the 7-1 Sooners, averaging 328.5 passing yards per game with 23 touchdowns, and helped OU beat Ohio State in September.
Love has 1,387 rushing yards and 11 touchdowns in just seven games, and averages 10.3 yards per carry.
Adams has 1,169 rushing yards and nine touchdowns in seven games for the 7-1 Irish, with an 8.9 yards-per-carry average. Notre Dame has beaten Michigan State, USC and NC State, all ranked teams. Barrett has thrown for 25 touchdowns against one interception for the 7-1 Buckeyes, and is fresh off a win over Penn State. 
For Tate to break through, he'll need to perform well and hope the other five slip up.
"Barkley needs to have another couple of games where he doesn't run the ball very well because he's already got the wow factor part of it," said Sports Illustrated's Bruce Feldman. "Josh Adams needs to sustain it. I think Bryce Love needs to go off again because he didn't play last week. … If Oklahoma State beats OU, that'll hurt Mayfield's candidacy. To me, (Barrett) is right where Tate is for me. His numbers are terrific, but except for last week, all the competition had been suspect."
Category 2: Team success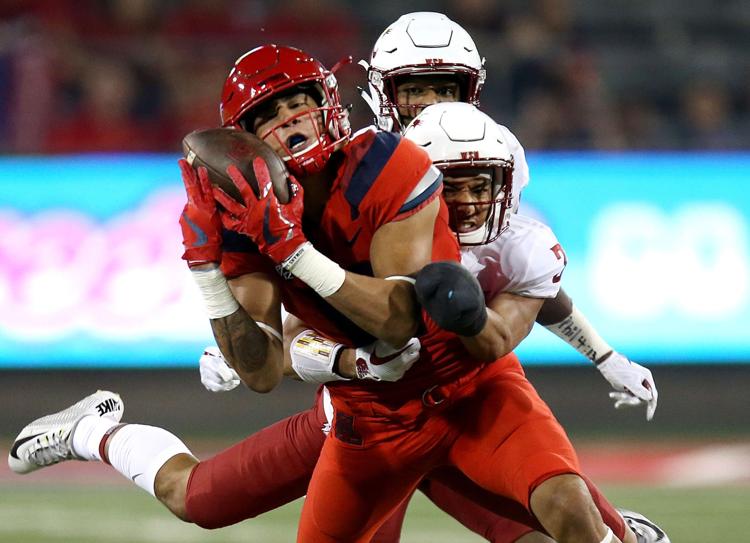 An upset of USC would certainly help the Wildcats — and launch Tate's case for the Heisman into overdrive.  
Barkley, Barrett, Mayfield and Adams play for teams with one loss, and Love's Stanford has two.
Lamar Jackson won the Heisman last year while playing for a three-loss Lousiville team. Before that, there hadn't been a Heisman finalist with more than two losses entering bowl season since 2013, when there were two — Texas A&M quarterback Johnny Manziel (8-4) and Boston College running back Andre Williams (7-5).
The Wildcats are 6-2, but have a challenging final month ahead. After playing at USC, the Wildcats face Oregon State at home, travel to Oregon and finish with rival Arizona State in Tempe. Should Arizona win the Pac-12 South, they'd earn a spot in the conference title game. 
"If he balls out his last few games, 100 percent," said Pac-12 Networks analyst Yogi Roth. "For me as a voter, he's in my top 5, and I have no problem saying that."
Added Feldman: "If he can do something this week and lead them to a win, he's going to be worth keeping an eye on nationally, I really think that. It's just going to be hard for him to win just because he's at Arizona."
Category 3: Exposure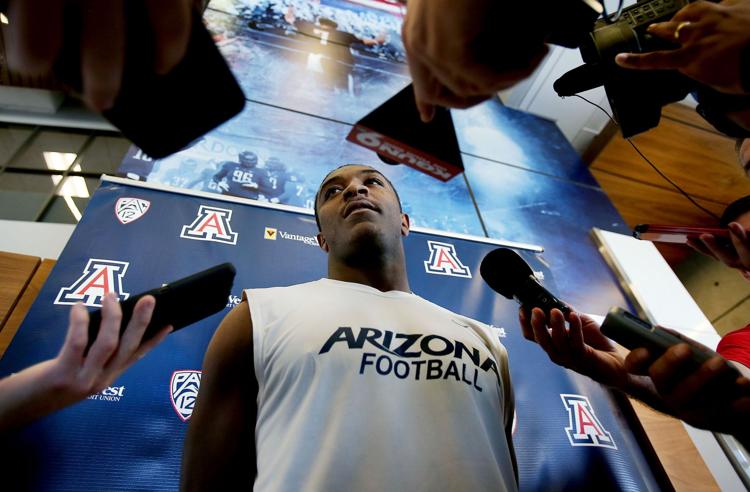 CBS analyst Rick Neuheisel made waves recently when he criticized the Pac-12 Networks' content-sharing policies.
Neuheisel wanted to show Tate's highlights on the CBS Sports Network, but said the Pac-12 demanded an exorbitant fee to show highlights. ESPN and Fox share their highlights for free.
CBS Sports Network is available in 50 million homes nationwide; only 20 million homes get the Pac-12 Networks.
"Tate is out," Neuheisel told the San Jose Mercury News. "If you're watching our show, you don't know who Khalil Tate is."
Tate's Wildcats have played in four straight games on the Pac-12 Networks, and all four games started at 8 p.m. or later on the East Coast, where many Heisman voters live. Saturday's game will be carried on ESPN, but won't start until 10:45 p.m. eastern. Next week's game against Oregon State will start after 11 p.m. eastern.
"I'm not sure if you asked, if you were to poll 50 percent of the Heisman voters, if they showed a picture of (Tate), would they even know who he was?," Feldman said.
Then there's this: The Heisman Trophy is typically given to the best player on the most popular team in the country.
Alabama's A.J. McCarron finished in second place in 2013 largely because he played for one of the most-watched teams in the nation. His numbers — 2,676 passing yards and 26 touchdowns during the regular season — weren't remotely eye-popping.
"It hurts you unless you're (USC's) Sam Darnold or (Stanford's) Christian McCaffrey, and it probably hurt Christian McCaffrey two years ago," Feldman said. "He had name recognition. He had momentum, enough where he was on a program that people were paying attention to.
"Remember with Arizona, a lot of people had RichRod on the hot seat. Nobody saw them coming to be a bowl team, much less a team that could go to the Fiesta Bowl."
Tate's best shot at national recognition will come via social and traditional media. The more stories written by him in national publications, the more he's mentioned on "SportsCenter" and tweeted about by popular sports figures, he can stay relevant. Reporters from ESPN and The Athletic have traveled to Tucson in recent weeks to write about Tate, while others — including Bleacher Report and Sporting News — have interviewed Tate via phone.
The Washington Post picked Tate as its college player of the month in October, and The Ringer wrote an article about his Heisman candidacy. Sports Illustrated's Andy Staples wrote in his weekly mailbag that Tate "absolutely has to be" in the Heisman discussion if Arizona beats USC on Saturday.
"And honestly," Staples wrote, "if he does it throughout the rest of the season, I think there's a good chance he could win the Heisman."
Category 4: Historical precedent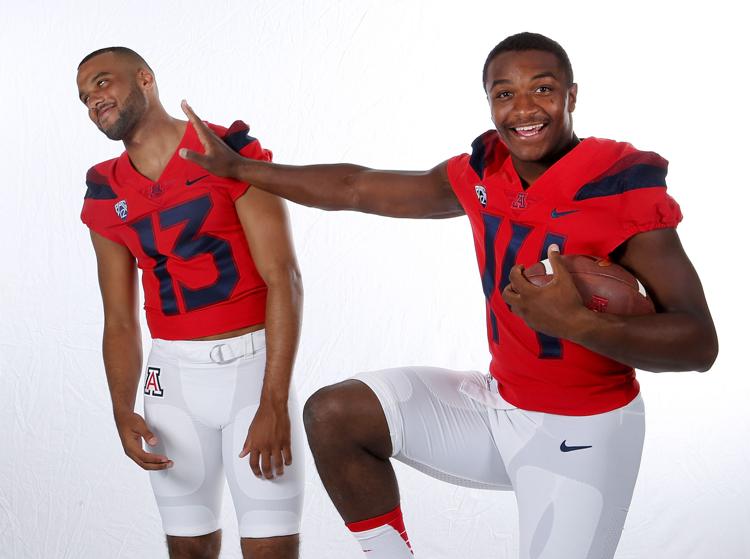 Tate lost the starting quarterback job to Dawkins out of fall camp, played sparingly against Northern Arizona, injured his shoulder, came back too soon against Houston and threw an interception, and then was unavailable the next two weeks.
All of that works against Tate's Heisman chances.
Only five Heisman Trophy winners in history missed at least one full game due to injury during the year they won, according to Heisman.com. The last winner to do so was Florida State quarterback Charlie Ward, who missed one game in 1993 due to a rib injury.
And only two players in the last 20 years became Heisman finalists after opening the season on the bench. Both came in 2004: Oklahoma's Adrian Peterson finished second in the voting, and USC's Reggie Bush was fifth.
Peterson played behind Kejuan Jones for three weeks, but still toted the ball 65 times, gaining 400 yards and scoring five touchdowns.
Bush split touches with bruising back LenDale White.
Some numbers also work in Tate's favor: Nine of the last 10 years have featured at least one mobile quarterback among the finalists.
If Barrett doesn't keep up his current pace, or Ohio State loses again, Tate could fill that slot.
Louisville's Lamar Jackson rushed for 1,538 yards and 21 touchdowns during his Heisman-winning 2016 season.
He averaged 19.5 carries per game, rushed for at least 100 yards on eight occasions and never surpassed 200 yards. He had six rushes for 40-plus yards and completed 56.2 percent of his passes.
If Tate continues at the pace of his last four games, he'd finish the season with 1,766 rushing yards and 13 touchdowns.
In October alone, he managed four 100-yard games, two 200-yard games and one record-setting 300-yard performance. He had eight runs of 40-plus yards, and has completed 68.7 percent of his passes this season.
"If he can keep this up for the next month, he's going to go to New York," Feldman said. "I don't know if he can win it, but he's going get invited and that's pretty amazing in itself."