More than second place is at stake for Arizona Wildcats, ASU in latest Territorial Cup clash
There is no Pac-12 Championship berth or bowl bid to claim in Tempe this week. Both teams enter the final regular season game of the season marginally exceeding expectations, but what's left to play for in this year's Territorial Cup?
Territorial Cup offers much to play for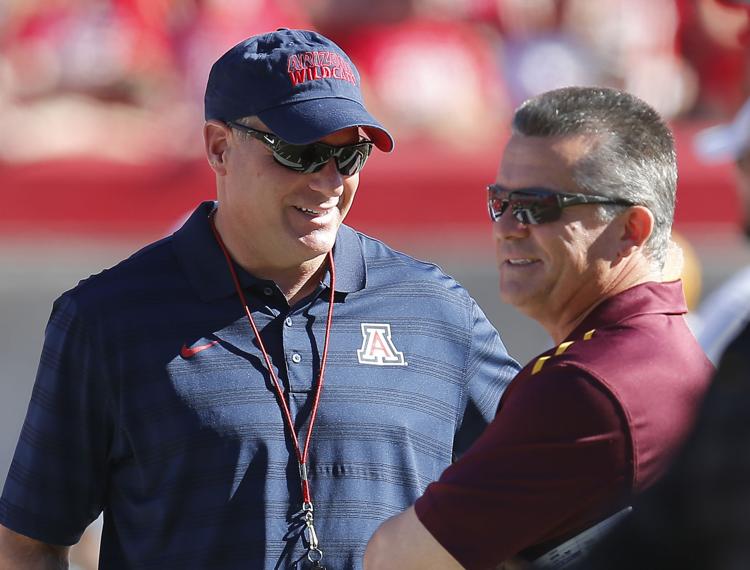 By Michael Lev / Arizona Daily Star
This isn't 2014. The winner of the Territorial Cup will not represent the South Division in the Pac-12 Championship Game.
This isn't 2016 either. Arizona and Arizona State already have secured bowl berths.
So what is at stake then, in the 91st meeting between the Wildcats and Sun Devils, besides year-long bragging rights?
A lot. For both sides.
Arizona has a chance to finish its bounce-back season strong. The winner will finish in second place in the Pac-12 South, far exceeding preseason expectations. An ASU victory could save Todd Graham's job. And a monster performance by Khalil Tate could get him back in the running for a trip to New York to participate in the Heisman Trophy ceremony.
Here's a closer look at each of those themes heading into the latest intrastate showdown Saturday afternoon at Sun Devil Stadium in Tempe:
For the record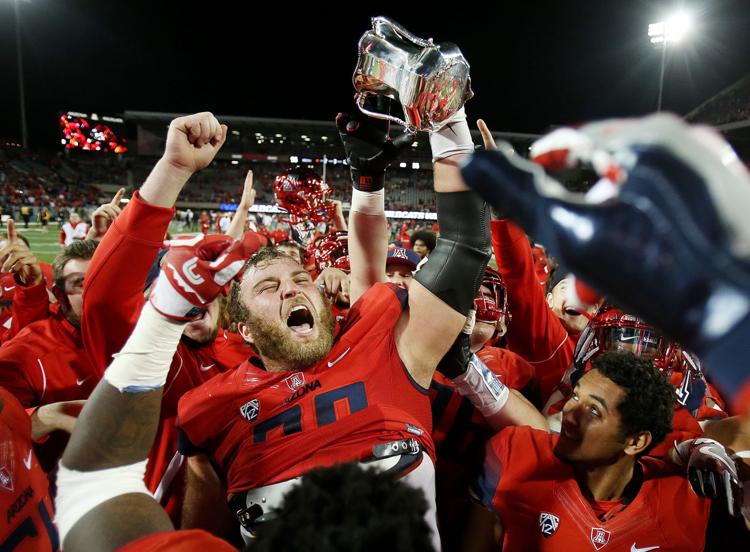 Any rational UA fan would have been thrilled with a seven-win regular season had you presented that option a year ago. Or even two months ago.
The Wildcats won three games last year. They were sitting at 2-2 through September, with an uncertain QB situation and a cloudy future.
But everything changed in October. Tate took over at quarterback, and Arizona took off.
An exhilarating four-game winning streak lifted the Wildcats to 6-2. They reappeared in the AP Top 25 and debuted in the College Football Playoff rankings.
At that point, seven wins sounded … meh. It would mean losing three of the final four games – not necessarily a step backward, but certainly not another step forward.
Unfortunately for Arizona, that scenario is squarely in play. The Wildcats have dropped two of their past three.
Another defeat wouldn't erase all the good stuff that preceded it – just like last year's upset win in the Territorial Cup didn't erase all the bad stuff. But it would leave UA fans, coaches and players wondering what might have been.
"Does it take off some of the luster for them? Sure," said Pac-12 Networks analyst Yogi Roth, who will call Saturday's game. "Does it hurt them in in-state recruiting? Maybe. But I think there's some really good juice around this team."
On second thought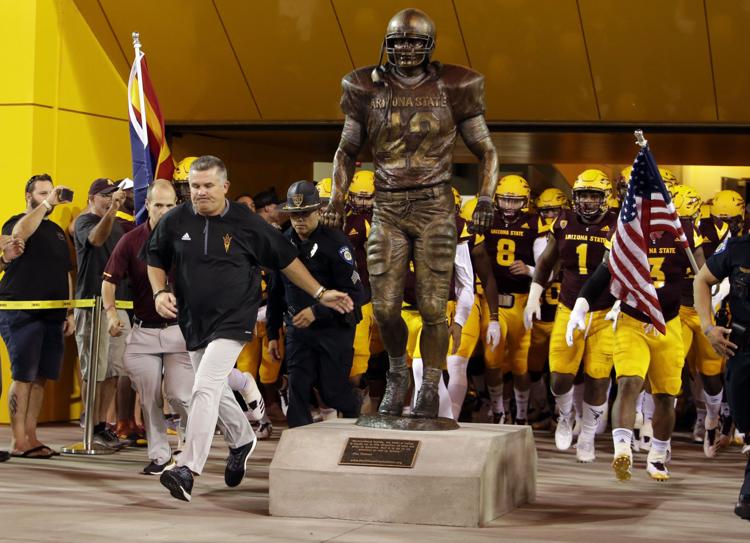 Finishing in sole possession of second place behind a USC team predicted by many to make the College Football Playoff would be a major achievement for either school.
Again, you have to go back to the offseason, when expectations were low – bordering on non-existent.
Not only did the media pick Arizona to finish last in the Pac-12 South in the annual preseason poll, the Wildcats received the fewest votes of any team. ASU was picked to finish fifth.
The media ended up being wrong, of course (no surprise there). But the poll results symbolized the rapid fall of two programs that were dueling for a title-game berth just a few years earlier.
ASU hasn't finished above .500 since going 10-3 in 2014. Arizona fell from 10-4 to 7-6 to 3-9.
"You've gotta remember, they hit reset on the coaching staff two years ago," Roth said of the Wildcats. "They hit reset on the program with 61 freshmen (entering this season). This almost like a rebirth.
"Eight-and-four looks better; you have a chance to get to nine wins. But as long as they don't get smoked, there's still juice. They're extremely legitimate."
Second place in the South is something that can be used in recruiting. It's a top-line item in every offseason promotional campaign.
A lot can happen between now and next fall. But Roth said he probably would pick Arizona to win the South next year if USC quarterback Sam Darnold enters the 2018 NFL draft.
ASU's immediate future is a little murkier.
Graham a goner?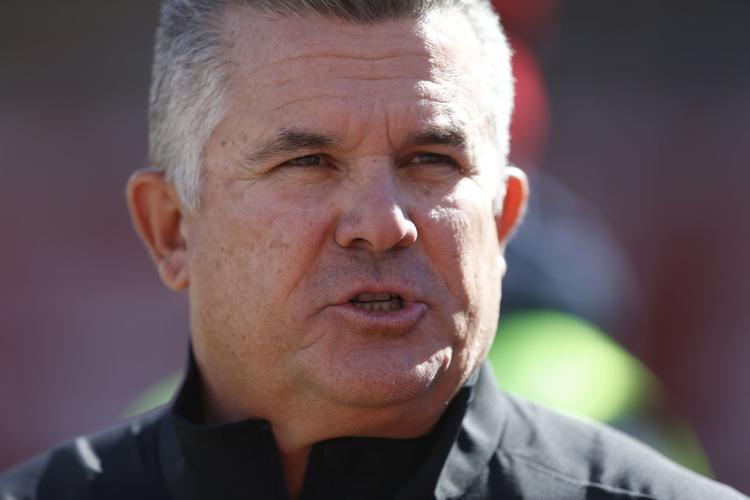 The Arizona Republic began its Territorial Cup coverage this week with a story stating that Graham is "coaching for his job" against Arizona. A Republic columnist wrote that it's time to move on, win or lose Saturday. A Twitter poll asked whether ASU should fire Graham. Thirty percent of respondents said yes; 48 percent said no; 22 percent said it depends on what happens vs. the Wildcats.
Is it fair to base a coach's fate on one game? Is it accurate to say that's what's really going on here?
Graham – like counterpart Rich Rodriguez – is about to conclude his sixth season. As such, his tenure can be divided neatly into two halves.
The Sun Devils went 28-12 in Graham's first three years – following four straight seasons under Dennis Erickson of .500 records or worse.
Entering Saturday, ASU is 17-19 over the past three years. A loss to the Wildcats would drop the Sun Devils to 6-6 – and leave open the possibility of a third straight losing season.
Graham declined to comment about his job status earlier this week. But subsequent comments – e.g., "There is nothing more miserable than losing this game" – illustrate how much the result of the Territorial Cup means to him and his program.
"One of the things you're measured by at Arizona State is whether you get it done in this game," Graham said. "They obviously are very aware that we didn't get it done last year. We obviously don't want to be on that side of it.
"These guys understand how important that is. It's probably the No. 1 way you're going to be measured as a Sun Devil football player."
And as a Sun Devil coach.
Heisman Hail Mary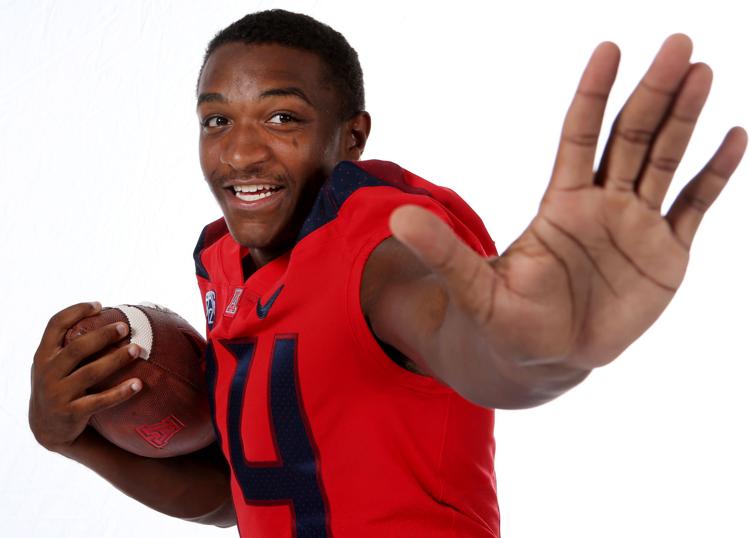 The Heisman Trophy is Baker Mayfield's to lose. The Oklahoma quarterback has a substantial lead in the latest Heisman Watch poll on ESPN.com.
Tate rose to third in that poll last week before falling to fifth after a subpar performance at Oregon. He always was a long shot to win the award. Now he probably has no shot.
But the race for the runner-up spots remains wide open. Tate still could make a push to be among the finalists. That would be a significant accomplishment for the UA program; no Wildcat ever has participated in the Heisman ceremony.
It would take a Herculean effort for Tate to re-grab the attention of the Heisman electorate. Games on Pac-12 Networks don't get as much national exposure. Tate also won't have the benefit of participating in a conference championship game.
Ironically, for Tate and the Wildcats to be at their best, he has to fight the temptation to play hero ball. Roth will keep a close eye on how Tate runs the offense in a loud, hostile environment.
"This is a game where he's going to have to be vocal," Roth said, "getting guys aligned right, making sure the little details are handled."
Tate never has been about stats anyway. The only one he cares about is wins.
His fellow Wildcats feel the same way. Especially this week.
"It's different," UA senior defensive tackle Marcus Griffin said. "Like Coach (Rodriguez) said, every game matters – but this game matters more."