Seen and heard at the Arizona Bowl: Beer, the Wonder Dog, and kickoff returns galore
The Nova Home Loans Arizona Bowl returned to Tucson for the third year and offered a ton of beer, one good boy and a couple huge plays right out of the gate. Here's the best from Arizona Stadium on Friday, where New Mexico State survived in overtime for its first bowl win in 57 years.
By Ryan Finley / Arizona Daily Star
Many happy returns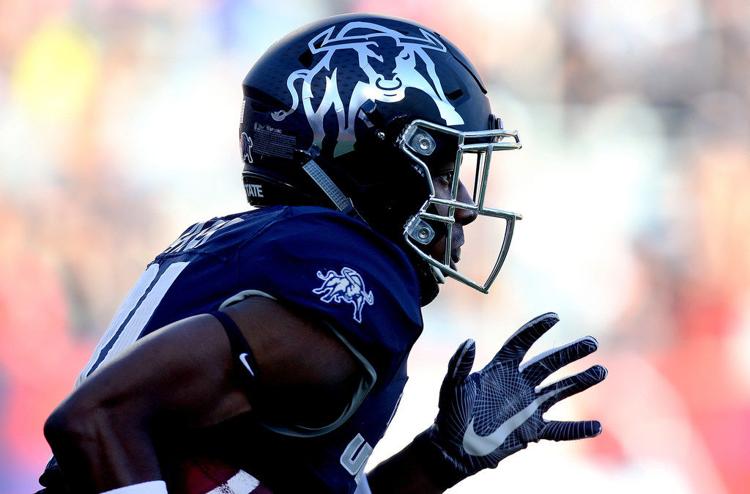 Utah State's Savon Scarver set an Arizona Bowl record with his 96-yard kickoff return for a touchdown in the first quarter. It lasted all of 14 seconds. New Mexico State's Jason Huntley returned the ensuing kickoff 100 yards, thrilling the pro-NMSU crowd at Arizona Stadium.
Picture-perfect day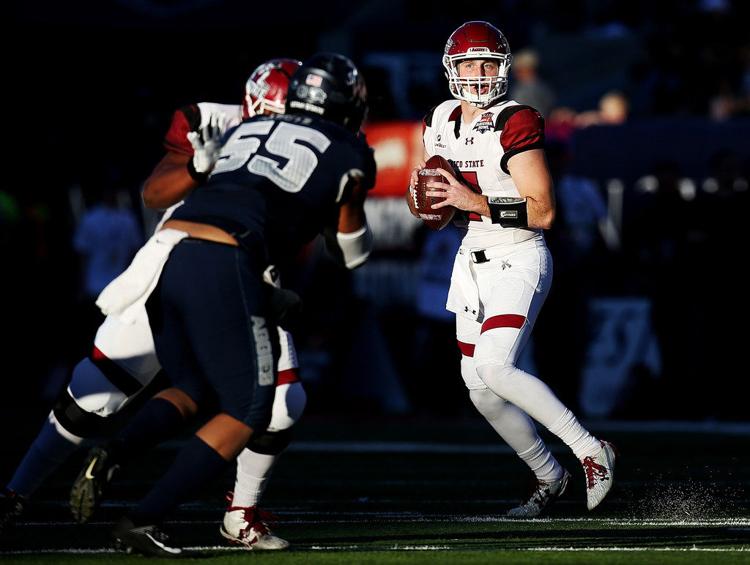 Friday's weather was, well, perfect: 82 degrees and clear, with a slight breeze. It was a vast improvement over the 46-degree weather in Logan, Utah, home of Utah State. Friday was relatively warm by Logan-in-December standards: Forecasts call for a low of 11 degrees and rain/sleet on Saturday.
Striking performance
New Mexico State's players were cheered lustily all afternoon by a crimson-clad Arizona Stadium crowd.
No single player, however, received a better ovation than Striking the Wonder Dog. New Mexico State's unofficial canine mascot received roars as he ran onto the field to collect the tee following each NMSU kickoff. Striking found his form early in Friday's game, returning the tees back — albeit it a bit wet — following every NMSU kickoff.
Striking only moonlights as a Wonder Dog, however: The 9-year-old border collie works for Mesilla Valley Search and Rescue in his free time. 
The @NMStateFootball Aggies have one very special member of the kickoff team. Take a look at Striking the Wonderdog's point-of-view of the #novaAZBOWL! pic.twitter.com/wNul0JWbYm

— Arizona Bowl (@novaAZBOWL) December 30, 2017
Another big number
I just missed the second quarter of the game waiting in line for a beer, that's what you call passion for beer. #Arizonabowl

— Le Roi (@RaulLukkzz) December 29, 2017
$6
Cost of a 20-ounce beer at Friday's Nova Home Loans Arizona Bowl. We're not talking about Natty Ice, either — Bud Light, Michelob Ultra, Estrella Jalisco and a handful of local brews, including Barrio Brewing's Citrazona, were on tap on the stadium's west side and near the Sands Club. 
More about beer
at the Arizona Bowl with my future father-in-law and naturally lost him during a beer run

— Gilbert G (@gilbertg12) December 30, 2017
Don't be surprised if we've seen our last dry game at Arizona Stadium. The UA will begin serving beer inside McKale Center soon, and assuming the pilot program is successful — and given the clientele and relatively short length of basketball games, it should be — the school could begin pouring out at Arizona Stadium as soon as September.
Beer would be big business at Arizona Stadium, if Friday's game was any indication. The lines to buy the beer were almost as long as the lines to, um, recycle it. Game officials leased 15 port-a-potties along the west side to combat the rush.
A drinking song
Stuck behind a @USUAggies marching band battle.@novaAZBOWL pic.twitter.com/mcZNEnQEe1

— Mike Christy (@wildcatphotog) December 29, 2017
New Mexico State and Utah State have, shall we say, divergent tastes. Utah State brought a smallish marching band and wore shiny, special-event uniforms designed by Nike. New Mexico State brought its rollicking band, which played the NMSU fight song. It goes, in part:
"And when we win this game,
We'll buy a keg of booze.
And we'll drink it to the Aggies,
'til we wobble in our shoes."
New Mexico State band. They're big and wear jaunty hats. Love em. https://t.co/QsHjSZXPcO

— Ryan Finley (@ryan_finley) December 29, 2017
Here's gear!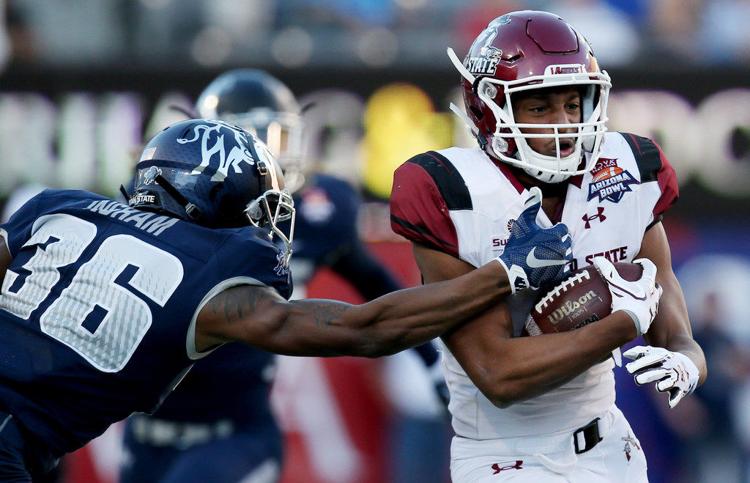 Fans couldn't spend all their money on beer, obviously, so the Arizona Bowl offered a variety of red-and-blue gear for fans of both teams. The bowl did brisk business selling t-shirts ($25-$30) and hoodies ($40), and a navy Utah State jacket ($65) might've been the best of the bunch. For locals without a team, the Arizona Bowl offered pennants and commemorative footballs. 
Officially official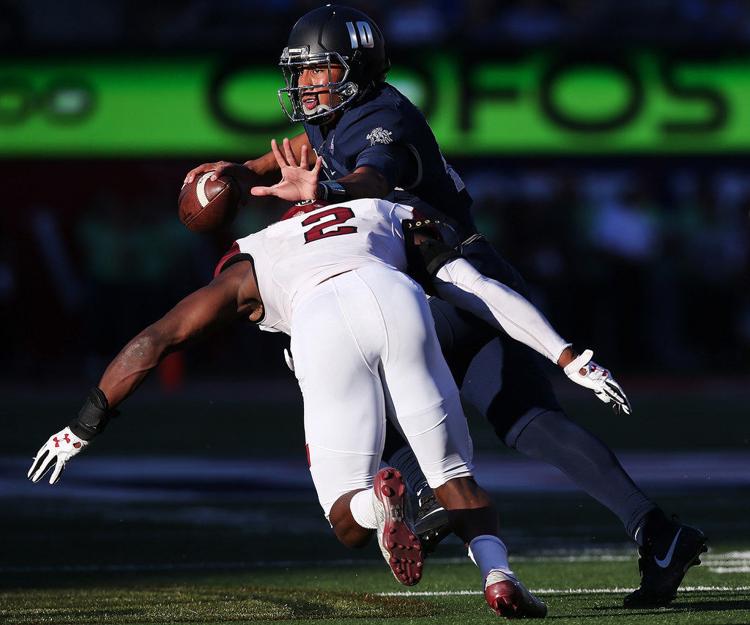 Boys are nominally about football but mostly about sponsorships. (Just ask our friends at the Bad Boy Mowers Gasparilla Bowl).
Which leads to maybe our favorite, most obscure sponsorship of bowl season: OOFOS are "the official recovery footwear of the Arizona Bowl." 
OOFOS absorb a whopping 37 percent more shock than traditional flip-flops, the company says. Their unique shape is more comfortable and — you can't make this up — eliminates chafing in between your toes.
More ads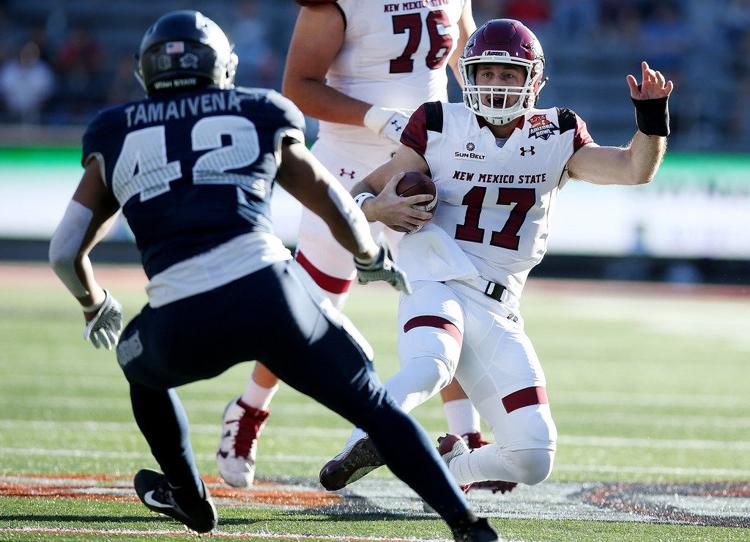 Game officials covered up most of Arizona Stadium's advertisements with tarps bearing the bowl logo and that of Nova Home Loans. Among the ads covered up: the law firm of Farhang & Metcoff, which is owned and run by … Arizona Bowl founder Ali Farhang.