Watch: 5 best things Arizona Wildcats said after thumping Oregon State 49-28
The Arizona Wildcats improved to 7-3 (5-2 Pac-12) on the season with an absolute blowout over Oregon State on Senior Night. Here's the best of what the Wildcats had to say postgame.
By Justin Spears / Arizona Daily Star
School record on senior night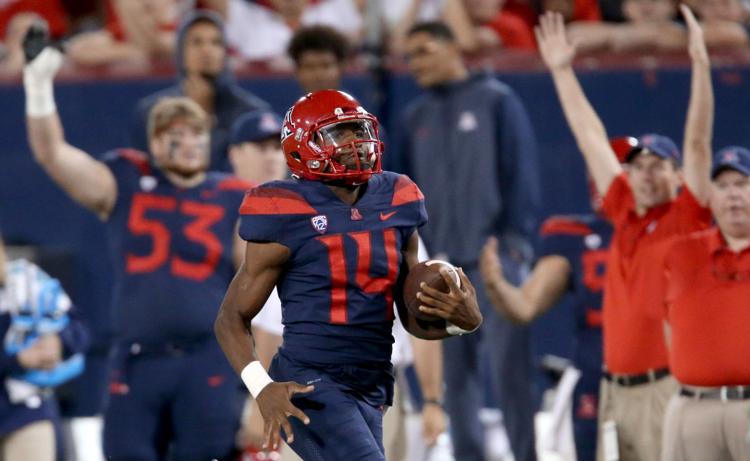 With Khalil Tate at quarterback and multiple options of running backs Arizona chooses from, the Wildcats' is plain and simple: run. 
It's not difficult and some could say it's predictable, but the run game hasn't slowed down for the Cats. In a 49-28 win over Oregon State Saturday, the Wildcats set a single-game school rushing record with 534 yards, breaking last season's 511-yard outing against Arizona State in the home finale. 
Against the Sun Devils last season, the Wildcats set the record without attempting a pass in the second half. This time, Arizona broke the record only completing one pass in the second half. 
Arizona was led by Tate and running backs J.J. Taylor and Nick Wilson. Tate finished the game with 206 rushing yards while Taylor recorded 129 yards and Wilson ended his career at Arizona Stadium with 101 yards. It was the second game this season Wilson ran for over 100 yards.
Here's what the Wildcats had to say after running all over Oregon State:
Redemption for last year's loss at Oregon State
RichRod on getting redemption against teams that smacked the Wildcats last season (Washington State, Oregon State): pic.twitter.com/Tq7ajDJGWR

— The Wildcaster (@TheWildcaster) November 12, 2017
Khalil Tate and the big boys up front paving the way
RichRod on Khalil Tate's performance and crediting the offensive line for the Wildcats setting the single-game rushing record: pic.twitter.com/a63JvtJawK

— The Wildcaster (@TheWildcaster) November 12, 2017
Brandon Dawkins' assistance as the backup QB
Khalil Tate on Brandon Dawkins entering the game in the fourth quarter and how he's helped Tate grow as a QB. pic.twitter.com/54OaPuFl2m

— The Wildcaster (@TheWildcaster) November 12, 2017