Watch: 10 best things from Foster Farms Bowl press conference
Here's what the Wildcats and Boilermakers had to say the day before they meet at Levi's Stadium for the Foster Farms Bowl. 
One final game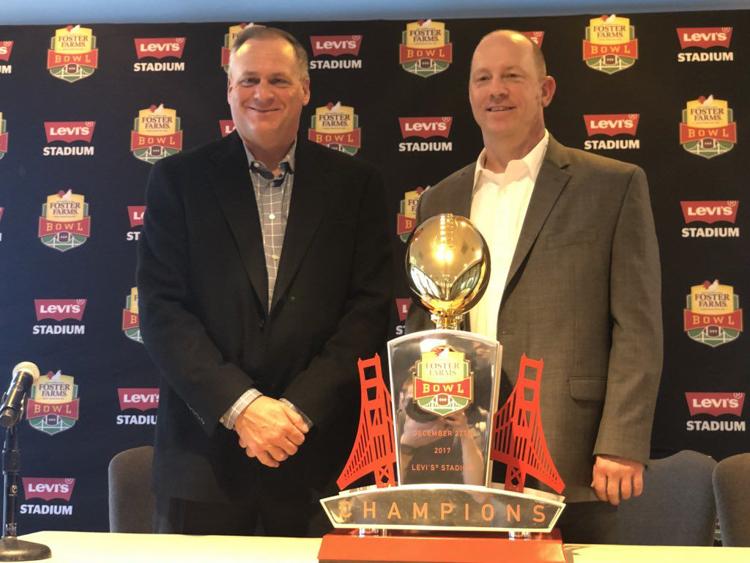 By Justin Spears / Arizona Daily Star
SAN FRANCISCO -- It's here. The final football game of the season for the Arizona is upon us as the Wildcats battle the Purdue Boilermakers in the Foster Farms Bowl Wednesday at 6:30 p.m. on Fox. 
The Wildcats concluded their final practice on Christmas Day and spent the entire day Tuesday to speak with the media and preview the showdown at Levi's Stadium in Santa Clara. 
Seniors Jacob Alsadek, Nick Wilson and Luca Bruno took the podium as well as Rich Rodriguez and Purdue head coach Jeff Brohm, here's what they had to say. 
RichRod is familiar with bowling, but his young team isn't
Rich Rodriguez's opening statement in the @FosterFarmsBowl press conference. Says it's a special time for the Wildcats considering most of the team are either freshmen or second-year players. pic.twitter.com/eURTFFWTLT

— The Wildcaster (@TheWildcaster) December 26, 2017
Future NFL Draft picks sitting out for bowl games
Rich Rodriguez and Jeff Brohm talk about potential NFL draftees sitting out for bowl games. Brohm says he understands certain situations while Rodriguez would be "disappointed" if a healthy player missed his final college game. pic.twitter.com/kmMRHac9OK

— The Wildcaster (@TheWildcaster) December 26, 2017
Nick Wilson's final game as a Wildcat
Arizona RB Nick Wilson on his final bowl game at Arizona and playing relatively close to his hometown (Fresno): pic.twitter.com/Xrjln0wF72

— The Wildcaster (@TheWildcaster) December 26, 2017
Challenges with Purdue's tough rush defense
Jacob Alsadek and Nick Wilson on Arizona's rush attack and the challenges facing Purdue's run defense: Alsadek says the heart of Purdue's falls on the front seven. pic.twitter.com/2lRfMuzBr8

— The Wildcaster (@TheWildcaster) December 26, 2017
The linemen were called cheeseburgers
Luca Bruno shares his favorite RichRod memory: Nicknaming the offensive/defensive linemen cheeseburgers 🍔. pic.twitter.com/NNkvWiDjyq

— Justin Spears (@JustinESports) December 27, 2017
Luca Bruno's favorite memory: eating at sorority houses
Arizona senior Luca Bruno says his favorite memory at Arizona was eating at sorority houses with his teammates. Bruno also adds that the Cats owe it to Zach Hemmila to bounce back and have a great season after going 3-9 in 2016, the same year Hemmila died. pic.twitter.com/xKJbJ1lX3W

— The Wildcaster (@TheWildcaster) December 27, 2017