Watch: The 6 most interesting things RichRod said at Mondays news conference
The Arizona Wildcats coach talks about his quarterbacks, working in El Paso and why the team will take the bus.
RichRod, Wildcats looking to regroup following Saturday's loss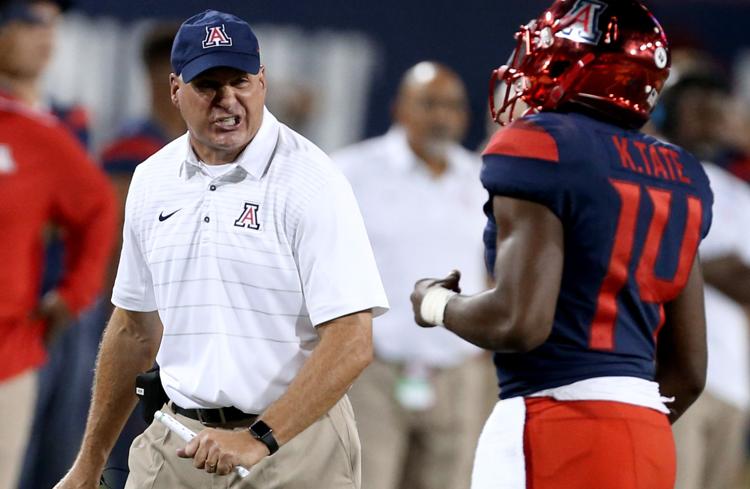 The Arizona Wildcats are 1-1 following Saturday's loss to Houston, and there may be more questions than answers. The UA used two different quarterbacks in its loss, and while the defense improved, the Wildcats were unable to move the ball against a stout Houston offense. 
Coach Rich Rodriguez met with the media Monday to discuss Saturday's loss, and this week's game against UTEP. Here are the most interesting things he said.
All videos courtesy of the Star's new Twitter feed, @TheWildcaster. Video by the Star's Justin Spears.
No. 1: He feels for the Wildcats' Florida players in the wake of Hurricane Irma
Rich Rodriguez on #HurricaneIrma and the Florida players currently on Arizona's roster: pic.twitter.com/pYx0UKn27I

— The Wildcaster (@TheWildcaster) September 11, 2017
No. 2: He remembers doing TV at UTEP just before being hired at the UA
Rich Rodriguez on his last broadcast as a color analyst at UTEP and its stadium: pic.twitter.com/MB05zosQKj

— The Wildcaster (@TheWildcaster) September 11, 2017
No. 3: He thinks running back J.J. Taylor can really impact the UA's offense
Rich Rodriguez on J.J. Taylor's impact in the offense and how Nick Wilson "tweaked" his ankle: pic.twitter.com/i0jpRq77Mx

— The Wildcaster (@TheWildcaster) September 11, 2017
No. 4: The Wildcats will take a bus to El Paso — and a plane home
Rich Rodriguez on traveling to El Paso via automobile and scheduling games on Friday nights: pic.twitter.com/yiZ0wH7ErQ

— The Wildcaster (@TheWildcaster) September 11, 2017
No. 5: He's optimistic after watching film from Saturday
Rich Rodriguez's opening statement: "We weren't as far off as I thought." pic.twitter.com/7Rhww8ZyhN

— The Wildcaster (@TheWildcaster) September 11, 2017
No. 6: He thinks both Brandon Dawkins and Khalil Tate bring something unique to the offense
Rich Rod on the offense and what quarterbacks brought to the table: pic.twitter.com/cq3U5xnLtw

— The Wildcaster (@TheWildcaster) September 11, 2017