Wildcats game day breakdown: USC ties run in the family; Arizona savoring every opportunity
Star reporters Michael Lev and Zack Rosenblatt bring you the scoop on some key storylines as the No. 22 Arizona Wildcats travel to take on No. 17 USC with major Pac-12 South implications on the line.
For Arizona Wildcats CB Lorenzo Burns, USC ties run in the family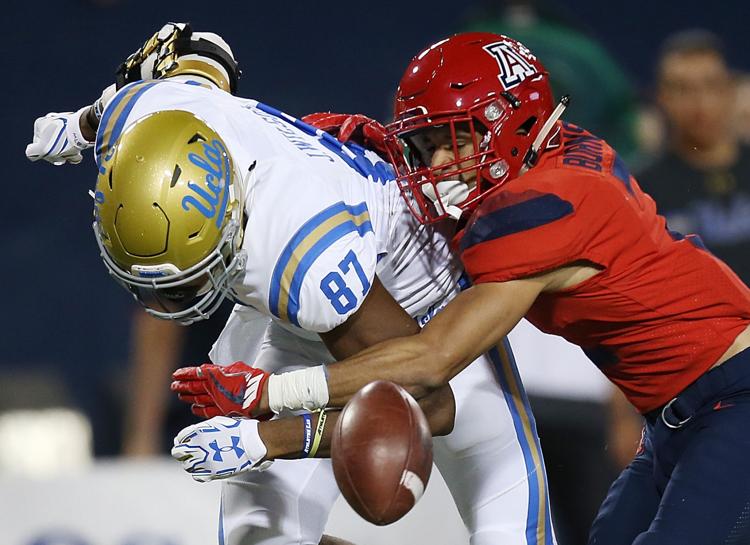 Forgive DeChon Burns if he's feeling a little ambivalent.
Burns' oldest son, Lorenzo, is a starting cornerback for the Arizona Wildcats. DeChon played cornerback for USC, Arizona's opponent Saturday night.
"It's funny," DeChon Burns said this week. "I was making a joke just today: I'm going to 'Fight Down' and 'Bear On.'"
Despite DeChon's loyalty to his alma mater, Lorenzo knows his dad will be in his corner at the Los Angeles Memorial Coliseum.
As Lorenzo sees it: "It's 99 percent Arizona, 1 percent 'I'm just going to go around and say what's up to everybody that I used to play ball with.'"
DeChon Burns played for the 1989 Trojans, who won the Rose Bowl under the late Larry Smith. Burns was projected to start the following season, but he suffered a neck injury during training camp that turned out to be career-ending.
Burns walked on to the USC baseball team in 1992 and looked into extending his football career in Canada before becoming a coach. He worked as an assistant in the NFL (Washington, San Francisco) and college (Florida, Texas Southern, UTEP) before becoming the head man at Linfield Christian School in Temecula, California.
DeChon coached Lorenzo and his younger brother, Simeon, now a freshman defensive back at Dixie State in St. George, Utah. Lorenzo played multiple positions, including quarterback, where he developed the short memory that's required to endure the ups and downs of his current spot.
"I've thrown a couple picks and done some things I shouldn't have done," Lorenzo Burns said. "I had to let it go. The team needs you."
Burns has improved over the course of the season as much as any Arizona player. The redshirt freshman played in two games on special teams last year before hurting his knee, and struggled at times early in the season.
In October, Burns — like the rest of the Wildcats — hit his stride. He has recorded a pass breakup in four straight games and an interception in each of the past two. He's tied for the team lead with three picks and ranks second in tackles (53) and PBUs (five).
"The beginning of the season, it was just about handling jitters," Burns said. "Last year I was on the field, but I wasn't really on the field. Being more comfortable and confident (has) really helped me out."
DeChon Burns knew his son would have to take his lumps. He also was confident he'd come out of it a better player.
DeChon knows Lorenzo has a job to do Saturday night, and he'll be there to support him along with about 30 other friends and family members. DeChon plans to wear an Arizona shirt bearing Lorenzo's No. 2 and a USC hat.
"We are so proud of what he's accomplished, off the field first as a human being, as a member of our family, as a young man," DeChon Burns said. "I want to see him go out and compete. I want to see him do well. But I don't want to root against the men of Troy. I'll be happy either way."
When Arizona needs to go long distance, freshman Lucas Havrisik gets the call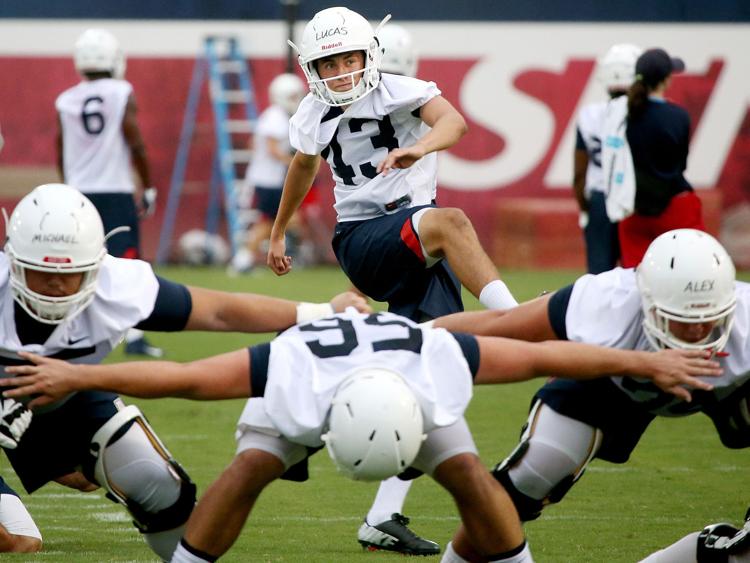 When Wildcats freshman kicker Lucas Havrisik trotted onto the field to attempt a 57-yard field goal against Washington State, there was little doubt he'd have the distance.
In practice six days earlier, on a dare, Havrisik had made a 70-yarder. The NCAA record is 67 yards.
"Sunday nights, he comes out and puts on a show," UA special teams coach Brian Knorr said. "When he hits that ball, it's a different sound."
Havrisik made the 57-yarder, on the final play of the first half, tying the Arizona record and giving the Wildcats a 23-14 lead. It was the first field goal of Havrisik's college career, which is off to a promising start.
Havrisik is the backup on field goals to Josh Pollack, subbing for him on long-distance kicks. Havrisik handles kickoffs, where he has emerged as an underrated asset.
Forty-four of Havrisik's 61 kickoffs have gone for touchbacks. That was the fourth-highest total in the nation entering this week, according to The Football Database.
Last year, Arizona kicked off 58 times. Only 20 went for touchbacks.
Havrisik's touchback percentage of 72.1 ranks among the nation's best. He has provided an "invaluable" service for the Wildcats, UA coach Rich Rodriguez said, ensuring that opponents start at their 25-yard line almost three-fourths of the time.
But Havrisik is far from satisfied.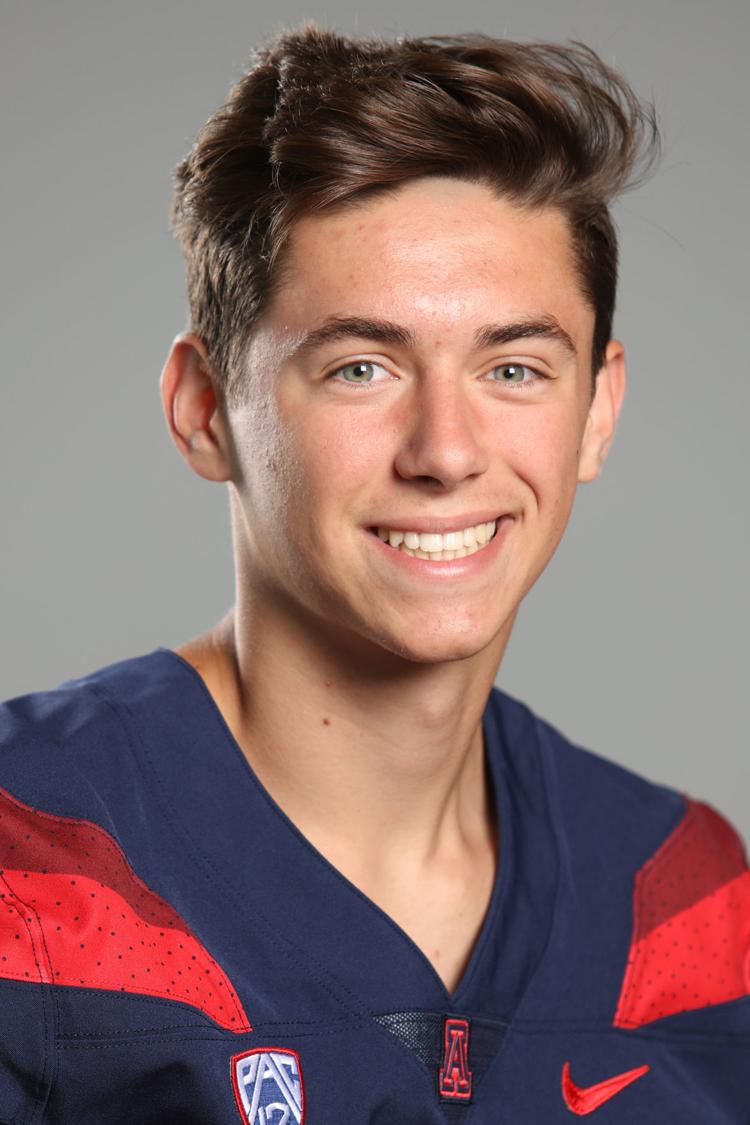 "I set a goal for myself this year to be 100 percent on field goal and kickoff," said Havrisik, who has made 1 of 2 field-goal attempts. "I like setting high standards for myself. I'm hard on myself. I understand it might not happen."
Knorr worried that Havrisik would lose some steam the deeper he got into his freshman season. That hasn't happened yet. Havrisik went 9 for 10 on kickoffs against the Cougars. His fitness from a lifetime playing soccer might have something to do with it.
Havrisik played on club teams and at Norco High in Southern California's Inland Empire. His all-time favorite player is Brazil's Ronaldinho.
"I gave up soccer two weeks before I came here," Havrisik said. "I love soccer. But I knew this was a better route for me."
A friend saw Havrisik kicking a soccer ball and suggested that he try the other kind of football. He eventually became Norco's kicker and punter, and made a 51-yard field goal as a senior.
Kicking near sea level in the cool, moist air at USC on Saturday night could dampen Havrisik's distance. He might not be able to make a 57-yarder in those conditions. But you never know.
"Back in California, I had a 72," Havrisik said. "But I had a pretty good wind at my back. It was a good little breeze."
Jamie Nunley taking opportunity at tight end and running with it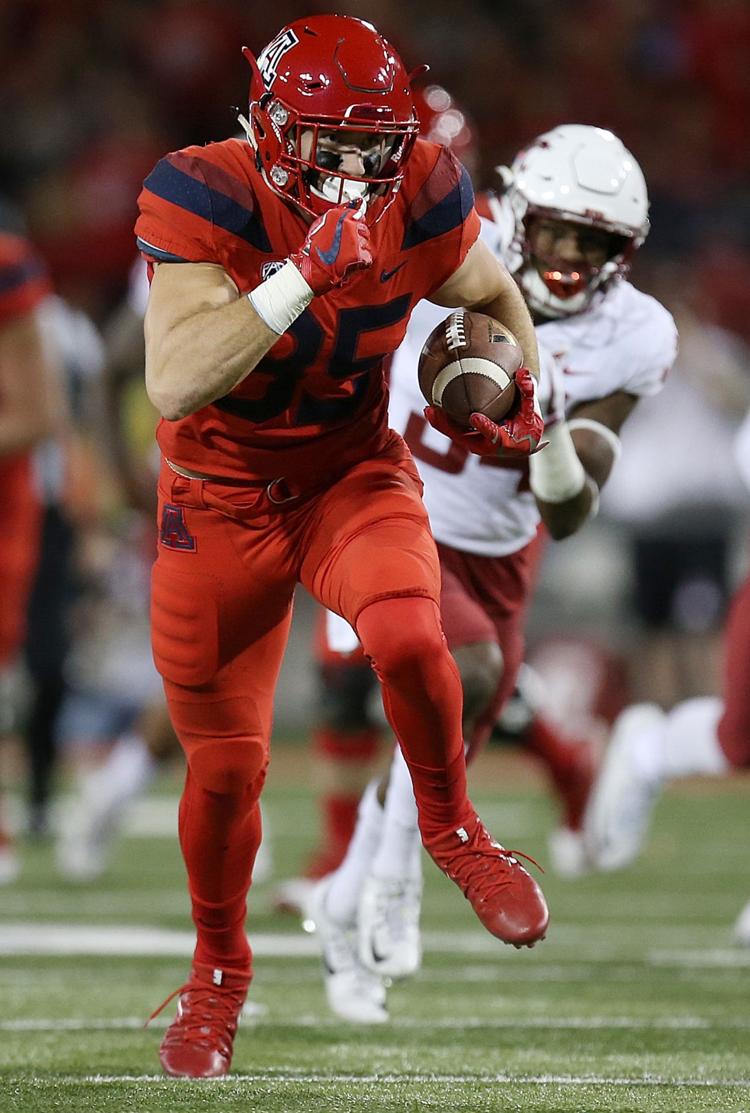 Before Sept. 15, the last time Jamie Nunley caught a pass in a football game was 2014.
Then a senior at Vista Murrieta High School in Southern California, Nunley played receiver and quarterback in a 21-10 state playoff loss to Mission Viejo. He completed 9 of 15 passes for 106 yards, ran 15 times for 22 yards and caught five balls for 25 yards and a touchdown.
Nunley's numbers were even more impressive last week.
Nunley, playing tight end, caught two passes for 116 yards and a touchdown in the Wildcats' win over No. 15 Washington State.
Nunley was wide open on both plays, thanks to the threat that Arizona quarterback Khalil Tate could run at any moment.
His first catch went for a 48-yard, first-quarter touchdown. His second was a 68-yard, third-quarter gain that moved the Wildcats to Wazzu's 9-yard line.
"I've never been that wide open," Nunley said.
So what did he think when he caught the ball each time?
"Don't trip. Don't mess up. Don't get caught," Nunley said.
Nunley's been waiting for his chance since three years ago, when he committed to the Wildcats over offers from Colorado, Duke, Boise State and Harvard. Nunley grayshirted what would have been his true freshman season, meaning he didn't join the Wildcats until the spring of 2016. He redshirted last season.
Nunley made his college debut this year against Northern Arizona, then hurt his back. He returned against UTEP a couple weeks later, then injured his shoulder.
"It was brutal," Nunley said. "It was really hard knowing … the first time I hurt my back over fall camp, I was real messed up thinking am I going to be out for a long time."
If injuries kept him out of lineup, more health issues allowed him to climb back in.
Trevor Wood was injured early last week, leaving Nunley and freshman Bryce Wolma as the only options tight end.
Nunley took his opportunity and ran.
"It was crazy fun," Nunley said. "I woke up the next day kind of pinching myself to see if it was still real, let alone winning. That was cool."
Rich Rodriguez says Nunley's got great ball skills and good speed.
"So that's good," Rodriguez said. "If Trevor gets back now, we've got three guys that we feel confident with at tight end."
Michael Eletise savoring his chance to contribute on offensive line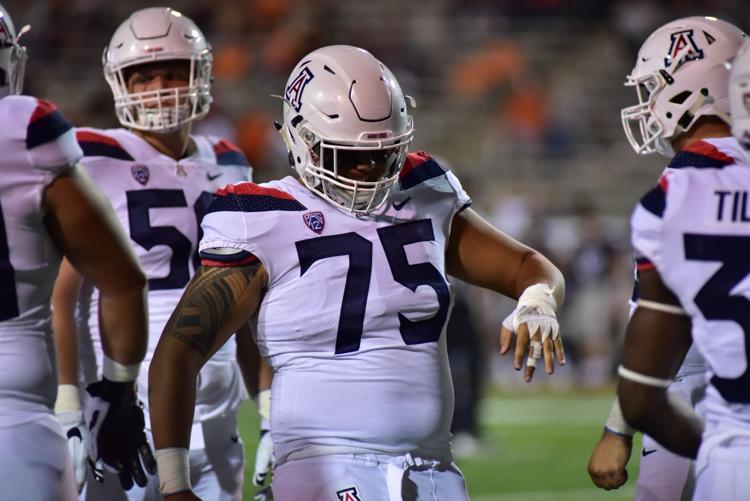 Rich Rodriguez has been coaching and recruiting players for decades. He's made a lot of in-home recruiting visits.
None of them could compare to the trip he made to visit Michael Eletise during the 2016 recruiting cycle. Rodriguez flew to Honolulu, where he was received like a VIP.
"Of all the home visits I've made — and I've made a bunch — I don't know if there's ever been more food prepared on a home visit for a couple coaches than with the Eletise family," Rodriguez said.
The jovial Eletise is a former four-star recruit, a powerful and strong offensive lineman and one of Arizona's most promising younger players. He's also famous for his eating habits.
During a recruiting visit to Tucson, Eletise took part in — and won — the OMFG burger challenge at Lindy's on 4th. The lineman finished six half-pound burger patties (with cheese, lettuce, tomatoes and sauce) in less than 30 minutes.
UA coaches soon imposed a 310-pound weight cap on Eletise, and the lineman has managed to stay under the limit all season. He currently weighs 295 pounds, the lightest since he's come to Arizona.
"It's not like I want to lose weight. I still eat the same, if not more — I just can't keep the weight on anymore," Eletise said. "It's just that way during the season, sweating every day, working hard."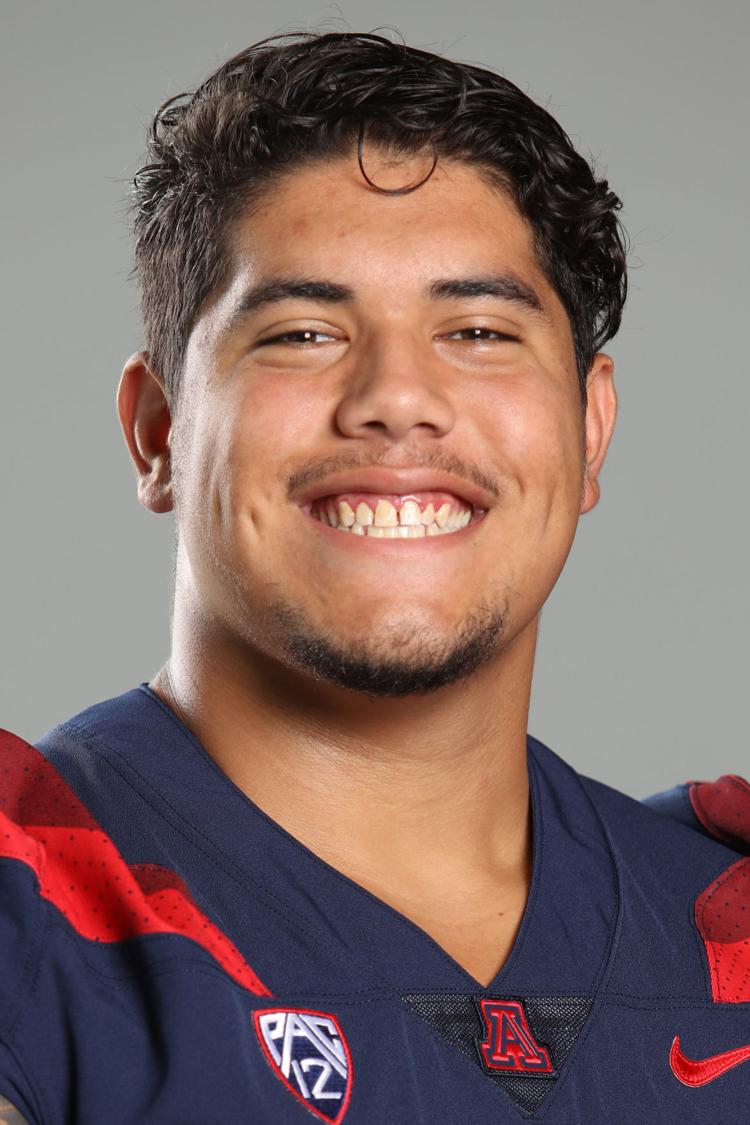 Eletise entered last week's game at guard after Christian Boettcher was injured, and immediately threw a block that sprung running back J.J. Taylor for a touchdown. Eletise ended up playing about eight snaps against the Cougars.
"I just hit harder, tried to push a little faster and ran down and I realized … I'm exhausted!" Eletise said. "I was in one play. I was out cold. I'm like man, I'm exhausted."
Eletise said his teammates laughed at him as he sat on the bench, arms stretched out.
"The first series is always the worst series," Eletise said. "The second series came, still dead. Third series came, and I was like, 'I'm good now.'"
Eletise figures to play more next season, after the Wildcats lose seniors Jacob Alsadek, Gerhard de Beer and Layth Friekh.
Rodriguez calls the Hawaiian-born Eletise "a tough guy."
"I love the way he works. He's got a great attitude," Rodriguez said. "He's gonna be a good player."
For now, Eletise will stay ready in case he's needed again. And he'll try to keep the weight off.
Though, he doesn't seem too worried about it. Is it easier for him to eat less during the season? Not exactly.
"Eh. During the season, it just depends when I'm awake," he said.
Motivation comes easy for Wildcats passed over by USC
Rich Rodriguez always pulls the same motivational tactic every time the Wildcats play USC.
Before the game, he polls his players: How many of you received a USC offer?
"I'm going to check beforehand to see if they lie to me," Rodriguez said, with a smile. "Just because you went there on an unofficial visit doesn't mean you were offered."
Quarterback Khalil Tate and tight end Trevor Wood received offers from the Trojans out of high school.
USC coaches offered running back Nathan Tilford a scholarship when he was still in middle school. The four-star recruit probably won't play against the Trojans, but he's expected to play a key role in Arizona's backfield next year.
Defensive end My-King Johnson is redshirting this season after choosing the Wildcats over a USC offer. The lanky pass rusher is expected to help one of Arizona's weakest areas — rushing the passer — once he put on more weight. The Tempe High School product initially committed to UCLA, changed his mind and eventually chose the UA.
Cornerback Tony Wallace committed to Arizona in December. Then the offers started pouring in, including one from the Trojans. Wallace has played in a reserve role on defense this season.
The Wildcats and Trojans were linked a bit during the last recruiting cycle. USC cornerback Greg Johnson was committed to the Wildcats until he changed his mind in December. Over the summer, USC defensive tackle Noah Jefferson announced his intent to transfer to the UA. Off-field issues prevented him from enrolling, and Jefferson is now playing at Arizona Western.
None of the players currently committed to the Wildcats' 2018 class hold offers from USC.
"There's different reasons for that," Rodriguez said. "But there's no question they're always going to recruit well. Their staff does a good job and it's SC, they have that brand name."