Star sports columnist Greg Hansen offers his opinion on recent sports news.
Commission on College Basketball lacks grand solution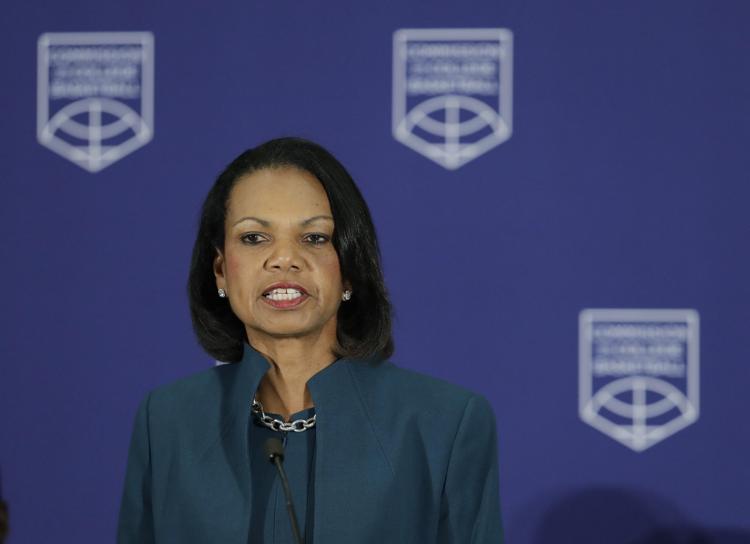 Imagine all the time and money spent to establish an NCAA Commission on College Basketball. The NCAA even created a logo for the group, and last week released a 61-page series of recommendations to "restore the trust and confidence in college sports."
Some of it was good. I liked the part about placing a school that cheats on a five-year probation, and forbidding it to receive any of the riches from the NCAA Tournament. I also liked the part about effectively banning a cheating coach for life.
I applaud the commission's admission that the NCAA enforcement division is antiquated. It said: "the investigative and enforcement functions were designed for a simpler time. As a result, it has little credibility with the public. The NCAA and its member institutions have been unable to adequately deter or punish bad behavior."
And there was this: "The environment surrounding college basketball is a toxic mix of perverse incentives to cheat."
Well, no kidding.
The commission used a lot of big words and long paragraphs, but there was no grand solution. No way to effectively deal with agents, shoe companies, the sinister AAU travel-ball system, the NBA's one-and-done arrangement or to shut off the underground economy that, among other things, threatens to blow up Arizona's 30-year run as a basketball power.
Over seven months, some of the most respected names in the game's history — David Robinson, Grant Hill and Mike Montgomery — met with commission chair Condoleezza Rice and others with impressive credentials inside college sports.
It said: "By the time the 2018-19 season tips off, the NCAA will adopt a series of bold legislative, policy and structures changes that will profoundly alter the college basketball landscape."
That's not going to happen any time soon — or perhaps ever.
In advance of the report, the National Association of Basketball Coaches (NABC) sent an email to all the coaches suggesting they give "unequivocal support" to the commission's recommendations. They even gave them a bullet-point list of talking points to include in their public statements. Predictably, UA coach Sean Miller did not make a public comment on the recommendations.
Ultimately, the basketball commission fell back on academics.
It said: "We believe that the answer to many of college basketball's problems lies in a renewed commitment to the college degree as the centerpiece of intercollegiate athletics."
That may be the way Yale and Harvard do it, but it is not the way Duke, North Carolina, Arizona, Kansas and the game's heavy-hitters are going to do it.
The NCAA's Commission on Basketball has completed its job and gone home. Nothing really changes.
Surging Roadrunners prepare for pair of home games in Round 2 of playoffs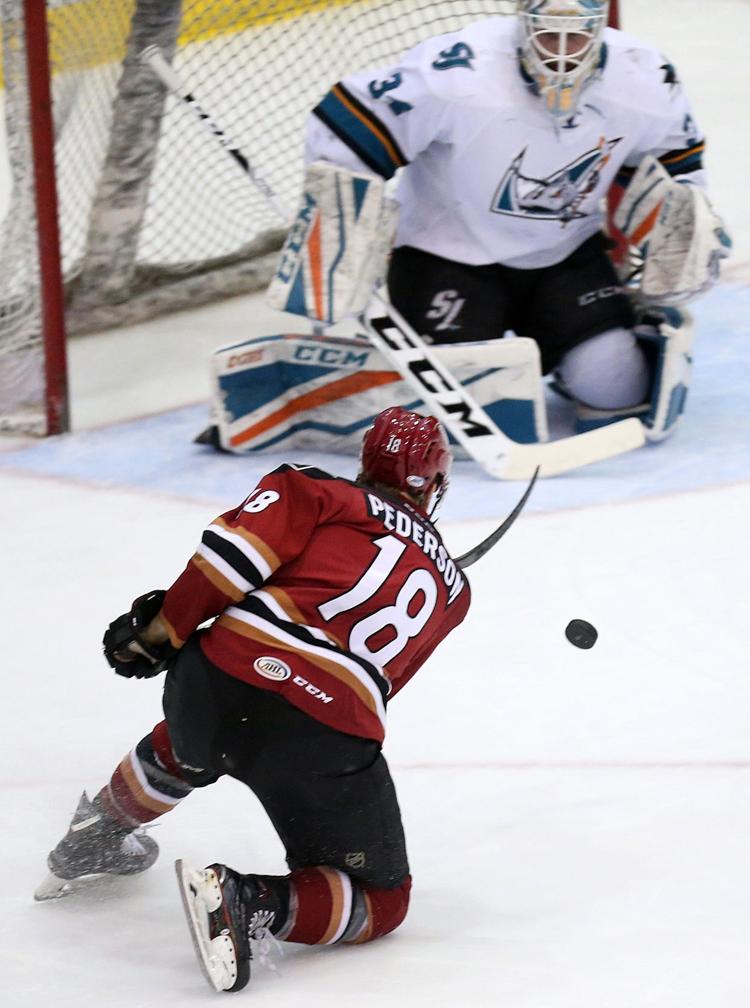 The Tucson Roadrunners drew 4,799 and 4,920 for their Calder Cup playoff victories over San Jose last week, and it's unlikely they'll top those attendance figures in the Pacific Division championship round against the Texas Stars. Because of the 2-3-2 format in the seven-game series, the Roadrunners' two guaranteed home games will be on Wednesday and Friday. Those aren't pack-'em-in days, but the Roadrunners have our attention. They are really good. And it's not like the Texas Stars have sold out their H-E-B Center near Austin, either. The Stars drew 4,878 and 5,620 in the 6,800-seat arena while eliminating the Ontario Reign last week. And remember this: It's difficult to draw in the minor-league playoffs of any sort, because season-ticket holders also have a short time to plan and buy playoff tickets. When the most successful Triple-A baseball team in Tucson history, the Tucson Sidewinders, won the 2006 Pacific Coast League championship, they averaged barely 4,100 per home playoff game on such short notice.
Arizona men's golf team expecting breakthrough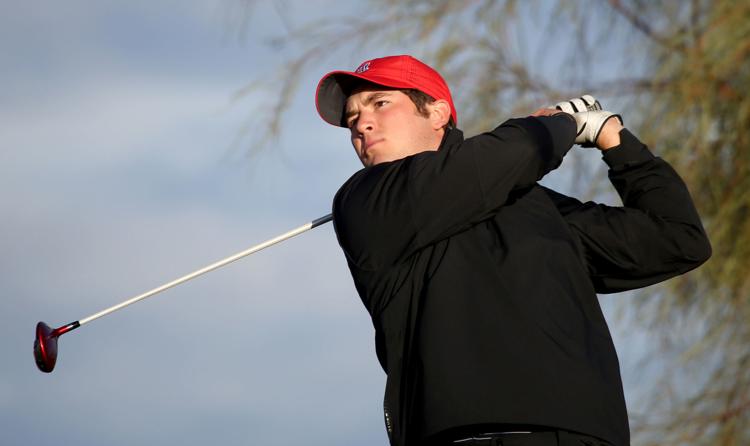 The big suspense inside McKale Center this week will be the NCAA men's golf selection show on Wednesday. Arizona has not qualified for the NCAA men's golf tournament since 2013, but coach Jim Anderson has rebuilt the program and it will easily make the field. The Wildcats were 67-56 against top-100 competition this season, and that component weighs heavily in selecting the NCAA field. Senior George Cunningham, who finished tied for second in the Pac-12 finals last week, is playing as well as any men's golfer in UA history the last three months and has climbed to No. 27 overall in the NCAA rankings; the Wildcats are No. 33. At the Pac-12 championships last week, former Catalina Foothills state champion Gavin Cohen, a freshman, had the top meet of his brief college career, shooting 74-71-71-69.
Canyon del Oro grad takes it to his hometown team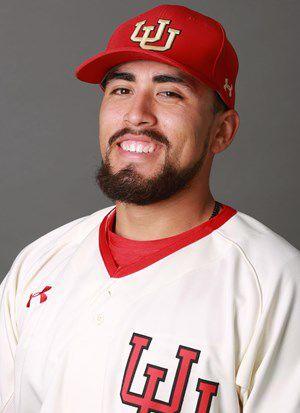 When Arizona lost a 5-4 baseball game at Utah on Friday in Salt Lake City, Utes designated hitter Erick Migueles, batting cleanup, had two RBIs to help beat his hometown team. Migueles, who was part of Canyon del Oro's 2015 state championship team, had a break-out season at Pima College last spring. At Utah, he is tied for the team lead in homers and is second in RBIs.
Despite team's struggles, Jay Johnson's Cats keep drawing a crowd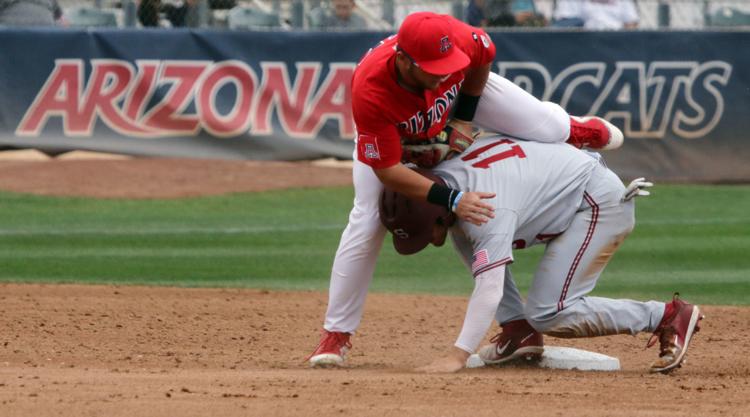 Pac-12 baseball power Oregon State drew 11,252 fans for a three-game series against rival Oregon a week ago, a school record for conference games. Arizona, meanwhile, drew 12,069 for its Hi Corbett Field series against Stanford, which unfortunately were all losses. Jay Johnson's team could exceed the 12,069 when it hosts Arizona State the weekend of May 17-19.
Expert says Rawle Alkins made 'good move' to turn pro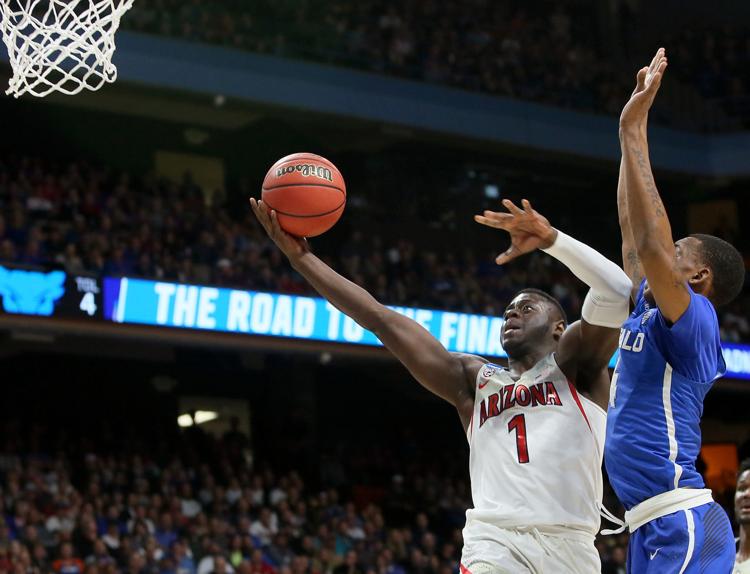 ESPN college basketball analyst Jeff Goodman, who is as good as anyone in the business — and a University of Arizona grad as well — wrote last week that Rawle Alkins made a "good move" to leave the Wildcats after his sophomore year. This is one time I disagree with Goodman. Alkins is a tweener, needing much work on ball-handling, shooting and defense. He's not fluid. His pluses are intangibles: attitude, hard work and character. But the NBA is a game of very tall men and Alkins isn't going to grow beyond his 6 feet 3 inches, if he's that tall. Alkins will almost surely end up in the G League next year, but those ex-Wildcats who played in the G League this year, Chance Comanche and Kobi Simmons, have more of an NBA-type game. If Alkins thinks he didn't get the ball enough at Arizona last year, that he couldn't get the ball out of Allonzo Trier's hands enough, wait until he gets in the G League.
Have a dime: Justin Coleman could be Cats' best passer since...
New Arizona point guard Justin Coleman, a grad transfer from Samford — that's in Birmingham, Alabama — might've played his best game in his final game there. He had 15 assists and 19 points in a Southern Conference Tournament loss to Chattanooga. Coleman might be the kind of passer Arizona hasn't had since T.J. McConnell, but don't expect a Mark Lyons-type season from him. Coleman struggled in his two seasons with the Alabama Crimson Tide, starting 16 games — he did score 22 in a game against Oregon — but he didn't make the All-Southern Conference first team last season, a lower-tier Division I league whose first-team selections played at Citadel, Wofford, Furman, UNC-Greensboro and East Tennessee State.
Jason Gardner could've come home to coach under Sean Miller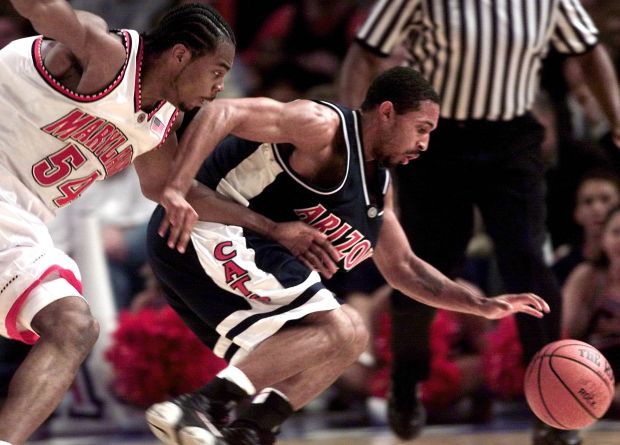 Arizona had an opportunity to fill the last coaching spot on Sean Miller's staff with Jason Gardner, head coach at IUPUI the last four seasons. What's not to like about one of six Arizona players to have his jersey hanging in the rafters at McKale Center? Gardner coached two seasons on the staff of Final Four coach Porter Moser of Loyola-Chicago, and another under Josh Pastner at Memphis. If Arizona can do better than its 2001 Final Four point guard, it'll be a home run hire like few others.
See Damon Stoudamire at Olson's statue unveiling? He was on the recruiting trail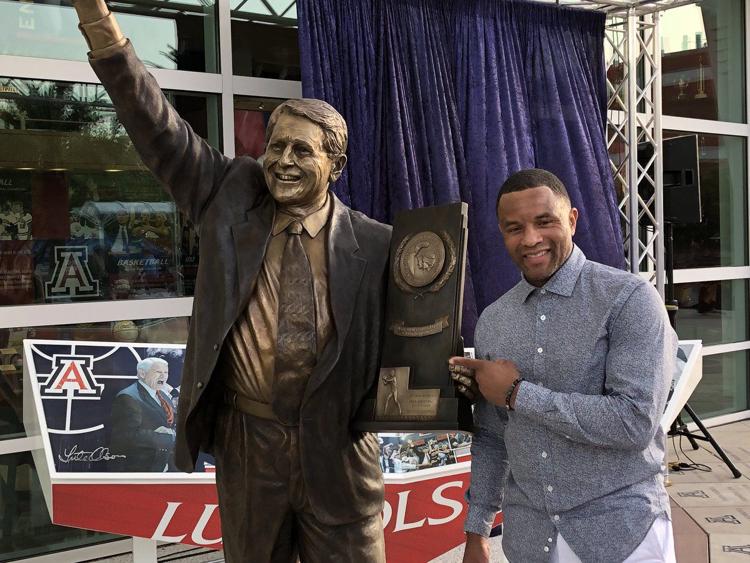 One of Miller's former UA assistants, Damon Stoudamire, now the head coach at Pacific, used his trip to Tucson for Lute Olson's statue dedication to do some recruiting work. He offered a scholarship to Pima College's 6-foot-7-inch forward Jeremiah Bailey, the top returning big man for coach Brian Peabody's NJCAA national runner-up. Bailey is still in the process of deciding whether to return to Pima in 2018-19 or to play at Pacific, or elsewhere.
Wildcats must win 'em all if they hope to host in the softball postseason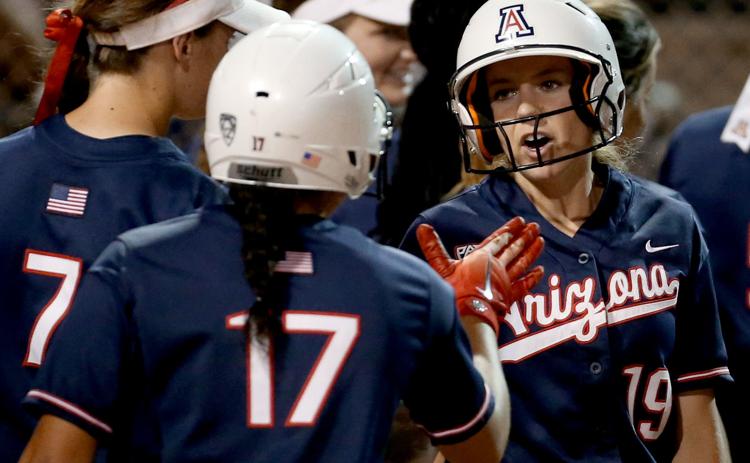 To have any realistic chance to be a host for the NCAA softball regionals and super regionals, Arizona coach Mike Candrea's team must finish the regular season unscathed, which would mean sweeping Stanford and Grand Canyon, in addition to beating Oregon State on Sunday. Arizona is seeded No. 10 in the current NCAA RPI; the top eight are almost sure to play host to super regionals, barring upsets. With a sweep of the remaining regular season, Arizona would finish 14-10 in the Pac-12. That would not be enough to overtake No. 8 Arizona State, which projects at 15-9 in the league, and that includes going 0-3 at UCLA next month.
Tucson wrestling standout Sam Portillo tabbed as Desert View coach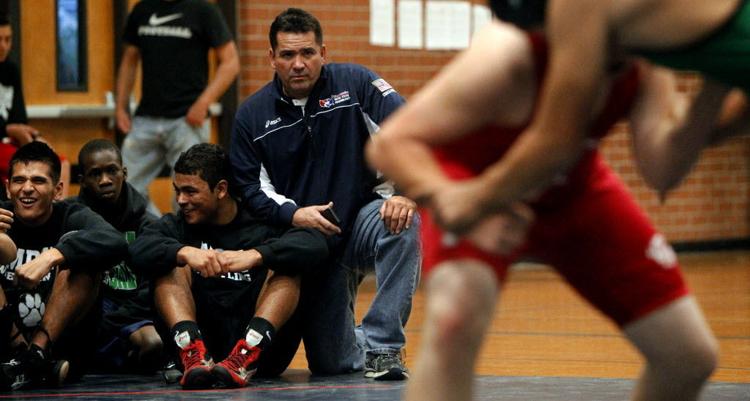 One of the top names in Tucson wrestling history, Sam Portillo, is back where he started, more or less. The former Sunnyside standout has accepted a job to be the head coach at Desert View High School, in the Sunnyside School District. Portillo, who wrestled for Arizona State, was the head coach at Amphitheater for 10 years, before leaving in 2011. He has since been part of USA Wrestling's program and been an assistant at Salpointe Catholic. Former Sunnyside state champion and ASU All-American Tommy Ortiz will be part of Portillo's new program at Desert View.
Multi-sport Foothills grad enjoys busy season at Minnesota college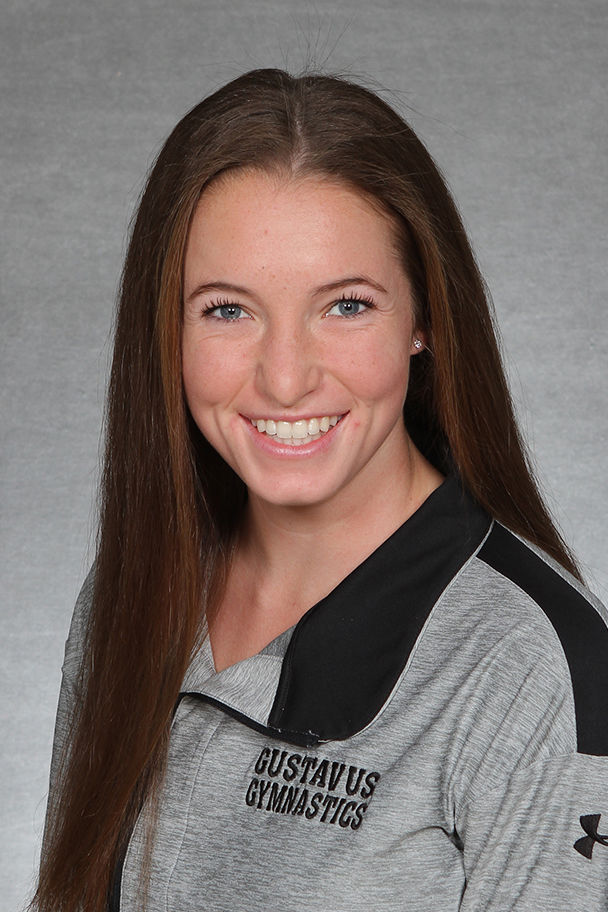 Few Tucsonans had a busier athletic season than Lisa Jerden, a Catalina Foothills grad. At Gustavus Adolphus College in Minnesota, Jerden was on both the diving team and the gymnastics team; last week, she was named a first-team Academic All-American by the National Collegiate Gymnastics Association. Jerden competed for the Old Pueblo Gymnastics club while growing up in Tucson.
Former Salpointe receiver returns to Tucson ... to play at Rialto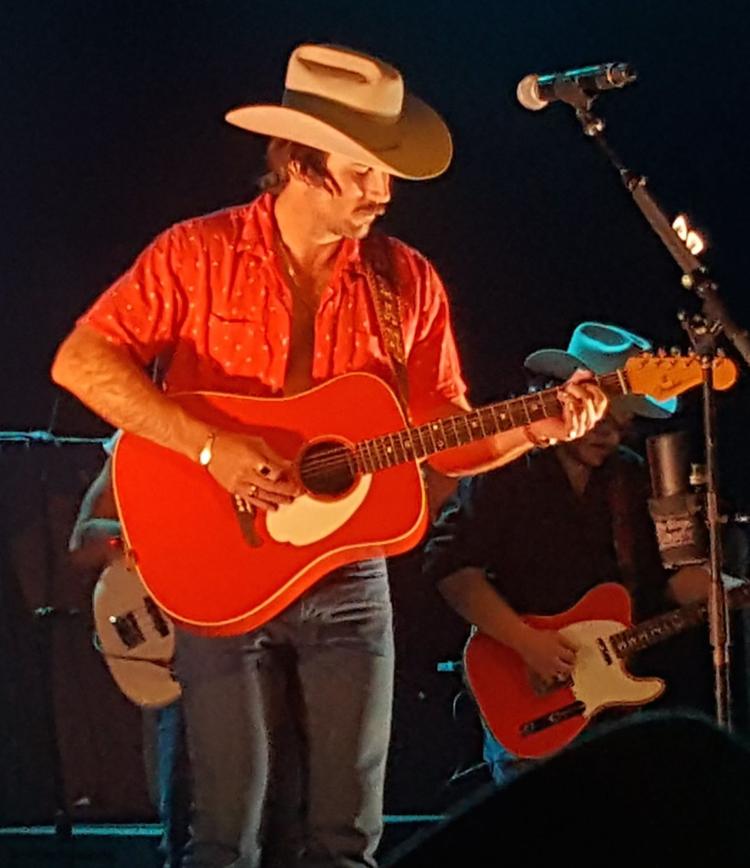 A sold-out crowd of about 1,200 showed up to the Rialto Theater on Thursday night to watch the band Midland, which now has a Grammy-nominated hit. Their lead singer is Mark Wystrach, a Salpointe Catholic grad whose sister, Alex Flanagan, is a longtime NFL reporter and sideline announcer. She is married to Arizona's 1994 Final Four center Kevin Flanagan. While at Salpointe, Wystrach — who grew up in Sonoita — was an all-Southern Arizona receiver while playing football for the Lancers in 1998. Since leaving Salpointe, Wystrach has appeared in movies and on TV, and has been a model.
My two cents: Utah wasting time, money with excessive AD search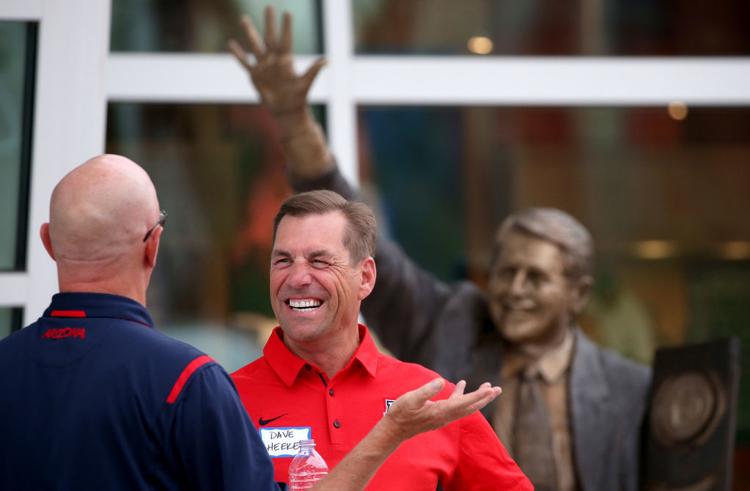 In my opinion, the leading athletic director in the Pac-12 the last five years has been Utah's Chris Hill, who, after being invited to join the league, rebuilt Utah's football, basketball and softball facilities and made the Utes' transition to a more difficult league almost seamless.
He is retiring this summer and will be missed. To replace him, the Utes have paid six figures to a search firm to help them find a new AD. The Utes also appointed a 14-member search committee on campus.
That seems so excessive. When Arizona hired ADs Greg Byrne and Dave Heeke, it tapped former UA athletic director Cedric Dempsey, and later former associate AD Rocky LaRose, to identify the best candidate.
It's not that complicated when you know what you're doing.