Hansen's Sunday Notebook: Kevin Sumlin's class has its shortcomings; Nick Foles' recent success not foreign turf
Star sports columnist Greg Hansen offers his opinion on recent sports news.
Kevin Sumlin's first UA recruiting class needs to grow — literally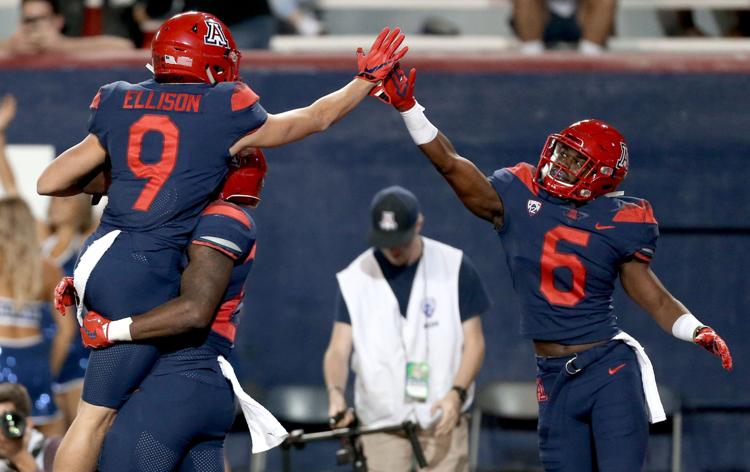 On football signing day in the Pac-12, two new coaches, UCLA's Chip Kelly and ASU's Herman Edwards, both used the terms "length and size" when discussing the immediate needs of the Bruins and Sun Devils.
Similarly, Kevin Sumlin said Arizona needs "to get longer and rangier."
The coaches are talking about wide receivers. Much like the NFL, college football has become more of a game about the size and playmaking skills of receivers.
More than any team in the Pac-12, Arizona is size-challenged. The best UA receiver is Shun Brown who is 5 feet 9 inches on a good day. The school's No. 2 receiver (in production), Tony Ellison, is 5-11 and maybe 170 pounds.
Arizona signed three receivers who are at least 6-3, but on the surface they aren't realistically expected to be Pac-12 ready in 2018.
Zach Williams, a 6-3 Georgia prospect, narrowed his choice of schools to Akron, Arkansas State and Bowling Green.
Tre Adams, 6-3, of Texas, was offered scholarships by Boise State, Bowling Green and Air Force.
Thomas Marcus, 6-3, of San Diego, chose Arizona over Utah State.
In the change from Rich Rodriguez's run-oriented offense that was blessed by smaller slot receivers,  Sumlin must overhaul the dimensions of those to play in offensive coordinator Noel Mazzone's arms-first, legs-second approach.
The reality is that it may take two or three years to encourage game-changing receivers to sign with Arizona. The last time Arizona had an All-Pac-12 first-team receiver was 2010. Juron Criner was 6-3 and about 220 pounds when he caught 209 passes, most of them from Nick Foles.
The UA can use another Juron Criner as soon as possible.
Pima College scrambles as Phoenix JCs prepare to drop football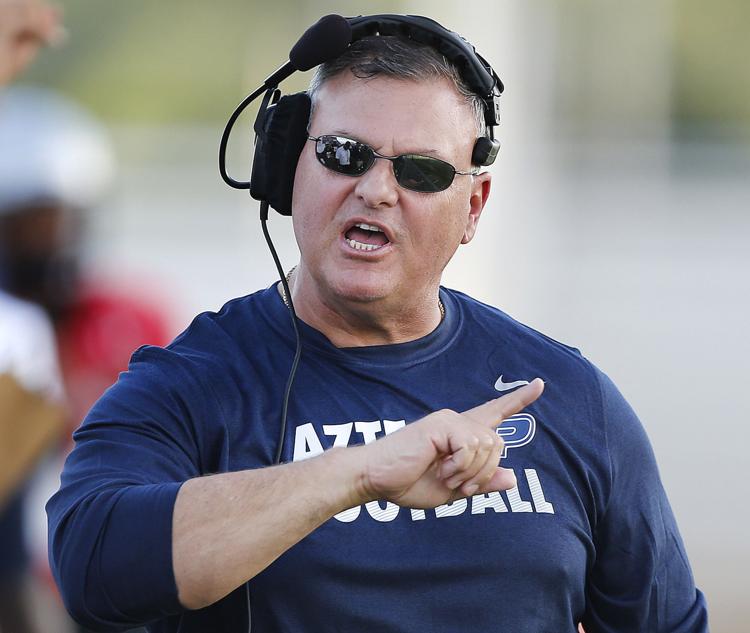 Pima College signed four of Tucson's top high school football players last week: Marana receiver Teon Simmons, Cholla's explosive quarterback Jordan Porter, Salpointe's all-star linebacker Chris Aguirre and Ironwood Ridge defensive lineman Brayden Smith.
In addition, PCC coach Jim Monaco signed 39 others, infusing the Aztecs with the type of talent that by 2019 could again contend for the WSFL championship.
The problem is that there might not be a WSFL by 2019.
The Maricopa County Community College board last week said it will drop football at four WSFL schools — Glendale, Mesa, Phoenix College and Scottsdale — in 2019. That would leave four teams in the geography-challenged league.
The four: Pima; Snow College of Ephraim, Utah; Arizona Western of Yuma; and Eastern Arizona of Thatcher.
Would this be the end of football at Pima, too?
"Right now, we're looking at expanding the WSFL," Pima College athletic director Edgar Soto said. "Air Force Prep might be coming into the conference. The New Mexico Military Institute, which used to be in the league, might get back in."
Soto said the WSFL might also adopt basketball-type home-and-home schedules with league members once the four Maricopa schools dissolve.
The problem with adding teams to the WSFL is that there are few to consider. El Paso does not have a JC football team. Believe it or not, there are only five JC football teams in Texas: Blinn, Cisco, Kilgore, Tyler and Trinity Valley. All are at least 900 miles from Tucson.
And the Southern California JC system typically does not schedule out-of-state opponents. Even if it did, that's close to a 1,000-mile round trip to play some teams in Southern California .
Soto said that PCC spends about $500,000 annually on football, including about $60,000 for travel. A trip to Snow College is 663 miles each way. If Air Force Prep is added — the Aztecs played in Colorado Springs a year ago — that's 820 miles each way.
The Maricopa system is dropping football because it's too expensive. Some schools spend as much as $75,000 annually just on football insurance. Pima, for example, spends about $130,000 on football scholarships each year.
No school in the WSFL, with the possible exception of Snow College, generates any income at the gate.
"You don't always measure success in money or in wins and losses," said Soto. "It's what happens to the student-athletes after football. Can we help them get to four-year schools and complete their education? That's the purpose. We're here to serve the community."
As the WSFL prepares to downsize, Pima College will have a year or so to examine the worth of its football program, one that began 17 years ago.
If it gets to 20, it might be a surprise.
'Mr. Tucson High' dies at 66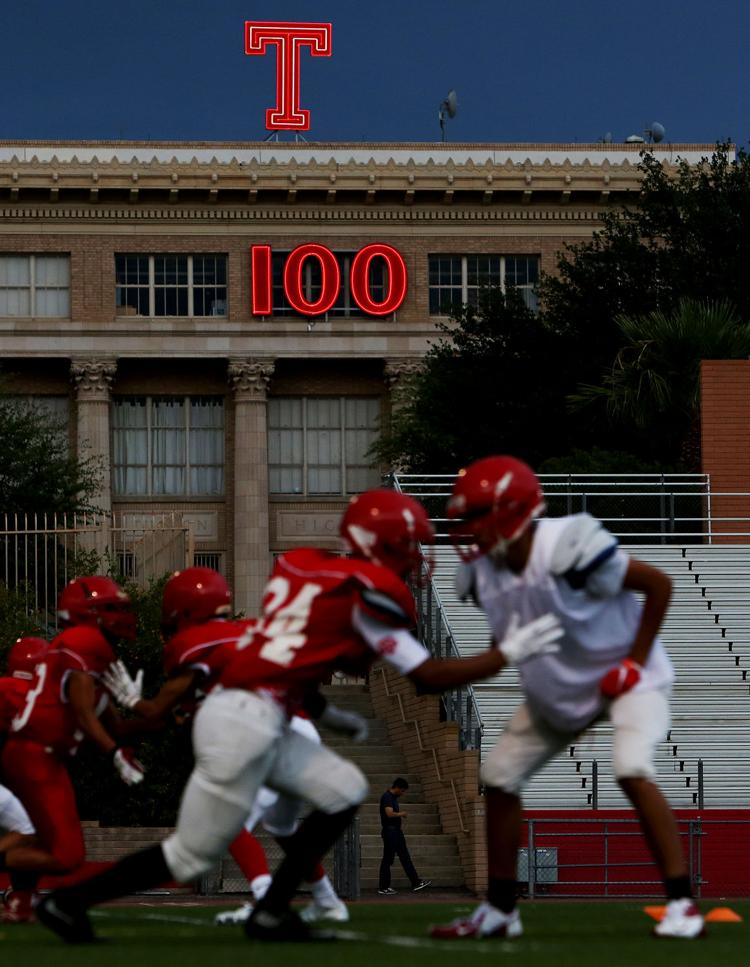 On the 1968 All-City football team, Tucson High's Eric Watson posed for photographs with Canyon del Oro's all-city tailback, Ed Hochuli. That's the same Ed Hochuli who has gone on to be one of the top referees in NFL history.
Watson took a different path. After a career in which he finished second in the state low hurdles, Watson became a teacher and coach at his alma mater. In 1998, he was Tucson High's head football coach.
Sadly, his coaching career was diminished when he was diagnosed with a crippling diabetes issue. He spent much of his time at THS teaching while in a wheelchair.
Watson, 66, died last week. His memorial service was Saturday.
"Eric was the most decent, caring person I've ever worked with," said Will Kreamer, former THS athletic director and football coach.
Watson spent significant time researching and documenting the grand history of Tucson High's athletic department.
"He was Mr. Tucson High," Kreamer said.
Nick Foles makes Arizona billboards — just not in Tucson
Reppin' our MVP across the city of Phoenix. #BearDown 🏆 pic.twitter.com/jxoTV15Fdx

— Arizona Football (@ArizonaFBall) February 7, 2018
Arizona's athletic department paid to display billboards of Nick Foles and his Super Bowl success above the freeway in the greater Phoenix area last week. It was a move Greg Byrne invented during his UA days — something of an in-your-face strategy to Sun Devil fans. The promotions in the past created a lot of chatter and changed the way Arizona marketed itself in Phoenix. But this time the UA blew it, sort of. Why not first erect a Super Bowl billboard of Nick Foles in Tucson?
UA no stranger to success on the big stage
You may have forgotten, but Foles' success in the Super Bowl wasn't totally foreign turf. Although he was never even a second-team All-Pac-12 quarterback, he was a Pro Bowl quarterback in 2013. It's not like he was a .217-hitting utility infielder belting a grand slam to win the World Series. Success at the highest levels of the NFL isn't new to Arizona. It may surprise you, but the Wildcats have produced 10 Pro Bowl players: Foles, Chuck Cecil, Darryll Lewis, Michael Bates, Lance Briggs, Chris McAlister, Tedy Bruschi, Nick Folk , Rob Gronkowski and Antonio Pierce. In the transition from the RichRod to Sumlin, Pierce was hired to be ASU's linebackers coach. It was a stealth move by the Sun Devils, who tapped into a mother lode of recruiting talent at Pierce's Long Beach Poly High School, where he was head coach. On signing day last week, Pierce turned two of his four-star Poly recruits into Sun Devils: safety Aashari Crosswell and defensive end Jermayne Lole. The Sun Devils beat Arizona for both of Pierce's players.
Another Tucson golf course shutting down because of high fees, little youth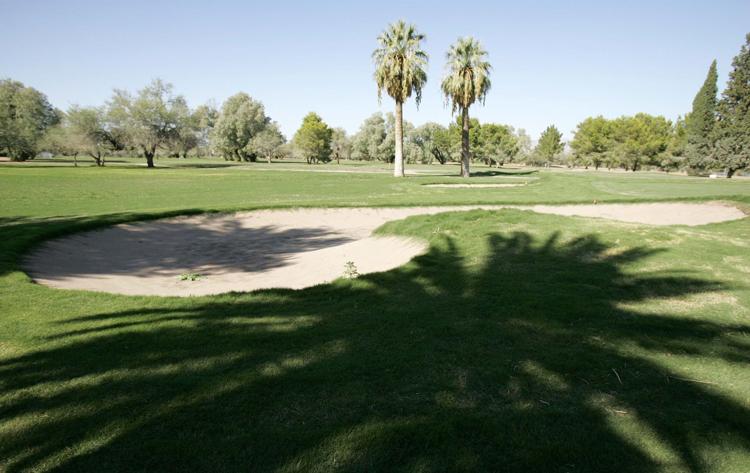 The Blanchard Golf Course at Davis-Monthan Air Force Base, built in 1969, will close  April 30. It's a story of 21st century golf that has infected Southern Arizona as much as any place in America: a diminishing number of younger golfers to keep the finances healthy. Blanchard is also burdened with annual watering fees of close to $400,000, which is typical of most Southern Arizona courses. Over the last few years, Santa Rita Golf Course and Green Valley's Canoa Hills have closed for similar issues. The sad question is, who's next?
Former Wildcat's unfortunate story a reminder that glory isn't always a bed of roses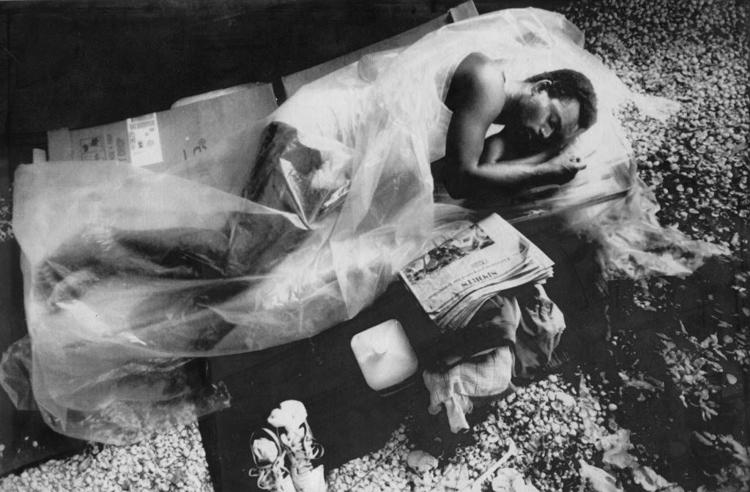 The New Orleans Times-Picayune last week published a compelling but very sad feature on Arizona's 1971 and 1972 first-team All-WAC cornerback Jackie Wallace. Wallace, who has been homeless periodically since his NFL career ended 40 years ago, has gone missing again. The newspaper first discovered the two-time Super Bowl player living under a bridge in New Orleans 27 years ago. For decades, Wallace has been addicted to drugs. Now 66, Wallace arrived at Arizona in 1969, recruited by UA assistant coach Fred Glick after a top prep career at St. Augustine High School in New Orleans, also the alma mater of two-time Arizona Final Four power forward Gene Edgerson. The SEC schools, who rarely recruited African-American football players in the '60s, did not pursue Wallace, even though he was academically strong, earning a UA degree in mathematics. The UA signed both Wallace and his St. Augustine teammate Caesar Pittman, a three-year letterman who remained in Tucson for the rest of his life; Pittman died in 2010.
Laura Ianello's Wildcats, sans Krystal Quihuis, face daunting slate in Los Angeles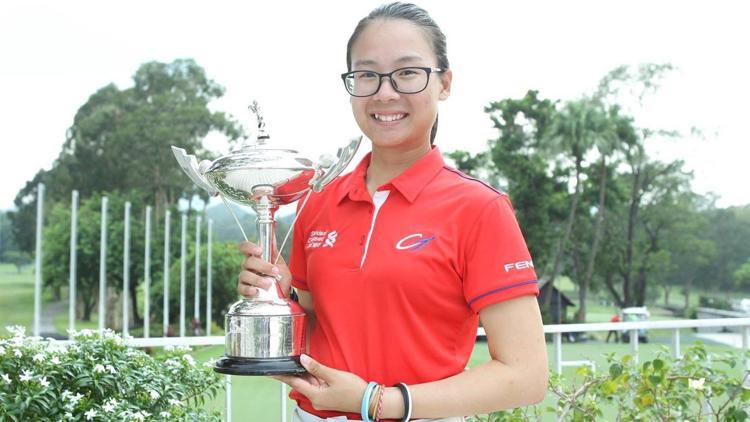 Laura Ianello's Arizona women's golf team begins its spring schedule Sunday at the most challenging regular-season tournament in NCAA women's golf. Seven Top 10 teams — UCLA, Alabama, ASU, Duke, Oklahoma State, Stanford and Texas — will be in the Northrop Grumman Regional Challenge near Los Angeles. Minus senior Krystal Quihuis, who turned pro during the winter break, the Wildcats will debut freshman Yu-Sang Hou, ranked No. 65 in the world among all female amateur golfers. Arizona has dropped to No. 39 in the rankings since Quihuis' departure. Yu-Sang  could stop the fall.
Sunnyside's wrestling program, Roman Bravo-Young win it all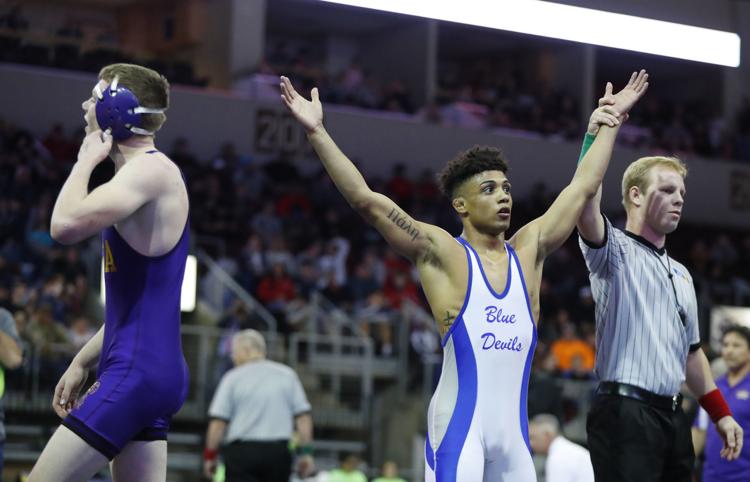 Tucson's most enduring sports dynasty won its 31st state championship Friday. Given Sunnyside's history, it seemed like forever, but it was the Blue Devils' first state wrestling championship since 2013.
The subplot was that senior Roman Bravo-Young completed his remarkable career undefeated, 182-0, a record that is likely to stand for decades. He will next wrestle for NCAA No. 1 Penn State and, perhaps get a shot at the Olympics in 2024 or sooner.
Sunnyside has won 31 championships over 40 years, with four coaches: Don Klostreich, Richard Sanchez and now Anthony Leon.
If you can top that, please let me know.
My two cents: Jim Rosborough backs Josh Pastner amid legal bombshell
After former University of Arizona basketball player and assistant coach Josh Pastner was sued and accused of sexual assault last week, long-time UA assistant basketball coach Jim Rosborough was dumbfounded.
Rosborough said that a countersuit by an Oro Valley couple, accusing Pastner of sexually assaulting a woman at a Houston hotel in 2016, is absurd.
"I met Josh in the summer of 1995 at an AAU recruiting event in Augusta, Georgia, and he has been my best friend in basketball ever since," Rosborough said. "We spent countless hours in the film room and on road trips. I did everything I could to get him ready for a coaching career.
"He was honorable, trustworthy and dedicated beyond words. I think I speak for all of our former players and coaches in making it clear that Josh is above reproach in his personal life and his professional life. He has my unqualified support."
Pastner, now the head coach at Georgia Tech, said there is "zero" truth to the claims of sexual assault.
The legal process now will determine who is and isn't telling the truth but I'll say this: I echo Rosborough's statements.
I've rarely run into a UA coach or athlete who more consistently exhibited a willingness to do the right thing.