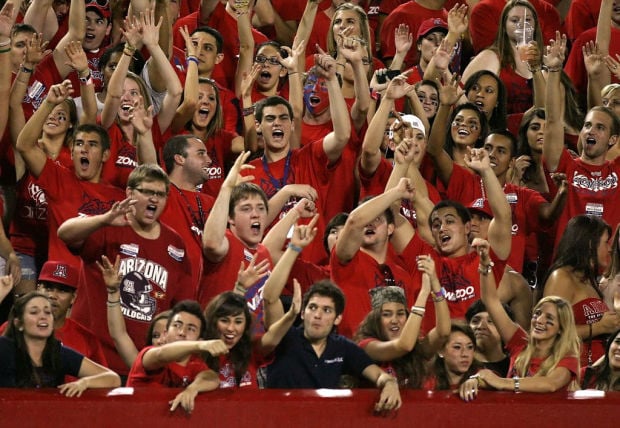 After each round of training camp, the UA produces and dispatches a video, a news release and various email, Twitter and Facebook links about a day in the life of Arizona football.
It's a strategy to help fill Arizona Stadium for one of the most unappealing home schedules in 2013 BCS football. On Saturday, for example, the Wildcats allowed those who "liked" them on Facebook to access a special pre-sale to the Nov. 23 game against the Oregon Ducks.
A year ago, Arizona averaged a nine-year low 47,931 at Arizona Stadium, a head-scratching figure given that ASU, USC and national power Oklahoma State were on the schedule. If you have access to the Pac-12 Networks, as it replays games from 2012 over and over, nothing registers more from the Arizona-USC game than all the empty seats, especially those in the Zona Zoo.
To combat those embarrassing vacancies, Arizona athletic director Greg Byrne first had to understand why so many - half, perhaps? - Zona Zoo students regularly leave at halftime.
It's simple, really. Many of them left because wireless access at Arizona Stadium was so spotty on game days; it was difficult for them to communicate with tweets, texts, photos and videos from the stadium. They felt isolated. That's life in 2013.
Even at Super Bowl XLVII in New Orleans last year, the NFL estimated that only 8,200 people were able to simultaneously use the available wireless signal.
At Arizona Stadium, that number might've been 20,000. It was a problem, and no one reacted to it more than Zona Zoo.
Byrne has done two things to change that.
First, the UA last month signed a deal with Boingo to design, build and manage the UA's antenna system, improving voice and data coverage. Access to social media in high-density areas has become a game-changer in modern college football.
Second, Byrne is distributing to all Zona Zoo members a red T-shirt with the message "Zona Zoo STAYS the entire game" across the back.
The come-early, stay-late culture in the Zona Zoo lasted from about 2007 to 2010, as Mike Stoops built Arizona into a reputable program. But as the program ebbed, students bailed out in big numbers at halftime, corresponding to the world's growth in social media and also to bad football.
It shouldn't take long to see if Byrne's two-step approach to keeping the customers satisfied works. Opening games against lightweights NAU and Texas-San Antonio should reveal via total attendance how important data access is to Arizona football fans.
And if that doesn't work, perhaps Byrne can help the NCAA do something about football games that last four hours.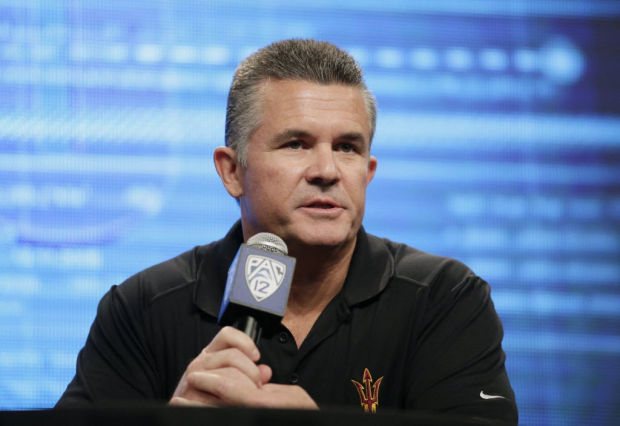 Poll calling ASU's Graham 'least favorite' misleading
ESPN the Magazine last week published a poll saying that ASU football coach Todd Graham is essentially the least favorite head coach among college football players. The magazine said it polled 92 unidentified players. I don't doubt ESPN's integrity, but I seriously doubt there are 92 players outside Tempe who even know who Todd Graham is. Those anonymous polls are too often exaggerated and semi-fabricated. Graham is unpopular in the industry and among the football media because of the way he bolted from Pitt, Tulsa and Rice for higher-paying jobs. But college football players aren't universally educated on the game outside their own private locker rooms and SportsCenter highlights, of which ASU and Graham are rarely featured. … In the right place at the right time: second-year Mountain View football coach Clarence "Bam" McRae and second-year Marana coach Andy Litten. When the rivals open the season against one another Aug. 29 (a Thursday), it will be played on the new $1 million field turf at Marana. A week later, Mountain View will debut at home against Cienega on its $1 million field turf, both paid for with bond elections. That gives five Tucson-area football teams artificial turf: two from the Marana district, Cienega, Tucson and Salpointe. The cost is prohibitive for TUSD schools, but those football fields at Sabino, Santa Rita and Palo Verde, among others, have been little more than dirt/rocks mixtures for the last 20 years. I wouldn't want my son playing on them. … The sports celebrity wedding of the season will be held next weekend in Manhattan Beach, Calif., when former UA standouts Luke Walton and Bre Ladd - a CDO grad who was the national Gatorade Volleyball Player of the Year in 2002 - are to be married. They will then fly to Aspen, Colo., and have a weekend bash with many of their former UA associates, athletes and coaches. Walton, 33, is a free agent, hoping to sign a one-year contract for what would be his 11th NBA season. He averaged 3.4 points for Cleveland last season.
Korcheck will give Cats toughness off the bench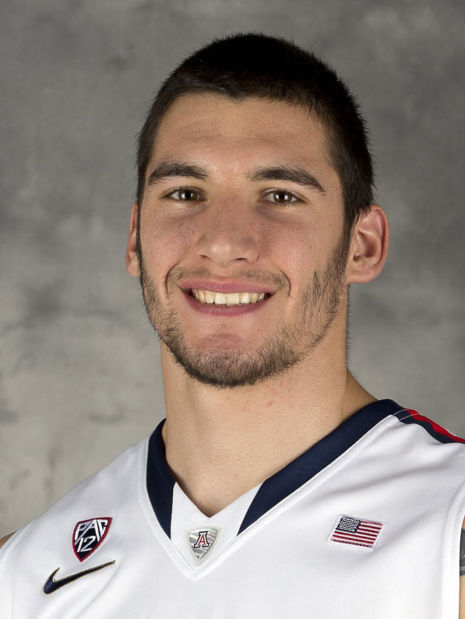 Sabino grad Matt Korcheck, who becomes eligible to play for Sean Miller's Arizona basketball team this season, will ultimately be asked to replace Angelo Chol in the 2013-14 season. After working with Korcheck this summer, Miller said: "He is one of the strongest guys on the team and one of the oldest guys on the team. You are reminded how important it is to get experience." Korcheck played two years at nationally ranked Cochise College before sitting out last season at Arizona. "Judging by his temperament and the way he plays, he could have a perfect mindset for the role we have for him," Miller said. That role? Rebound, hustle, play defense and provide an element of toughness off the bench. … Arizona State basketball coach Herb Sendek took the Sun Devils on an 11-day exhibition tour of China last week that will last through Aug. 19. The Sun Devils traveling party includes 34 people. Can you imagine the expenses of supporting 34 people for 11 days in China? The Sun Devils plan to make four different flights in China before flying back to Phoenix. If the NCAA and college athletic administrators are really concerned about costs, those gratuitous summer basketball trips to exotic locations should be the first to be eliminated. … After missing the 2012 NFL season with an injury and being released by the New England Patriots, former UA linebacker Spencer Larsen looked to be retired from football at 29. But the Tampa Bay Buccaneers called him in late July and brought him to training camp July 29. The 2007 All-Pac-10 linebacker, one of the most inspirational and most well-respected UA football players ever, is now the Buccaneers second-string fullback and a special teams performer. He is teammates with ex-UA receiver David Douglas and Sunnyside grad Michael Smith, both struggling to make Tampa Bay's roster. Smith, who did not have a single carry in his 2012 rookie season, rushed five times for 15 yards in Thursday's pre-season opener.
Football facility's opulence is only typical of UA campus these days
I wasn't surprised by a series of reader emails on Arizona's $74 million Lowell-Stevens Football Facility, and that some insist it is "shameful" and "unnecessary" to the campus and university experience. (It is being funded by private donors.) Did you realize the UA is in the process of erecting another $70 million building a few hundred yards south of Arizona Stadium? It is the Environmental and National Resources Center. It will also house the School of Geography, among other things and, like the Lowell-Stevens plant, will have a café and some gaudy appointments. It will be designed to harvest rainwater and conserve light energy and, from Sixth Street, appear to be something out of the Grand Canyon or a mountain preserve. It will have its own flowing river. It, too, will be paid for via private fundraising. I wonder if a football fan would call that excessive? … Of all the ongoing building and plans for new facilities at Arizona, the one that is likely to get the most immediate and daily attention is the Starbucks located at the breezeway of the Main Library, a few steps from McKale Center. That cost about $800,000 and it is a piece of real estate like few others on campus. … UA junior swimmer Kevin Cordes, the NCAA men's Swimmer of the Year, was ruled to have made a false start in the finals of the medley relay at the world swimming championships last week in Spain. A timer detected Cordes leaving 0.01 of a second too early. It cost the USA a gold medal. Afterward, Tucsonan and UA volunteer assistant coach Matt Grevers , who won the gold medal in the 100 backstroke in Spain, told a TV interviewer that it was his fault, for the disqualification. "I didn't finish my final stroke aggressively enough," said Grevers, a multiple Olympic gold medalist. "It wasn't Kevin, it was me." That's typical of the character Grevers has shown in his six years with the Ford Aquatics program.
Thompson's 2013 earnings over $1M, and he's already giving back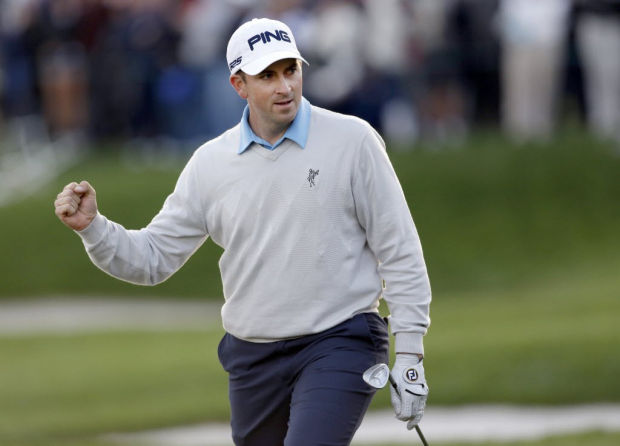 As he contends for a top-25 finish at the ongoing PGA Championship today, former Rincon/University golfer Michael Thompson will add to his year's total of $1,597,420 and status of No. 51 in the world rankings. In his preparation for the PGA, he helped to stage the second annual Thompson Invitational last weekend at Oro Valley Country Club while finishing tied for 21st in the WGC-Bridgestone Invitational. Thompson appeared via Skype to the 58 golfers at an OVCC dinner and fully funded the event, including breakfasts, lunches and awards. CDO junior Morgan Messick won the girls 15-18 division by shooting 76-70, and Cienega senior David Rauer won the boys 15-18 division with rounds of 72-73. … UA men's golf coach Jim Anderson, beginning his second year, hit a home run by hiring ex-Wildcat All-American Chris Nallen, a three-time consensus All-American, as his top assistant coach last week. Nallen's PGA Tour career has been scuttled by a chronic back problem, which required surgery last month. On paper, Nallen joins Robert Gamez as perhaps the two leading golfers in the UA's long history of excellence. Nallen, just 31, hasn't ruled out a return to pro golf at some point. … Anderson has worked his golf contacts to give Arizona a head-turning schedule in 2013-14, which won't hurt during recruiting season. The Wildcats will not only play at Pebble Beach, they'll also be part of a tournament at Chambers Bay in University Place, Wash., which will play host to the 2015 U.S. Open. That's like a college basketball team scheduling games at Duke's Cameron Indoor Stadium and Kansas' Allen Fieldhouse in the same season. In addition, the UA will be the host school at the 2014 Pac-12 championships. They will be played at the Gallery Golf Club, north course, which, for my money, is the top golf course in Southern Arizona. … In Anderson's reconstruction of the UA golf program he has received a commitment from Tucsonan George Cunningham, thought to be the top boys junior golfer in the state, a top-10 type national recruit who is being home-schooled here. Cunningham last week qualified as an alternate for the U.S. Amateur … UA assistant track coach Francesca Green is in Russia this week as part of the USA contingent at the track and field world championships. Green is the head manager for Team USA. Her UA pupil, Georganne Moline, will run in the 400 hurdles competition Monday.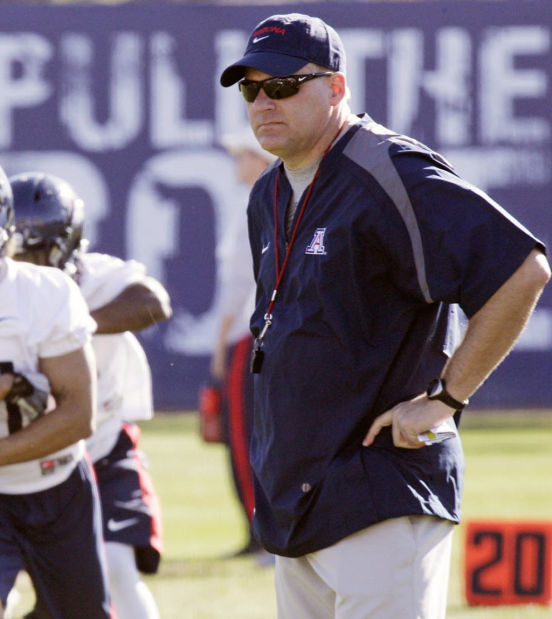 RichRod knows intense, but he knows moderation, too
It has been 35 years since Rich Rodriguez started high school football and was subject to the risks of long-ago football workouts, some of them dangerous and unhealthy.
His comments from Fort Huachuca last week were illuminating.
"A lot of coaches talk how tough it was when they played," he said. "The reality of it was, we were going two-a-days and sometimes three-a-days. I think the kids are more talented nowadays, but are they as mentally tough?
"I don't think so. I'm not going to try to grind them and try to relive glory days by going back and doing what we did. We're smarter than that now.
"But what we're asking them to do is not out of the realm of possibility each day. They have got to be able to handle anything we're putting out there."
In college football coaching, RichRod is a taskmaster among taskmasters; his "Hard Edge" theme isn't just a catchy logo. If you thought Mike Stoops was intense, he can't touch Rodriguez's approach. He does not permit sloppiness.
But from what I've gathered and seen, RichRod has a demanding yet healthy training routine and knows when to step back and let up.