Greg Hansen: Humble Jerry Kindall wore Yankees out during career-highlight weekend
The truth, the whole truth, half-truths, shades of the truth and other items admissible as sports news:
ITEM I: Remembering Kindall's career weekend against the '62 Yankees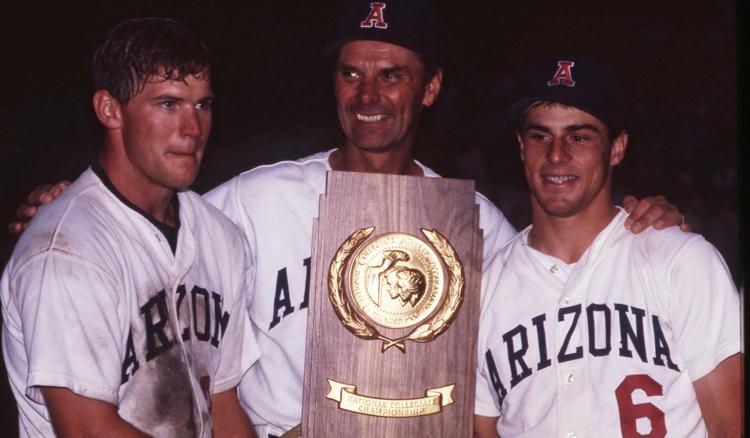 Each time I asked Jerry Kindall about his big-league baseball career it was a brief conversation and it always included, "You know, Greg, I had a .213 career batting average."
Nothing about going directly from the Minnesota campus to the Chicago Cubs lineup in 1956. Nothing about a big hit or a standing ovation.
But a few years ago, Kindall sat at lunch with a minister from his church and former UA assistant coach Court Hall, and listened as they recounted an unforgettable four-game sweep of the mighty New York Yankees, June 15-17, 1962.
Kindall became The Yankee Killer in Cleveland after he torched the 1961 and 1962 world champions with an 8-for-14 weekend, including a walk-off home run and five extra-base hits in a series that drew 169,954 fans. Cleveland jumped into first place.
For one of the few times in his life, Kindall acknowledged his nine-year MLB career by telling Hall and the minister "I wore the Yankees out that weekend."
Wore them out?
In Game 2 on a Saturday afternoon, the Yankees rallied to take a 9-8 lead on Mickey Mantle's pinch-hit homer in the eighth inning. Kindall topped that with a 2-run walk-off homer in the bottom of the ninth. And here's the lasting irony: As Kindall went 4 for 5 that day, Cleveland first baseman Tito Francona went 5 for 5.
Yes, Terry Francona's father.
A generation later, Terry led Arizona to the 1980 national championship and was selected college's baseball player of the year.
Kindall died last week at 82. A memorial and celebration of his life will be held Thursday at 1 p.m., at Victory Worship Center, 2561 W. Ruthrauff Road. Terry Francona, now manager of the Cleveland Indians, will be part of what is expected to be a gathering of more than 1,000 people to honor the modest Hall of Fame coach.
ITEM II: Arizona should strongly consider promoting Cecil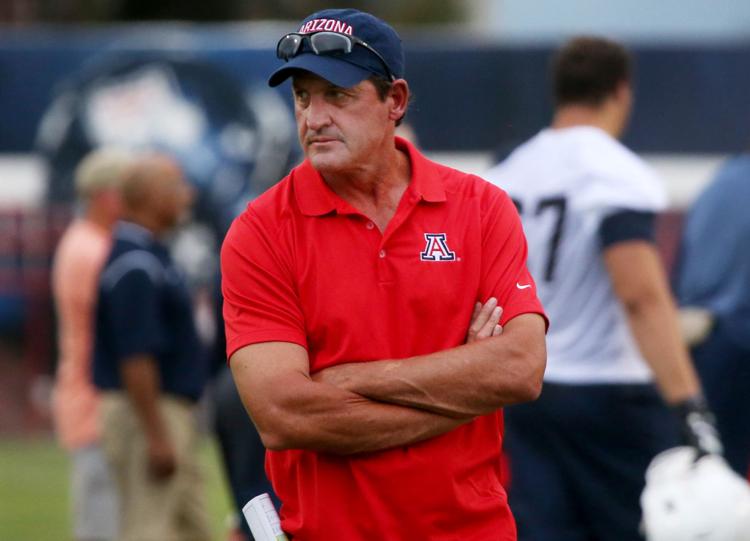 As the calendar flipped to 2018, college football teams became free to hire a 10th full-time assistant coach. Utah got the jump on the Pac-12 by hiring former Oregon State head coach Gary Andersen to be its associate head coach, effective Jan. 8.
At Arizona, it would seem to be — you choose the word: automatic, a no-brainer, a Bear Down cinch — to elevate Chuck Cecil, even before the UA fired Rich Rodriguez on Tuesday night. Cecil spent the 2017 season as a defensive analyst.
But it's not going to happen unless the UA comes to its senses in a hurry. Cecil, who has been an NFL defensive coordinator and a larger-than-life part of Arizona football history, will almost certainly not return.
The school hasn't announced this move and probably won't. And do not expect Cecil to criticize his alma mater when he leaves Tucson. That wouldn't help anybody — and that's not who he is.
The Cecil who returned to Tucson from 15 years of coaching in the NFL pleasantly surprised most who had known him as a College Hall of Fame safety from 1982-86. He is no longer a gruff, tough party-boy, a man of few words who slammed into opposing running backs with no fear.
Cecil is sober, with a winning personality and as much football knowledge as anyone at the Lowell-Stevens Football Facility. Cecil doesn't even use profanity, a disgusting variable that is far too prevalent in a student-athlete environment.
At 52 years old, Cecil is head-coaching timber. It is a sizable blunder to watch No. 6 walk out the door.
ITEM III: Trier's most recent milestone not entirely what it seems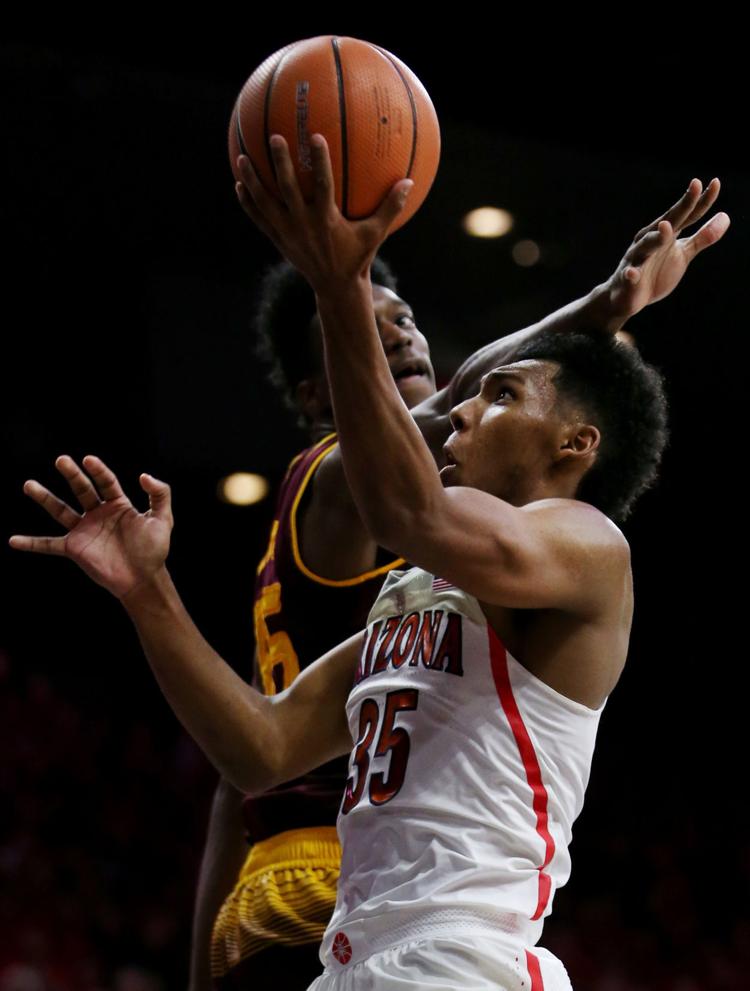 Saturday night against Arizona State, Allonzo Trier became the 51st basketball player at Arizona to score 1,000 career points. It's no longer a coveted milestone; UCLA's Thomas Welsh and Aaron Holiday last week became the 56th and 57th Bruins to do so. Utah has had 38 score 1,000 or more.
If you weren't paying close attention, you probably missed the news that Gabe York scored 1,143 points in his Arizona days.
But it was NEWS THIS BIG when Tucson High grad Link Richmond became the first Arizona basketball player to score 1,000 points, in 1947. The newspapers referred to him as "Lanky Link," but after Richmond tore his ACL while part of the UA football team in 1946, it changed to "Limpin' Link."
Medical procedures in the '40s were such that an ACL tear often ended a ballplayer's career.
But not Richmond. He carried on, leading Arizona to its first NCAA Tournament appearance, in 1948, and became, at the time, probably the greatest player in UA history. He also started for the Arizona baseball team — he hit .402 in 1946 — and was the first five-year letterman in school history.
Because Lincoln served two years as a Navy pilot in World War II, fighting in the Pacific, the NCAA gave him an extra season in 1948-49. By then, limping, he was a shell of the man who averaged a school-record 17.8 points in 1946-47.
With no NBA in his future, Richmond became the head baseball and basketball coach at Phoenix West High School for five years before moving to Southern California, where he spent 30 years operating Richmond and Sons Trucking Co.
Sadly, Richmond died in 1992 of Parkinson's Disease. He was 68. His old UA jersey, No. 22, hangs on the wall at McKale Center — but it represents Jason Gardner, who wore No. 22 from 1999-2003.
ITEM LAST: Miller, Wildcats can't afford to sleep on Salt Lake City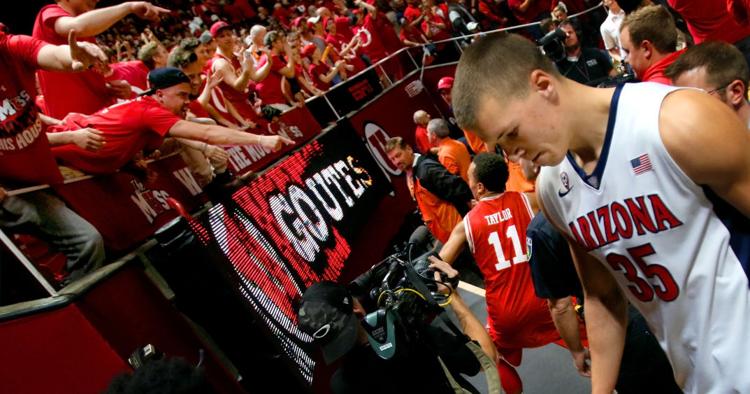 As Arizona prepares for what is likely to be a taxing showdown at Utah's Huntsman Center on Thursday, it's a reminder of how difficult a college basketball game in Salt Lake City always seems to be.
The Utes, 2-0 in conference play, swept the Oregon schools on the road last week, which I suspect will be Arizona's most difficult road trip of the season.
Ponder these numbers:
Since the Pac-12 was expanded, adding Utah and Colorado, Arizona leads the league with an 84-25 conference record, or 77 percent. Oregon is next at 79-31, or 72 percent.
I've long contended that basketball in the original WAC was more difficult than the Pac-10 or Pac-12. Here's how the wicked WAC went from 1962-78, at which time Arizona left the league:
Utah 109-87, or 56 percent.
New Mexico 107-89, or 55 percent.
BYU 105-91, or 55 percent.
Arizona 98-98, or 50 percent.
Teams feared road trips in the old WAC, and you rarely saw an empty seat. The Wildcats should encounter some déjà vu Thursday night in Salt Lake City.