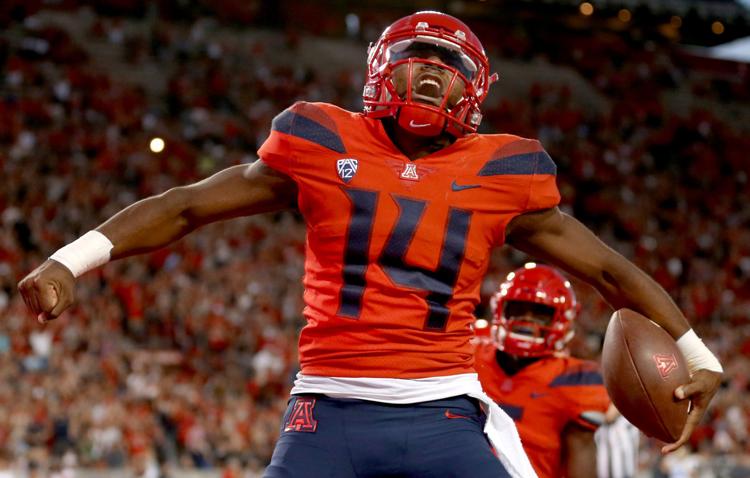 Arizona football coaches have forever misjudged, misread and misplayed their starting quarterback selections. It's as traditional as singing "Bear Down" in the locker room.
Bruce Hill initially lost his job to Nebraska transfer Jerry Davis in 1973. Once on the field, Hill went 26-6 as a starter.
Tom Tunnicliffe sat on the bench as future MLB outfielder Kevin Ward, started three games in 1980. Tunnicliffe would break most of the school's passing records the next 3½ seasons.
Sophomore Alfred Jenkins lost the No. 1 job to JC transfer Jon Conner to open the '84 season. Conner tore up his knee in the opener, and Jenkins then went 24-11-1 as a three-year starter.
To become Arizona's starting quarterback, one must (a) pay dues, (b) sit on the bench or (c) wait for someone to get hurt. There has been no quick, clean and instant discovery of a No. 1 quarterback.
Certainly not Khalil Tate.
Desert Swarm QB Dan White redshirted after transferring from Penn State, where he never stepped on the field. He went 24-9 once he got a chance at Arizona. Jason Johnson didn't play a lick for three years before becoming the first Wildcat to pass for more than 3,000 yards in 2003.
Most, like Tate, have done the full A-B-C routine. Let's scroll through the years:
In 1996, Brady Batten won the starting QB job over the explosive Keith Smith, who was Arizona's most athletic quarterback of the pre-Tate days, ultimately replacing Batten and starting 31 games.
Ironically, in Arizona's historic 12-1 season, 1998, coach Dick Tomey didn't choose a starting quarterback. Smith and Ortege Jenkins shared the job; Smith threw 165 passes, Jenkins 142.
Finally, Matt Scott lost his job to Nick Foles in Game 3 of the 2009 season, after which Foles started 33 consecutive games and rewrote Arizona's passing records.
Is it really that difficult for a coach to determine which of the quarterbacks who participate in 20 spring practices and 25 training camp practices is the best?
Rich Rodriguez chose Brandon Dawkins as his opening night starter against NAU as an apparent injury-free Khalil Tate played garbage time, attempting one pass.
Has any coach ever been so wrong? Absolutely.
In 2003, Cal coach Jeff Tedford started Sahuaro High School grad Reggie Robertson in the Bears first three games. But after losing to Kansas State and Colorado State, Tedford benched Robertson and put in an unknown junior-college transfer.
A week later Cal stunned No. 3 USC as Rodgers threw for 217 yards and two touchdowns. Everything changed at Cal, a school that had gone 1-10 two years earlier. Launched by Rodgers' arrival, the Bears went 36-15 the next four seasons.
Is Khalil Tate the new Aaron Rodgers, a triggerman who can take Arizona to unimagined heights? It's a seductive theory.
If any coach knows how to take advantage of a second QB choice, it is RichRod.
In Game 7 of West Virginia's 2005 season, RichRod continued to start Adam Bednarik at quarterback. The Mountaineers trailed Louisville 24-7 in the fourth quarter. Sitting on the sideline was redshirt freshman QB Pat White, who was the Khalil Tate of 2005.
White, from Daphne, Ala., and was not recruited by the Crimson Tide, visited Auburn, Kentucky, LSU, Mississippi State and Vanderbilt but those schools projected him as a receiver or an athlete who might play safety someday.
Sounds like the way USC and UCLA labeled Khalil Tate.
White was drafted in the fourth round by the Los Angeles Angels that summer, but eschewed a six-figure baseball bonus and enrolled at West Virginia, where RichRod, entering Year 4, was 20-17.
White redshirted in 2004. Bednarik, a sophomore, was to be WVU's quarterback of the future.
But while trailing Louisville with 11 minutes remaining, Bednarik injured his right foot. It turned out to be Brandon Dawkins bouncing into the Colorado Buffaloes bench.
In the final 11 minutes and three overtimes, White was "discovered." West Virginia won 46-44. Ten years later, RichRod told the Pittsburgh Post-Gazette that White's debut changed everything.
"Patrick looked like a veteran," RichRod said in 2015. "He was a redshirt freshman playing his first year of college football, but he came in there with so much poise.
"The bigger the stage and the more at stake, the better he was. He elevated his game. After he did that, you were like 'Wow.' This guy, we knew he was special, but he's more than that."
After inserting his No. 2 choice at West Virginia, RichRod won 27 of his next 31 games.
If you're tempted to say "déjà vu," please do.